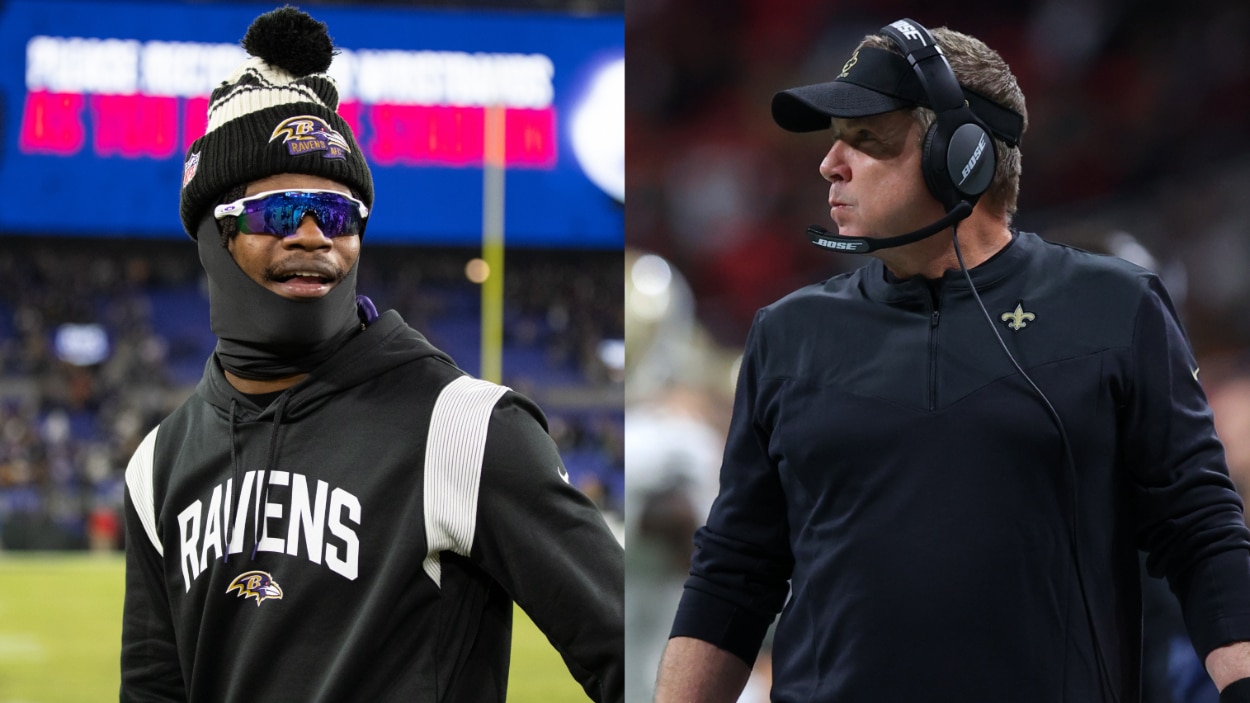 Lamar Jackson injury: Sean Payton Crushes Ravens QB for Tweeting out Status Update
NFL people responded to the Lamar Jackson injury update on Twitter in different ways. Former coach Sean Payton didn't like it.
After leading the Baltimore Ravens to an 8-4 record and first place in the AFC North in 2022, quarterback Lamar Jackson went out with a knee injury in Week 13. The team went 2-3 in its final five games but still made the playoffs, albeit as a Wild Card team, not a division champion. Initially, the Lamar Jackson injury was thought to be a relatively minor one that would have him back in a few weeks, tops. However, Jackson will now miss his sixth game, sitting out his team's postseason opener vs. the division-rival Cincinnati Bengals. Ahead of the game, Jackson tweeted out an update on his injury, and former NFL head coach Sean Payton didn't like that.
There were a variety of responses to the Lamar Jackson injury tweet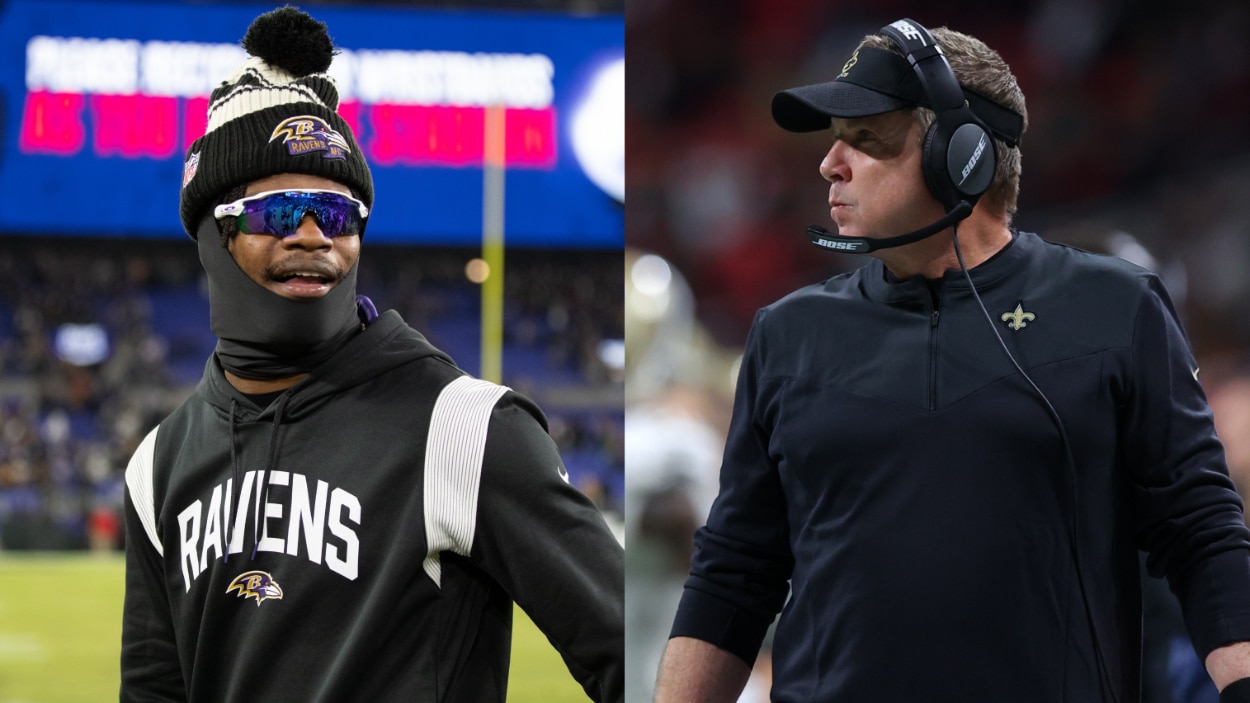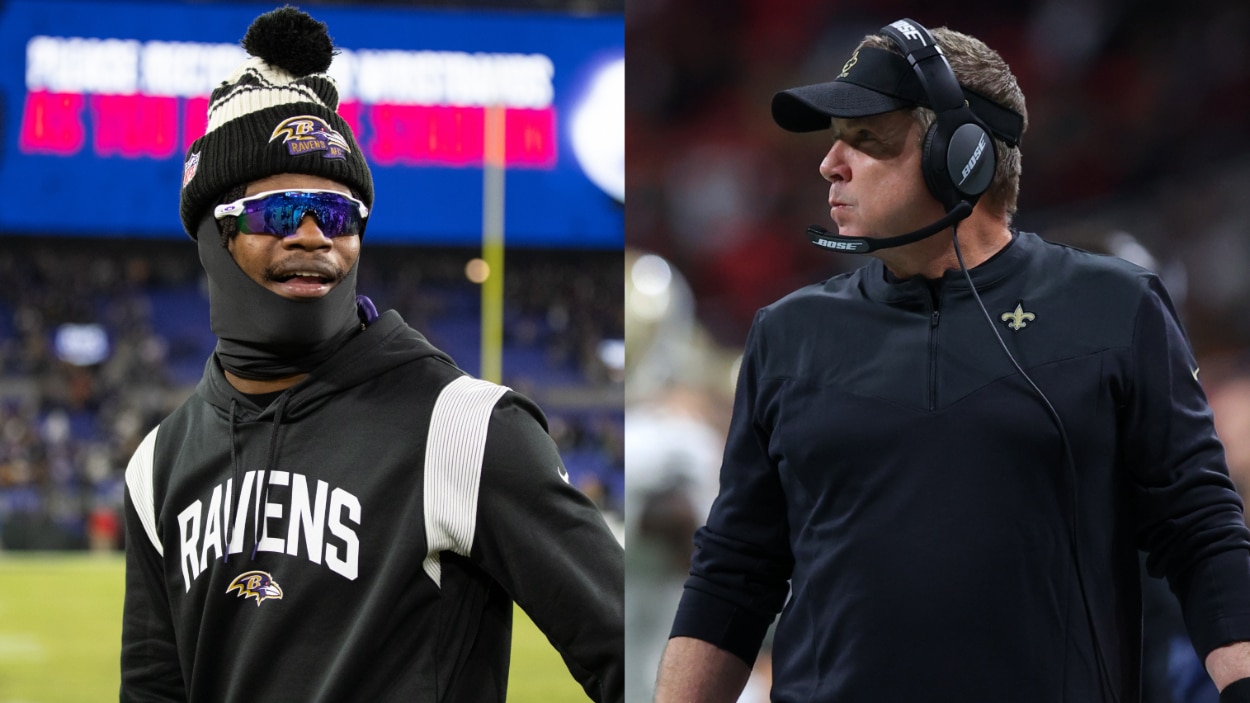 On the eve of the Ravens' playoff opener vs. the Bengals, the team's franchise QB sent out a tweet with an update on the Lamar Jackson injury.
Jackson thanked fans for their support and well wishes before jumping into the health information.
"I've suffered a PCL grade 2 sprain on the borderline of a strain 3. There is still inflammation surrounding my knee and my knee remains unstable," the 2019 NFL MVP wrote. "I'm still in good spirits, as I continue with treatments on the road to recovery. I wish I could be out there with my guys more than anything but I can't give a 100% of myself to my guys and fans I'm still hopeful we still have a chance."
On Sunday before the game, NFL insider Peter Schrager noted on FOX NFL Kickoff that the tweet "was met with a lot of blowback from some folks. Others saying, 'Good. Lamar finally spoke."
The NFL Network host also noted, "There are some murky waters right now as far as not only Lamar Jackson, if they win, if could he play next week, but what the future of Lamar Jackson is in Baltimore."
Schrager then threw it to former NFL head coach Sean Payton to get his thoughts on the matter.
"Look, I don't like it. They're in a playoff game — and I get if he's not playing — but this whole tweet out your whole medical, let me explain my whole medical status. Look, I'm hearing rumblings from a handful of folks there [in Baltimore] that there are teammates who feel that his process has been slower than expected. I just don't like it. The team is more important right now than you.
"I don't see this player back in Baltimore next year. I think he'll end up with another club."
Former NFL superstars Charles Woodson and Michael Vick both weighed in as well. While they were sympathetic to Jackson's contract situations, they both felt as though the playoffs are special and said they would play.
The Lamar Jackson injury aside, not playing in the Ravens playoff game could mean we've seen the QB in a Baltimore uniform for the last time, as Sean Payton suggested. Jackson and the club are at an impasse on a long-term deal, and this could be the straw that breaks the camel's back on either side.
Baltimore still has the franchise tag option this offseason. But after all that's transpired with the Lamar Jackson injury, it will be interesting to see if the Ravens simply choose to start over. The franchise would get a massive trade haul in return for the QB. Teams like the New York Jets, Las Vegas Raiders, Tennessee Titans, or Washington Commanders would all line up to throw draft picks at Baltimore in return for Jackson.