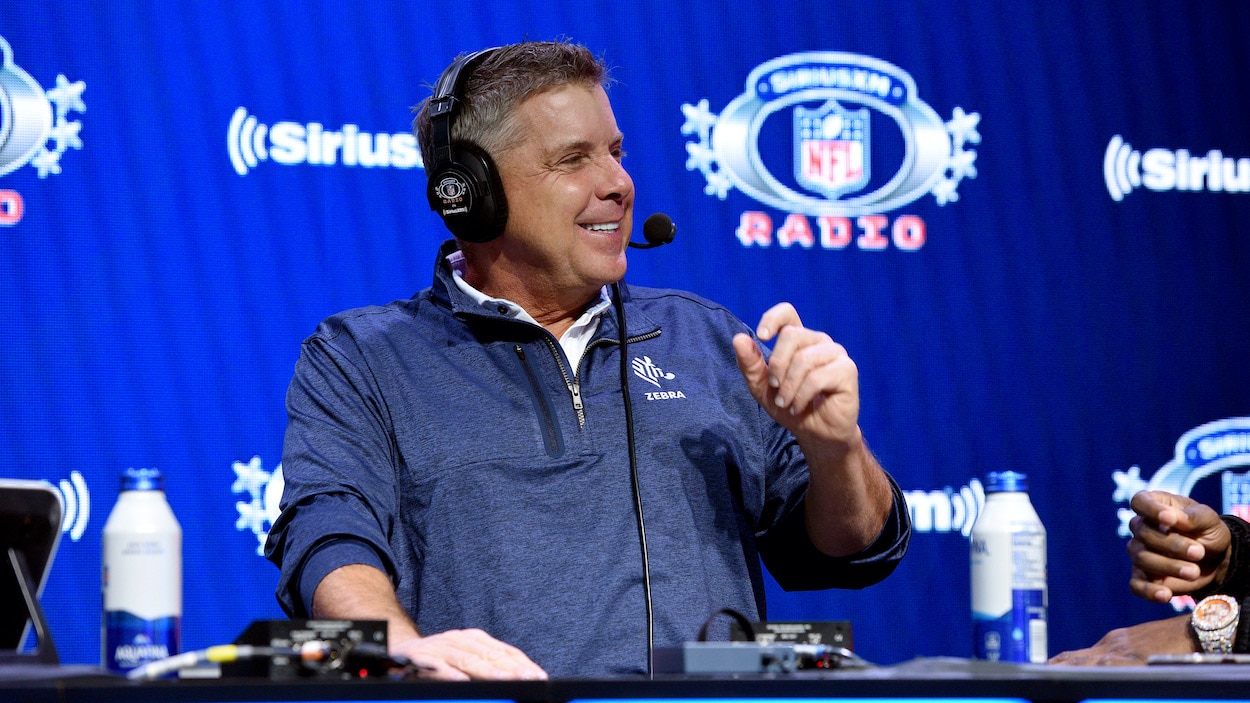 Sean Payton Admits There's a 7/10 Chance He'll be With This Team Next Season: 'I'm Kind of Picky'
Super Bowl-winning head coach Sean Payton has interest from teams like the Panthers and Broncos but says he'll probably stay where he is.
Like every NFL offseason, head coaches will be fired, and new ones will be hired in 2023. During the upcoming coaching carousel, no coach will be more coveted than Sean Payton. There will be a lot of new faces vying for NFL head coaching jobs after the season ends, and surely a few retreads, too. However, Payton is likely the only one with a Super Bowl win as a coach on his resume. On Sunday, the former New Orleans Saints coach joined his FOX NFL Sunday "team" to talk about the possibility that he takes a job next season, and he admitted there is a 7/10 chance he'll be back in the TV studio again next year.
No more than six head coaching spots will be open this offseason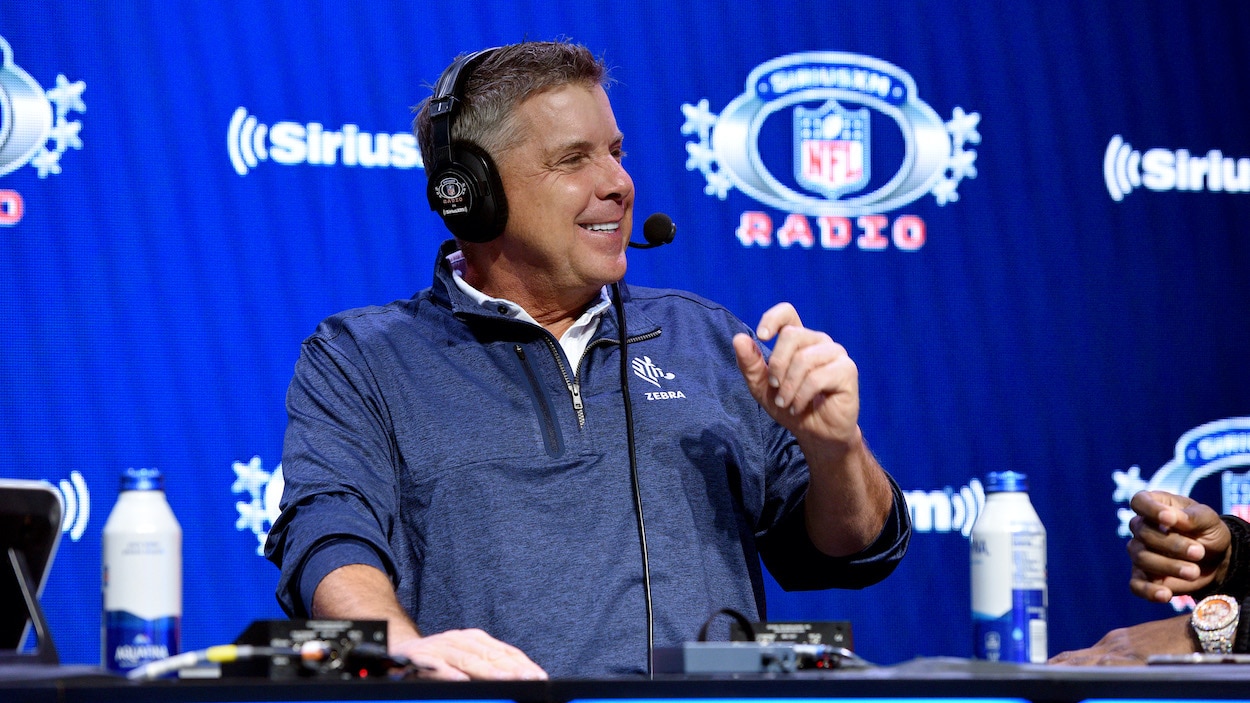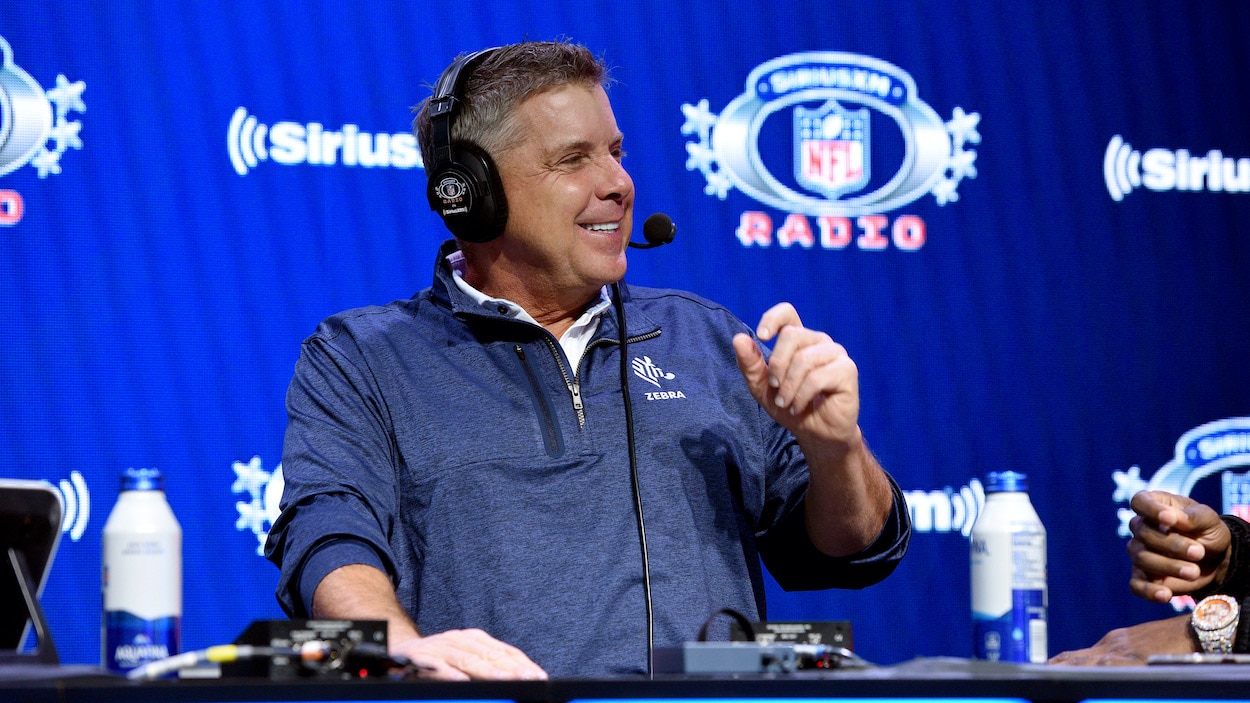 During the 2021 offseason, NFL teams made 10 head coaching changes. That tied the biggest number in one offseason in NFL history. In 2023, that number will drop down closer to a normal range, and three to six jobs will be open.
We know that three teams will at least conduct a coaching search. The Carolina Panthers, Indianapolis Colts, and Denver Broncos all fired their coaches mid-season.
Jerry Rosburg, the Broncos interim head coach and 67-year-old career assistant, will not get that job for next season. The Panthers Steve Wilks and Colts' Jeff Saturday likely won't either, but with Wilks' success and Saturday's relationship with owner Jim Irsay, it wouldn't be a complete shock if one of them kept their position for next season.
In the end, those three jobs will probably go to new coaches, though.
After that, the Arizona Cardinals' Kliff Kingsbury and Houston Texans' Lovie Smith are on the hot seat, and the rumors are heating up that the Los Angeles Rams' Sean McVay may retire at the end of the season.
That leaves the Panthers, Broncos, Colts, Rams, Cardinals, and Texans as the six potential job openings for Sean Payton to consider.
Sean Payton reveals the chances he'll coach in 2023
On the FOX NFL Sunday pregame show, the crew brought out Sean Payton, who is currently working for the network, to talk about the news the Broncos received permission from the Saints (who he is technically still under contract with) to talk to him.
Host Curt Menefee asked Payton point-blank if there is any team he's "leaning towards" now.
"No. There's absolutely not a place I'm leaning towards," Payton told Menefee and company. "I'm going to have a hard time finding a better roster. I got my right defensive end [Howie Long], my left defensive end [Michael Strahan]. I got my starting quarterback [Terry Bradshaw]. If we want to go to Pistol, we'll bring in [Michael] Vick. I got the head coach [Jimmy Johnson] right here. I'm kind of picky. And so this job is as good as a lot of those jobs that we just saw."
After revealing that he'll feels like it will be hard to leave TV for coaching, Strahan asked Payton, "One through 10, what are the chances you'll be here next year?" Payton quickly and confidently responded, "seven."
Where will Sean Payton coach in 2023
Taking Sean Payton at his word, there's a 70% chance that he'll be back as an NFL analyst instead of a head coach next season. For those math majors out there, that means there's a 30% chance he'll be back on an NFL sideline in 2023.
While talking to the FOX Sports crew, Payton revealed that to him, "it's more about ownership and the front office" than the city, roster, or the quarterback in place. With that in mind, there are two of these franchises that have no chance at Peyton, two that may be intriguing (but probably not), and two that have a shot.
The two teams that are out are the Colts and Cardinals. Colts owner Jim Irsay is a clown, and Cardinals owner Michael Bidwill isn't much better. Plus, general managers Chris Ballard and Steve Keim are still in place in Indianapolis and Arizona, respectively. Although, both could be gone by Monday, especially Keim, who is already on a leave of absence.
With the Colts and Cardinals out, the Texans and Rams are up next. Texans owner Cal McNair is a bit controversial after some racially insensitive comments in the past, but if GM Nick Caserio gets fired alongside Love Smith, Payton could bring in his own guy.
As for the Rams, Stan Kroenke is a pretty good owner (at least on the NFL side, right Arsenal fans?), and Les Snead is a solid GM. The problem is Kroenke and Snead mortgaged the future to win a Super Bowl for Sean McVay last season, which makes the job less attractive.
That leaves the Broncos and Panthers, two teams that, coincidentally, have the two richest owners in the NFL.
With the Panthers, you get hedge fund billionaire David Tepper and Seattle Seahawks disciple Scott Fitterer, who seems like a solid young GM. For the Broncos, there's Rob Walton, one of the heirs to the Walmart fortune, and GM George Paton, who Payton could probably keep if he likes him or replace him if he wants.