A Sean McVay Retirement Announcement Could Follow the Rams' Week 18 Game
Sean McVay burst onto the NFL coaching scene as the youngest NFL head coach in history when the Los Angeles Rams hired him at the age of 30 in 2017. Since then, he's rewarded the organization's leap of faith. McVay has a 60-37 career record, making four playoff appearances in six seasons, and winning a Super Bowl. However, this season has been incredibly hard for the now-36-year-old, both on and off the field. And, per his friend and former podcast co-host, NFL insider Peter Schrager, when the clock strikes 0:00 in the Rams' Week 18 game vs. the Seattle Seahawks, a Sean McVay retirement announcement could soon follow.
Peter Schrager says a Sean McVay retirement announcement could come after Rams' Week 18 matchup
No one in the NFL media knows Rams head coach Sean McVay better than FOX Sports' and the NFL Network's Good Morning Football co-host Peter Schrager. The pair hosted the Flying Coach podcast on The Ringer podcast network two offseasons ago, and the NFL insider was even a guest at the coach's recent wedding.  
Ahead of the Rams' Week 18 matchup with the Seahawks, Schrager joined The Ringer's The Bill Simmons Podcast and discussed the possibility of a Sean McVay retirement after this season.
"Could this be McVay's last game?" Bill Simmons asked Schrager.
"I would have told you a month ago, no way. There is no way this guy's going out with this season, and I don't think it's his last game coaching," Schrager shared. "I just think he is so burnt out. And I'm not speaking on behalf of him, but I'll say as someone who speaks to him often, this season has been really tough on him. And I'm talking mentally, emotionally, all of it."
Schrager continued by saying that the on-field stress has been "paired with real-life stuff." That "stuff" includes the fact that he didn't get a break last offseason after winning the Super Bowl, getting married, going on his honeymoon, and coming right back to coaching. Also, McVay's wife, model Veronika Khomyn, is Ukrainian and has a lot of family still in the war-torn country.
The insider concluded by saying that McVay is "just spent" and that while he doesn't "have any insight into whether this is his last game, I will tell you this. He needs a long vacation after this thing, and he's going to think this thing through."
Schrager says that McVay will take a long break this offseason and "make some decisions about his life, not just his coaching career." That could include McVay not coaching next season, Schrager admitted.  
Could the Rams coach take a year-long sabbatical?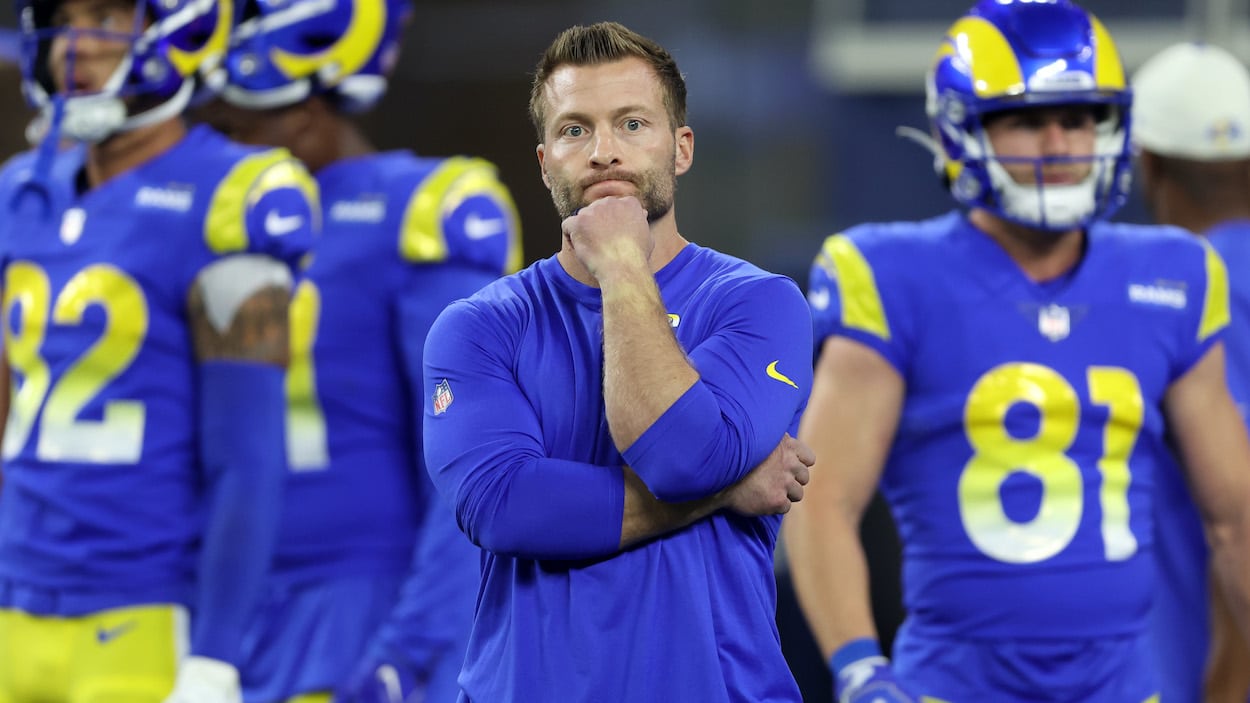 The lengthy explanation of McVay's situation by a friend of his is fascinating on many levels. First, it confirms that the coach is completely spent after a whirlwind two-year stretch and that a Sean McVay retirement is on the table.
And while it's interesting to note that Peter Schrager does think McVay will coach again after the Rams' Week 18 game this season, that doesn't mean it will be in LA.
That said, McVay is a coaching prodigy. At 36, he's already done more than most coaches at an age before most coaches even get a head job.
This could lead to an interesting situation where the Rams turn a possible Sean McVay retirement into a Sean McVay one-season sabbatical.
McVay could easily have three more decades of coaching in him after the Rams' Week 18 game this season. And if he does retire, at least half the teams in the NFL would probably jump at the chance to hire him at 38 or even in his 40s or 50s. For the Rams to keep him, could they give him a year off?
The Rams leveraged their franchise to win a Super Bowl this year and now need a hard reset to get a contending-level roster again. That means next season, LA will likely be bad again. Could Rams owner Stan Kroenke let McVay take a year off, give the reigns to a former NFL head coach on the team's staff — like defensive coordinator Raheem Morris or consultant Jay Gruden — and let the now-coach come back when he's ready?
We've never seen anything like that in the NFL, but for a once-in-a-lifetime coaching savant like Sean McVay, it may be worth considering.