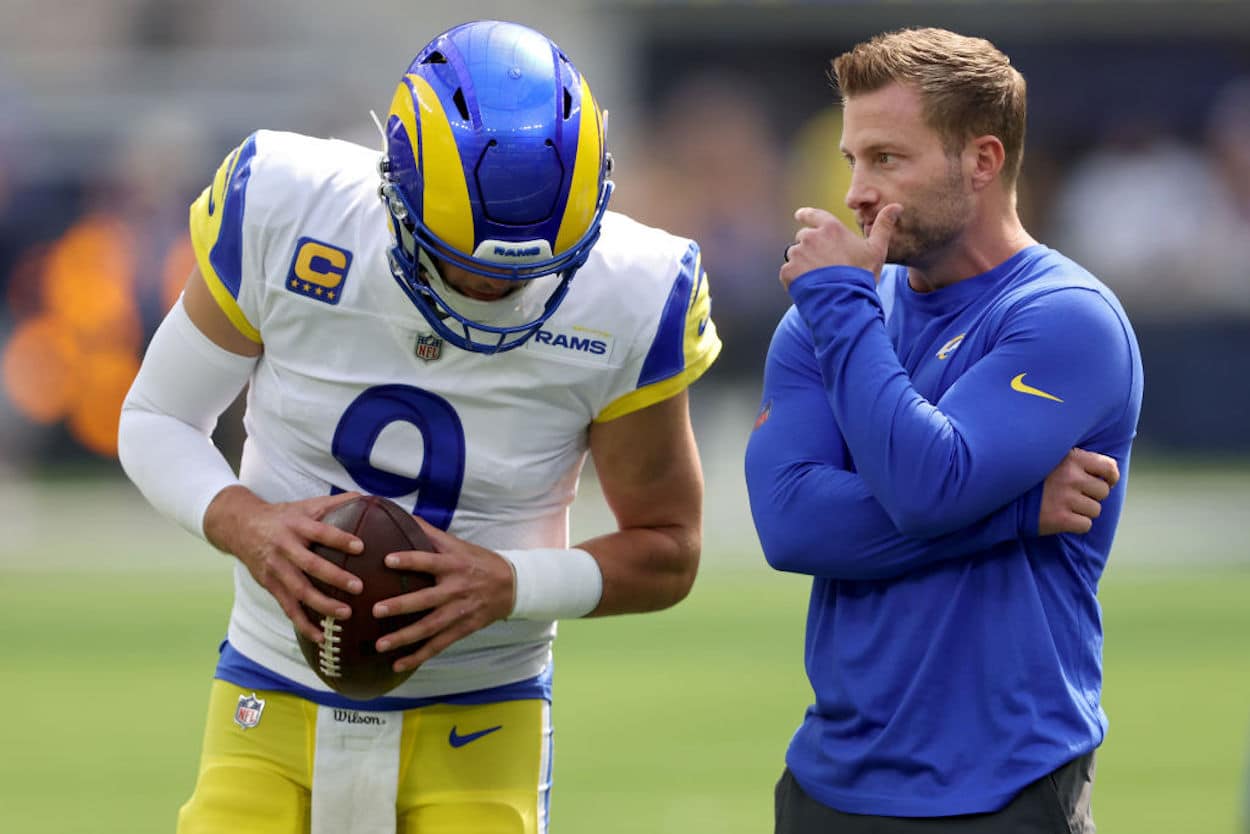 Sean McVay and the LA Rams Are Running Out of Time to Fix the Offense's Issues
The LA Rams were supposed to be defending their Super Bowl title, not sitting below .500. Sean McVay has to sort things out ASAP.
The Los Angeles Rams are the defending Super Bowl champions but aren't playing like it so far this season. The Rams are 2-3 and are coming off a brutal 22-10 loss at home to the Dallas Cowboys that was filled with a myriad of errors. The laundry list of mistakes includes three turnovers, five sacks, a blocked punt, and a missed field goal.
It would be one thing if this were a standalone outcome, but it's starting to become a recurring theme for the Rams in 2022. They've had one disappointing offensive performance after another, as they have now scored 10 or fewer points in three out of five games this season.
Los Angeles was top-10 in both total offense and scoring last season, but that script has completely flipped this season, as they are currently 26th in yards and 29th in points. 
It's beginning to be difficult to consider them serious playoff contenders again when the offense is underperforming this badly. Imagine hearing that eight months after head coach Sean McVay and the Rams lifted the Lombardi Trophy in their own stadium. But that's the reality, and patience is running thin, as the offense is a total mess, with Cooper Kupp being the lone exception.
The Rams are too dependent on Cooper Kupp
Cooper Kupp is one of the best receivers on the planet. He's the reigning triple crown winner and creates separation from defenders at a high rate. Nevertheless, it seems he's the only one on offense that is playing up to expectations.
Through five games, Kupp is second in the NFL in receiving yards (529), only trailing Justin Jefferson. He also leads the league in receptions (49) and targets (64). After nearly breaking the receptions record in 2021 with 145, he's set to greatly surpass this feat, as he's on pace for 167 catches this season.
This type of production from a receiver would usually be reciprocated with wins, but that has yet to come to fruition, with the rest of the offense struggling to come together. The All-Pro receiver has scored five touchdowns this season, while the rest of the unit has combined for just three.
Against the Cowboys, Kupp scored a 75-yard touchdown to put his team up one. Outside of that, the Rams managed just 248 yards of total offense while averaging less than four yards per play. This performance came off the back of a 24-9 defeat to the San Francisco 49ers, during which the Rams totaled just 257 yards and 3.5 yards per snap. 
Kupp is the only receiver on the team with more than 181 receiving yards, which is surprising since the Rams signed Allen Robinson to a three-year, $46.5 million deal this offseason. 
Despite the high price tag, Robinson has yet to live up to expectations. He's caught just 12 passes in five games for 107 yards and one touchdown. Since coming to Los Angeles, he's yet to receive more than six targets in a single game and has gone for less than 25 yards in four contests.
Last year, the Rams had Robert Woods, but once he suffered a season-ending injury, Odell Beckham Jr. was signed to be the No. 2 receiver behind Kupp. Neither receiver is on the roster, as Woods was traded to the Tennessee Titans back in March, and Beckham remains a free agent.
Robinson has topped 1,000 yards in four seasons. He's more than capable of being a threat to opposing defenses, but the Rams need to find a way to get him more involved.
The offense can't run the ball or protect Stafford
The Rams are a one-dimensional offense that has failed to show any life in the run game. They rank dead last in rushing yards (312) and average the second-fewest yards per rush (3.1) in the league.
Cam Akers, who tore his Achilles back in July of 2021, leads the team in rushing with 151 yards but is only averaging three yards per carry. Darrell Henderson Jr. has been slightly more effective on the ground but is used mostly on passing downs. The two running backs have combined for a grand total zero rushes of over 20 yards. Cooper Kupp is the only Ram to have a rush attempt go beyond that yardage.
When the run fails, it forces Matthew Stafford to pass, but he doesn't have enough time to throw, as he's already been sacked a league-high 21 times.
Pass protection wasn't always an issue, though. The Rams allowed the seventh-fewest pressures in 2021 (144) but have already conceded the most in the league this season (84), according to Mike Renner of Pro Football Focus.
There has been a lot of turnover up front. Andrew Whitworth retired, David Edwards is on injured reserve, Brian Allen has missed four games with a knee injury, and Austin Corbett signed a contract with the Carolina Panthers this offseason. In light of all this, the Rams have started five different combinations on the offensive line, and none have been particularly successful.
The offensive line has completely hindered Stafford's play. He's 23rd in passer rating while averaging just 6.9 yards per pass attempt compared to 8.1 last season. His touchdown rate is down to just 2.8% compared to 6.8% in 2021. He's also throwing interceptions on 3.6% of his passes, the fourth-highest in the league this year. 
It's now or never to fix the Rams' offense with a tough slate of games ahead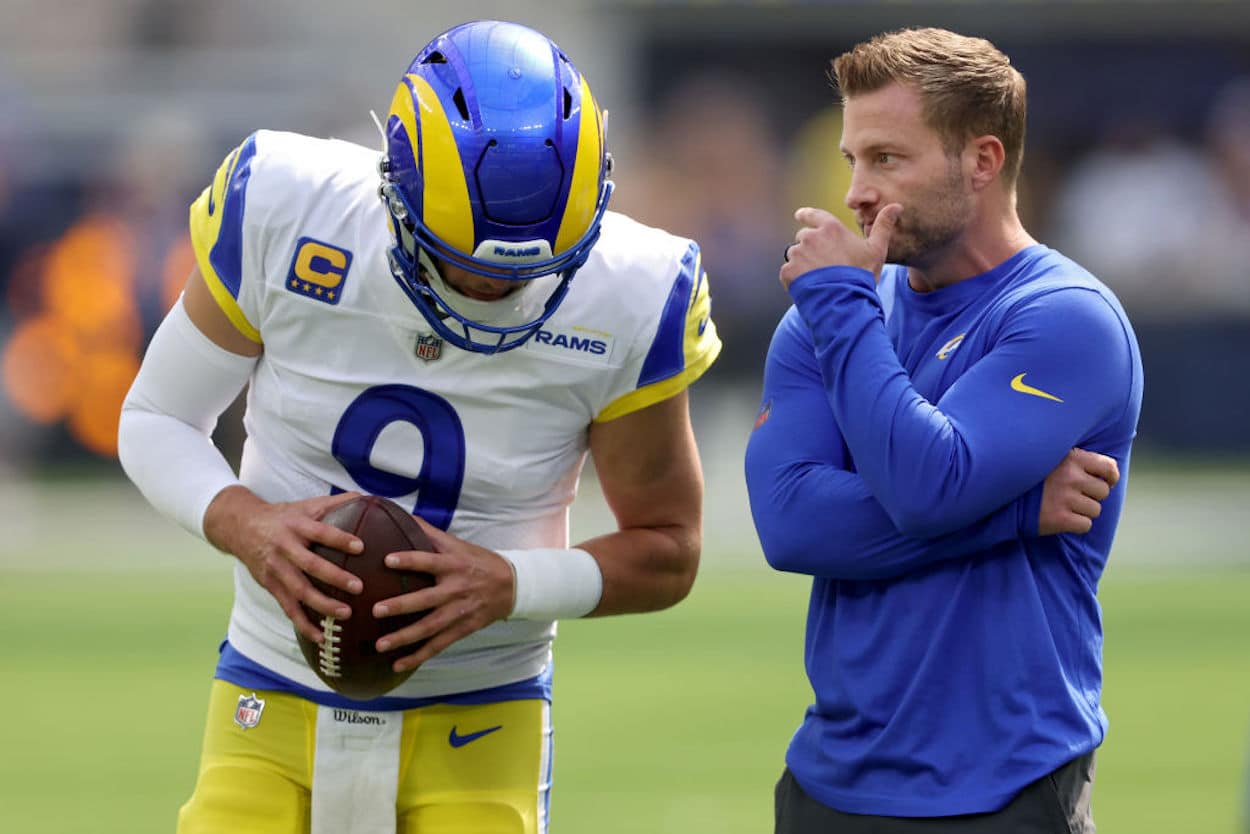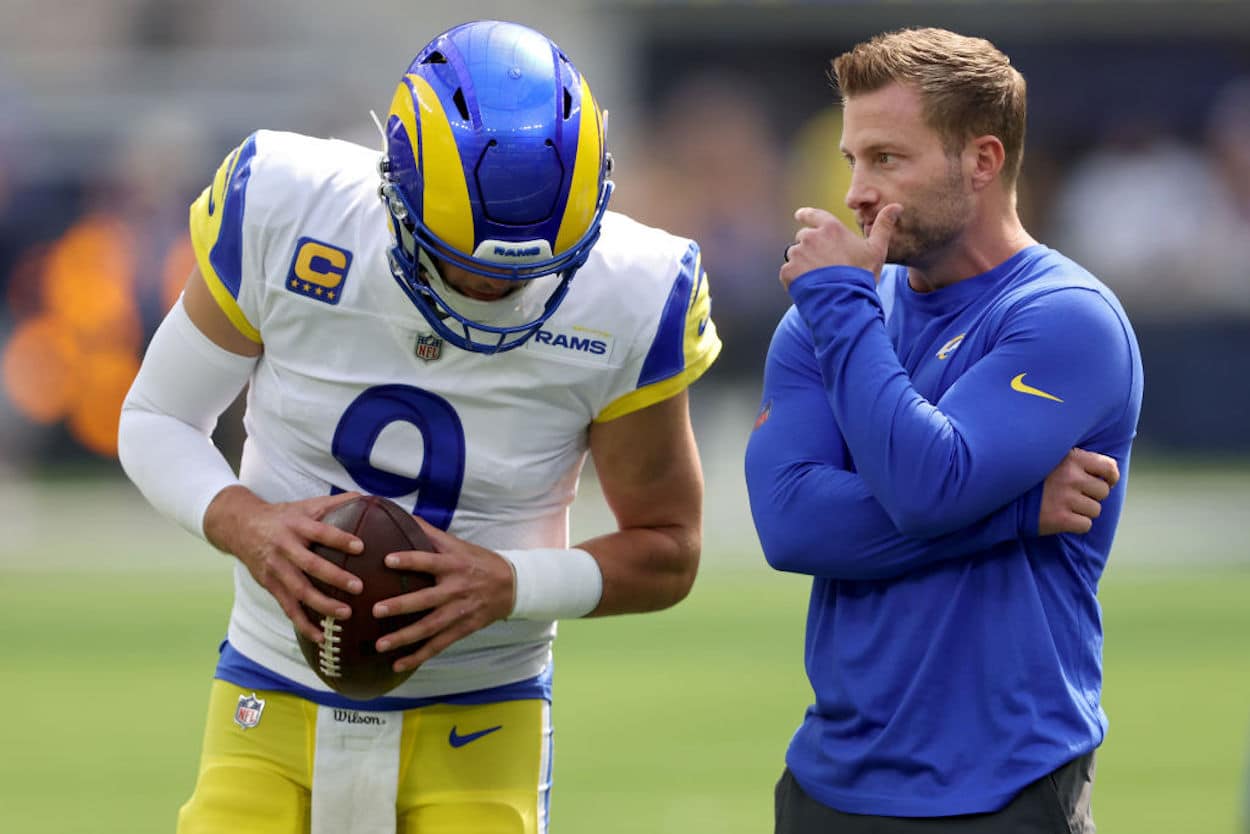 On paper, the Rams have talent across the board, but time is running out to solve the offense's woes. Unfortunately for them, some of these are fundamental issues that will be difficult to solve. The unit can find a way to generate more touches for Robinson, but pass protection and running the ball relies heavily on an offensive line that has been underwhelming so far this season.
The Rams have yet to beat a team with a winning record. This week, they will host the Carolina Panthers, who just fired Matt Rhule. After that, it will be a much-needed bye week that will be used as a total reset for the offense, regardless of the result against the Panthers.
Then, the schedule becomes way less forgiving. The Rams face a divisional opponent or a team with a winning record in eight of the final 11 games, with two of the other three opponents being in the uber-talented AFC West.
McVay is an offensive guru, but even he will have his work cut out for him. Based on what we've seen thus far, he'll have to use all of his brainpower to fix the offense if the Rams are going to make it back to the postseason and defend their title.
Stats courtesy of Pro-Football-Reference.