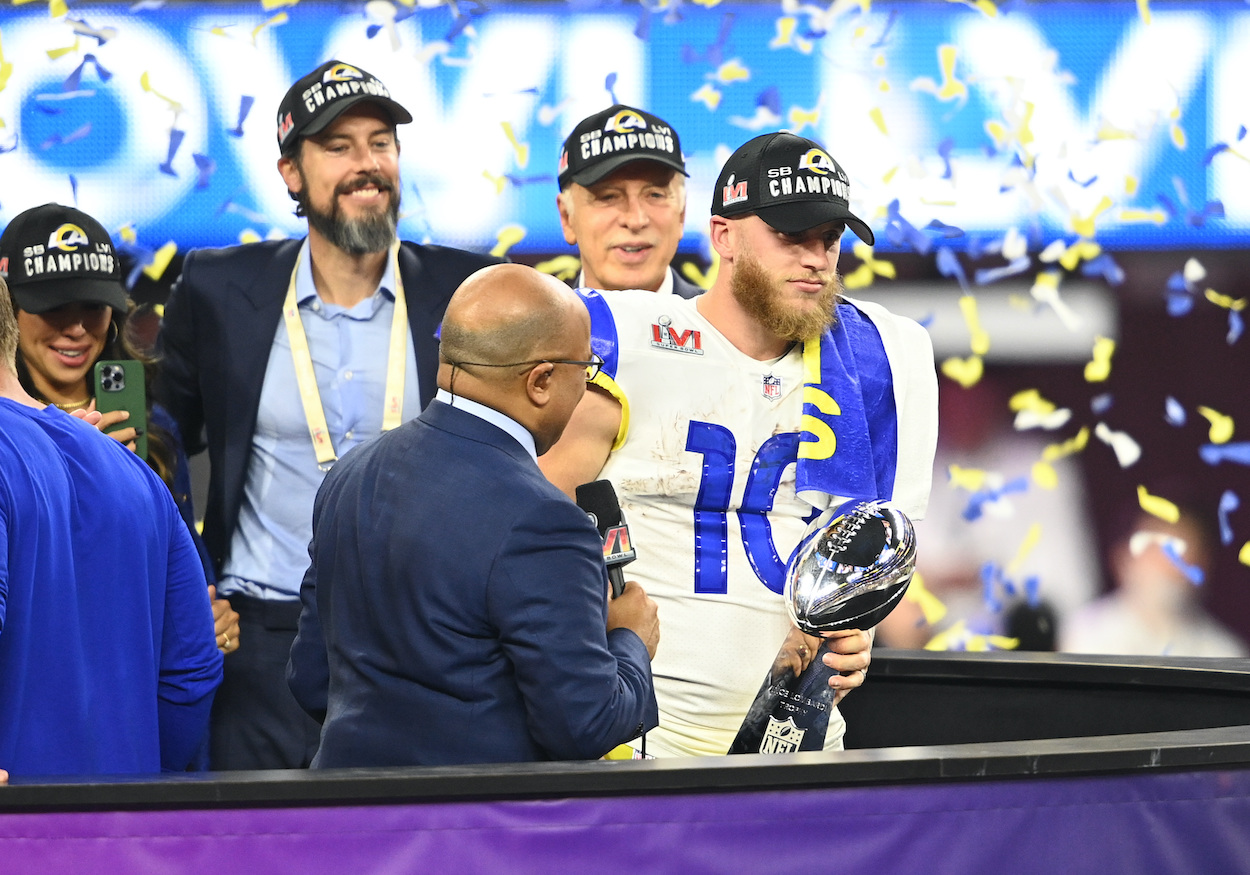 Cooper Kupp Experienced a Heavenly 'Vision' From God That Foretold the Rams' Super Bowl Victory and His MVP Award
Cooper Kupp fulfilled a prophecy told to him by God when he led the Rams to a Super Bowl victory and won MVP.
When the Los Angeles Rams stumbled out of the halftime tunnel and gave up 10 quick points to the Cincinnati Bengals in Super Bowl 56, their fans surely started to worry. LA's offense was struggling to move the ball without Odell Beckham Jr. on the field, and it felt as if its nightmare from 2019 was coming back to haunt the team once again.
But Cooper Kupp, who felt the pain of that Super Bowl 53 loss to the New England Patriots three years ago, never broke a sweat. Why? Because he had a divine vision after that defeat that revealed the Rams would make it back to the Super Bowl, they would win, and Kupp would walk off the field with the MVP trophy in his hands.
We all know what happened next.
Cooper Kupp caps historic season with a Super Bowl MVP trophy
Kupp entered the 2021-22 NFL season as an underrated wide receiver still searching for his first Pro Bowl appearance, but he left the year as arguably the best offensive player in all of football.
Throughout his historic regular season, Kupp racked up 145 catches, 1,947 yards, and 16 touchdowns to lead the NFL in all three categories. He was named the NFL Offensive Player of the Year and finished third in MVP voting behind Aaron Rodgers and Tom Brady.
In four playoff games, Kupp recorded 33 catches, 479 yards, and six touchdowns. He capped off his incredible season with 99 total yards and two touchdowns in the Super Bowl, including the game-winning score late in the fourth quarter. His heroics also earned him Super Bowl MVP honors.
But according to Kupp, that result was already predetermined by a higher power.
A vision from God predicted the Rams' Super Bowl victory and Kupp's MVP
Kupp was unable to play in Super Bowl 53 against the Patriots due to a torn ACL, but he was just as torn up after the loss as his teammates who saw the field that day. After the game, though, Kupp had a divine vision that predicted he would be back in the Super Bowl soon, and he would emerge as the MVP.
"I don't know what it was, there was just this vision that God revealed to me that we were going to come back, we were going to be a part of a Super Bowl, we were going to win it," Kupp told reporters after Super Bowl 56. "And somehow — somehow I was going to walk off the field as the MVP of the game."
Kupp mostly kept the vision to himself after the fact, but he always had faith that it would eventually come to fruition. And on Sunday, it did.
"I shared that with my wife because I couldn't tell anyone else, obviously, what that was," he said. "But from the moment this postseason started, there was just a belief. It was written already and I just got to play free knowing that I got to play from victory, not for victory. I got to play in a place where I was validated not from anything that happened on the field but because of my worth in God, in my Father."
A deserving MVP
Predetermined or not, Kupp was the best player on the field in Super Bowl 56 (just above Aaron Donald). Even though the Bengals were keying on him with Beckham out due to injury, Kupp took over on LA's final drive to will his team to victory.
He rushed for seven yards on the crucial 4th-and-1 in the Rams' territory, caught three passes afterward to lead the offense down the field, and won a jump ball in the end zone to secure the game-winning touchdown.
Put simply, the Rams aren't Super Bowl champions today if it isn't for Cooper Kupp, but he might have to share his MVP trophy with the man upstairs.
Like Sportscasting on Facebook. Follow us on Twitter @sportscasting19.