Howie Long Shares His True Feelings on His Longtime FOX Partner Terry Bradshaw: 'He's Like the Older Brother I Never Wanted'
Howie Long and Terry Bradshaw have graced out TV screens in the hour leading up to the Sunday NFL games for almost three decades now. The two are both Hall of Fame players and now are iconic TV personalities. Long recently shared some insight into his relationship with Bradshaw as well as his FOX NFL Sunday "family" as a whole.
Howie Long and Terry Bradshaw have worked together since 1994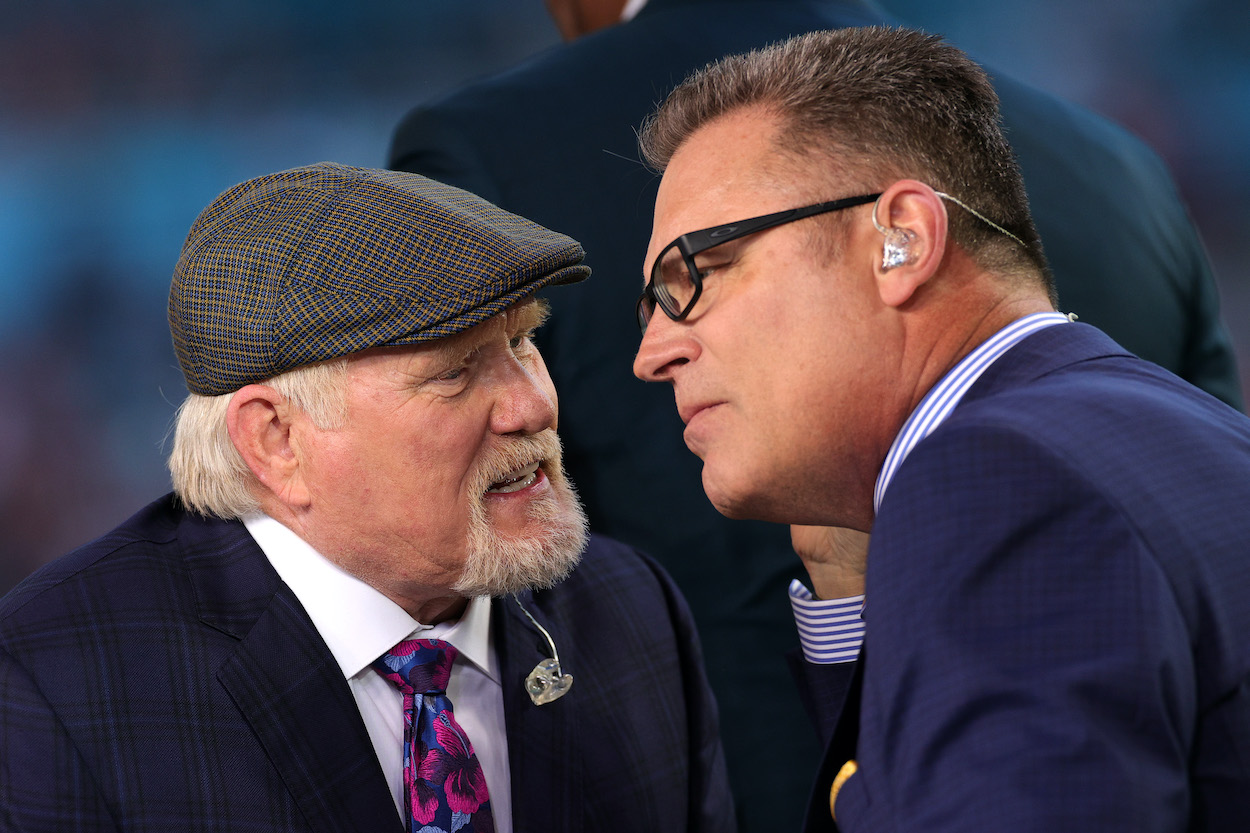 Howie Long and Terry Bradshaw have been side-by-side on TV since 1994.
Bradshaw retired from the NFL in 1984 and joined CBS as an NFL analyst immediately after, per FOXSports. In 1993, when FOX — then a fledging upstart network — shocking bought the rights to part of the NFL package, the former Pittsburgh Steelers QB jumped to the network.
Long retired in 1993 and immediately joined the new FOX team, per FOXSports. In 1994, the network launched its FOX NFL Sunday pregame show with host James Brown and former Dallas Cowboys head coach Jimmy Johnson.
After the inaugural season, Johnson left to coach the Miami Dolphins. San Francisco 49ers Hall of Fame safety Ronnie Lott replaced him. Cris Collinsworth eventually replaced Lott, Johnson returned, and Curt Menefee came in for Brown. A few years after Collinsworth left, Michael Strahan would join the team to create the lineup the show has today of Menefee, Long, Bradshaw, Johnson, and Strahan.
Over the years, the show has also included a wide array of non-NFL players and coaches. This includes Jimmy Kimmel, Jillian Barberie, Frank Caliendo, and Rob Riggle. In 2021, NFL insider Jay Glazer and reporter Charissa Thompson fill the non-player/coach roles.
The former Raider shared his feelings about the former Pittsburgh Steeler and the rest of his 'FOX NFL Sunday crew'
Howie Long recently appeared on the Pat McAfee Show, and one of the topics the interview touched on was the FOX Sunday crew. The host noted that the whole group — Long, Terry Bradshaw, Curt Menefee, Michael Strahan, Jimmy Johnson, and Jay Glazer — seem like a close-knit family.
Long talked about his brotherly relationship with Bradshaw as well as what the rest of the Sunday morning crew brings to the table:
Terry and I have been together 28 years, and at least six of those years are dog years. He's my man. I love him to death. He's like the older brother I never wanted. We have a great group, and everyone, obviously, in that group has a reason to peacock up and feel good about themselves. But that all goes out the window when you come in the door. And we laugh more off-camera than we do on camera. … I never know what Terry's going to say. Jimmy's great, Michael, we couldn't have computer-generated a better guy for the show. Curt is — he's the only one on the set who can read the prompter, which is great. … It's exactly what you see.

Howie Long on Terry Bradshaw and the 'FOX NFL Sunday' crew
Long says that the FOX NFL Sunday crew cuts through the noise of "75,000 different shows with 75,000 takes" because of the relationships between the co-hosts.
The show's run, with Long and Bradshaw especially, is awe-inspiring, and the two are now broadcasting legends.
However, a few decades removed from their playing careers, many fans of Bradshaw and Long the pregame hosts might not be familiar with their Hall of Fame careers and might not know who was the better player.
Who had the better career? Terry Bradshaw or Howie Long? 
Both Terry Bradshaw and Howie Long had Hall of Fame NFL careers. However, despite both coming from smaller schools that aren't known as football powers — Bradshaw Louisiana Tech and Long Villanova — their careers played out in very different ways.
Bradshaw was the No. 1 overall pick in the 1970 NFL Draft. Over the next 14 seasons, the "Blonde Bomber" became one of the most successful quarterbacks in NFL history.
The Pittsburgh Steelers went 107-51 with Bradshaw as a starter. His 66.1% winning percentage overall ties him with Joe Montana for eighth-best all-time for QBs with at least 150 games played, per StatMuse. His 14 playoff wins tie him for third all-time behind only Montana (16) and Tom Brady (34).
When Bradshaw retired after the 1982 season, his resume included the 1978 MVP Award, three Pro Bowls, one All-Pro nod, and four Super Bowls (tying him with Montana for second behind Brady's seven).
Long, the Hall of Fame defensive end, won a Super Bowl as well in 1983. However, his Oakland/Los Angeles Raiders only made it as far as the AFC Championship one more time in his 13-year career.
While Bradshaw's Steelers — with his eight Hall of Fame teammates — had more success than Long's Raiders, the pass rusher racked up more individual accolades. He was a three-time All-Pro and an eight-time Pro Bowler. His 91.5 career sacks tie him for 80th in NFL history.
So, was Terry Bradshaw of Howie Long better?
The answer is that they were both all-time greats. But Bradshaw's Super Bowl success probably gives him the edge as an all-around all-timer. That said, Long was the more individually dominant player.
All stats courtesy of Pro Football Reference