Lane Johnson's Mysterious Absence From the Eagles Might Not Be Ending Anytime Soon
Lane Johnson's season is up in the air due to a "personal matter" that's sidelined him for two weeks.
Stop me if you've heard this before: The Philadelphia Eagles have a decimated offensive line.
It's become a yearly theme for the Eagles ever since they won the Super Bowl in 2017 with the most dominant offensive line in the NFL. Lane Johnson, Brandon Brooks, Jason Peters, and Isaac Seumalo all had trouble staying on the field over the last few seasons, and Philly is already facing a similar nightmare in 2021.
The most mysterious absence, though, is that of Johnson's. The star right tackle was a late scratch against the Kansas City Chiefs in Week 4, and he hasn't returned to the practice field since. Based on some recent comments from the Eagles, Johnson might not be back at any point this season.
Lane Johnson has missed the last two games due to a "personal matter"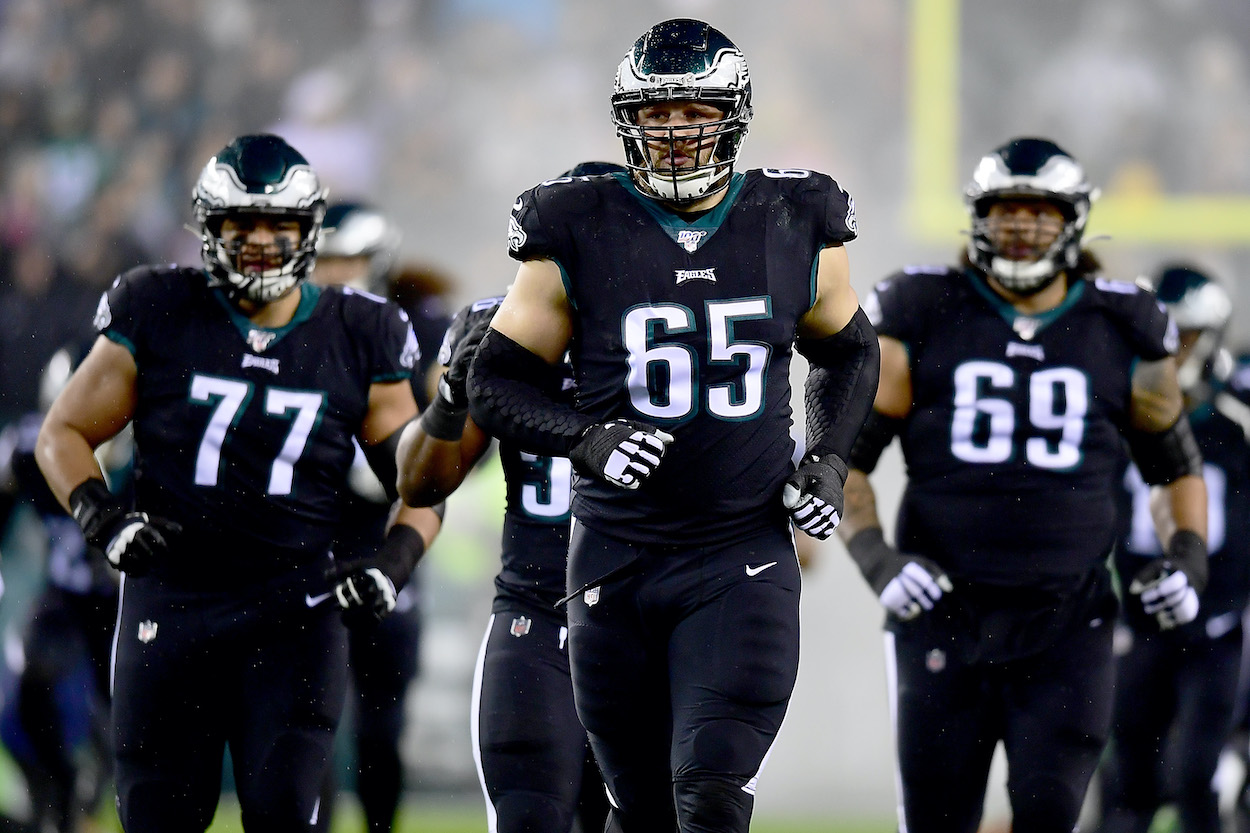 Heading into Week 4, Johnson and Jason Kelce were the only two starters along the offensive line still standing upright for the Eagles. Brooks strained his pectoral muscle against the San Francisco 49ers and was placed on injured reserve, Jordan Mailata sprained his knee in practice the following week, and Seumalo suffered a season-ending foot injury in the next game against the Dallas Cowboys.
So it was Johnson, Kelce, and three backups for Philadelphia's offensive line going into a date with the Chiefs. At least, that's what the Eagles thought.
But shortly before kickoff, the Eagles announced that Johnson would be inactive for the game due to a "personal matter." The veteran tackle then missed a week of practice and didn't play in Week 5 against the Carolina Panthers. Johnson has been back inside the team facility since Week 4, but he hasn't suited up for any practices.
It's extremely unlikely that Johnson will be able to return on Thursday night for a tilt against the Tampa Bay Buccaneers.
Lane Johnson's mysterious absence could linger for the whole season
There's still no word on what might be causing Johnson's absence, but it's evidently serious enough to threaten his entire season. While speaking to reporters this week, Kelce said his thoughts are with his longtime teammate and friend.
"I've talked to Lane. I've met with him. I just wish the best for him," Kelce said, per NBC Sports Philadelphia. "Everybody in here loves that guy. He's such a great personality, a great person to be around, a guy that really makes our room a lot more fun, a lot more energetic. He's obviously a great football player."
When asked about Johnson's chances of returning this season, Kelce admitted he wasn't sure.
"I don't know. I don't want to comment on that," he said. "I kind of feel like injuries, personal matters, stuff like that, that's out of my realm for making that assessment."
Eagles head coach Nick Sirianni told reporters the team is "hopeful" Johnson will be back at some point this year, but even he doesn't know a timetable for the tackle's return.
An important reminder that football comes second
Football players are some of the toughest humans on the planet. They play through broken bones, sprains, and strains on a regular basis, but sometimes off-the-field issues can be even more damaging to their health.
We don't know what Johnson has been dealing with for the past two weeks. Whether it be the loss of a family member, an issue with a close friend, or anything in between, Johnson deserves privacy at this time.
After all, football is still just a game. It might be a way of life for many of these players, but it isn't the most important thing in this world. When Johnson feels he's ready to return to the football field, he'll be back in midnight green ready to fight for his team.
Like Sportscasting on Facebook. Follow us on Twitter @sportscasting19.