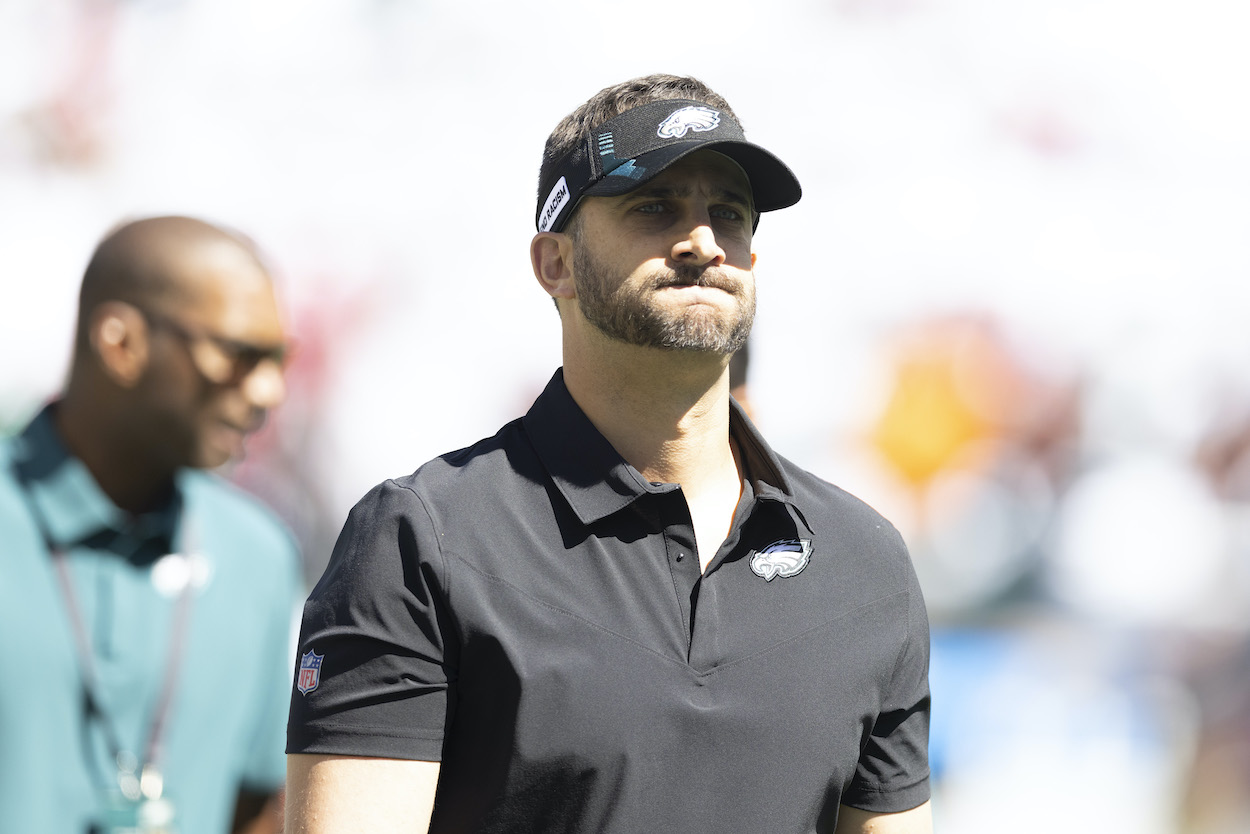 Nick Sirianni's Befuddling Practice Habit Might Explain Why the Eagles Can't Fix Their Most Embarrassing Problem
Nick Sirianni is directly to blame for the Philadelphia Eagles leading the NFL in penalties.
We're only four weeks into the Nick Sirianni era in Philadelphia, but the first-year Eagles head coach might already be in over his head. After starting the year with an impressive win against the Atlanta Falcons, the Eagles have sputtered to three straight losses since, and poor coaching decisions and sloppy play have plagued them through it all.
Philadelphia has been a flag magnet so far this season, as the team leads the NFL in penalties through four games. Sirianni's head-scratching practice habit might just explain why.
Eagles lead the NFL with 44 penalties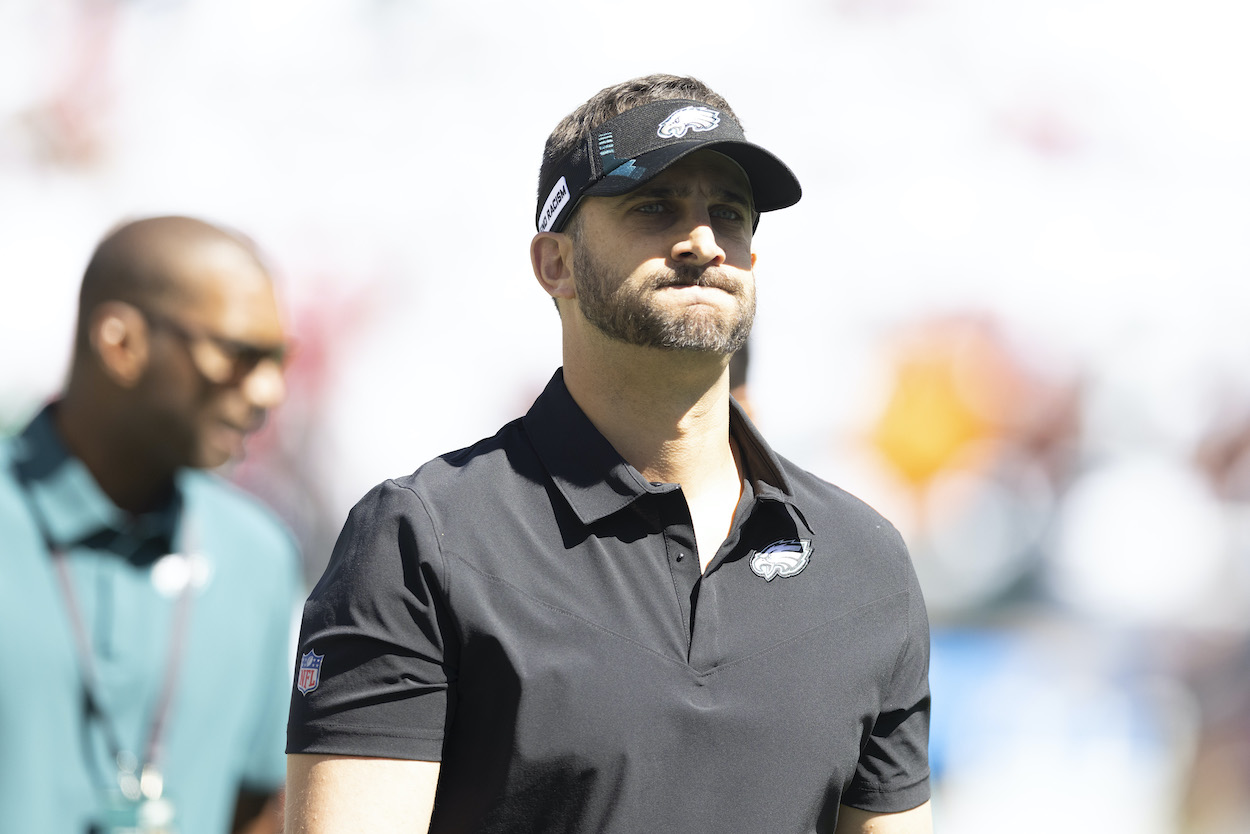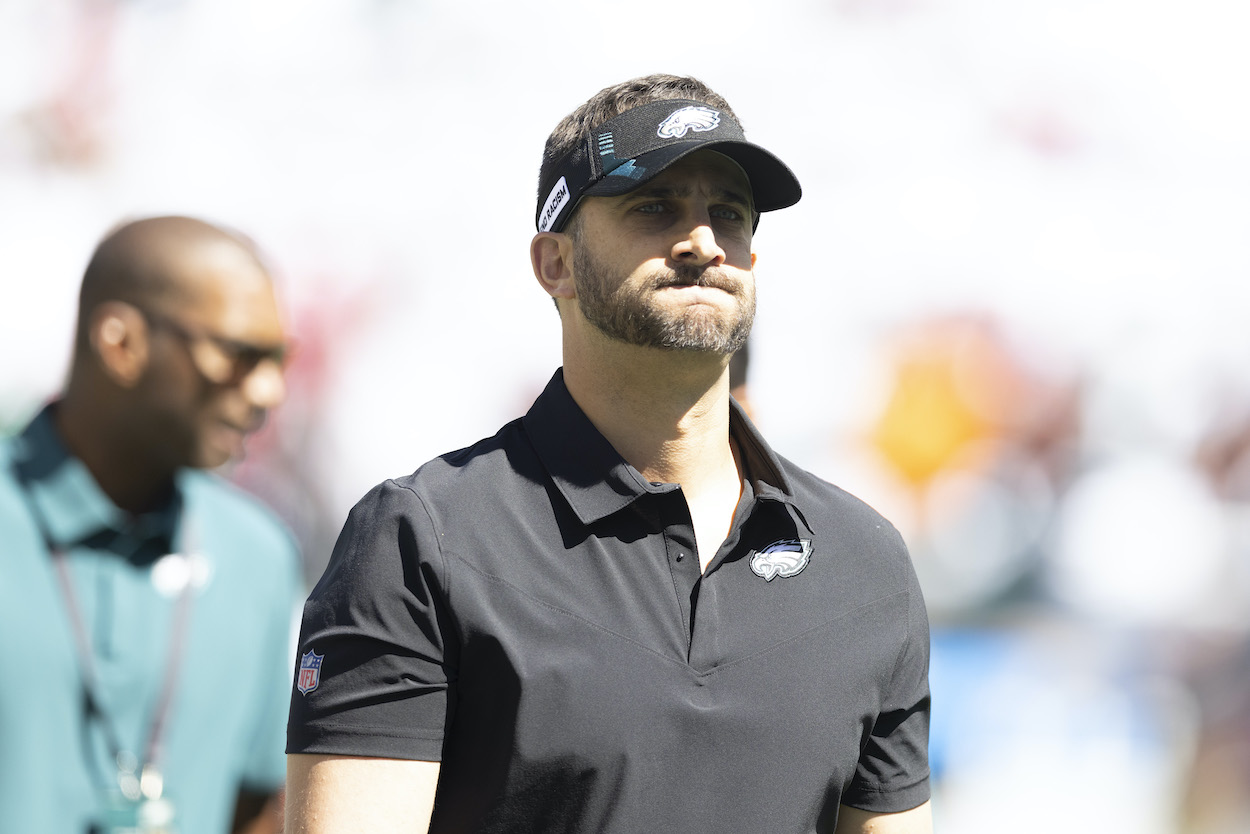 No NFL team can ever avoid penalties. Those pesky, yellow flags are simply a part of the game of football that teams must try to cut down, but some do a better job than others in that category.
In 2021, every team in the league has avoided penalties better than the Eagles. Through four games, Philadelphia has been hit with a whopping 44 penalties. No other team in the NFL has more than 34.
Incredibly, 27 of those 44 flags have come in the team's two road games this season.
These aren't just simple false starts or offsides calls, though. In their Week 4 loss against the Kansas City Chiefs, the Eagles had three touchdowns called back due to penalties. You can't win in this league with crushing slip-ups like that.
"The penalties are a big problem and we're still ticked off about them," Sirianni told reporters this week. "We're still working like crazy to get those fixed… I'm the head football coach. I know my responsibility. I know what I'm responsible for, and every product out there is my responsibility."
He's right about that.
Nick Sirianni's befuddling practice habit could be the root of the problem
Sirianni says he understands that the team's penalty issues fall on him, but his actions in practice tell a different story.
During the Eagles-Chiefs television broadcast on Sunday, Ian Eagle of CBS revealed that Sirriani doesn't stop his practices to correct penalties because he "doesn't want to lose time for more reps," per 94WIP.
Well then. It seems we've found the root of the issue.
That's a fine strategy if your team is playing clean football on the field every Sunday, but the Eagles are the most penalized team in the NFL by a wide margin. The embarrassing problem is costing the team valuable points and maybe even victories, so it should be priority No. 1 throughout the week.
Instead, Sirianni has reportedly been choosing to ignore the problem altogether.
Sirianni must alter his practice stategy to protect his job
Sirianni had a clear plan entering his first season as an NFL head coach. He wanted to give his young roster as many reps as possible throughout the week to ensure his players were fully prepared for Sunday.
Well, through four weeks, that plan has fallen flat on its face.
Because they aren't getting penalized in practice for mistakes, the Eagles have become the sloppiest and most undisciplined team in the NFL. Sirianni must change his buddy-buddy attitude and start cracking down on penalties during practice if he wants to see a change. We're at the point where a little tough love is going to be necessary to fix this damaging issue.
A pattern of penalties is one of the biggest tells that a rookie head coach is in over his head. If Sirianni can't clean up the flags soon, he might not even make it to Year 2.
Like Sportscasting on Facebook. Follow us on Twitter @sportscasting19.