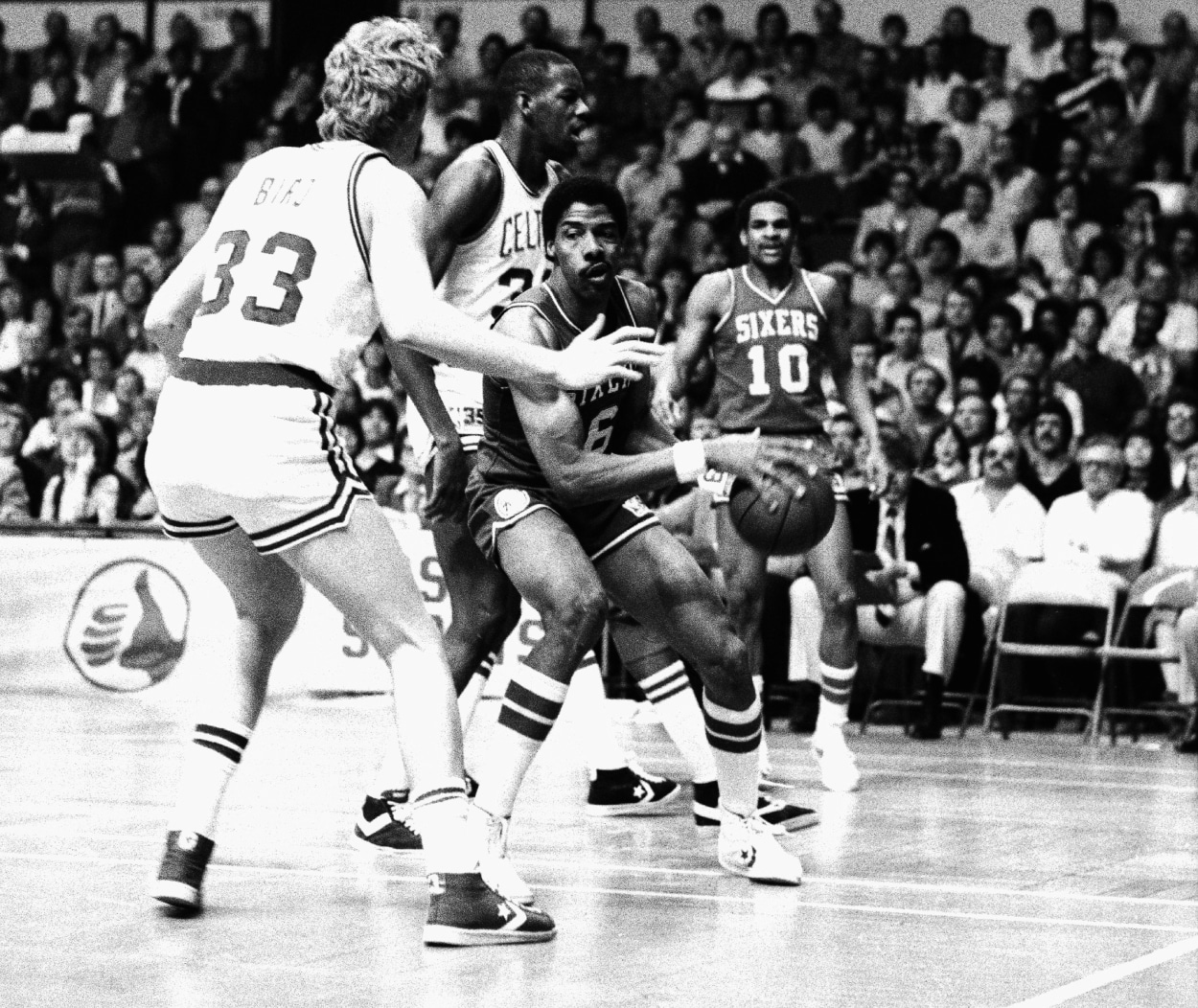 Larry Bird Admitted He Couldn't Handle Julius Erving, but Luckily His Boston Celtics Teammates Bailed Him Out
Larry Bird had plenty of help when it came to facing Julius Erving and the Philadelphia 76ers.
Larry Bird gets plenty of well-deserved credit. As a rookie, he helped turn around a Boston Celtics team that won 29 games the previous season into one that won a league-leading 61 during the 1979-80 NBA season. The following year, Bird led the Celtics to the first of three championships in the decade.
While Bird had all the talent and more than lived up to the hype, he had plenty of help as the decade progressed. He needed that assistance, especially when it came to playing against Philadelphia 76ers star Julius Erving.
Larry Bird admitted facing Julius Erving was one tough task
Before the Larry Bird vs. Magic Johnson NBA rivalry began in the mid-80s, the Celtics biggest rivals were the Julius Erving-led Philadelphia 76ers. For three straight years, the Celtics and Sixers squared off in the Eastern Conference Finals. Those battles were often heated.
"I laugh when I think about the greatest series that I've ever played in," said former Celtics forward Cedric Maxwell on the Cedric Maxwell Podcast. "It wasn't a championship series, but it had to be that Philadelphia/Boston 1981. Those were wars, man. They were wars."
The Sixers always presented a problem. Guard Andrew Toney came up big when it counted most against the Celtics, earning the nickname "The Boston Strangler." After Moses Malone came over from the Houston Rockets, he led Philly to a championship in his first season with the team in the 1982-83 season.
Philadelphia, however, was led by Erving. The man known as "Dr. J' was an All-Star in all 16 of his NBA/ABA seasons. The 6-foot-7 forward from UMass could do it all. He overmatched Bird in Bird's early NBA days.
"My biggest defensive worry was trying to keep players like Dr. J from just doing whatever they wanted to do on the court," Bird wrote in his book Drive: The Story of My Life. "I was afraid they were going to go around me every time or that I would get caught back on the fast break in an isolated situation."
Bird had plenty of help from his teammates
Bird won three straight MVPs from 1984 to 1986. He led the Celtics to two more championships in '84 and '86. He was All-NBA 10 times and is credited for helping take both the Celtics and the NBA to the next level.
Bird couldn't do it alone, though.
Although he's credited for that 32-win difference in that rookie season, Bird has some serious help when it came to winning Boston's first championship in the '80s. In Bird's second season, the Celtics swung a deal with the Golden State Warriors that brought back veteran center Robert Parish and a rookie named Kevin McHale.
In their first year together, Bird, McHale, and Parish won a championship. The Celtics were a close-knit group on and off the court. They had each other's backs and learned to play sound, fundamental defense. That teamwork ultimately "saved" Bird.
"My teammates very quickly started to help each other out, however, and that saved me," Bird wrote. "I needed help.
"If you put me out there and asked me to guard a Dr. j one-on-one, he'd have beaten me every time. Once we all learned about each other and started covering up for each other, it was a lot easier."