Larry Bird and Magic Johnson Had Many Similarities Except When It Came to Their Sneakers
Larry Bird and Magic Johnson had a difference of opinion when it came to their sneakers.
Larry Bird and Magic Johnson have always been linked because of their basketball skills. The two stars brought the NBA to a new level when they entered the league after their epic NCAA title game in 1979. Bird and Magic rekindled the Boston Celtics vs. Los Angeles Lakers rivalry and dominated the 1980s.
They had so much in common, right down to their footwear. They both sported Converse All-Stars, and that's where one major difference stood out.
Larry Bird and Magic Johnson took over the NBA in the 1980s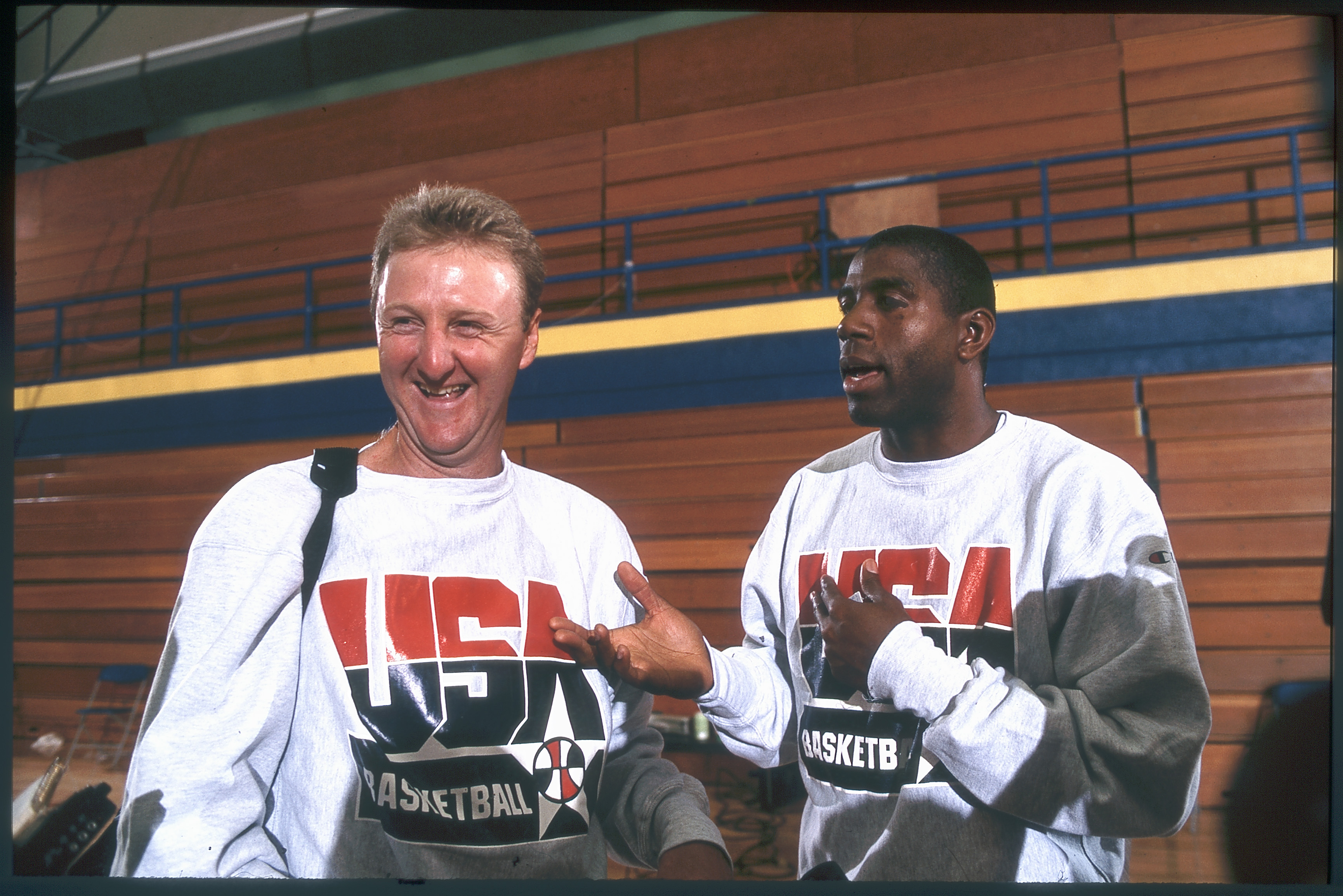 During the 1980s, the NBA Finals had either the Celtics or the Lakers taking part every year. They faced off against each other three times. The Celtics and the Lakers dominated the league as Bird and Johnson played key roles in making that happen.
Bird won three straight MVPs from 1984-86. He also guided the Celts to NBA titles in 1984 against the Lakers and then again in 1986 against the Houston Rockets. Bird and the Celtics also collected a championship in 1981 against the Rockets.
Magic and the Lakers won the championship in Johnson's rookie year in 1980. They claimed it again against the Philadelphia 76ers in 1982. The Lakers got revenge against the Celtics in 1985 before winning back-to-back titles in 1987 and 1988.
The two combined for eight championships and six MVP honors. The two Hall of Famers have been forever linked and always will be.
Larry Bird and Magic Johnson had a difference of opinion when it came to their Converse All-Stars
Back in the late '70s and early '80s, Converse All-Stars were today's Nikes. Julius Erving made Converse popular in the basketball world, and both Johnson and Bird, among others, jumped on board. As their careers moved along, Johnson grew frustrated with the company, eventually severing his deal right after the Olympics. Johnson blasted Converse for not keeping up with the times.
″Converse is still living in the 1960s and '70s,″ Johnson said in an informal press conference following a Team USA's basketball practice, according to The Associated Press. ″They haven't arrived in the '80s and '90s where advertising and marketing are the keys. Guys like Larry and myself can't take ourselves to the next level.″
After the press conference, Bird reportedly said, ″I'll probably be next.″ He later said that comment was taken out of context and he would never bail out on Converse.
"I will be with Converse until the day I die," Bird insisted, according to United Press International. "I have worn Converse since high school and I have always been happy with their products. They have always been great to me. My remarks in Monte Carlo had nothing to do with Converse, and I regret any misunderstandings that may have occurred."
Magic blasted Converse for saying players won't sell sneakers
Although Johnson announced he was severing ties with Converse late in his career, he said he had been unhappy with the shoe company for quite some time. His relationship with Converse began in 1979, and his contract ran through 1994.
According to UPI, Johnson said his issue with Converse was because the company didn't take his advice. He believed shoes should be named after players, as Nike eventually did with Michael Jordan.
"In the past 10 years, Nike and Reebok have caught Converse flatfooted as they breezed by to score top market share in basektball shoes," Johnson said.
The company was stunned by Johnson's announcement.
"Magic's reported announcement from Monte Carlo came as both a surprise and shock to us, considering the tremendous support we have provided him," Converse President Gib Ford said. "Over the 13 years of our relationship with Magic, Converse has spent more than $35 million to support him with marketing and advertising programs, as well as creating a line of shoes and activewear under his name."
Johnson did say the divorce would benefit both parties.
"They got tired of me complaining, and I got tired of them not listening," he said, according to the AP.