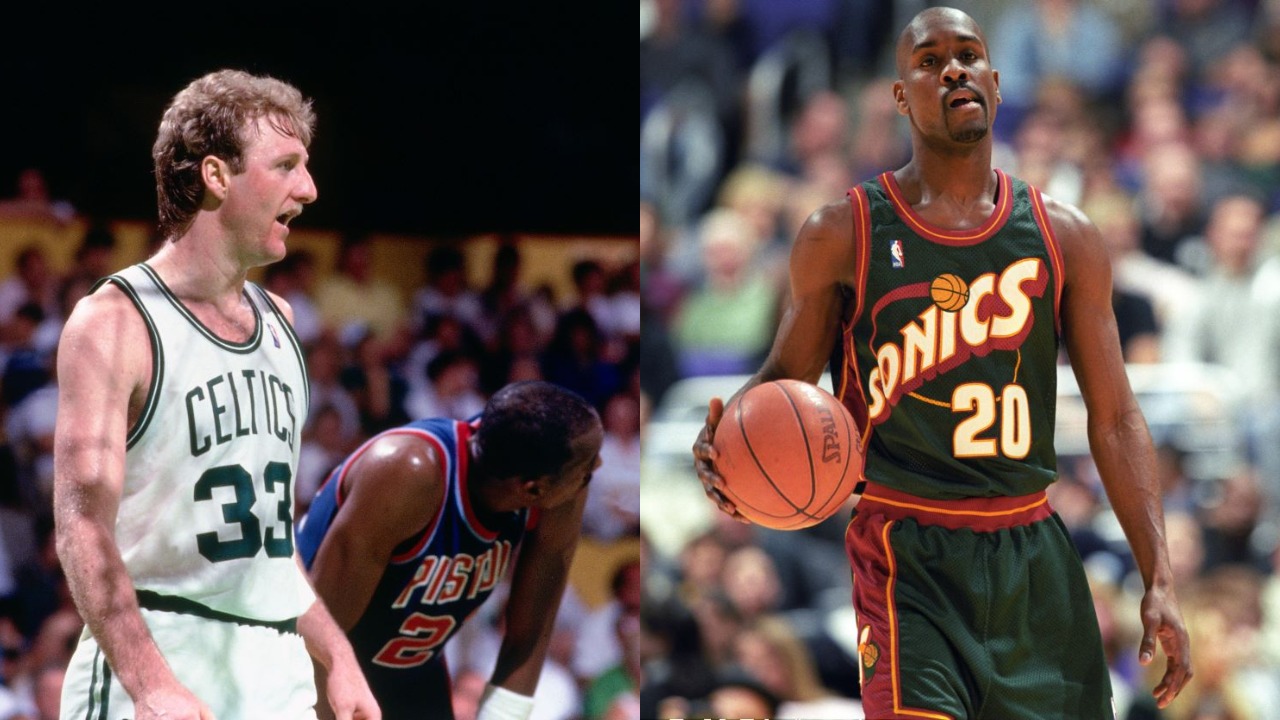 Larry Bird's Legendary Trash Talk Left an Unforgettable Mark on Gary Payton
Boston Celtics great Larry Bird held a legendary reputation for his trash talk and left an enduring mark on Hall of Famer Gary Payton.
Much of Larry Bird's legacy is linked to his performance on the hardwood and the many accomplishments he racked up throughout his NBA career, but his trash-talking prowess remains a significant part of his identity.
The former Boston Celtics legend consistently walked the walk in addition to talking the talk. He, unlike so many other trash-talkers, always seemed to back up his brash banter.
Bird left an impression on countless players, and fellow Hall of Famer and trash-talking aficionado Gary Payton is among them.
Larry Bird's dominance extended to his legendary trash-talking
Larry Bird spent his entire 13-year NBA career with the Celtics, where he firmly established himself as one of the game's greatest talents.
He led Boston to sustained success throughout the 1980s with his all-around play. Bird won three NBA titles and two Finals MVP awards in five Finals appearances, earned three regular-season MVP awards, and received 12 All-Star selections and nine All-NBA First Team nods.
The former Celtics great remains the only forward to win three straight regular-season MVP awards. He was also the first player with at least five seasons averaging 20 points, 10 rebounds, and five assists, though Giannis Antetokounmpo (five) and Kevin Garnett (six) have both joined him in the club.
Bird also grew his legacy with his infamous trash-talk. That aspect alone made him iconic, regardless of how excellent his on-court performances may have been.
Gary Payton thought Larry Bird was a 'Cold dude, man, real cold'
Larry Bird's unflappable confidence in his ability set the table for numerous trash-talking stories.
Many colleagues have spoken fondly about their memories of Bird's jawing. During a January 2022 appearance on Uninterrupted's "Showing up and Throwing Down," Hall of Famer Gary Payton recalled the former Celtics great's iconic trash-talk.
"Bird used to tell me, 'Look here, man. I'm gonna go shoot this muthaf****** jumper in your face right there in that corner. And it's gonna be your Christmas present. I'm gonna wrap it up and bust your head open,'" Payton said. "All that s***. He was the coldest dude I've ever seen with that s***, man. Everybody be talking about these great greats and we always mention him. He was the ****. He give it to you any way he wanted to. Larry Bird was cold. Cold dude, man, real cold."
Payton's anecdote about Bird is similar to the stories others have shared about him calling his shots. The French Lick native fed off in-game banter, which only raised his performance to the next level. His innate ability to back up his words also generated plenty of admiration from his peers.
Payton was present for the tail end of Bird's career as his first two NBA seasons overlapped with the Celtics great's final two campaigns. At that point, Bird wasn't the same player he once was, but it didn't stop him from engaging in some trash-talk with the young Seattle SuperSonics guard.
Plus, Payton's fondness for Bird's banter is more meaningful due to his own reputation for trash-talking. He's also widely viewed as one of the game's greatest trash-talkers, lending even more credence to his views of Bird's legendary tongue-lashings.