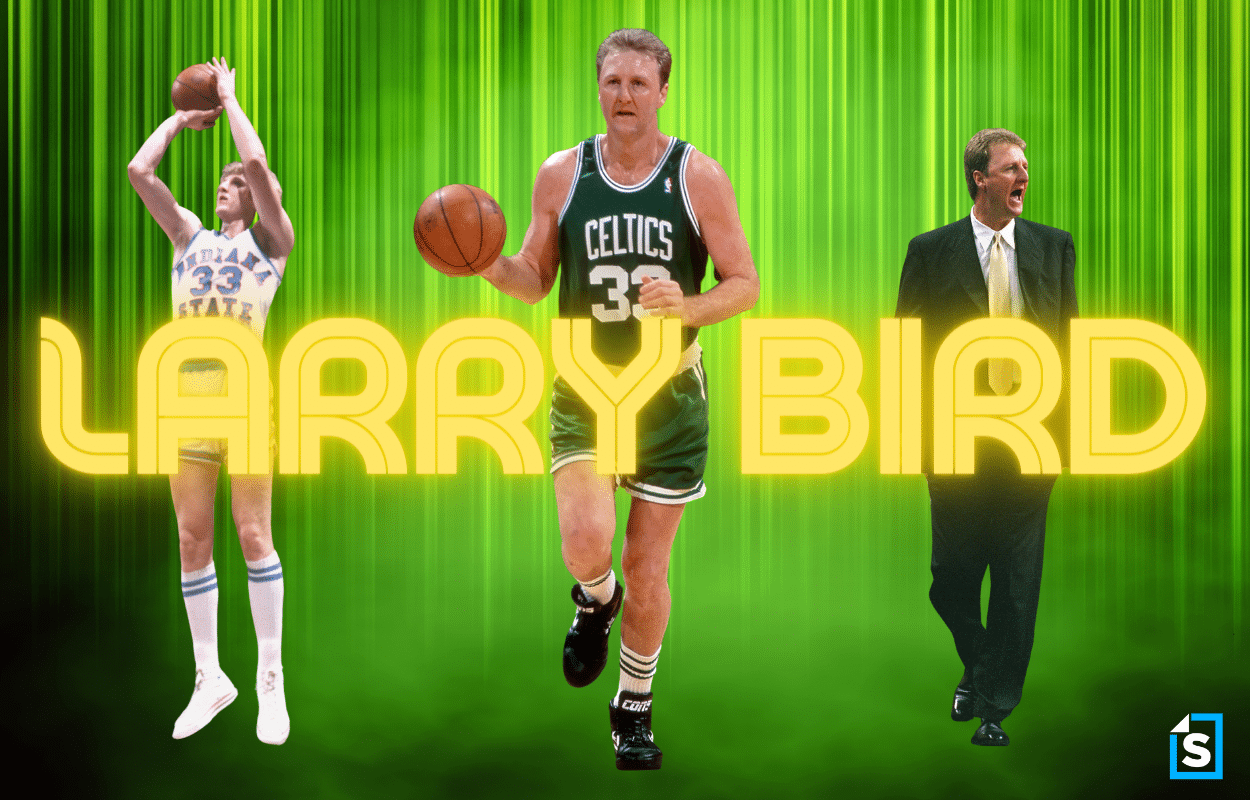 Larry Bird: Biography, Career, Net Worth, Family, Top Stories for the Boston Celtics Legend
Who is Larry Bird? We've got you covered with anything and everything about the Boston Celtics legend.
Few players throughout NBA history have conjured up as much awe as Larry Bird. 
Even though two decades have come and gone since the Boston Celtics legend and member of the Naismith Memorial Basketball Hall of Fame last suited up in a professional game, his name evokes feelings of respect, admiration, and befuddlement at the sheer amount of basketball skill at his disposal. He's an unquestioned top-10 player in NBA history, has had his No. 33 jersey retired by the Beantown organization, and continues to inspire reverence at nearly every reference. 
But who is Larry Bird? Below, you'll find everything you need to know about the Boston icon, ranging from personal information to his statistics to the top stories he inspired throughout — and beyond — his playing days. 
Article Contents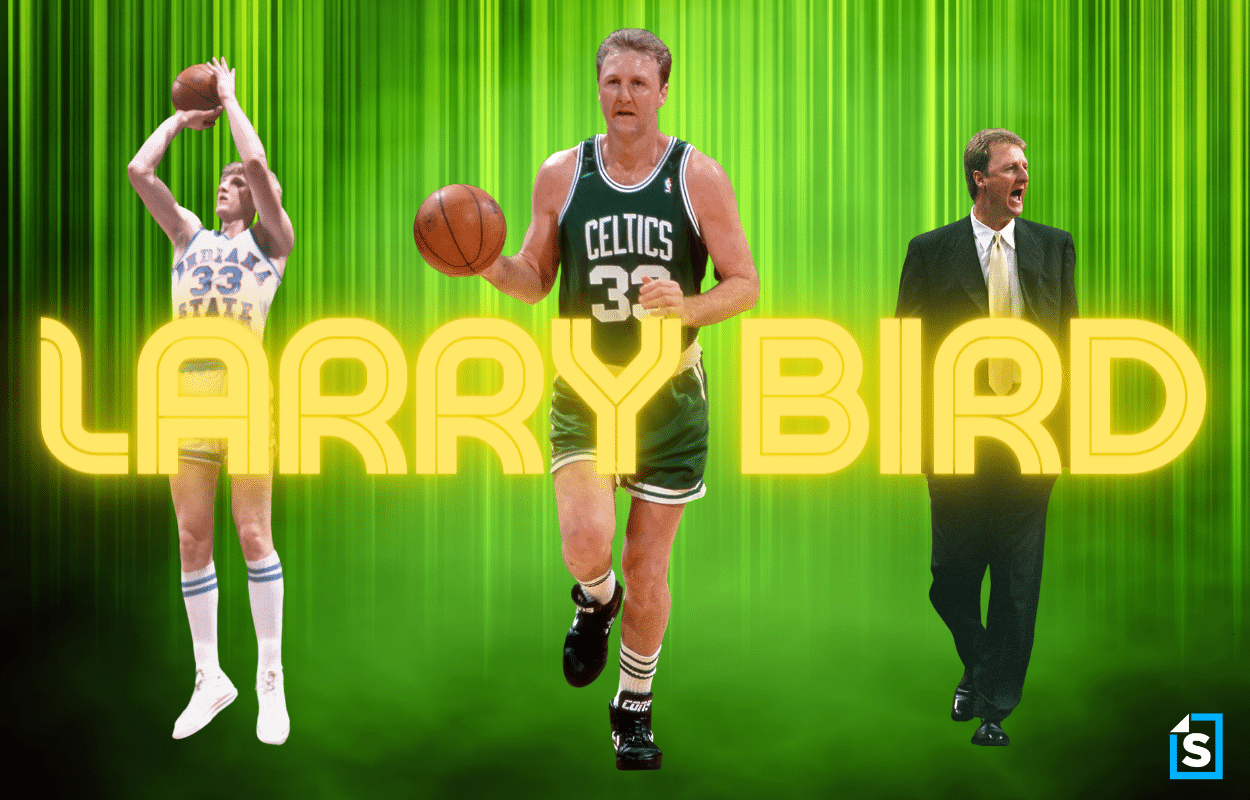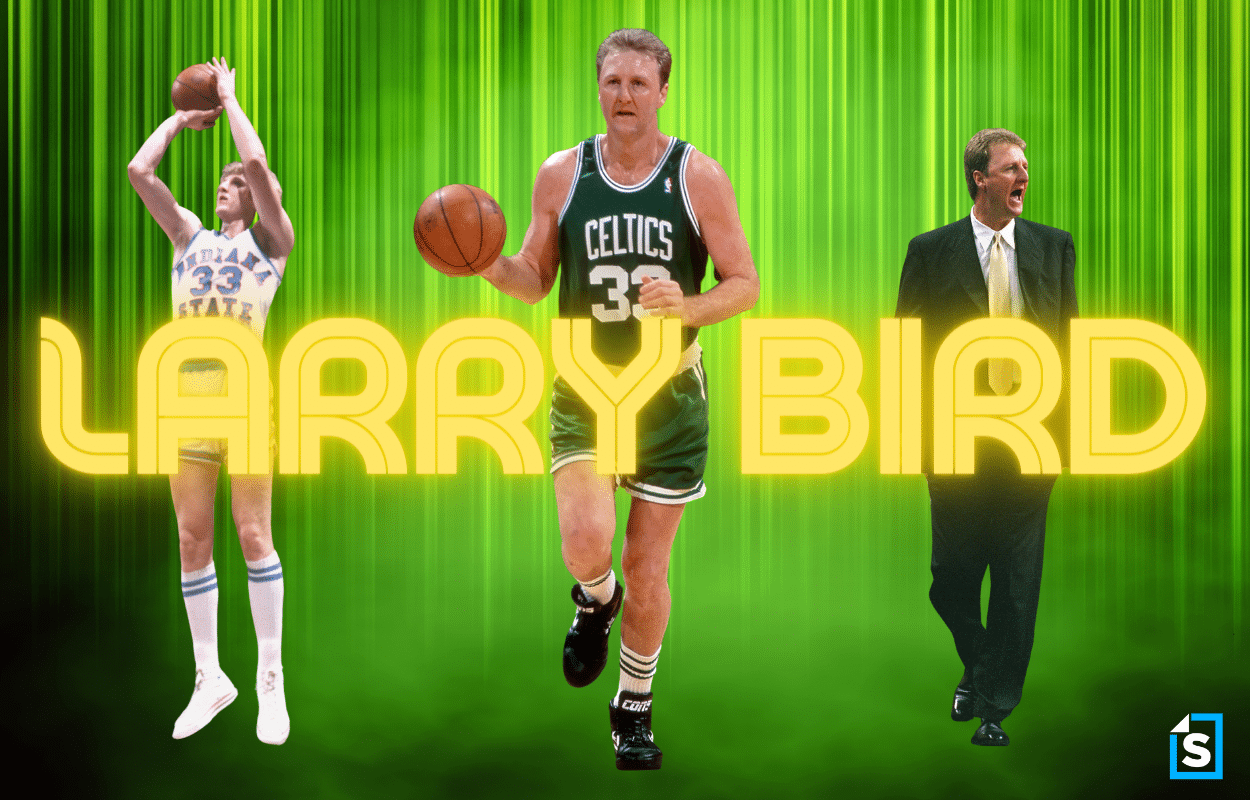 Quick facts
Early life and high school
College
Boston Celtics career
NBA awards and achievements
NBA stats
Team USA
Head coaching career
NBA executive career
Wife, kids, and family
Net worth and career earnings
Nicknames
Media presence
Top stories
FAQ
Quick Larry Bird facts
Full name: Larry Joe Bird
Birthday: Dec. 7, 1956
Birthplace: West Baden, Indiana
Parents: Georgia Bird and Claude Joseph "Joe" Bird
Siblings: Eddie Bird, Jeff Bird, Linda Bird Campbell, Mark Bird, Mike Bird
Listed height: 6-foot-9
Listed weight: 220 pounds
High school: Springs Valley High School (French Lick, Indiana)
College: Indiana State University (1976-79)
NBA draft: Round 1, Pick No. 7 in the 1978 NBA Draft
NBA team: Boston Celtics
NBA position: Small forward/power forward
NBA number: No. 33
NBA playing career: 1979-92
Marital status: Married
Spouse: Dinah Mattingly (1989); previously Janet Condra (1975)
Children: Corrie Bird (1977), Mariah Bird (1991), Connor Bird (1992)
Where did Larry Bird grow up?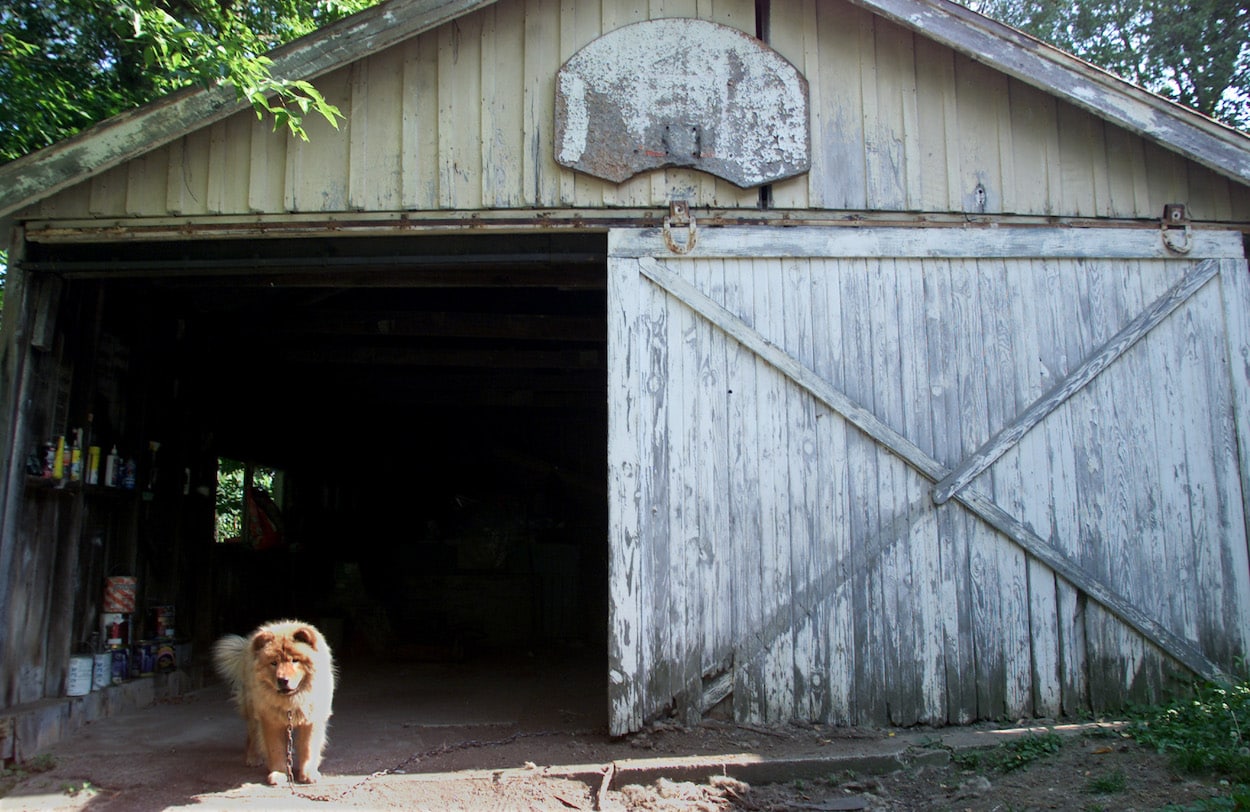 He's referred to as "The Hick From French Lick" for a reason, but that reason isn't his birthplace.
Larry Bird was born in West Baden Springs, Indiana, to Georgia and Claude Joseph "Joe" Bird and grew up as one of six children. His siblings included four brothers (Eddie, Jeff, Mark, and Mike) and a sister (Linda). 
He and his family soon moved to French Lick, a basketball-obsessed town in Indiana's corn country, and economic struggles reared their ugly heads throughout his childhood. His father was a Korean War veteran who had trouble maintaining employment; his mother worked as a cook at a restaurant named Flick's and made frequent visits to a local bank to take out loans for groceries. Since two of his siblings were younger, he began to work in the cafeteria as a fourth-grader and took on a 40-hour-per-week job at Agan's Market (right next to Flick's) during seventh grade. 
Nevertheless, Bird grew into a basketball star at Springs Valley High School, eventually becoming so much of a local attraction that his games would regularly draw attendance figures that nearly matched the town's meager population of just over 2,000. Hard work was nothing new to him. 
As a sophomore, Bird broke his ankle and missed plenty of action while playing junior varsity at 6-foot-1. But he bounced back with aplomb and sprouted to 6-foot-3 during his junior year, leading Springs Valley to a 19-2 record and earning significant local fame in the process. As a 6-foot-7 senior, even though his family couldn't afford a car and had to call upon fans for rides to watch him play, he became the school's all-time leading scorer. He played his final game in French Lick in front of a crowd estimated at 4,000. 
Though he wasn't named Mr. Basketball in Indiana and was only a third-team all-state honoree, likely because of the lesser competition against which he played, Bird topped out at 55 points in one game and 38 rebounds in a different contest. While leading Springs Valley to a 21-4 record, he averaged 30.6 points and 20.0 rebounds during that final season. 
Still, not everything was positive. On Feb. 3, 1975, Joe called Georgia. The pair had divorced, and he'd fallen behind on child-support payments. He died by suicide later that day, claiming the family would be better off without him. 
"I sort of always felt my dad gave up on not only himself but us kids," Larry Bird later explained, per IndianapolisMonthly.com. "I still had two younger brothers at home and a mom. That's the way I looked at it then, and the way I look at it now.  It was a shock. I was shocked. But just like anything else, life goes on."
Where did Larry Bird go to college?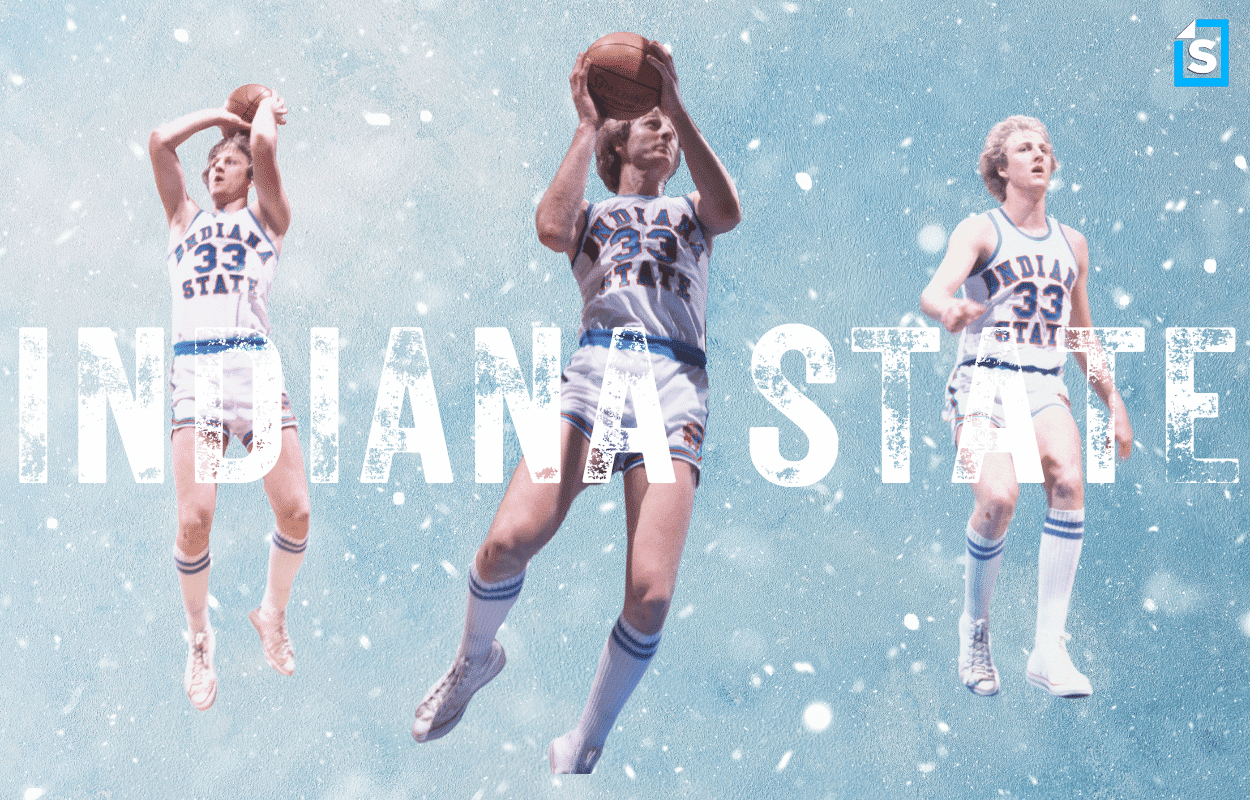 Bird had always leaned upon basketball as an escape, and that didn't change with a high school diploma in hand. He began his collegiate career at Indiana University under legendary head coach Bob Knight, but that experience lasted a meager 24 days. Before the team even began its practice schedule, he left Bloomington and hitchhiked back to French Lick. 
Next up was local junior college Northwood Institute. But history repeated itself. After practicing with the team for six weeks, Bird disappeared, later citing the lack of financial earning power and burned year of collegiate eligibility he would have experienced with the Blue Devils. 
After playing with an AAU basketball team named Hancock Construction Company, Bird signed with Indiana State University and had to sit out for a season because of his transfer status. Even that transition was rough. The future Hall of Famer complained that head coach Bob King was benching him during scrimmages and came close to quitting once more. But the real reason for those benchings? King was attempting to give his starters a chance to succeed since they were struggling to do so with Bird on the floor. 
Bird stuck it out, and he quickly proved why King was trying to protect the previous season's starters. During the 1976-77 season, Bird averaged 32.8 points, 13.3 rebounds, 4.4 assists, and 2.8 steals while leading Indiana State to a 25-3 record. The Sycamores had gone just 13-12 the year before.
Per NBA.com, "Home-game attendance hovered around 3,100 when Bird arrived at Indiana State, but as he had done in Springs Valley, Bird single-handedly packed the house and elevated his team to respectability and more. … Season-ticket sales tripled. TV stations showed film clips of Bird instead of commercials. Students skipped class to line up for tickets eight hours before tipoff."
As a senior, Bird nearly reached the mountaintop.
Behind his 28.6 points, 14.9 rebounds, 5.5 assists, and 2.5 steals per game, Indiana State put together an undefeated regular season, climbed all the way to No. 1 in the AP poll for the first and only time in program history, and nearly won the NCAA tournament. Standing in the Sycamores' way, though, were Earvin "Magic" Johnson and the Michigan State Spartans, who defeated Bird's squad 75-64 in the championship game — one of the most heavily hyped, highest-rated affairs in the history of men's college basketball.
Bird, who had guided Indiana State to an 81-13 record during his tenure, was named the 1978-79 College Player of the Year. He entered the NBA as a two-time consensus All-American and one of the most celebrated amateur players in the sport's archives. Plus, he graduated in 1979 with a degree in physical education.
Larry Bird NBA career with the Boston Celtics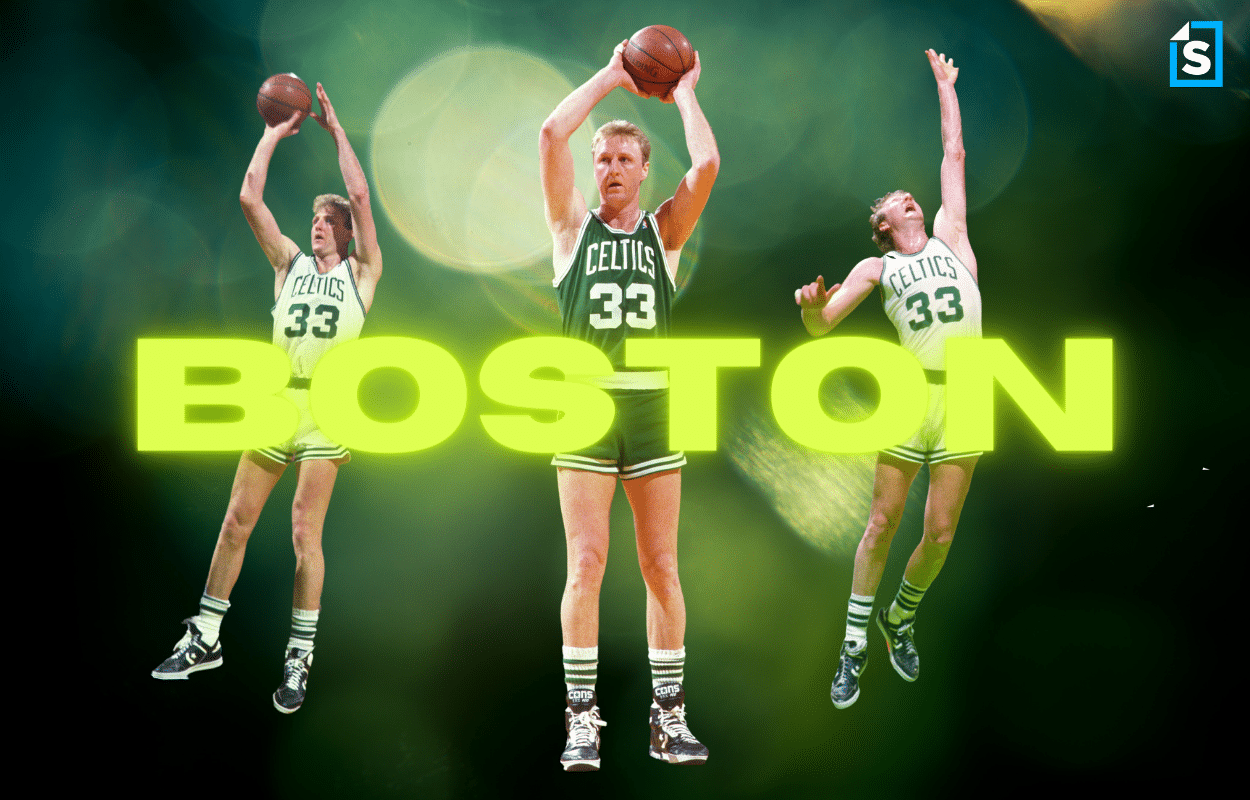 Boston Celtics general manager Red Auerbach selected Bird with the No. 6 overall pick of the 1978 NBA draft but did not sign him immediately, refusing to pay him more than any current member of the organization.
Bob Woolf, Bird's agent, explained that his client would re-enter the draft process in 1979 when Boston's rights expired, and the negotiations ended in a five-year, $3.25 million contract that made the Indiana native the highest-paid rookie of all time. The NBA even instituted the "Bird Collegiate Rule," preventing future drafts from allowing the selection of players not yet ready to sign contracts.
Bird immediately proved worth the wait — and the negotiation-related headaches.
Even as a 23-year-old playing alongside Dave Cowens, Tiny Archibald, Cedric Maxwell, and Pete Maravich, Bird was the best player on the floor in Beantown. He averaged 21.3 points, 10.4 rebounds, and 4.5 assists, played in all 82 contests, and sparked a turnaround from 29-53 to 61-21.
The season may have ended in defeat at the hands of the Philadelphia 76ers in the Eastern Conference Finals, but he had already justified the monumental hype, finishing behind only Kareem Abdul-Jabbar, Julius Erving, and George Gervin in MVP voting and earning 63 of 66 first-place votes for Rookie of the Year (Magic Johnson claimed the remaining three). 
Bird's presence was transformative — not just for the Celtics, but for the NBA as a whole.
He and Johnson enjoyed a rivalry that helped the league's popularity surge, allowing it to overcome the negative press generated by widespread cocaine usage in the '70s. The Association quickly went from putting forth tape-delayed NBA Finals clashes to taking center stage in the overall sports landscape, and the popularity of Bird and Johnson — as well as the dichotomy between them — widely drew credit for the reputational rehabilitation.
Bird never enjoyed the footspeed of his primary competitors, but he made up for that in just about every other way.
His anticipatory skills were immaculate, allowing him to thrive both on the defensive end and with passing chops that belied his 6-foot-9 frame. He also emerged as one of the greatest ahead-of-his-time shooters in the game's history, tickling twine from beyond the newly instituted three-point arc, rarely missing at the free-throw line, and excelling from all areas of the floor with near-ambidexterity and soft touch. 
As he and the Celtics grew, bolstered by the arrivals of Kevin McHale and Robert Parish, they pushed into dynastic territory. Not only was Bird a mainstay in All-Star and MVP conversations, but the C's morphed into a juggernaut always in contention for championships. Titles did indeed come in 1981, 1984, and 1986, and Boston also played in the 1985 and 1987 Finals. 
Bird packed a lot of success into his first decade of NBA play, but longevity wouldn't prove his strong suit. Once he entered his 30s, he was slowed by foot problems (bone spurs limited him to six appearances in 1988-89), and a string of back conditions, beginning during the 1985 offseason when he shoveled rocks to create a driveway for his mother, eventually wore him down and pushed him into retirement. 
Larry Bird NBA awards and achievements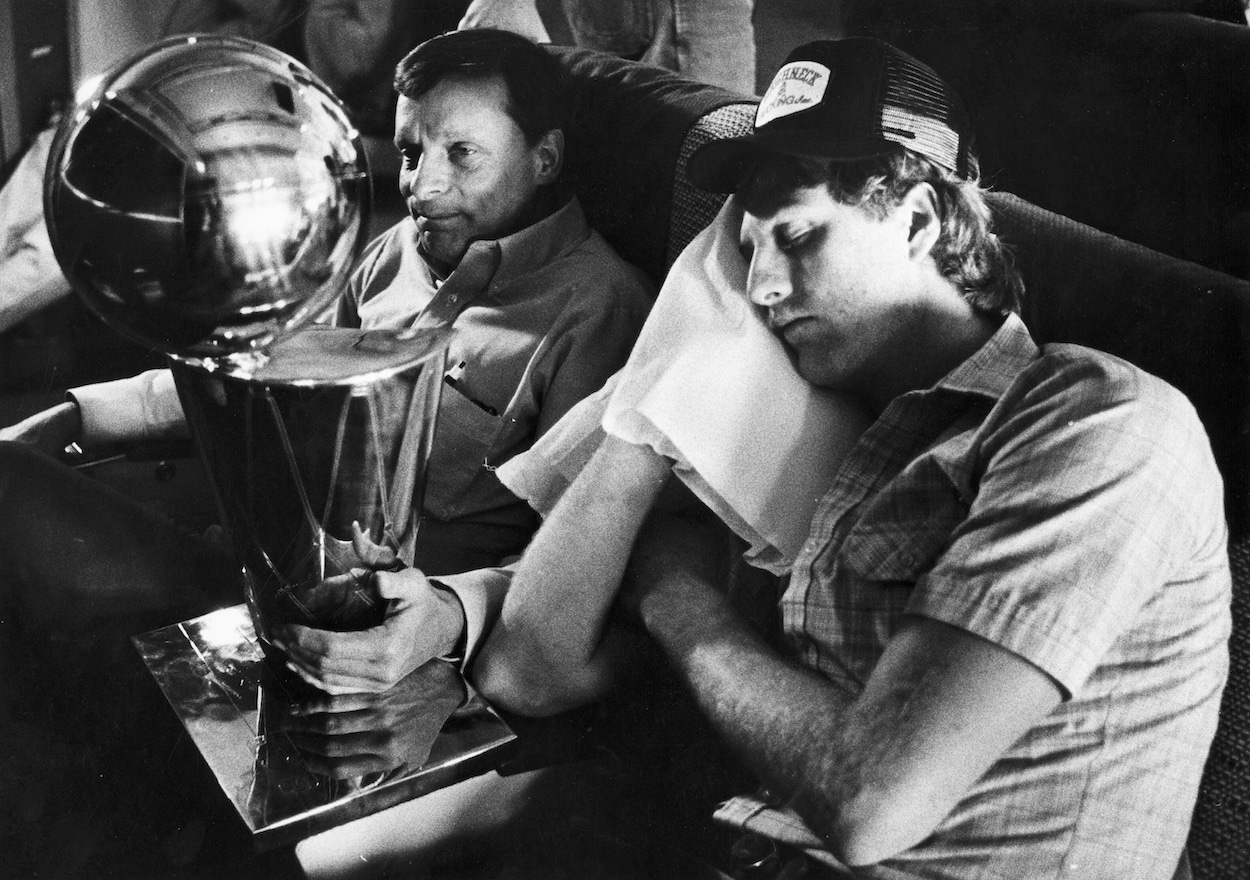 Larry Bird's list of achievements at the NBA level is nothing short of staggering.
He was named a member of the NBA's 50th Anniversary All-Time Team in 1996, joined the Naismith Memorial Basketball Hall of Fame two years later, and made the NBA's 75th Anniversary Team in 2021. Commonly viewed as one of the 10 best players in the sport's history, he is the only man named Rookie of the Year, MVP, Finals MVP, All-Star MVP, Coach of the Year, and Executive of the Year. 
Even the following list omits some of his more minor accolades — the famed 1988 Three-Point Contest victory for which he didn't even take off his warmup jacket, for example — though it's still a rather lengthy one:
Hall of Fame (1998 inductee)
50th Anniversary All-Time Team inclusion
75th Anniversary Team inclusion
No. 33 jersey retired by the Boston Celtics
Three-time NBA champion (1981, 1984, 1986)
1979-80 Rookie of the Year
1979-80 All-Rookie First Team
1982 All-Star Game MVP
Two-time Finals MVP (1984, 1986)
12-time All-Star (1980-88, 1990-92)
10-time All-NBA selection (1980-88, 1990)
Three-time All-Defensive selection (1982-84)
15-time Player of the Week
Seven-time Player of the Month
Shared NBA Lifetime Achievement Award with Magic Johnson (2019)
Larry Bird stats
Though Larry Bird never won a scoring or rebounding title, he produced stats comparable to those of the NBA's best and brightest through his well-rounded play, dizzying versatility, and groundbreaking efficiency. 
First, you can see his per-game stats during the regular season: 
| Season | Games | PTS | REB | AST | STL | BLK |
| --- | --- | --- | --- | --- | --- | --- |
| 1979-80 | 82 | 21.3 | 10.4 | 4.5 | 1.7 | 0.6 |
| 1980-81 | 82 | 21.2 | 10.9 | 5.5 | 2.0 | 0.8 |
| 1981-82 | 77 | 22.9 | 10.9 | 5.8 | 1.9 | 0.9 |
| 1982-83 | 79 | 23.6 | 11.0 | 5.8 | 1.9 | 0.9 |
| 1983-84 | 79 | 24.2 | 10.1 | 6.6 | 1.8 | 0.9 |
| 1984-85 | 80 | 28.7 | 10.5 | 6.6 | 1.6 | 1.2 |
| 1985-86 | 82 | 25.8 | 9.8 | 6.8 | 2.0 | 0.6 |
| 1986-87 | 74 | 28.1 | 9.2 | 7.6 | 1.8 | 0.9 |
| 1987-88 | 76 | 29.9 | 9.3 | 6.1 | 1.6 | 0.8 |
| 1988-89 | 6 | 19.3 | 6.2 | 4.8 | 1.0 | 0.8 |
| 1989-90 | 75 | 24.3 | 9.5 | 7.5 | 1.4 | 0.8 |
| 1990-91 | 60 | 19.4 | 8.5 | 7.2 | 1.8 | 1.0 |
| 1991-92 | 45 | 20.2 | 9.6 | 6.8 | 0.9 | 0.7 |
| Career | 897 | 24.3 | 10.0 | 6.3 | 1.7 | 0.8 |
Then during the playoffs: 
| Season | Games | PTS | REB | AST | STL | BLK |
| --- | --- | --- | --- | --- | --- | --- |
| 1979-80 | 9 | 21.3 | 11.2 | 4.7 | 1.6 | 0.9 |
| 1980-81 | 17 | 21.9 | 14.0 | 6.1 | 2.3 | 1.0 |
| 1981-82 | 12 | 17.8 | 12.5 | 5.6 | 1.9 | 1.4 |
| 1982-83 | 6 | 20.5 | 12.5 | 6.8 | 2.2 | 0.5 |
| 1983-84 | 23 | 27.5 | 11.0 | 5.9 | 2.3 | 1.2 |
| 1984-85 | 20 | 26.0 | 9.1 | 5.8 | 1.7 | 1.0 |
| 1985-86 | 18 | 25.9 | 9.3 | 8.2 | 2.1 | 0.6 |
| 1986-87 | 23 | 27.0 | 10.0 | 7.2 | 1.2 | 0.8 |
| 1987-88 | 17 | 24.5 | 8.8 | 6.8 | 2.1 | 0.8 |
| 1989-90 | 5 | 24.4 | 9.2 | 8.8 | 1.0 | 1.0 |
| 1990-91 | 10 | 17.1 | 7.2 | 6.5 | 1.3 | 0.3 |
| 1991-92 | 4 | 11.3 | 4.5 | 5.3 | 0.3 | 0.5 |
| Career | 164 | 23.8 | 10.3 | 6.5 | 1.8 | 0.9 |
His career-high marks in each major category are also rather impressive:
| Category | Career High | Date |
| --- | --- | --- |
| Points | 60 | March 12, 1985 |
| Rebounds | 21 | Eight times |
| Assists | 17 | February 16, 1984 |
| Steals | 9 | February 18, 1985 |
| Blocks | 5 | Four times |
Despite not leading the league in any per-game category, Bird's overall statistical prowess still stood out. Sports Math Network's Rolling Player Rating, a metric that accounts for all box-score statistics and schedule difficulty over 10-game stretches, shows how he compared to the rest of the NBA throughout his time in the Association: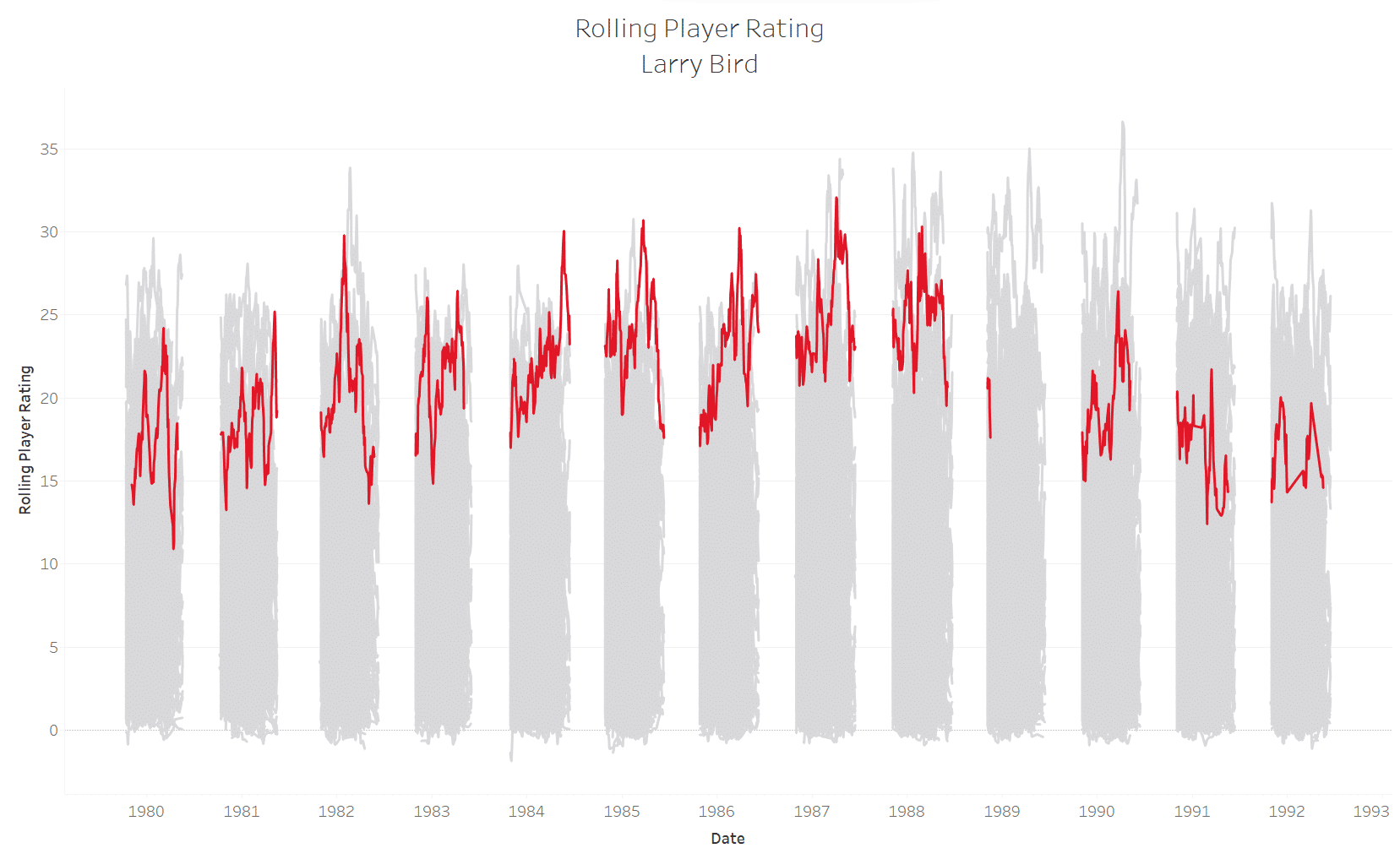 Aside from a 1988-89 season that ended after six games because the forward had bone spurs surgically removed from his heels and the injury-plagued ending to his professional career, Bird spent his entire Celtics tenure brushing shoulders with the league's elites.
Larry Bird on Team USA
Though Larry Bird retired from the NBA following a 1992 playoff series against the Cleveland Cavaliers in which he played just four of seven games and uncharacteristically missed a crunchtime overtime layup, he wasn't totally finished. In fact, the official decision didn't come until after the next experience since Bird announced his retirement on Aug. 18, 1992. 
During the summer of 1992, he joined Team USA's famed "Dream Team" in Barcelona, Spain. The roster, helmed by him, Michael Jordan, Magic Johnson, and a who's-who list of the sport's biggest stars, is still arguably the most talented group of basketball players ever compiled.
The Americans steamrolled the competition, gaining plenty of international fans while going 8-0 in Olympic play and winning every game on that world stage by more than 30 points. 
Bird, with his career coming to a close, may have been a headliner from a name-recognition perspective, but he played just 18 minutes per game. His 8.4 points per contest lagged behind Charles Barkley (18.0), Jordan (14.9), Karl Malone (13.0), Chris Mullin (12.9), Clyde Drexler (10.5), Patrick Ewing (9.5), Scottie Pippen (9.0), and David Robinson (9.0).
That said, he managed to lead the Americans with 19 points against Germany, proving both his enduring skill and the remarkable depth of talent on the aptly named Dream Team.
Larry Bird as head coach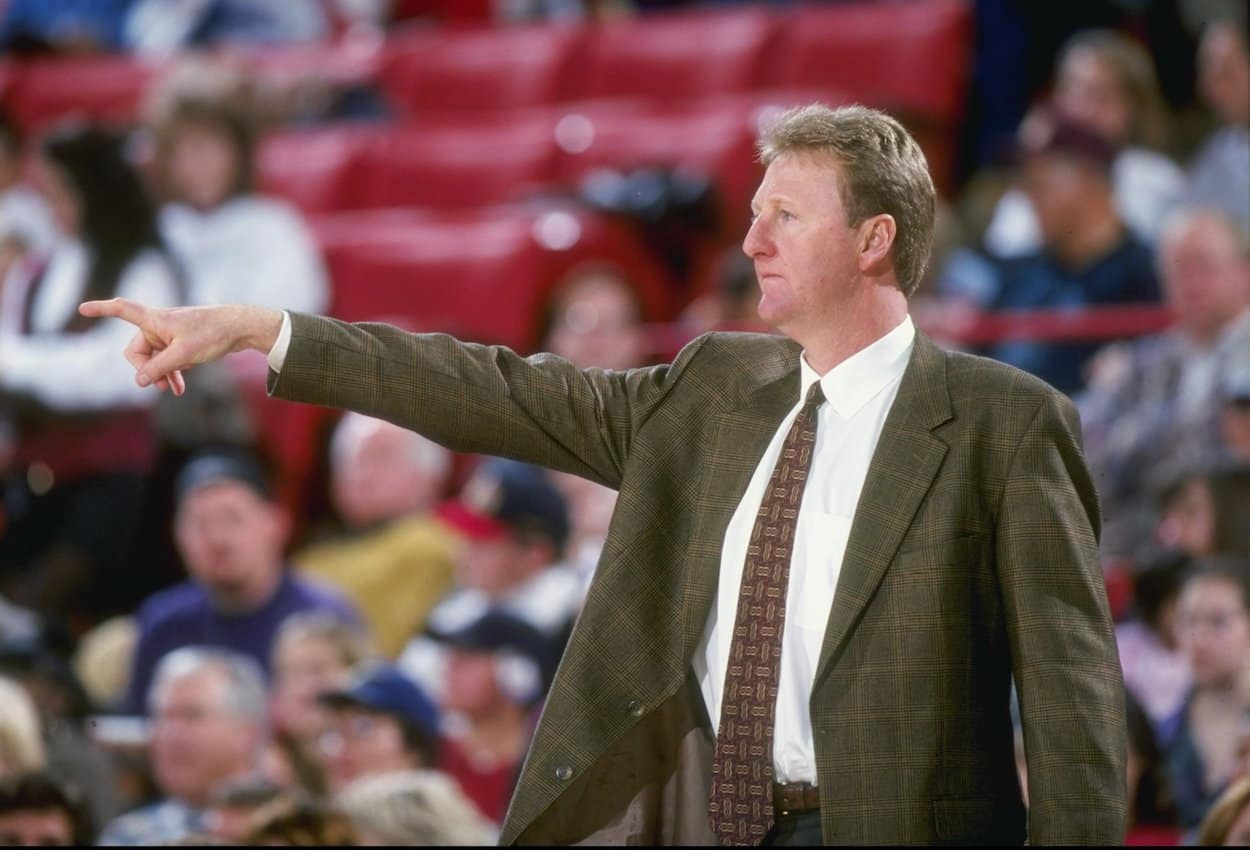 Basketball was too much of a fixture in Larry Bird's life for him to just walk off into the sunset after his emotional retirement announcement. Instead, he joined the Celtics as a special assistant in the front office from 1992 through 1997, when he became the head coach of the Indiana Pacers. It was a temporary hire from the start as Bird made clear that he would only take the job, for which he had no prior experience, for three years.
Indiana was coming off a disappointing 39-43 season under Larry Brown with aging stars Reggie Miller and Rik Smits atop the roster. But under Bird's supervision, they immediately transformed — with largely similar personnel — into a 58-win squad that advanced to the Eastern Conference Finals before falling to Michael Jordan's "Last Dance" Chicago Bulls in seven games.
Bird was named the Coach of the Year during his debut season on the sidelines. 
He stuck to his word and spent just three campaigns with the Pacers. Though he couldn't push them to a title, he did submit three straight winning records and stepped away after the Pacers fell to the Los Angeles Lakers, 4-2, in the 2000 NBA Finals.
Among coaches with at least 200 appearances, only Phil Jackson (1,155-485, .704) and Billy Cunningham (454-196, .698) have higher career winning percentages than Bird (147-67, .687).
Larry Bird as NBA executive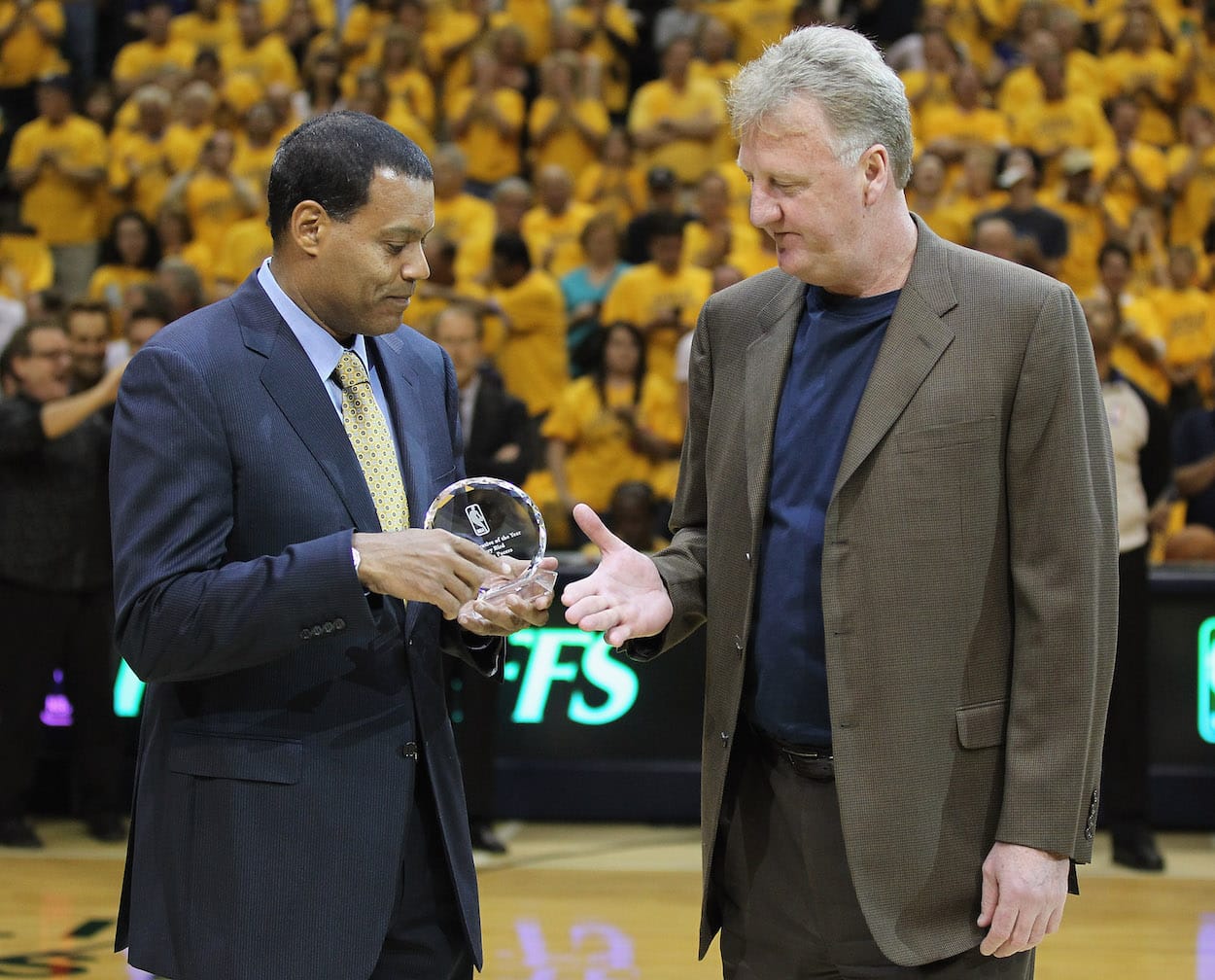 Three years later, the Indiana Pacers hired Larry Bird as their president of basketball operations.
Though misses are scattered among the hits, he was responsible for drafting Paul George out of Fresno State at No. 10 overall in 2010, selecting Danny Granger at No. 17 overall in 2005 despite concerns about prior knee injuries, signing David West in free agency, trading for Roy Hibbert, and hiring Frank Vogel, all of which helped establish the Pacers as a perennial threat in the Eastern Conference during his tenure.
Bird was even named the Executive of the Year at the conclusion of the 2011-12 season, completing an MVP/COY/EOY trifecta no one else has achieved. 
He and the Pacers agreed to part ways in June 2012, citing health issues, but he returned to the role a year later and filled it until he stepped down and was replaced by Kevin Pritchard in 2017. He then maintained an advisory position with the organization, and though he's no longer actively contributing, he has remained available to Indiana. 
Larry Bird wife, kids, and family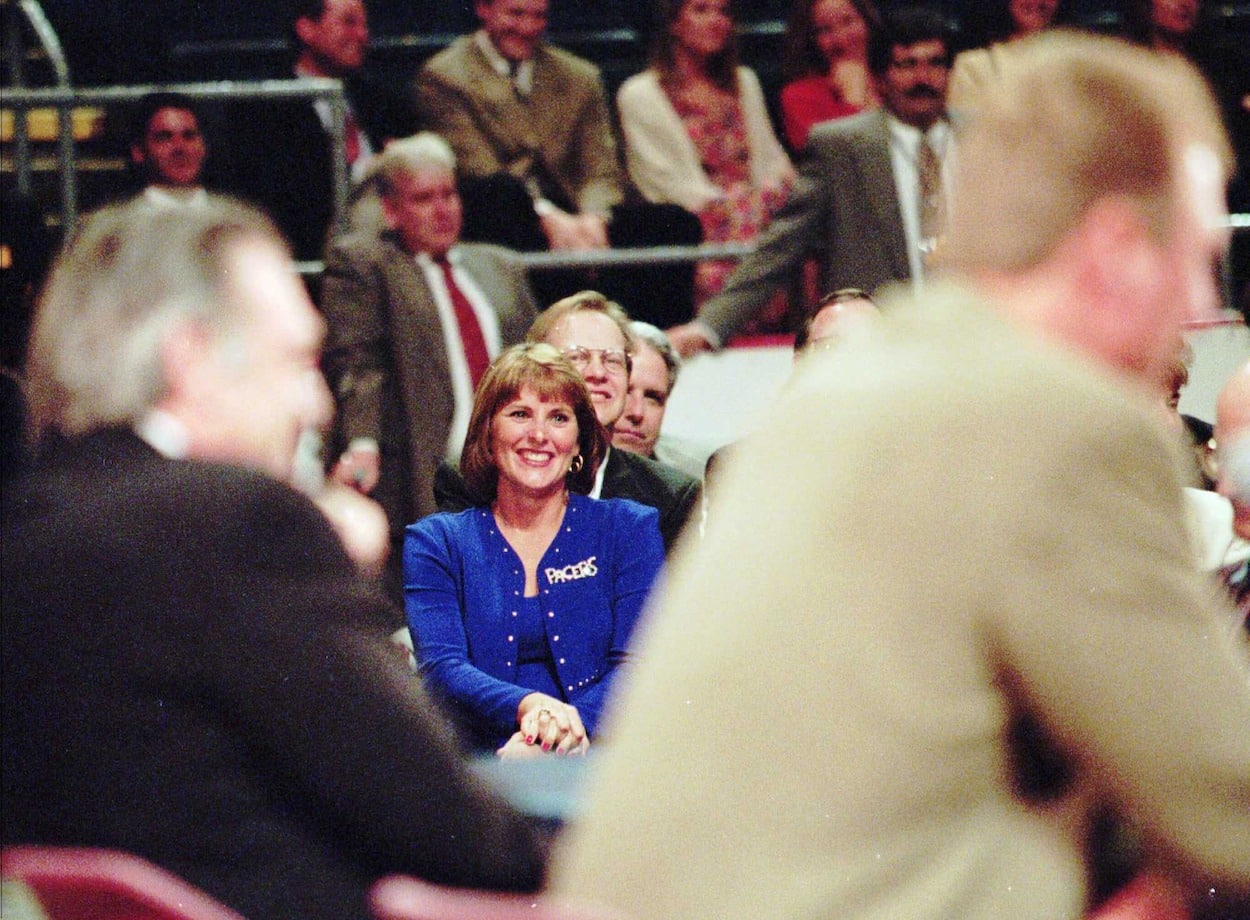 Larry Bird, then 19 years old, first married Janet Condra, a fellow classmate at Springs Valley High School and a childhood sweetheart, in the fall of 1975. She gave birth to a daughter, Corrie, but the two divorced within a year of their nuptials despite an attempted reconciliation.
Fourteen years later, Bird married his long-time girlfriend, Dinah Mattingly, at Terre Haute businessman Max Gibson's home just outside the city. True to form, both Mattingly and Bird, who had once accepted an NBA MVP Award sans formal attire, wore stonewashed jeans in front of the single-digit people in attendance. 
Bird and Mattingly do not have any biological children, but they do have two adopted children, Mariah and Connor.
Larry Bird net worth and career earnings
"I always thought the whole idea of being paid to play pro basketball is ridiculous. I mean, think about it. You are taking that ball, running down the court and you've got somebody on you," Larry Bird said after retiring, per USA Today. "And you look up and the place is packed, and all you are trying to do is make that ball go through the hole. It's just crazy to me. After all these years, it still doesn't make sense."
Even if he thought the idea was ridiculous, Bird made plenty of money during his basketball career, beginning with his record-setting rookie contract:
| Season | Salary |
| --- | --- |
| 1979-80 | $650,000 |
| 1980-81 | $650,000 |
| 1981-82 | $650,000 |
| 1982-83 | $650,000 |
| 1983-84 | $650,000 |
| 1984-85 | $1,800,000 |
| 1985-86 | $1,800,000 |
| 1986-87 | $1,800,000 |
| 1987-88 | $1,800,000 |
| 1988-89 | $1,800,000 |
| 1989-90 | $2,750,000 |
| 1990-91 | $1,500,000 |
| 1991-92 | $7,070,000 |
| 1992-93 | $2,300,000 |
| Total Career Earnings | $25,870,000 |
Between on-court earnings just shy of $26 million, the many endorsements earned through his immense popularity while with the Celtics, and his business ventures (he owned a hotel and restaurant in Terre Haute, as well as a car dealership in Martinsville, Indiana), Bird has an estimated net worth of $75 million, per Celebrity Net Worth. 
Larry Bird nicknames
Throughout his career, Larry Bird earned three primary nicknames, as well as one lesser-known moniker: 
Larry Legend: Credit goes to Peter Vecsey, who began calling Larry Bird by the "Larry Legend" descriptor for the New York Post thanks to his outrageous and unbelievable skill on the basketball court. Dan Patrick, along with other television hosts in the '80s, helped the nickname gain popularity until it became entrenched in the basketball lexicon.
The Hick From French Lick: Though the exact origins of the nickname remain unknown, the reasoning is rather obvious even if the derogatory phrasing doesn't accurately capture Bird's intelligence. The rhyme, playing off his status as a small-town kid from French Lick who made it big in Boston, speaks for itself. 
The Great White Hope: Though Bird himself never embraced the nickname, which is inextricable from its racist history, he was one of the many athletes throughout American sports history referred to as "The Great White Hope." When he entered the NBA, basketball audience numbers were declining, and the prevailing thinking — from team owners to the media — was that the sport lacked white stars and was increasingly dominated by Black athletes.  
Kodak: Given to Bird by Celtics head coach Bill Fitch, "Kodak" is a testament to the Hall of Famer's uncanny memory for basketball details. As the legend goes, courtesy of the autobiographical Drive, Bird was watching tape of an old game with a television producer, who was astounded when he randomly stopped the footage and Bird reeled off not just how much time was left in the game (score bugs weren't prominently displayed during that era's broadcasts) but also how the rest of the contest would play out in explicit detail. Kodak was then the most popular film and camera company in the United States, so the moniker made sense for someone with a mind like a camera. 
Larry Bird media presence
Bird has appeared as himself in three movies: Blue Chips (1994), Space Jam (1996), and Celtic Pride (1996). He's also been a mainstay in basketball video games, is the namesake of Twitter's logo, and has featured in countless commercials over the years.
Perhaps most famous is a H-O-R-S-E battle with Michael Jordan that served as a McDonald's advertisement during the Super Bowl in 1993: 
The commercial became so popular that it sparked multiple spin-offs, including one a year later with Charles Barkley joining the fray: 
Seventeen years later, Bird watched from the sidelines as Dwight Howard and LeBron James ran it back: 
Top Larry Bird stories
Larry Bird has inspired countless stories over the years, ranging from his high school playing days to what he's done in retirement. We've collected some of the best for you: 
Larry Bird trash-talking
As skilled as Larry Bird was with a basketball in his hands, he might have been even more talented in the trash-talking department. No one escaped his barbs when they shared the hardwood with the Boston Celtics icon:
1. Larry Bird Once Torched the Entire Phoenix Suns Bench With a Single Piece of Trash Talk
Bird didn't always stop at one person as the target of his trash-talking; sometimes, he went after an entire collection of players.
2. Larry Bird Mercilessly Trash-Talked Patrick Ewing About His Defense: 'You Better Sit Down, You Going to Pop Your Arm Out of Your Socket Before You Get This'
Patrick Ewing was actually a strong defensive player during his prime years with the New York Knicks, but that couldn't save him from Larry Legend.
3. Larry Bird Felt Mistreated by a College Teammate, so When He Arrived in the NBA He Went out of His Way to Mercilessly Humiliate Him
The No. 1 overall pick of the 1977 NBA Draft failed to live up to the hype, submitting exactly zero All-Star seasons during his professional career. Bird did his part to make sure the former Hoosier never got it going.
4. Larry Bird Once Trash-Talked Brian Shaw and His Basketball-Playing Past
Nothing was off-limits for Bird, who poked fun at Brian Shaw because of a certain team he suited up for earlier in his career.
5. Larry Bird Even Talked Trash to Pat Riley During the Celtics-Lakers Rivalry
The trash talk wasn't limited to opposing players, either. Pat Riley was a coach and still wasn't safe from the Bird tongue-lashings.
6. Larry Bird Paid a Young Reggie Miller a High Compliment Before Putting Him in His Place
As Reggie Miller learned, trash-talking was actually a sign of respect. Bird could recognize someone's skills and still want to prove his superiority just seconds later.
7. Larry Bird Left an Impression on Allan Houston With 8 Simple Words of Trash Talk
Sometimes, Bird's remarks were so bitingly effective that they resonated two decades later, as was the case with this memorable story from Allan Houston.
8. Byron Scott Remembers How Larry Bird's Simple Trash Talk Made Facing the Celtics' Star 'Fun'
Not everyone took Bird's remarks negatively. Byron Scott made it clear that No. 33 may actually have been more "fun" to face because of his over-the-top competitive nature.
Larry Bird's down-to-earth personality
Though the Indiana native made plenty of money throughout his career — and after it — he never let his fame and fortune change who he was at his core. His teammates and fans were often surprised by the humility and consistency with which he lived his life:
1. Larry Bird Made $24 Million During His NBA Career but Claimed He Was Perfectly Content Having 'Some Coke, Some Beer, Something to Eat, and a Nice Place to Live'
Some NBA superstars live lives of excess, but such flaunting of wealth was antithetical to Bird's personality. Instead, he continued to care about the simple pleasures no matter how much his bank account grew.
2. Larry Bird's 'The Hick From French Lick' Nickname Was Never More Appropriate Than When He First Landed in Boston
Even if one of his famed nicknames was a bit misleading, it felt more appropriate given the contrast between the city in which he grew up and the one in which he plied his trade.
3. Larry Bird Hitchhiked to the Bar After Winning the 1984 NBA Title but Refused to Let the Driver Join in the Celebration
This unbelievable story, much like Giannis Antetokounmpo hitting up Chick-fil-A after winning a title with the Milwaukee Bucks, shows off both Bird's competitive fire and his down-to-earth habits in one fell swoop.
4. Larry Bird Made $24 Million Playing Basketball but Still Derived His Pleasure From the Simplest Sources
"What most impresses the people who know Bird — from his few new friends in Boston to those in Terre Haute, where Indiana State is located, to the French Lickers who have known him since he was an itty-bitty thing with a basketball under his arm — is that nothing has changed him," John Papanek wrote in a 1981 Sports Illustrated feature.
5. Larry Bird Hated Being the Center of Attention Off the Court and Needed Inspiration From Dr. J to Get Through It
Despite his status as a high school star, a collegiate standout, and an NBA icon, Larry Bird never grew comfortable with his off-court fame and needed advice and inspiration from Julius Erving to adjust.
6. Larry Bird Secretly Mentored Several Younger NBA Superstars but Doesn't Like to Talk About It
Did you expect Bird to brag about mentoring some prominent NBA players of the modern day? That's not exactly his style.
7. Forget Being a Superstar, Larry Bird Didn't Even Like Being Captain of the Boston Celtics
While some players embrace leadership roles such as team captaincy, that wasn't Bird. He may have been a leader with the Celtics, but that doesn't mean he derived pleasure from the line on his resume.
Larry Bird's legendary basketball exploits
Of course, Larry Bird did some rather impressive things on the basketball court. Sometimes he closed his eyes while shooting. Sometimes he used his left hand exclusively. No matter what, he always impressed:
1. Larry Bird the Executive Stunned Pacers Players by Making 15 Straight Shots in Practice
Making 15 straight shots is impressive enough for anyone, even in an NBA practice, but heads turned when a long-retired version of Bird did exactly that.
2. Magic Johnson Admitted His Archrival Larry Bird Was the Only Player He Ever Feared
Magic Johnson played against countless NBA luminaries such as Michael Jordan, Isiah Thomas, Clyde Drexler, and plenty more, but none of them struck fear quite like Larry Bird did.
3. Larry Bird Once Blew Kevin McHale's Mind in Practice With a Pass Rather Than a Shot
How mind-blowing was this Bird pass? Kevin McHale claimed he almost pulled a hamstring while (unnecessarily) adjusting to it.
4. An Opposing Defender Once Compared Larry Bird to a Literal Force of Nature
"Trying to stop Larry Bird is like trying to stop the wind."
Enough said.
5. Larry Bird Defied Celtics Trainers and Showed His Unmatched Toughness in the 1991 Playoffs
Even if the 1991 NBA Playoffs didn't result in another title for Larry Bird and the Boston Celtics, they still added yet another chapter to his legacy of tough play.
Larry Bird FAQ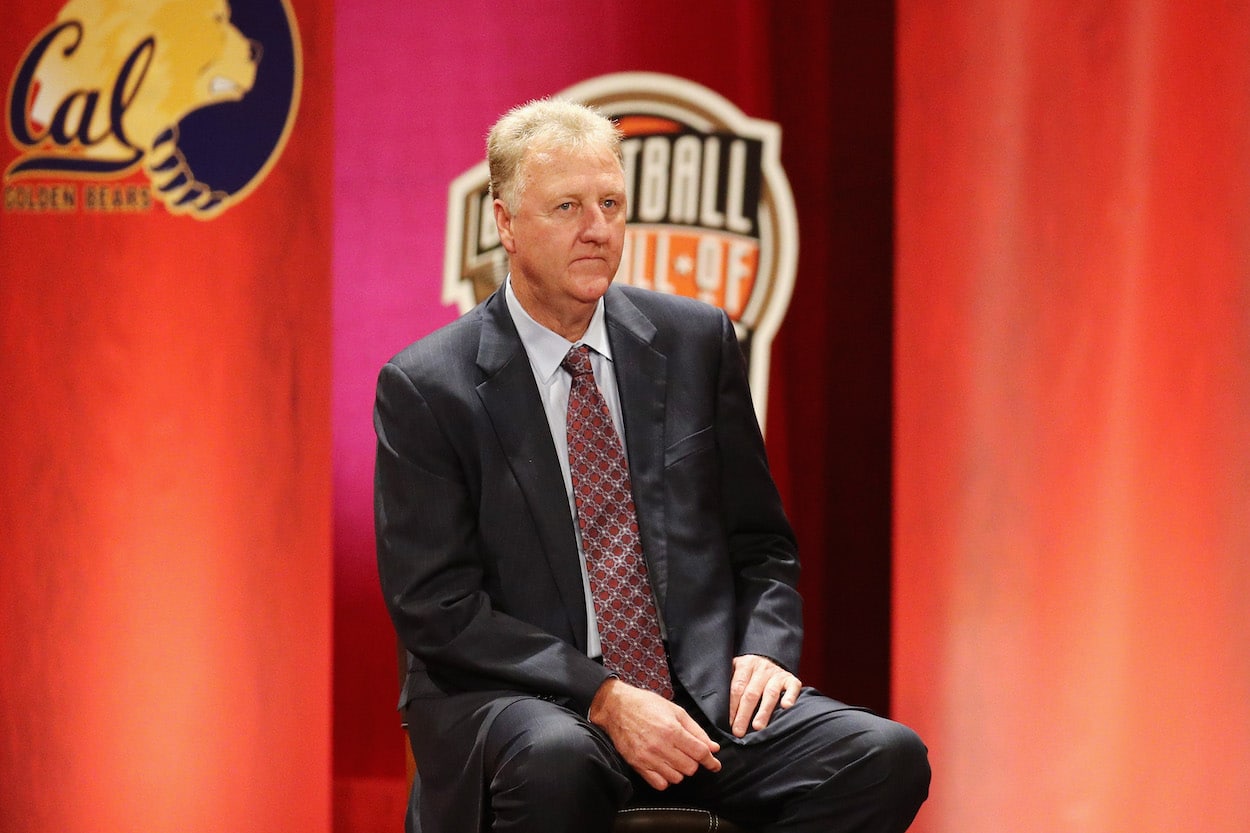 Where was Larry Bird born?
Larry Bird was born in West Baden Springs, Indiana, to parents Georgia and Claude Joseph "Joe" Bird.
How old is Larry Bird?
Born on December 7, 1956, Larry Bird is now 66 years old.
How tall is Larry Bird?
Per his NBA.com profile, Larry Bird was listed at 6'9″ (2.06 m) and 220 pounds (100 kg).
Where did Larry Bird go to college?
Larry Bird attended Indiana State University and played collegiate basketball during the 1976-77, 1977-78, and 1978-79 NCAA seasons. He is a member of the Sycamores' Hall of Fame.
When was Larry Bird drafted?
Larry Bird was drafted by the Boston Celtics with the No. 6 overall pick in the first round of the 1978 NBA draft.
What team did Larry Bird play for?
Larry Bird only played for the Boston Celtics during his legendary NBA career.
Did Larry Bird win Rookie of the Year?
Larry Bird did win Rookie of the Year at the conclusion of the 1979-80 NBA season. Per Basketball Reference, he earned 63 of 66 first-place votes, with the remaining three going to Magic Johnson.
What position did Larry Bird play?
Larry Bird spent time playing both small forward and power forward. His Hall of Fame profile, produced by the Naismith Memorial Basketball Hall of Fame, states that his "all-around game and clutch shooting redefined the small forward position and turned the Celtics back into winners."
What number was Larry Bird?
Larry Bird wore a No. 33 jersey throughout his time with the Boston Celtics. The organization has since retired his number.
When did Larry Bird play?
Larry Bird played for the Indiana State Sycamores at the NCAA level from 1976-79 and with the Boston Celtics at the NBA level from 1979-92.
When did Larry Bird retire?
Larry Bird announced his retirement on August 18, 1992. His last NBA action came in a loss to the Cleveland Cavaliers during the 1992 postseason.
Is Sue Bird related to Larry Bird?
Despite sharing a last name, legendary WNBA guard Sue Bird and NBA icon Larry Bird are not related.
Is Larry Bird married?
Larry Bird has been married to Dinah Mattingly since 1989. He was previously married to Janet Condra from 1975-76.
Does Larry Bird have children?
Larry Bird has three children: Corrie Bird (born in 1977), Mariah Bird (1991), and Connor Bird (1992). He and Janet Condra are the parents of Corrie, and Mariah and Connor were adopted by Larry Bird and Dinah Mattingly.
Where does Larry Bird live?
In his retirement, Larry Bird has maintained residences in West Baden Springs, Indiana, and Naples, Florida.
What is Larry Bird's net worth?
Per Celebrity Net Worth, Larry Bird's net worth is $75 million. He made nearly $26 million in salary during his NBA career.