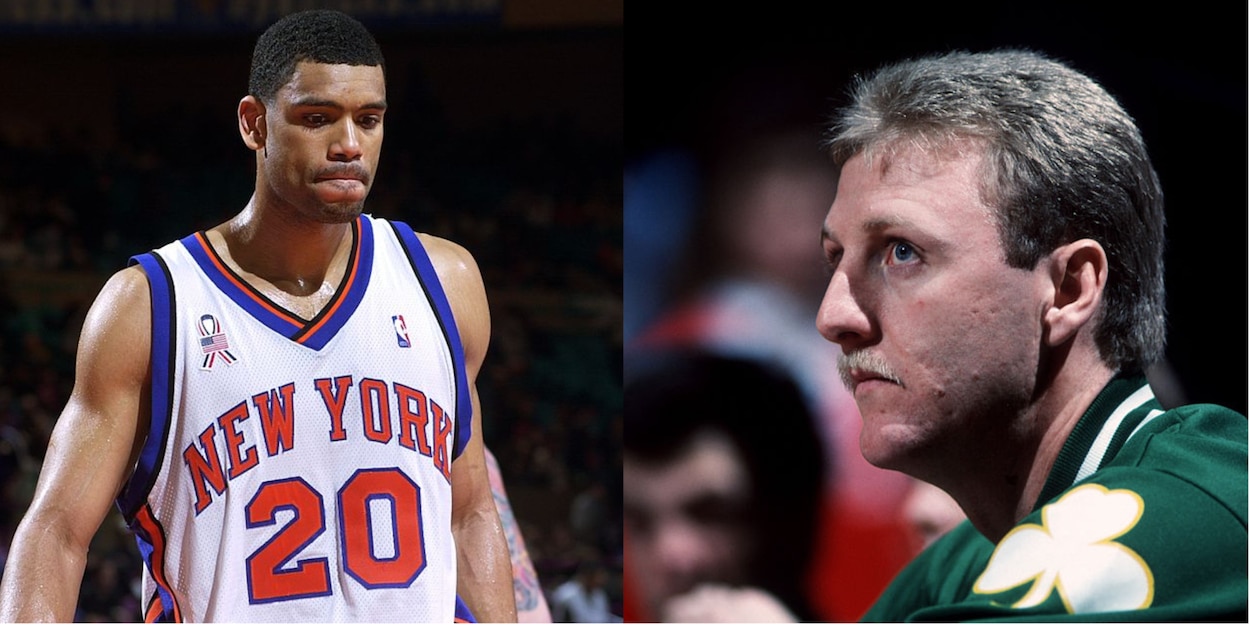 Larry Bird Left an Impression on Allan Houston With 8 Simple Words of Trash Talk
Larry Bird knew a thing or two about simple trash talk. Just ask Allan Houston about his encounter with the Celtics star.
When you think of the Dream Team, you probably remember a star-studded squad that walked to the gold medal. With the likes of Larry Bird, Michael Jordan, and Charles Barkley sharing the court, the American squad barely broke a sweat. Before leaving America, though, they did face a stiff challenge from the nation's top NCAA talents.
While most basketball fans know the story — the college squad won the first scrimmage before the NBA guys got revenge the next day — Allan Houston added a new wrinkle to the story. In his telling, Larry Legend warned the younger team about what would be awaiting them during the second round.
After the NCAA squad blitzed the Dream Team, Larry Bird said he'd see them tomorrow
Although there are various takes on what happened ahead of the 1992 Olympics — Coach K, for example, contends that Chuck Daly wanted his team to experience a wake-up call — the story is largely the same. During a recent appearance on the Knuckleheads podcast, Allan Houston shared his version of events.
"So, what they told us is like, 'Look, they haven't played against European style as much,'" Houston, who was on the NCAA squad, recalled. "So, for us, it was like go out and just play. You know, move the ball, they gonna play some zone, just run, just play, they don't know you. So, our thing was let's just play. They don't really, they can't size us up and say, like, force us this way, so it was like, drive, kick, just play. Get up and down. We didn't have nothing to lose."
While playing without fear is somewhat of a cliche, it worked for the collegiate squad.
"So we get up, and we start, we start finding a rhythm," Houston continued. "Guys are, Penny [Hardaway]'s pinning people's [shots] on the glass, you know, [Chris Webber]'s doing his thing. And Bobby [Hurley]'s just penetrating, you know, and I hit a couple of threes. And the next thing you know, like, we're feeling a little rhythm. And like, you could tell they're like, 'Alright.' They're treating this serious, but you could tell they're just kind of like trying to size everything up. So, at some point, you know, the clock stops. They said, 'Alright, let's stop the clock,' and we look up, and, like, we're up."
The NCAA squad was obviously happy with its collective performance, but later that day, Larry Bird made to send a parting message.
"So, I remember Bird getting off the elevators like, 'See y'all tomorrow, young fellas. See y'all tomorrow.' And it was like, that wasn't a like a 'looking forward to seeing y'all tomorrow.' No, it was like a 'See y'all tomorrow.'"
The next day, Larry Legend lived up to his word. As we heard in Jamal Mashburn's version of events, the Celtics star targeted Rodney Rogers and scored on eight or nine consecutive trips down the floor. The Dream Team took that second scrimmage and, from there, never looked back.
Houston went on to have a decorated career in his own right, but nearly 30 years later, he still remembers eight biting words from Larry Bird.
Like Sportscasting on Facebook. Follow us on Twitter @sportscasting19 and subscribe to our YouTube channel.