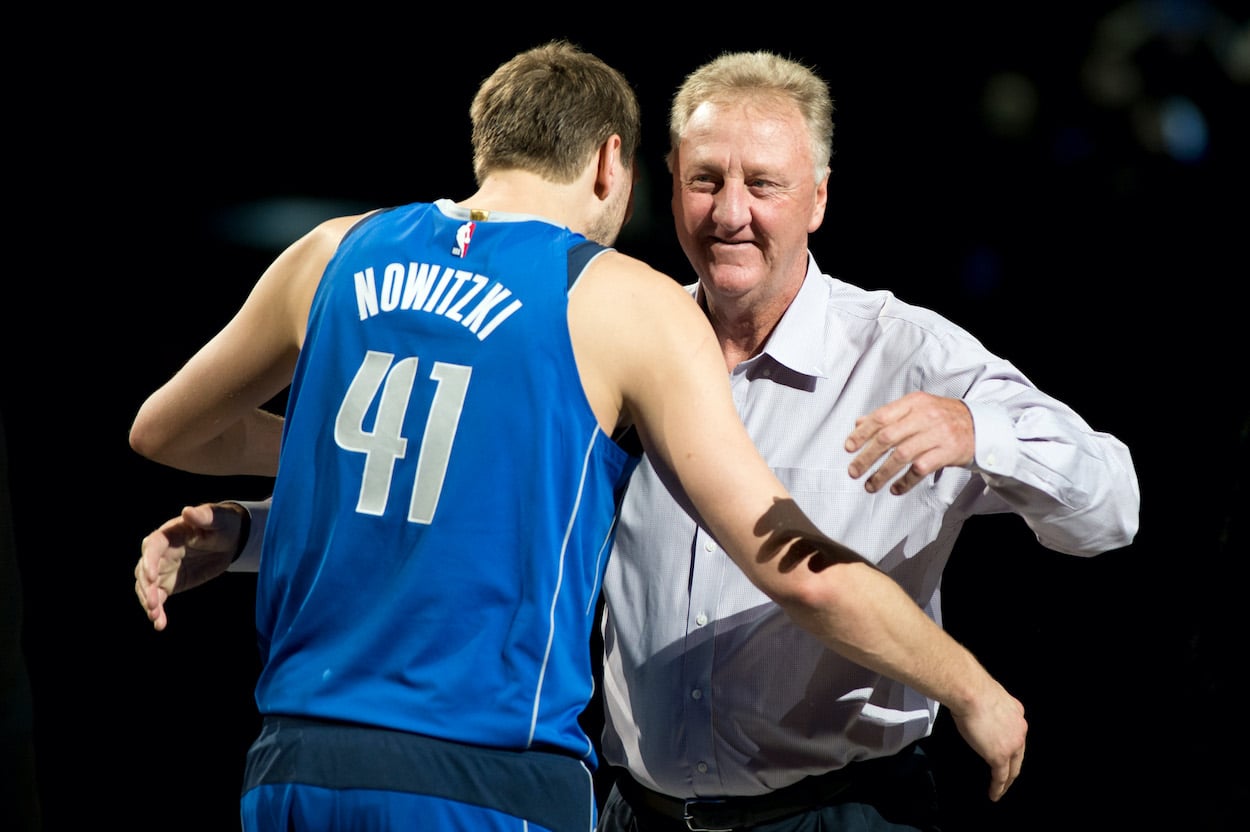 Larry Bird Secretly Mentored Several Younger NBA Superstars but Doesn't Like to Talk About It
He doesn't like to talk about it, but Larry Bird had a big impact on the careers of NBA stars Kobe Bryant, Dirk Nowitzki, and Kevin Durant.
The modern NBA wouldn't be anything close to what it is today without Boston Celtics Larry Bird and the Los Angeles Lakers Magic Johnson. The superstars who came after these two all owe a debt of gratitude to Bird and Magic. Some — like Kobe Bryant, Dirk Nowitzki, and Kevin Durant even have stories about meaningful personal interactions with Bird.
Unlike Magic, though, who is happy to tell the media about his words of wisdom to players like LeBron James and Bryant, Bird liked to keep these interactions "private." However, NBA insider Jackie MacMullan shares on her Icons Club podcast that a few younger superstars owe a debt to Bird for his kind actions and insightful words.
Magic Johnson wasn't the only 1980s star to give advice to Kobe Bryant
The relationship between LA Lakers greats Magic Johnson and Kobe Bryant is well documented.
As Jackie MacMullan notes in her Icons Club podcast, Magic "spent hours counseling Kobe, offering on everything from the Lakers' mystique to business outside of basketball."
Bryant, a notorious sponge for knowledge, also got advice from other Lakers legends, like Kareem Abdul-Jabbar, and even learned from Michael Jordan.
Although neither publicized it much, Bryant even once had an influential conversation with Magic and Kareem's biggest rival, Larry Bird. MacMullan relates the story:
Kobe Bryant described to me in detail a conversation he had with Bird about mental toughness. But when I called Larry to ask him about it, he simply said, 'that's private.'

Jackie MacMullan on Larry Bird's conversation with Kobe Bryant
The conversation obviously paid off for Bryant, as he became one of the mentally toughest players in NBA history. It's one of the things that allowed the "Mamba" to win five NBA titles with two distinct eras of Lakers teammates.
An impromptu dinner with Larry Bird was a highlight of Dirk Nowitzki's career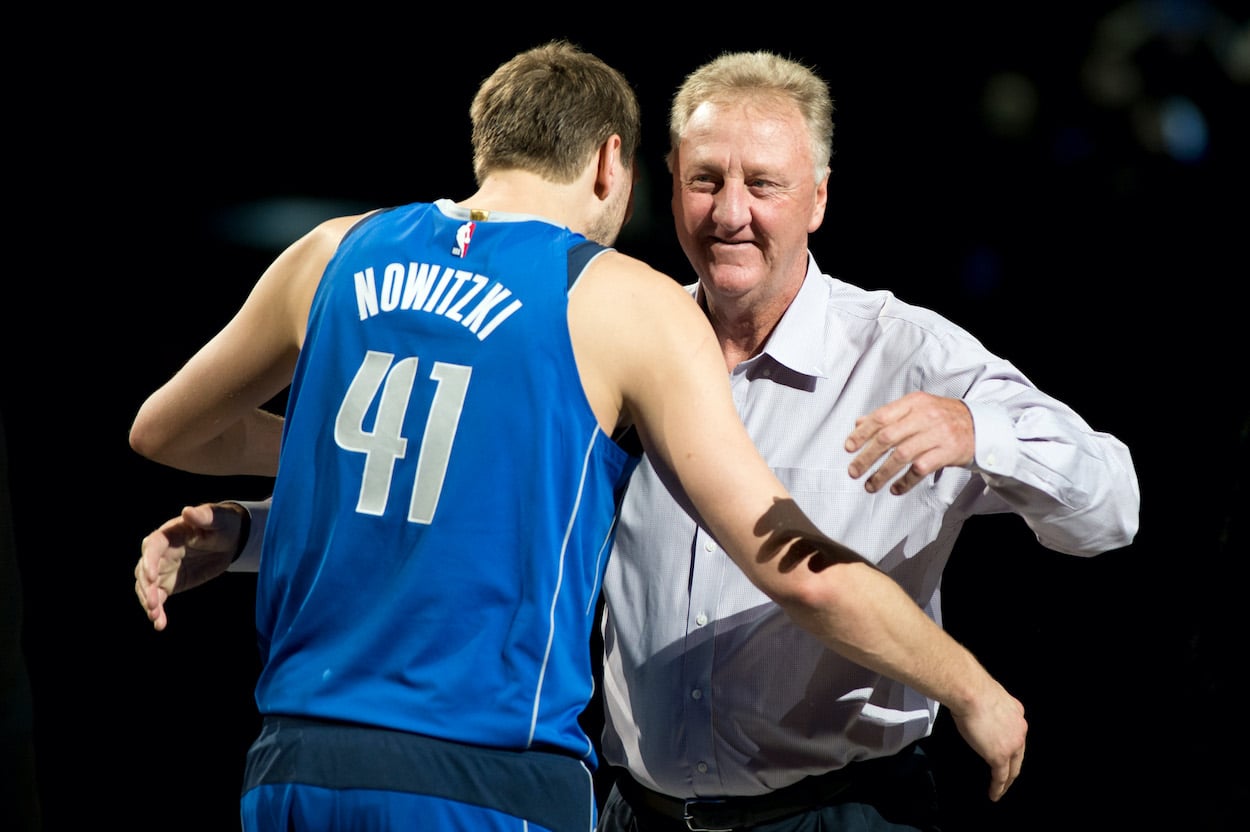 In 2008, longtime Larry Bird Boston Celtics teammate and friend Rick Carlisle took over as head coach of the Dallas Mavericks. At that point, 30-year-old superstar Dirk Nowitzki was a seven-time NBA All-Star, but the knock on the big German was that he couldn't win the big one.
Despite the fact that Bird "would probably prefer us not to know," he had a memorable dinner with Nowitzki around that time. Nowitzki tells Jackie MacMullan:
We came with the Mavericks to a game in Indy, and Rick asked me, 'Hey, do you want to go to dinner with Larry?' And I said, 'What!? Of course!' I'm there. Tell me when and where,' … We went to dinner with 'Larry Legend,' which was super cool, just to hear him talk about how he did it. What his approach was, and some of the stories that he told.

Dirk Nowitzki on Larry Bird
While Nowitzki doesn't go into detail about what Bird shared with him that evening, maybe it's no coincidence that two seasons later, Dirk put up a Bird-like virtuoso performance in the 2011 NBA Finals to beat LeBron James, Dwyane Wade, and Chris Bosh to win an NBA title.
Larry Bird is one of the reasons Kevin Durant works so hard
Larry Bird was a part of the Indiana Pacers front office on and off until 2017. That doesn't mean he wasn't willing to let a competing young superstar pick his brain when they came calling.
At some point during his time in Oklahoma City, Jackie MacMullan explains that Thunder GM Sam Presti arranged a call between his young star, Kevin Durant, and Bird. Durant tells MacMullan:
I got on the phone with him and just talked game, talked practice, and he gave me some gems on how to practice and how to approach shootarounds and stuff like that. It helped me out a lot. … He told me to practice — to go through every rep like I would in a game. I was doing some of that stuff, but I started doing that more afterwards. … To know that he went hard as he can every time he stepped on the floor, and to hear that from Bird at that age, that was cool.

Kevin Durant on Larry Bird
Because of Bird's secrecy surrounding these interactions with young players, we don't know where in the seven-time All-Star timeline with the Thunder Durant spoke with Bird. However, what we do know is that Durant went to the Golden State Warriors after that conversation and won two NBA Finals and two Finals MVPs.
Like Sportscasting on Facebook. Follow us on Twitter @sportscasting19 and subscribe to our YouTube channel.