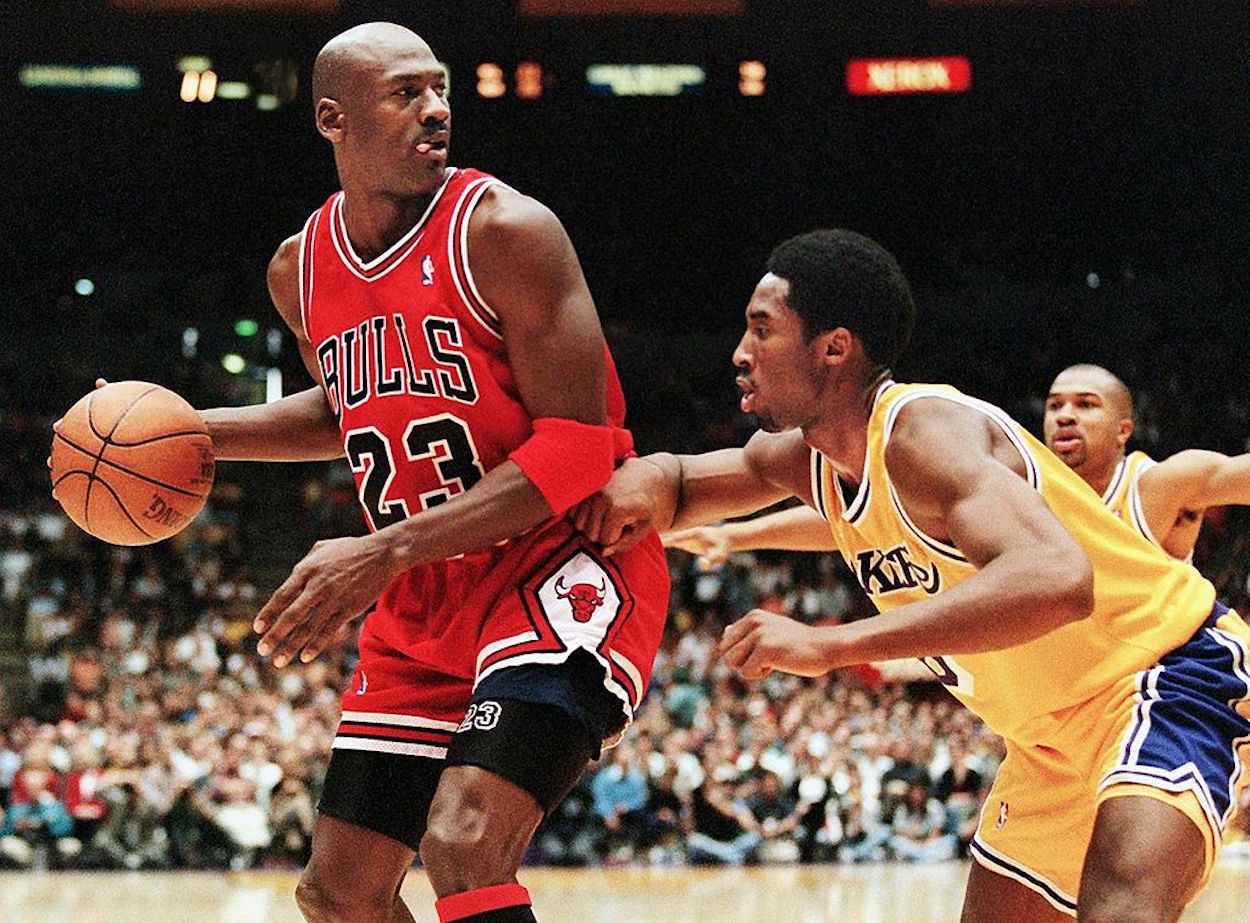 Michael Jordan Almost Regretted Teaching Kobe Bryant His Signature Fadeaway
Michael Jordan had no problem sharing tips with Kobe Bryant, but, on one occasion, almost came to regret some advice.
From afar, it's easy to look at Michael Jordan and think that he's living the dream. The NBA legend, of course, had an iconic basketball career, which he's turned into a massive fortune. Even in retirement, he's one of the richest and most famous men around.
During MJ's time on the hardwood, however, he almost had one regret, which arose in connection to Kobe Bryant.
When the younger man burst onto the NBA stage, he made a habit of picking Jordan's brain. His Airness reluctantly shared but, on one occasion, felt like he might have told Kobe a bit too much.
Michael Jordan taught Kobe Bryant his signature fadeaway jumper and almost came to regret it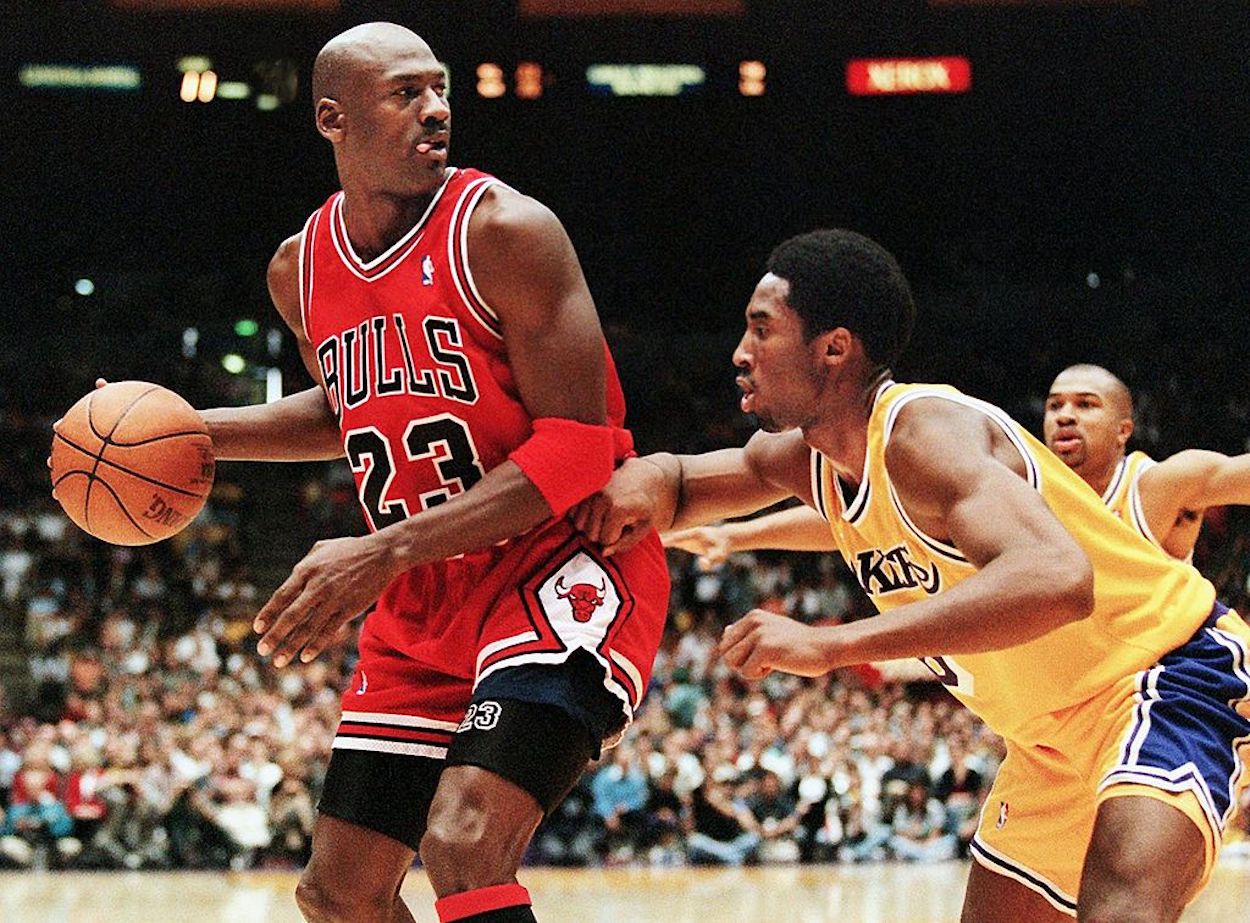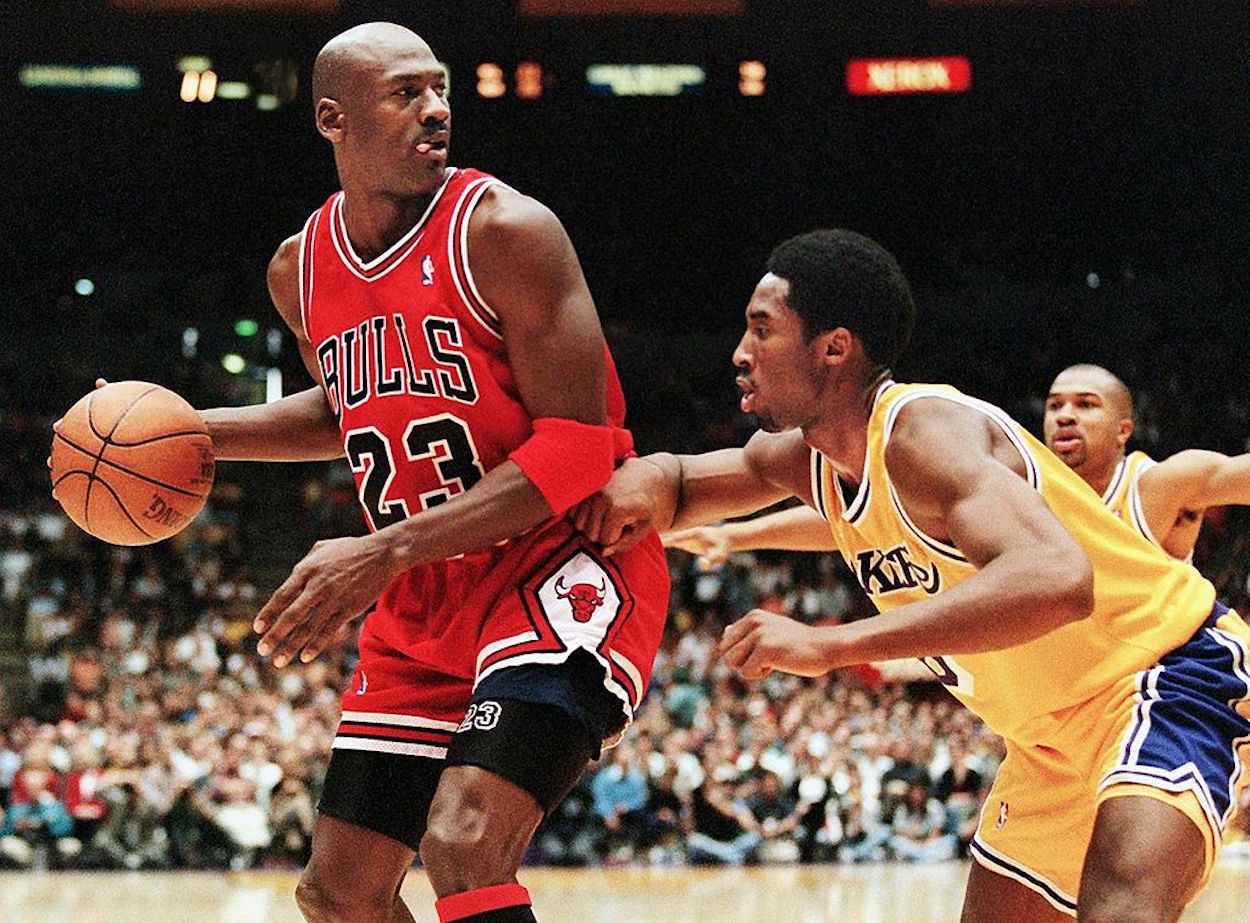 Michael Jordan, for all of his talent, wasn't always the most-approachable guy. That reality, however, didn't prevent Kobe Bryant from learning everything possible from his idol.
After the two men crossed paths during an iconic All-Star Game, MJ told the upstart Laker that, if he needed anything, he was welcome to reach out. That invitation was all Bryant needed.
"The next season, the NBA players were locked out, and Bryant hit up Jordan during all hours of the day and night, sometimes as late as two or three o'clock in the morning," Jackie MacMullan explained on an episode of The Ringer's 'Icons Club' podcast. "Jordan was alternately amused and annoyed."
At first, Jordan was unsure about sharing his secrets, believing that every NBA star had to figure things out for himself. With Kobe, though, he came to realize that he wasn't really giving away the answers; he was just confirming the young man's convictions.
I would lay in my bed after talking to him and say, "Man, man, I mean, that's pretty cool." But yet, I don't know if I could have ever done that where I'm bleeding information from someone. At times, I thought, "Why am I giving away all this information that he's going to use right against me?" No matter how I'd start the conversation, he knew the answer. It wasn't like I was telling him anything that he didn't know. I think I was more or less confirming it.

Michael Jordan speaking on The Icons Clubs
With all of that being said, though, MJ still had some second thoughts about one of their interactions.
"The one thing that I did give him that I felt like I regretted—but then again, I appreciated—was his turnaround fadeaway," Jordan added. "He learned my move. He learned that to a point where he would use it—relentlessly, especially when you know you're getting double-teamed. … I took great pride in seeing him utilize that, even though he didn't do it against me that much."
Beyond the basketball component, that story shows the human side of both NBA legends
If you're a basketball fan, the idea of Kobe Bryant learning from MJ is probably a well-known story. At the same time, though, there's just something cool about seeing the human side of both legends.
Jordan, based on both his on-court accomplishments and his prickly personality, can seem rather untouchable. If anyone in modern sports is a real-life superhero, it's him. Hearing His Airness, a man who had done just about everything imaginable on an individual level, speaking about watching Kobe with pride paints a different picture. MJ sounds almost like an older brother, who used tough love to get his protege ready for the real world.
From the opposite perspective, there's something charming about picturing Kobe calling His Airness at all hours of the night and asking all sorts of random questions. While that scene might sound like something out of a buddy comedy or a sitcom, it shows a relatable side of Bryant. Before he was the unstoppable Black Mamba, he was a teenager trying to emulate his hero. That's not so far away from how a generation of kids shouted "Kobe" when throwing empty cans into the garbage.
As sports fans, it can get easy to lose track of that reality. Kobe and Jordan are superheroes, capable of leaping tall defenders in a single bound. Kyrie Irving is a pantomime villain who quit on the Celtics before needling the fan base at every opportunity. James Harden is either a misunderstood scorer or the most selfish guy around. Subtlety takes too much time. It's not sexy. It gets cast aside and ignored.
While there are plenty of things you can take away from Jordan's quote, I'd argue that's the most relevant one. The interaction between him and Kobe Bryant took place more than 20 years ago, but it can still inform how we view our heroes today.