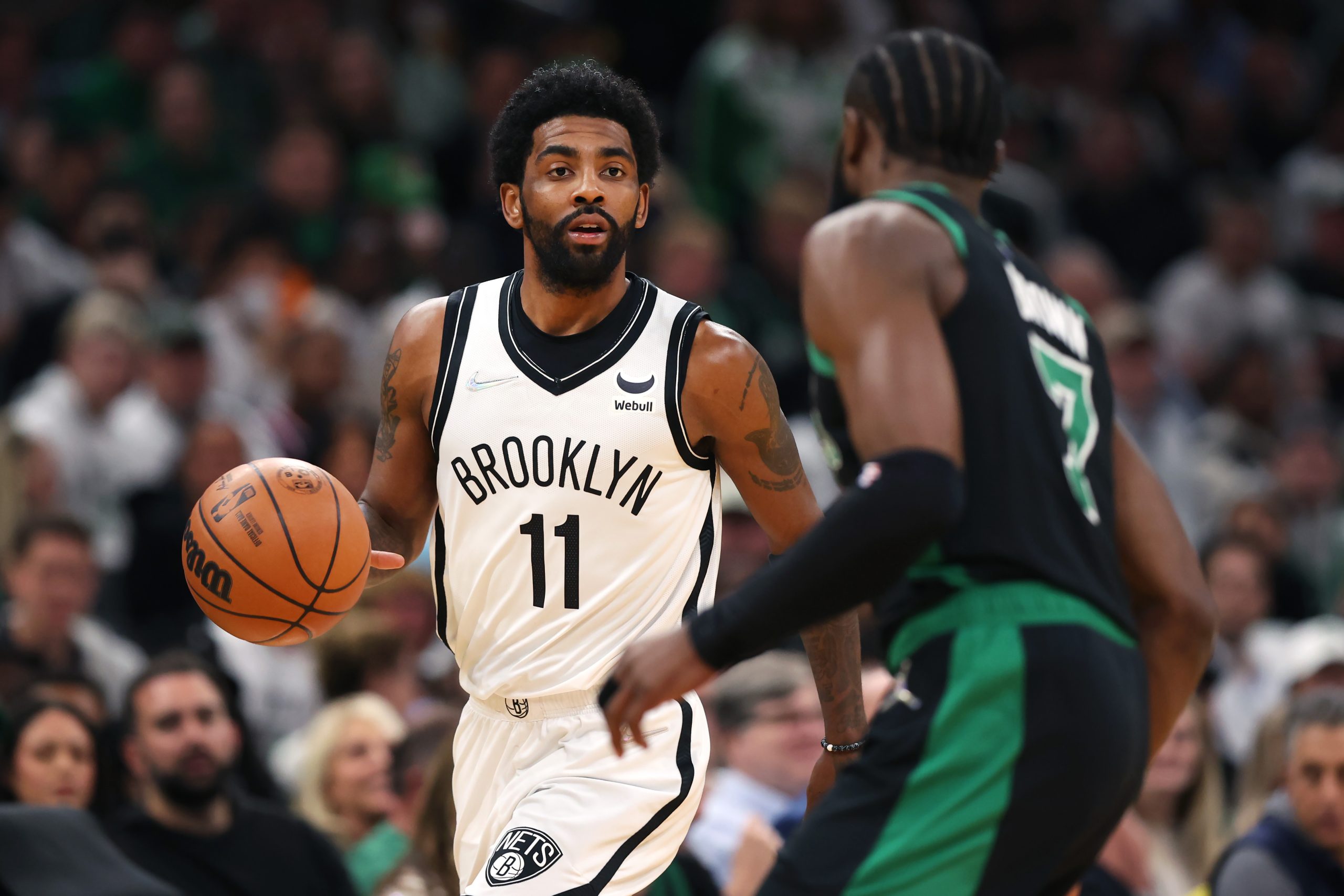 Kyrie Irving Gets Testy Explaining Why He Gave Boston Celtics Fans the Finger During Game 1
Kyrie Irving played one heck of a game in a 115-114 loss to the Boston Celtics on Sunday.
Kyrie Irving hoped the Boston Celtics would play his highlight reel at TD Garden. Instead, the Celtics fans gave him the usual Kyrie treatment.
Fans booed each time the Brooklyn Nets guard touched the ball Sunday afternoon in Game 1 of the playoffs. They chanted "Kyrie sucks" early and often. Late in the third quarter, Kyrie lashed back with his finger, flipping off the crowd. After Boston's 115-114 victory over the Nets, Irving explained what happened.
Kyrie Irving and Boston Celtics fans are not a good mix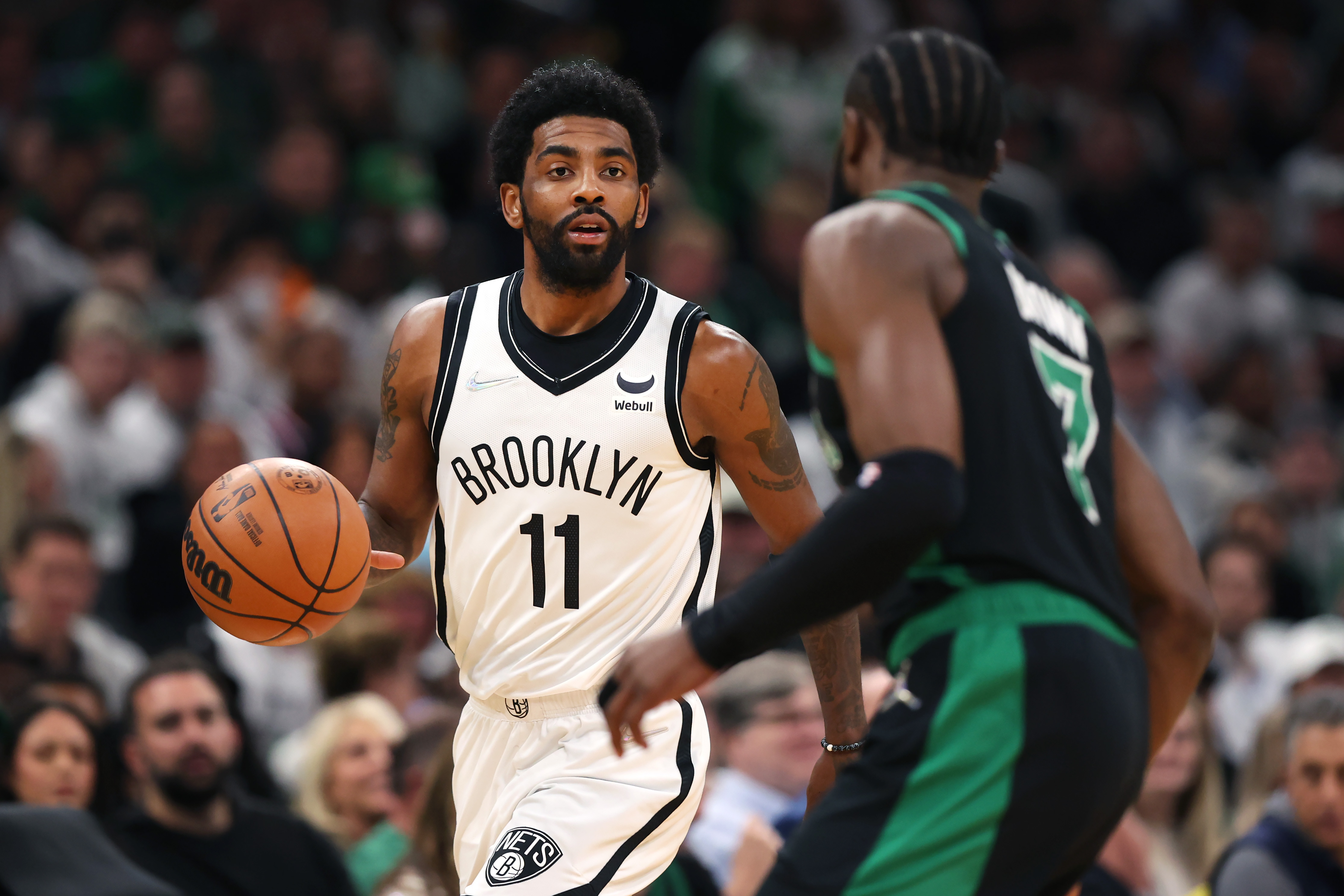 Irving spent two seasons with the Celtics, and it just didn't go according to plan. He was brought in to help mentor Boston's young stars Jayson Tatum and Jaylen Brown, but the veteran point guard annoyed a fan base with his actions and lack of leadership.
Irving helped get the Celtics to the postseason both years, but he missed the playoffs in his first season with a knee injury. In his second season, he struggled mightily and annoyed the Boston faithful with some of his comments about those struggles.
In the conference semifinals against the Bucks, the Celtics won the series opener but then lost four straight. During Games 2-4, Irving went cold from the floor. He shot a combined 19-for-62 in those three games. After Game 4, when he went 7-for-22, a reporter asked him about his shooting woes.
"Who cares?" he said, per CBS Sports.
Irving also bolted Boston after that Milwaukee series. When he first arrived in Boston, he received a warm welcome from season ticket holders. He also announced he would re-sign with the team. Two years later, he left.
Since then, there's been no love-fest between Celtics fans and Irving. Irving didn't do himself any favors last year when he said he hoped there would be no subtle racism when he returned to play in front of fans in Boston for the playoffs. He also stomped on the Celtics logo at midcourt after a Game 4 victory.
Kyrie Irving got testy when asked about flipping off Boston Celtics fans on Sunday
Celtics fans stayed true to themselves from the opening tap Sunday, booing Irving from the get-go. Irving came into the game saying he hoped Celtics fans could move forward.
"I just hope we can move past kind of my Boston era, and just reflect on some of the highlights I left at TD Garden that they can replay," Irving said, per Mass Live. "And just move forward. New paradigm, baby."
It didn't happen, and Irving also failed to move forward. Late in the third quarter, Irving flipped off the fans. During his explanation at his postgame press conference, he said he could only take so much.
"It's not every fan," he said. "I don't want to attack every Boston fan, but when people start yelling pu***, b**** and f*** you and all that, there is only so much you can take as a competitor.
"We're the ones expected to be docile and humble and take a humble approach. Nah, that's the playoffs. It is what it is. I know what to expect in here, and it's the same energy I'm giving back."
Irving then got testy with a reporter who asked him about the hostility he still gets in Boston.
"Let's not focus on this," he interrupted. "Ask me questions about the game."
"From a basketball standpoint," the reporter continued, "do you feel like the hostility you get…"
"There's no hostility, bro," Irving snapped. "It's basketball."
Irving grew frustrated with the reporter over the 'hostility' question
The reporter insisted there had to be some hostility if Irving resorted to flipping off fans.
"Well, you were flipping some people off," the reporter said. "I'd say there's some hostility."
"From what?" Irving asked. "What point? Are you guessing that's hostility?"
The reporter said Irving had never been seen this season running down the court and flipping people off.
"It's the first time you actually caught it because it's a big-time game," Irving said. "I respond in different ways. I'm not trying to focus on that. If you want to ask me questions about the fans, go ask them. Go on the street and ask them."
So maybe Irving flips people off all the time? Who knows?
Irving seems like a tough guy to understand. He played one heck of a game in hostile conditions. They will be just as hostile Wednesday night in Game 2.