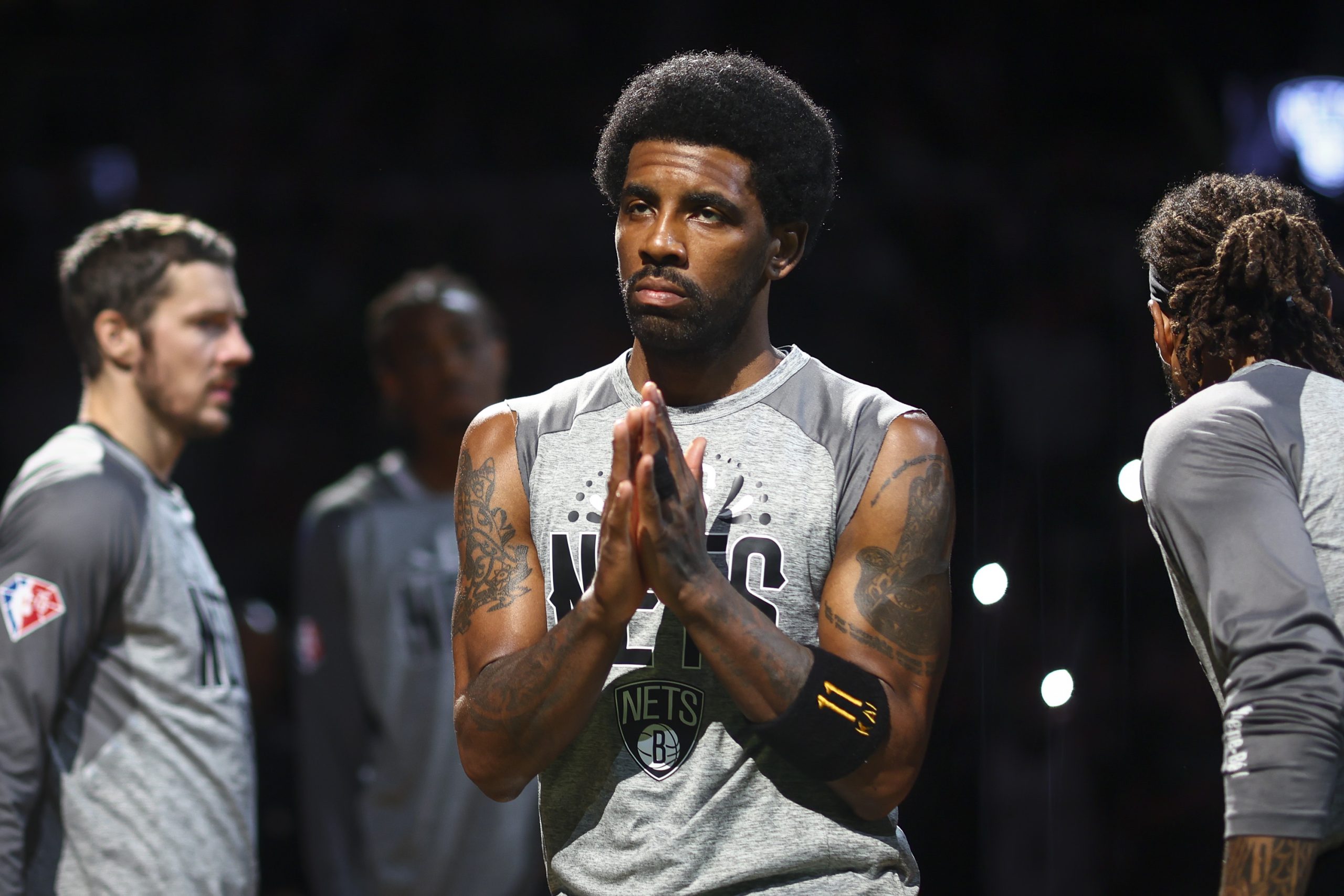 Kyrie Irving Hoping for Something He'll Never Get in Boston
Expect the Boston Celtics fans to boo Kyrie Irving once again.
Just add this to the list of some of the crazy things Kyrie Irving has said. Irving and the Brooklyn Nets come to TD Garden on Sunday to face the Boston Celtics in a rematch of last season's first-round postseason meeting.
Irving, of course, played for the Celtics for two seasons before he bolted for Brooklyn via free agency. Throughout last year's playoffs and this season's regular-season games, Irving has been booed and heckled with his every move. Now, as he prepares to return to Boston, he's asking something from the Celtics and their fans. It's something that's not going to happen.
Kyrie Irving returning to Boston for first playoff meeting since stomping on the Celtics logo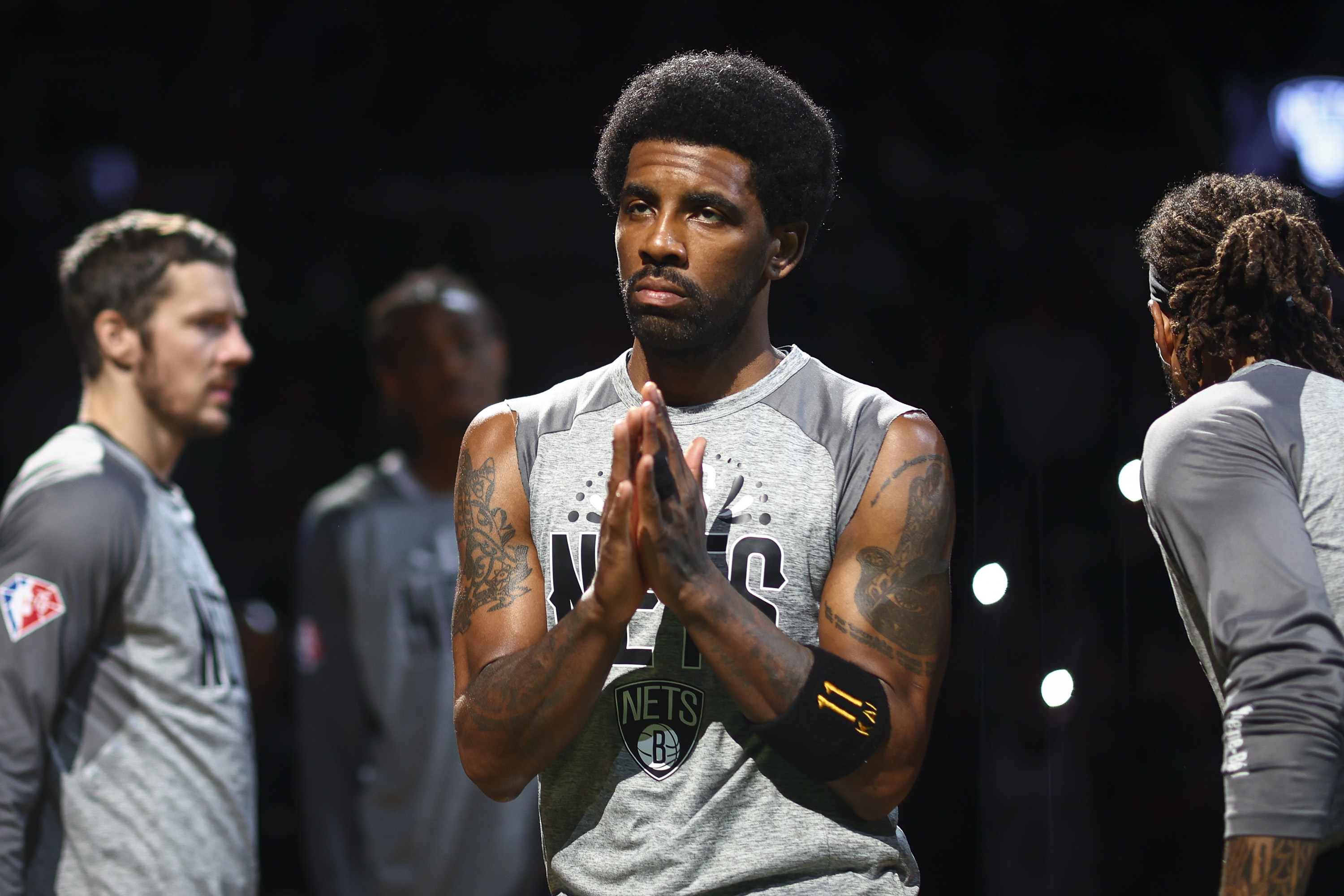 Last year, the Boston crowd booed Irving whenever he touched the ball during Games 3 and 4 of the opening round of the playoffs. Boston won Game 3 to cut its series deficit to 2-1, but the Nets convincingly won Game 4 and took the series in five games.
After that Brooklyn victory, Irving walked over to mid-court and displayed his true feelings for Boston. He stomped on the logo.
Irving made waves even before making that playoff trip to Boston. After winning Game 2, a reporter asked him about returning to Boston. Fans were just starting to return to arenas after the pandemic, and Irving gave his thoughts on playing in Boston for the first time in front of a crowd.
"Hopefully, we can just keep it strictly basketball, you know there's no belligerence or any racism going on, subtle racism, and people yelling sh*t from the crowd," he said then, per CLNS Media. "But even if it is, it's part of the nature of the game and I'm just going to focus on what we can control."
Asked if he ever experienced racism in Boston before, Irving said, "I'm not the only one that could attest to this. But it's just … you know … it is what it is. The whole world knows it."
Kyrie Irving now hopes for something he'll never get in Boston
Irving's two seasons with the Celtics brought nothing but disappointment to Celtics fans. From the day he announced to a group of season ticket holders that he would sign an extension with the team, it was downhill. Boston made the playoffs both years, but the oft-injured guard missed the entire postseason in his first year with a knee injury. The second year, he was downright awful.
After a Game 4 loss to the Bucks that put the Celtics in a 3-1 hole, reporters asked Irving about his shooting woes for the series. In Games 2-4, Kyrie shot 19-for-62 from the floor. He went 7-for-22 from the floor in Game 4.
"Who cares?" he said, per CBS Sports.
A Game 5 loss to the Bucks was Irving's last time suiting up as a member of the Celtics. He bolted town to join the Nets.
Now, Irving, per Stefan Bondy of the New York Daily News, says he hopes Boston fans can move past his time there and "reflect on some of the highlights I left at TD Garden that they can replay."
Highlights? With Boston?
There were none, Kyrie. Zero. You may have juked a defender or two but that's not worth replaying. Stomping on the logo, acting like you don't care when you played poorly, and bringing up racism is how Celtics fans remember you.
Jaylen Brown said he clashed with Irving when they were teammates
Irving might just be a tough guy to play with. Jaylen Brown, who missed last year's playoffs because he had season-ending wrist surgery, said he and Irving "bumped heads" when they were teammates.
"Off the court, me and Kyrie might have started off with a lot of bumps in the road," Brown told Abby Chin during NBC Sports Boston's Celtics Playoff Preview Special. "But as of lately, Kyrie is somebody that I've connected with. Somebody that I call a friend, a brother. Somebody that calls me to pick my brain at this point. 
"It wasn't like that when we played together. We bumped heads a lot. But it's funny now in hindsight. Kyrie, he talks to me, hits me up all the time and our relationship has grown a lot since then."
Sunday, Irving will be back in Boston. There will be no replaying of his "highlights" in Boston. Expect the same old booing each time he touches the basketball.