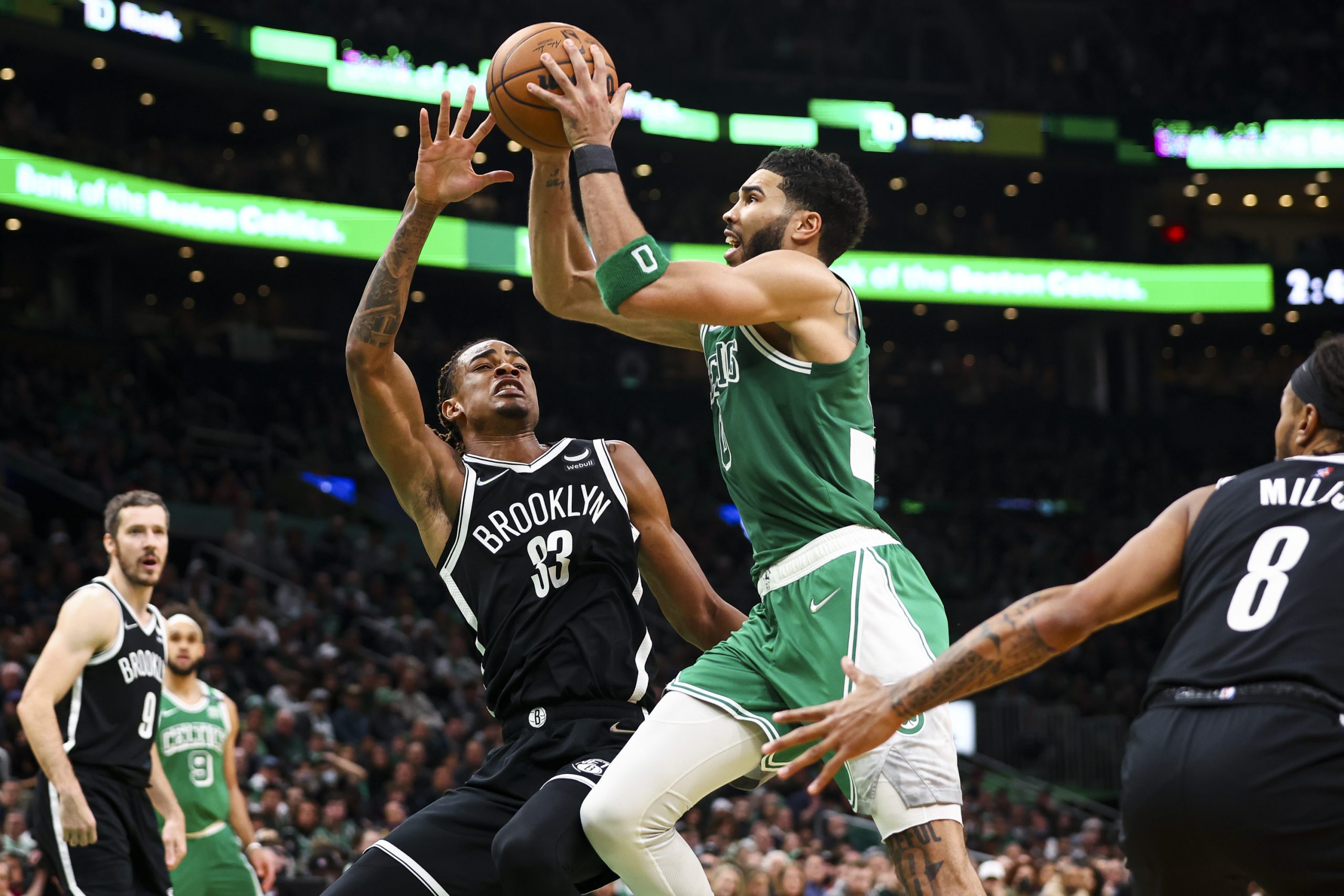 Boston Celtics News: Glen 'Big Baby' Davis Trolls Kyrie Irving, Gets Caught Upgrading Seats
The Boston Celtics fans didn't let up on Kyrie Irving during Sunday's win over the Brooklyn Nets.
On the court, there was plenty of drama as Kyrie Irving and the Brooklyn Nets came to town to face the Boston Celtics on Sunday. Irving, who spent two frustrating seasons with the Celtics, returned to TD Garden for the first time since stomping on the Celtics logo after a playoff victory last season.
While there was no logo-stomping this time as the Celtics outlasted the Nets 126-120, there was some interesting action off the court that involved former Celtics player Glen 'Big Baby' Davis.
Kyrie Irving and Boston Celtics fans just don't mesh
Irving was booed nearly every time he touched the ball during Sunday's game. It's pretty understandable from the viewpoint of a Celtics fan. Irving rubbed the fan base the wrong way when he made an announcement during a gathering for season ticket holders that he would re-sign with the team when his deal was done.
After two years of injuries, heartache, and playoff failure, he bolted.
Before he returned to TD Garden last May for the first time as a member of the opposing team since leaving Boston, Irving ruffled the feathers of the Boston faithful. He said he hoped fans would stick to basketball and there would be no "subtle racism."
"Hopefully, we can just keep it strictly basketball, you know there's no belligerence or any racism going on, subtle racism, and people yelling sh*t from the crowd," he told reporters after a Game 2 win in Brooklyn. "But even if it is, it's part of the nature of the game and I'm just going to focus on what we can control."
He angered the crowd even more when he walked over to mid-court after a Game 4 win and stomped on the logo. As he left the court, a water bottle thrown by a fan zipped past his head.
"It's been that way in history in terms of entertainment and performers in sports for a long period of time," Irving said, per ESPN after the game. "Just underlying racism and treating people like they're in a human zoo. People just feel very entitled out here."
Former Boston Celtics player Glen 'Big Baby' Davis trolls Kyrie Irving, gets caught trying to upgrade seats
Irving knew he was going to hear it from the Boston fans Sunday. He knows how they feel about him and how that logo stomp didn't sit well with them the last time he was in the building.
Not only did they boo him whenever he touched the ball, but they offered a few "Kyrie sucks" chants as well.
While Boston fans were cheering for the Celtics and booing Kyrie, Davis, who played four seasons with the Celtics, got in on the action. Davis sported a white t-shirt in reference to Irving's logo-stomping incident. The shirt had a picture of an angry leprechaun and read "Respect the Logo."
Also, with two minutes remaining in the third quarter, television cameras happened to show Davis. As the camera zoomed in on him, it showed him getting bounced from his seat.
'"Oh, are these y'all seats," Davis said, playing dumb like most people do when they try to sneak up a few rows.
Davis got up and moved back a row. Who knows if those were even his seats.
TV announcer Doris Burke made mention of the incident, saying "Is Baby trying to sneak up a row in his old house?"
Jayson Tatum led the Celtics past Kyrie and the Nets
Celtics star Jayson Tatum knew what he was up against Sunday. He had Irving and Kevin Durant, two of the NBA's best, coming to town. It's a challenge he always looks forward to.
"Those matchups — when you're playing one of the better teams in the league, two of the best guys — as a competitor, those are the kinds of moments that as a kid you looked forward to," Tatum said, per ESPN. "When those opportunities come, you try to make the most of it."
Make the most of it is what Tatum did. He finished with 54 points, scoring 34 after halftime. Boston has won 21 of its last 27 games.
"Tonight, this man to the left was unstoppable," Celtics guard Jaylen Brown said, referring to Tatum. "I think that helps."
It was the fourth time in his young career that Tatum topped the 50-point mark. That tied him with Larry Bird for the most in Celtics history.