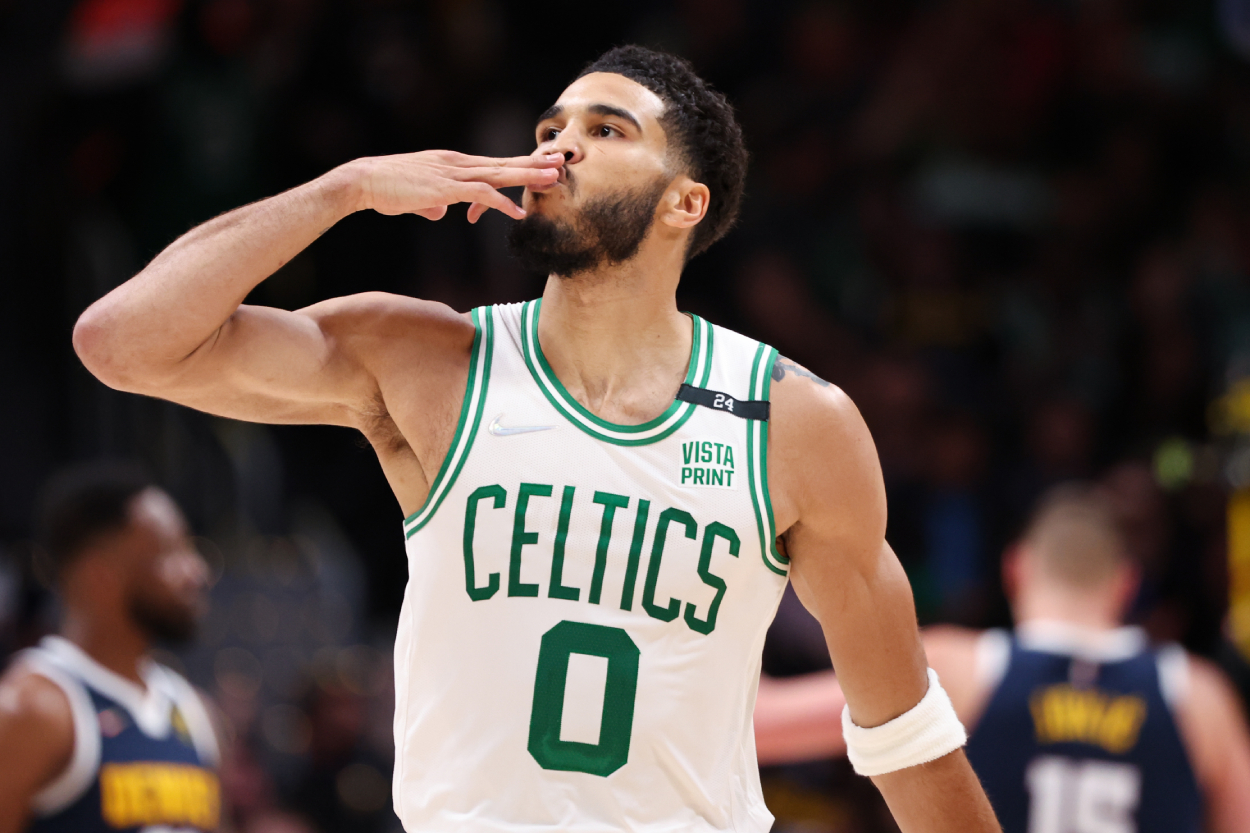 Jayson Tatum Finds Himself in Elite Company With Wilt Chamberlain and Kareem Abdul-Jabbar
Jayson Tatum and the Boston Celtics are on quite a run as the postseason draws near.
The Boston Celtics shoot for their fifth straight victory when they host the Utah Jazz after returning from a four-game West Coast trip. The Celtics have caught fire since stringing together a nine-game win streak back in late January. Since then, the Celtics, led by their young star Jayson Tatum, have gone 20-3 and find themselves within reach of the top seed in the Eastern Conference.
Tatum has been the catalyst. Just how hot has he been? The three-time All-Star finds himself in the company of the NBA's all-time elite, including Wilt Chamberlain and Kareem Abdul-Jabbar.
Jayson Tatum has gone from struggling star to scorching-hot superstar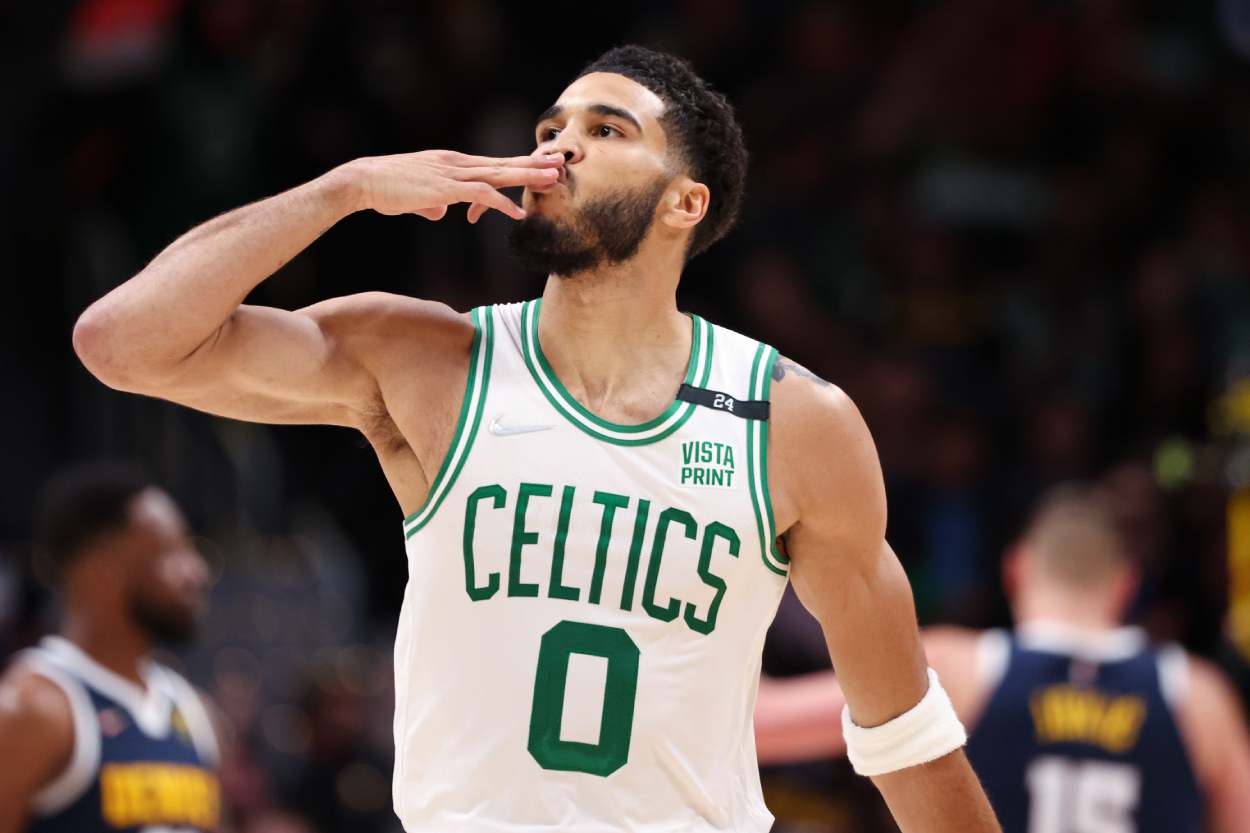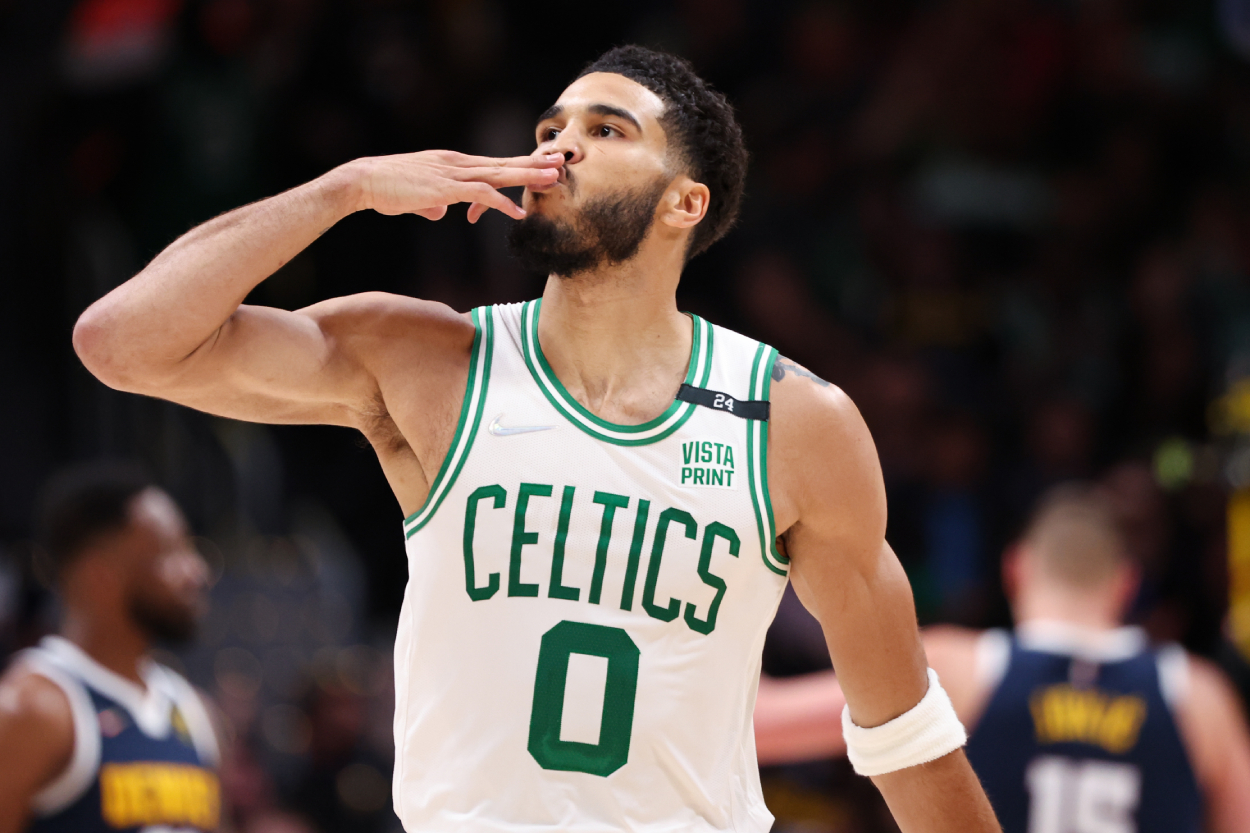 It's been quite the roller-coaster ride for Tatum and the Celtics this season. For the first four months, the Celtics struggled to find out who they were. They were a team that was capable of blowing out anyone, yet they were known for blowing several big leads.
Through the first 50 games, the Celtics were 25-25. It was an underwhelming start for a team with two young stars in Tatum and Jaylen Brown. There were frustration issues, highlighted by Marcus Smart publicly calling out the two stars for not passing the ball.
First-year coach Ime Udoka also had trouble getting his players to go all-out. He questioned their effort on numerous occasions. After a 108-105 loss to the New York Knicks in a game the Celtics blew another late lead, Udoka let his team have it. He challenged their mental toughness.
They responded in a big way.
Since that loss on Jan. 6, the Celtics have gone 27-7 and have figured out who they are and who they can be. With nine games remaining in the regular season, the Celtics sit 2.5 games out of first place in the Eastern Conference with a 45-28 record.
Jayson Tatum finds himself in elite company with Wilt Chamberlain and Kareem Abdul-Jabbar
Early in the season, things got so bad for Tatum and the Celtics that they were being laughed out of arenas because of their long-range shooting woes. Tatum went three games without making a three-pointer for a team that did nothing but shoot the long ball. At one point, he went 1-for-21 from behind the arc. In a game against the Los Angeles Clippers, the Celtics went 4-for-42 from three-point land.
Frustration set in at postgame conferences as the media focused on his shooting woes. He was frustrated but never lost confidence.
"Throughout the course of the season, sometimes I watch film, look for things I can adjust, and over the course of 82 games sometimes you just miss," Tatum said then, per Jay King of The Athletic. "But you put in too much work to doubt yourself. There's always the next game.
"I will (get out of the slump)," Tatum said, "and we'll be able to talk about something else."
He has broken out in a big way. In Boston's last 11 games, he's been the Celtics' top scorer. In eight of those games, he's gone for 30 points or better. During a game against the Brooklyn Nets, he torched them for 54 points.
Tatum is just 24 years old. According to Celtics play-by-play man Sean Grande, Tatum is top three of all-time in scoring at age 24. At the top of the list is Chamberlain, who put up 38.4 as a 24-year-old player. Tatum is next at 38.2, followed by Abdul-Jabbar at 34.8. In case you're wondering, Michael Jordan is next at 34.7.
Tatum has only been 24 for 20 days. It's just a small sample size, but it just shows how hot he's been the last three weeks.
Chamberlain and Abdul-Jabbar are two of the all-time best
It's unfair to compare Tatum to two of the greats of all time in Chamberlain and Abdul-Jabbar. Grande simply showed the tear Tatum was on and how it compared to the NBA's elite. As good as Tatum's numbers have been during Boston's red-hot run, they're not even close to the two former Lakers greats over the long haul.
While Tatum's 54-point outburst against the Nets was the third time he had surpassed 50 this season, that was the norm for Chamberlain for an entire year. During the 1961-62 season, Chamberlain averaged 50.4 points and 25.7 rebounds through all 80 games. He led the league in both scoring and rebounds his first four years.
Chamberlain finished his career, averaging 30.1 points and 22.5 rebounds. He was a four-time MVP and a two-time NBA champion.
Abdul-Jabbar remains the NBA's all-time scoring leader. He averaged better than 30 points per game in his first four seasons. He's a two-time scoring champ and a six-time NBA champion.
Tatum is good, and he's young. He's averaging 20.8 points in his five seasons. For now, he's on a run where he can be mentioned with Chamberlain and Abdul-Jabbar in the same sentence. He'll need to make this a consistent pace and lead the Celtics to a championship or two to keep these comparisons going.