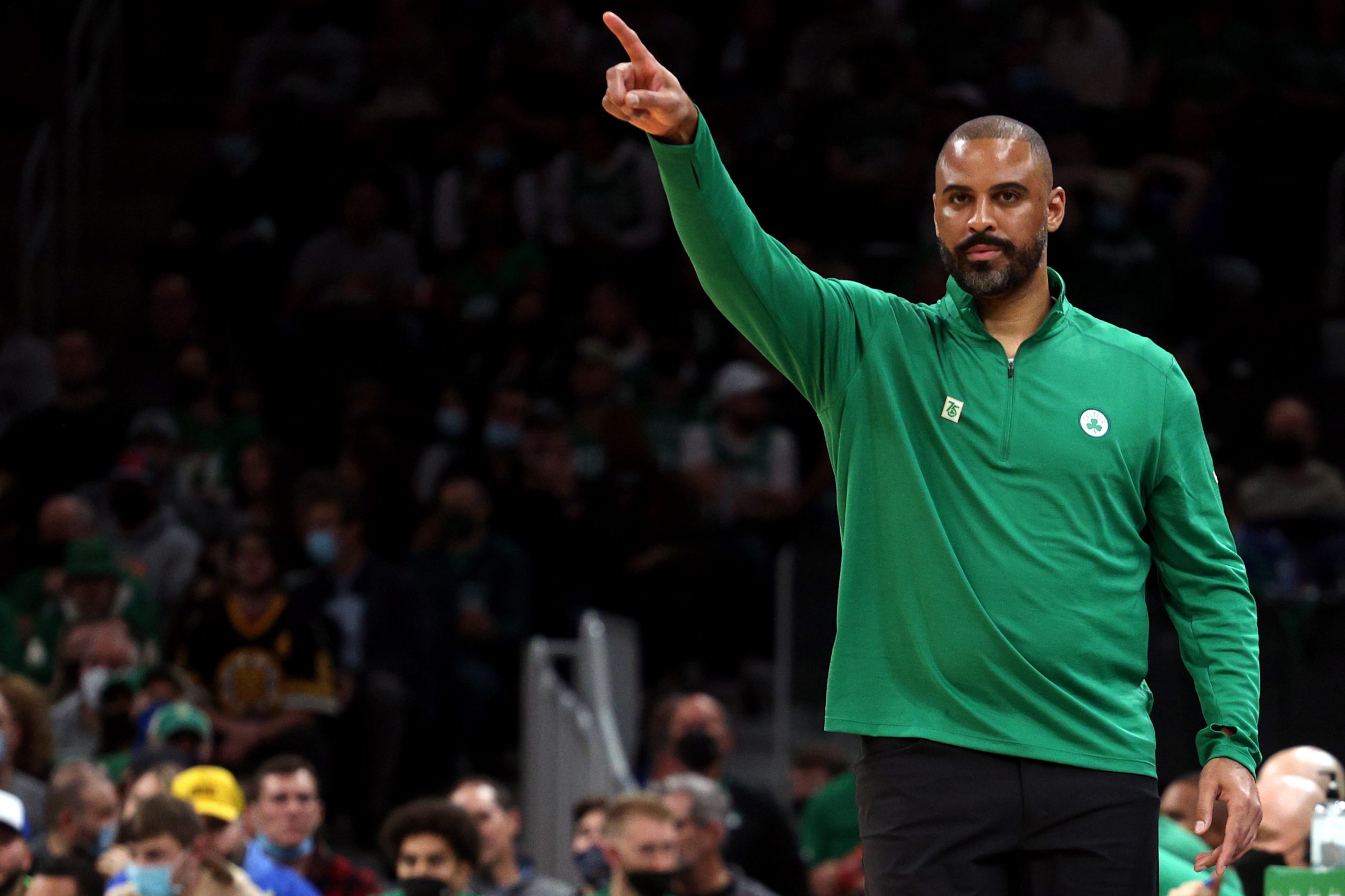 Ime Udoka Predicted the Lackluster Boston Celtics Loss to the Wizards: 'I Told Them You're Going to Get Your Ass Kicked Tonight…'
Boston Celtics coach Ime Udoka predicted his team would lose to the Washington Wizards.
The Boston Celtics have an effort problem. They rarely give much of it. They are 0-2 at home this year, with their intensity severely questioned in both losses. First-year coach Ime Udoka even predicted Wednesday night's 116-107 loss to the Washington Wizards during the morning shootaround.
Ime Udoka and the Boston Celtics have a problem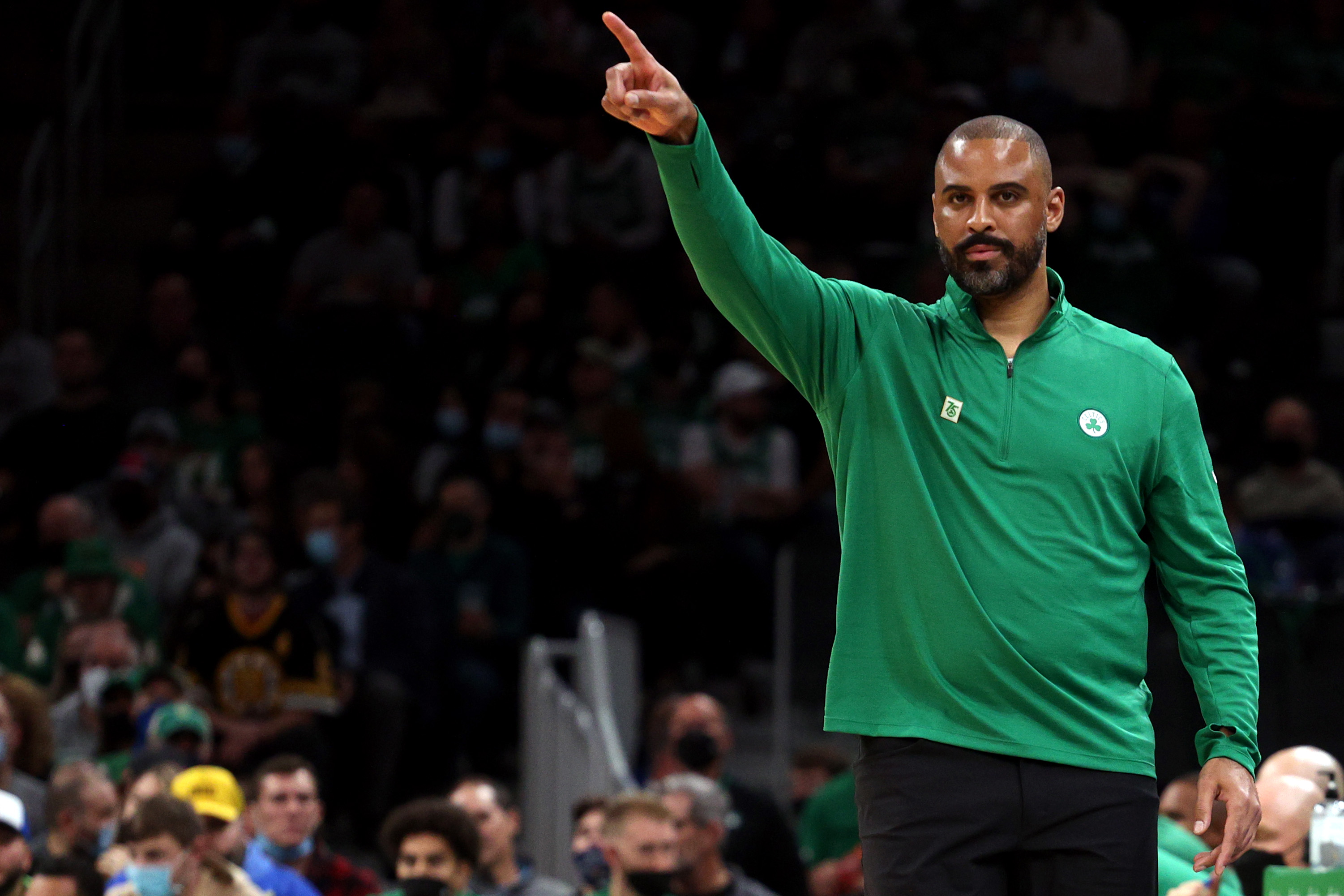 When your star player uses more energy to complain to the referees than he does playing basketball, it's a problem. Jayson Tatum, he of the $200 million contract extension, hasn't quite grasped the "leader" label yet. In two home games this year, his team has come out flat. He's recognized it but hasn't done anything about it.
After an embarrassing 115-83 loss at home to the rebuilding Toronto Raptors, Tatum casually pinpointed the reason for the loss.
"We know why we lost," Tatum said, according to Mass Live. "They just played harder than we did, played tougher. It wasn't rocket science. We're all professionals; we're all adults. We understood what had happened." 
Fast-forward to the following Wednesday when the Wizards came to TD Garden and knocked off the Celtics on their home court. Again, lack of effort was the talk during the postgame media session.
Udoka has a problem when his high-priced star realizes there's an effort problem and follows one lackluster home performance with another. Tatum is the supposed leader on the team and needs to set the tone.
Ime Udoka predicted the Celtics loss to the Wizards
The Celtics found themselves down 79-64 in the third quarter when they decided to play. They battled back and briefly held the lead early in the fourth quarter. That burst of energy they used to get back in the game just wasn't there for 48 minutes. It was a repeat of their home opener against the Raptors when Tatum issued his comment about his team not playing as hard as it could.
Even during the morning shootaround on Wednesday, the Celtics weren't exactly giving it their all. Udoka called his team out for it. He also offered a little prognostication for the game that night.
"Our intensity wasn't there from the start," Udoka said postgame, per NBC Sports Boston. "You could see it in the first quarter. Honestly, the shootaround, where I got on them pretty hard for lack of focus, and it carried over into the game tonight.
"For whatever reason, they were lacking in intensity and focus this morning. I told them you're going to get your ass kicked tonight if you come with that focus in the game. For three quarters, we played the same way. We waited until we got down 15 and then started to play with the effort we had in the other four games.
"It's disappointing. We'll have a chance at it again on Saturday. If we bring the right intensity, we'll be OK, but we gotta show up every night. We just can't pick and choose."
Al Horford was one Celtics player who went all out
One Celtics player whose effort shouldn't be questioned Wednesday is Al Horford. The veteran big man went all out in his 26 minutes of work. He scored 16 points and pulled down 11 rebounds. In the fourth quarter, he kept the Celtics in the game with offensive-rebound putbacks on consecutive possessions.
He couldn't understand the team's lack of intensity.
"I really don't know. I mean, we just weren't focused enough," Horford said after the game, according to NESN. "As a unit, we just need to continue to do our jobs, do our jobs and be professional. It's happening right now early in the year, and it's something we have to take care of, and I believe we will.
"Yeah, I'm trying to figure it out myself. We should never be questioning energy and effort. That should never be something. And it's something that we just need to, we're playing for something big here, and we just have to make sure we're all on the same page, and we're all committed to it. I think that's the biggest thing."
Missing shots is one thing. Not playing hard is another. When the coach predicts a home loss to a lesser opponent because of a lack of effort, that shows there is a significant problem in Boston.