Boston Celtics Star Jayson Tatum was Fueled by an Embarrassing Moment in Elementary School and a Lesson From His Mom
Jayson Tatum used a childhood experience in St. Louis as the motivation to be great.
Growing up in St. Louis, Jayson Tatum has battled adversity his entire life. The Boston Celtics star had an embarrassing experience in the fourth grade that shaped him and served as motivation for the rest of his life.
Tatum remains one of the most talented basketball players in the world, and the harsh lesson helped him reach new heights.
Jayson Tatum's fourth-grade teacher doubted him
In May 2021, Jayson Tatum joined the Million Dollaz Worth of Game podcast to discuss basketball and life off the court. On the show, he told a story that changed his life forever.
In fourth grade, he attended a private school. He was one of the few minorities in his class and often felt the pressure of being different than most of his classmates.
"We lived two totally different lives," Tatum explained.
The future NBA star's teacher gave the class an assignment, asking each student to write a paragraph about what they wanted to be when they grew up. He wrote about becoming a professional basketball player and being on television. The teacher scoffed at his response, saying, "You have to pick something more realistic."
After the teacher's remark, the classroom erupted in laughter.
"I was embarrassed," Tatum said. In tears, he told his mother, Brandy Cole, what happened. His mom gave him an important reminder. Cole said as long as she supports and believes in Tatum, "It doesn't matter what somebody else thinks."
That lesson has stuck with Tatum on his fatherhood journey.
"As a parent, you should always support your kids," he said.
Jayson Tatum was a 5-star prospect coming out of high school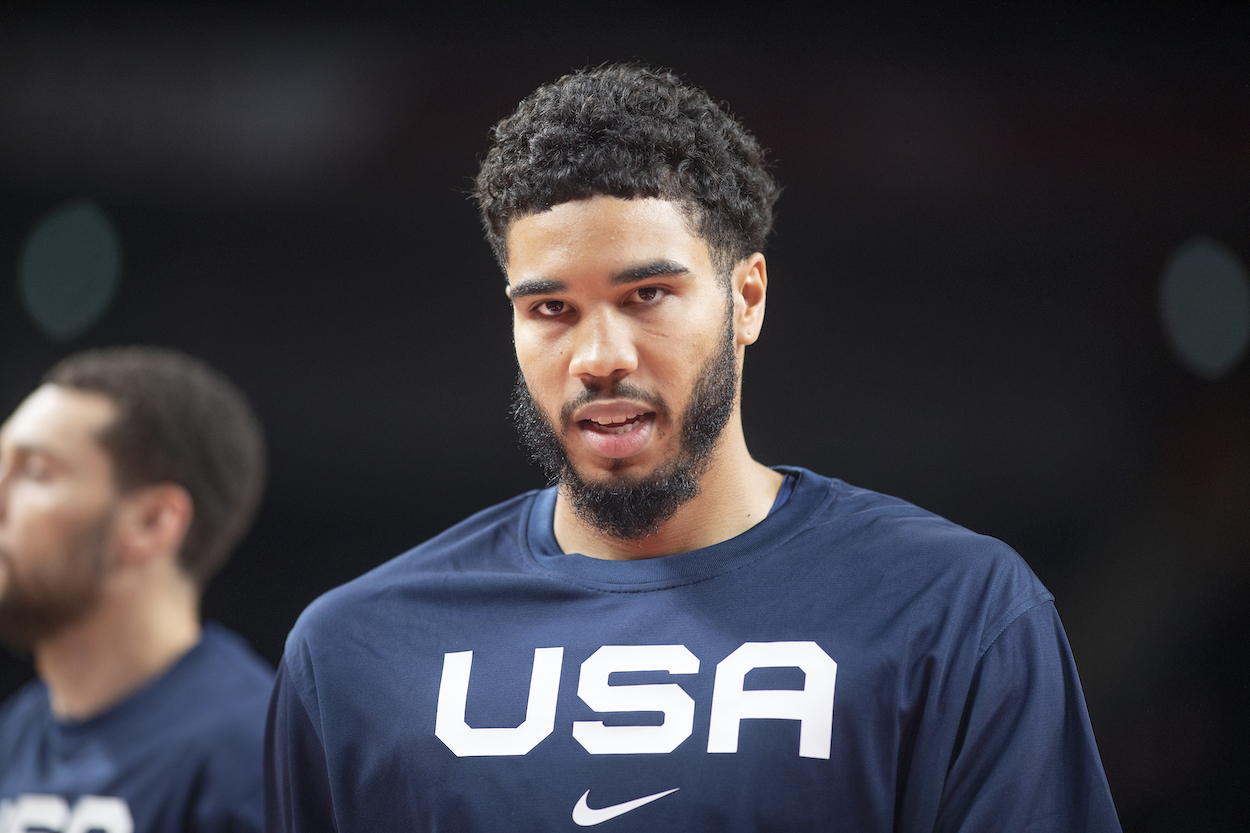 Jayson Tatum started proving his fourth-grade teacher wrong early. He went on to dominate the AAU circuit and prep ranks. He attended Chaminade College Preparatory High School in St. Louis.
He was the No. 8 overall high school basketball prospect in the class of 2016, according to 247Sports. The loaded recruiting class also featured Lonzo Ball, De'Aaron Fox, Harry Giles, and Bam Adebayo. Tatum was highly-touted and participated in the McDonald's All-American Game.
He garnered several offers from big-time collegiate programs such as Kentucky, Kansas, Michigan State, and North Carolina. Tatum ultimately committed to play for Mike Krzyzewski at Duke. He spent one season with the Blue Devils, averaging 16.8 points, 7.3 rebounds, and 2.1 assists. He was an ACC All-Freshman selection and an All-ACC Tournament selection.
After navigating AAU, high school, and the one-and-done process at Duke, the next stop was the NBA.
Tatum has become an NBA superstar
The Boston Celtics selected Tatum with the No. 3 overall pick in the 2017 NBA Draft. Since then, he has proven himself the best player from that draft class, outshining Donovan Mitchell, Bam Adebayo, De'Aaron Fox, Jarrett Allen, Derrick White, John Collins, Lonzo Ball, and all other members of the strong group.
Six years into his career, he's averaging 22.5 points, 7.0 rebounds, 3.3 assists, 1.1 steals, and 0.7 blocks. He was named All-Rookie in 2017-18 and has since made four All-Star teams and three All-NBA appearances while rising as high as fourth in the MVP balloting (2022-23).
The 25-year-old enjoyed the best statistical season of his career in 2022-23, averaging 30.1 points, 8.8 rebounds, and 4.6 assists while shooting 46.6% from the field and 35.0% from three-point territory. Though he hasn't been able to win an NBA title, he and Jaylen Brown have formed one of the Association's strongest tandems and taken Boston deep into the playoffs on multiple occasions.
Making the NBA may be unrealistic for most people, but Jayson Tatum has proved there's nothing wrong with having an "unrealistic" dream. Years later, he still remembered the lesson his mom gave him and continued to use it to fuel him in the face of adversity.