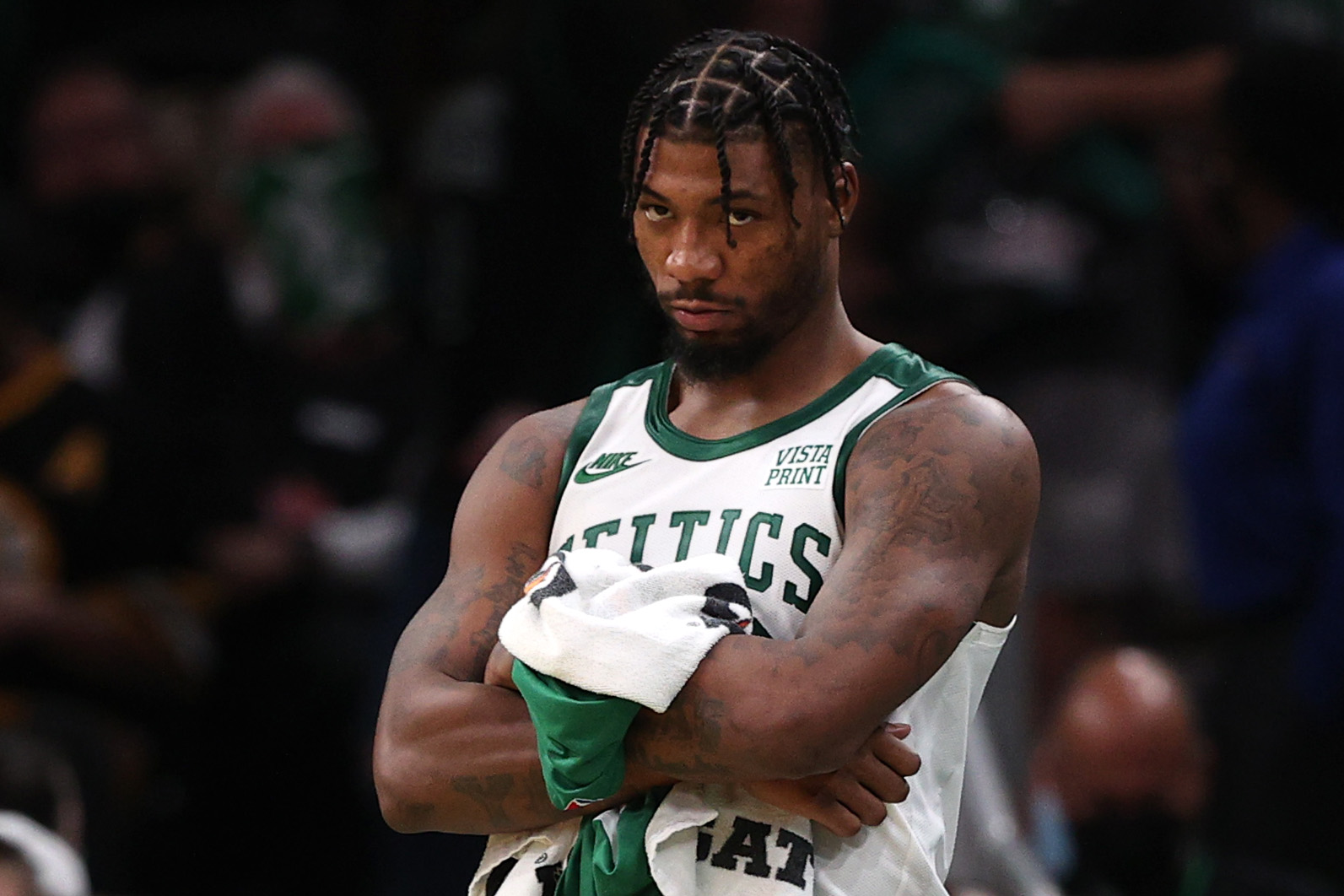 Frustrated Marcus Smart Is Right in Calling out Jayson Tatum and Jaylen Brown After Boston Celtics Hit New Low: 'They Don't Want to Pass the Ball'
Marcus Smart was right on in calling out the leaders of the Boston Celtics after Monday night's loss to the Chicago Bulls.
After last season's debacle, it appeared going up was the only way the Boston Celtics could travel. The team underachieved its way to a 36-36 record during the 2021-21 season with a pair of All-Stars in Jayson Tatum and Jaylen Brown highlighting the roster. Things have only gotten worse, and Marcus Smart finally let his frustrations out after the Celtics blew a 19-point third-quarter lead at home.
Marcus Smart and the Boston Celtics still seeking their first home victory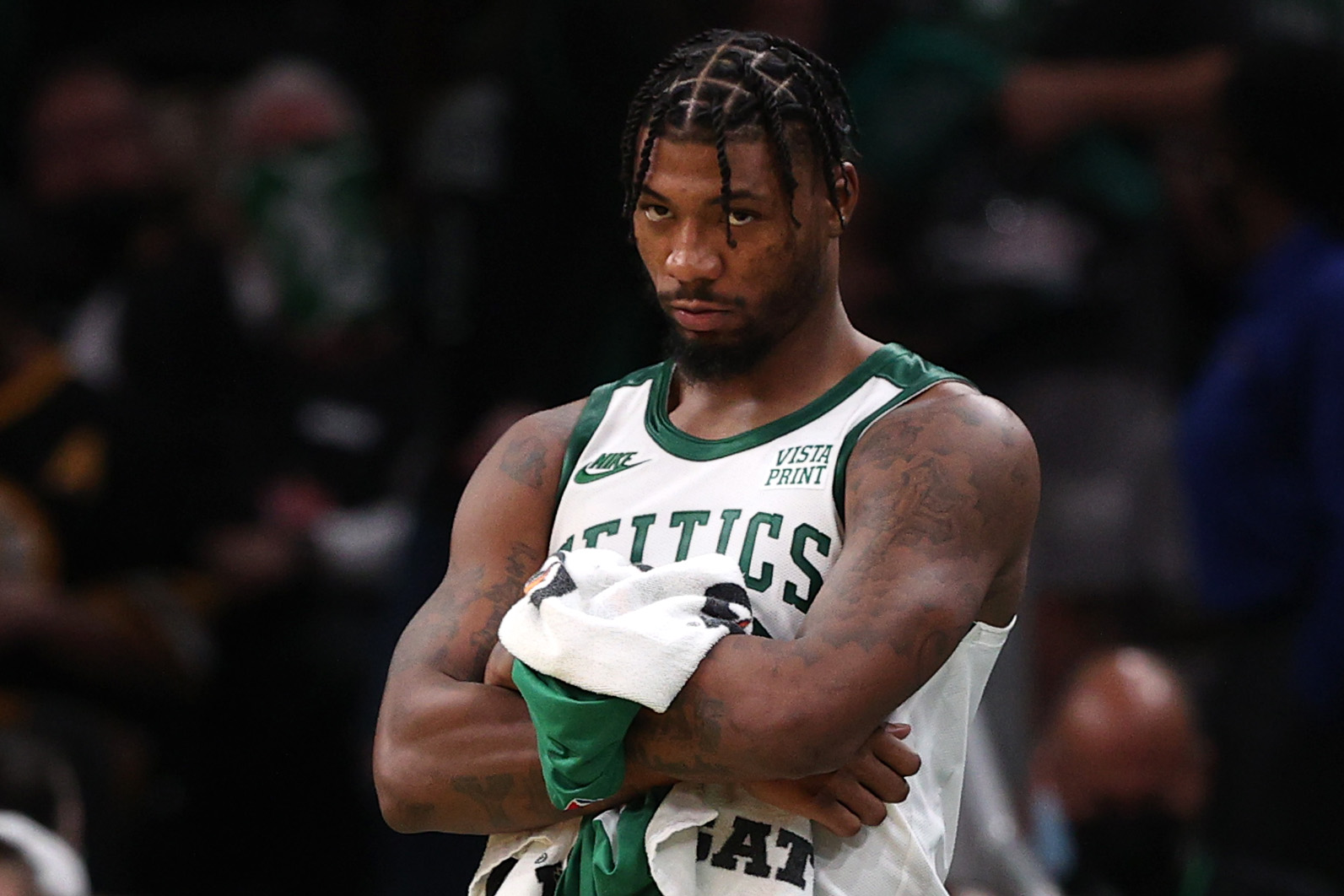 Through seven games, the Celtics sit at 2-5. They haven't won in front of their home crowd, although that appeared it was coming to an end Monday night. Instead, the Celtics saw their 19-point lead late in the third quarter turn into a 128-114 loss when the Chicago Bulls outscored them 39-11 in the final 12 minutes.
Effort has been in question for the Celtics during their early seven-game stretch. Even Tatum, the two-time All-Star and supposed leader of the team, admitted their intensity wasn't there after their home-opening loss to the Toronto Raptors that put them at 0-2.
"We know why we lost," Tatum said, according to Mass Live. "They just played harder than we did, played tougher. It wasn't rocket science. We're all professionals. We're all adults. We understood what had happened." 
It's a troubling statement when two games into the season and playing in front of your home crowd for the first time, the team's so-called leader admits effort was a problem.
Effort has never been a problem for Smart. He may frustrate the Boston faithful with his constant outside shooting, but he comes to play every game. He's not the scorer Tatum and Brown are, but he leaves everything out on the floor. Maybe that's why he let it all out after Monday night's game.
Marcus Smart doesn't hold back after Monday night's collapse to the Bulls
With 2:53 left in the third quarter, the Celtics held a 94-75 lead. From that point, the Bulls outscored them 53-20. It was an ugly ending to their worst of many ugly losses this season. Smart vented to the media, letting it all hang out and calling out Tatum and Brown.
"Every team knows we're trying to go to Jayson and Jaylen," he said postgame. "Every team is programmed and studied to stop Jayson and Jaylen. I think everybody's scouting report is to make those guys pass the ball. They don't want to pass the ball.
"That's something that they're going to learn. They're still learning. We're proud of the progress they're making, but they're going to have to make another step and find ways to not only create for themselves but create for others on this team to open up the court for them later down in the game."
Smart also took a shot at the Celtics' offensive game plan.
"There's only so much I can do without the ball in my hands and just stand in the corner," Smart said, according to CLNS Media. "We're running plays for our best players and every team knows that. They do a great job of shutting that down. When they shut that down, we can't keep trying to go to those guys.
"Like I said, for me, I can only do so much standing in the corner."
Smart is right in his assessment of the Celtics
Maybe he went about it the wrong way by calling out his teammates in the media, but at least Smart is trying to spark change. Something needs to be done with the Celtics, and Tatum has yet to show he can be a leader. Tatum acknowledged the problem in Game 2, but the issue has carried on through Game 7.
Smart has heart. He doesn't have the same offensive skills as Tatum or Brown, but he's passionate on the court with his effort never in question.
The Celtics aren't who they think they are. They are a deeper team than they were a year ago, but without a change in leadership, the team is going nowhere. Tatum isn't even shooting 40% from the floor this year. His 3-point percentage is a dismal 27%. The shooting will likely come, but it's the effort and leadership that's severely lacking.
Tatum, Brown, and new coach Ime Udoka may not like what Smart said to reporters after yet another ugly loss, but maybe his comments will trigger that spark the Celtics desperately need.