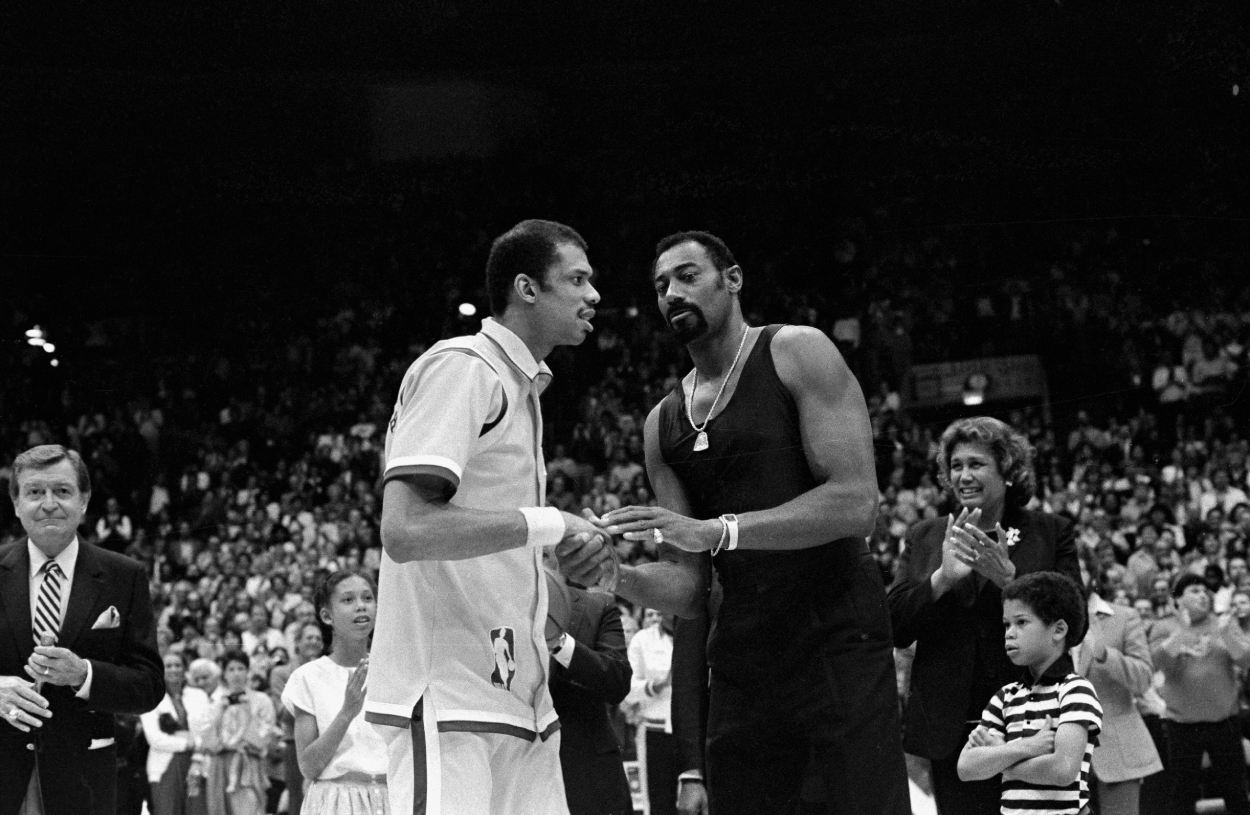 Kareem Abdul-Jabbar Relives Epic Battle With Wilt Chamberlain in Streak-Snapping Game 50 Years Ago
Kareem Abdul-Jabbar recently reflected on an epic game 50 years ago when his Bucks halted a 33-game win streak by Wilt Chamberlain and the Lakers.
Fifty years ago, a young Kareem Abdul-Jabbar faced the team he would later win five NBA championships with. This night, however, he was a member of the Milwaukee Bucks and went up against the Los Angeles Lakers and their legendary center Wilt Chamberlain.
The Lakers entered the game riding a 33-game win streak and had already taken down the Bucks during that stretch. Abdul-Jabbar recently relived that night when his Bucks halted that streak and Abdul-Jabbar grabbed that torch from Chamberlain as the best center in the game.
Kareem Abdul-Jabbar said Wilt Chamberlain showed some animosity toward him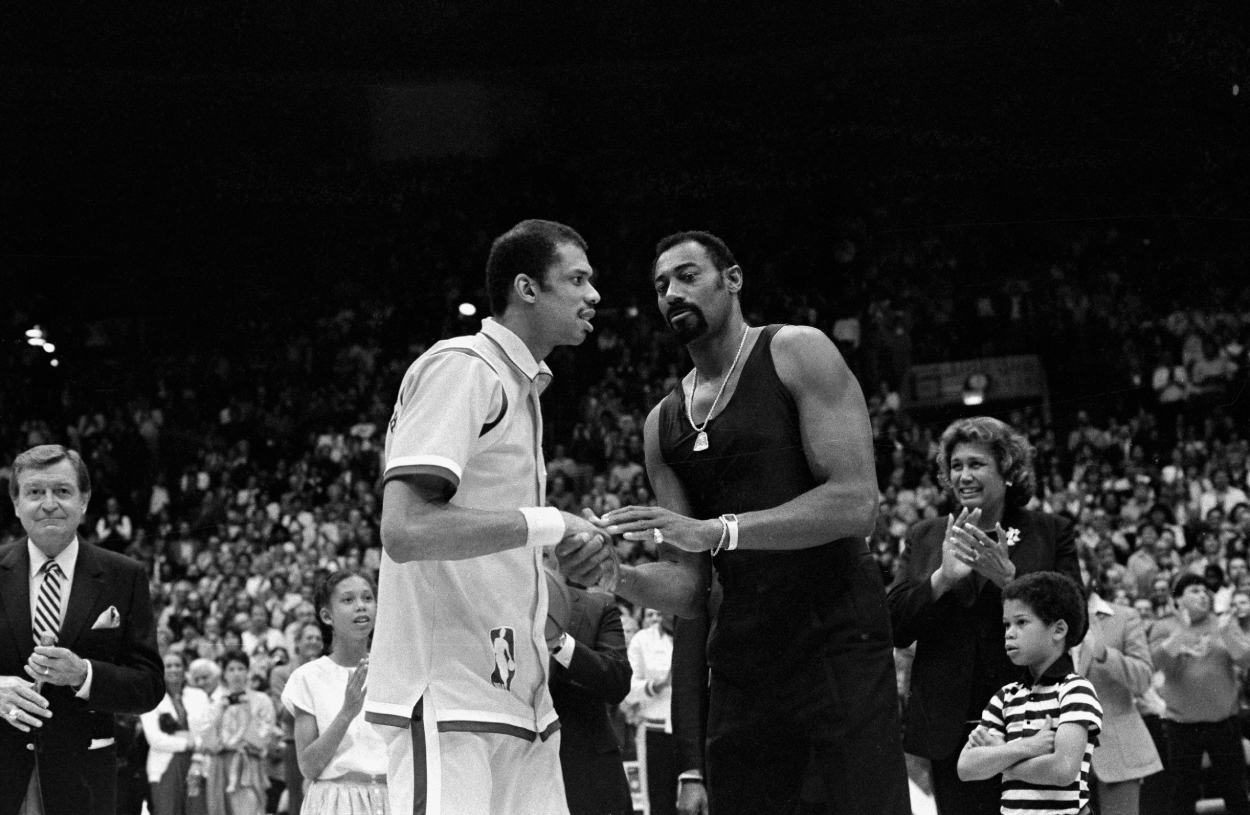 Jan. 9, 1972, was a statement game for Abdul-Jabbar and the Bucks. Milwaukee had just won the NBA title, but the Lakers were the hottest team in town, entering with a 39-3 record and that 33-game winning streak. The Bucks were no slouch either, coming in with a 35-8 mark.
In a recent Substack article, Abdul-Jabbar recalled the game and how Chamberlain was getting irked at the Bucks center as he was becoming one of the best players in the NBA.
"As my fame and accomplishments increased, so did his animosity," Abdul-Jabbar wrote of Chamberlain. "Winning the championship the year before, in my second year in the NBA, seemed to put him over the top. We had won a championship before his team had.
"When Wilt and I faced off on January 9, he was no longer the unstoppable 25-year-old player who scored 100 points in a single game. He was now 35, slower, less aggressive in shooting. But he was still a powerful force under the basket. And he still wanted to beat me, the 24-year-old who he felt was replacing him."
The Lakers were more than Chamberlain. They also had Jerry West, Gail Goodrich, Jim McMillian, and Happy Hairston. Abdul-Jabbar was paired with the legendary Oscar Robinson. Still, it was Abdul-Jabbar vs. Chamberlain everyone wanted to see.
Kareem Abdul-Jabbar's preparation helped him annoy Wilt Chamberlain
Abdul-Jabbar prepped for his matchup with Chamberlain. He studied film of the Lakers center and knew how to get under his skin.
"Wilt and I battled for position, but I had studied the films of him playing and knew that he did not like to guard players who kept moving, which is exactly what I did," he wrote. "I could tell he was getting annoyed by my constant movement.
"I'd heard that Gail Goodrich had complained to his team that Wilt needed help guarding me, which I'm sure also nettled Wilt."
Abdul-Jabbar finished with 39 points on 18-for-34 shooting. He added 20 rebounds and five assists. Chamberlain had 15 points and 12 rebounds.
"At this point in his career, Wilt's game was to stand in the middle of the lane so he could better block shots and rebound," Abdul-Jabbar wrote. "He wasn't trying to score as much as he used to, so he wasn't as big an offensive threat as he once was. I'd also devised a shot to counter Wilt's tremendous blocking ability. I would shoot a bank shot high off the backboard over his reach."
The Bucks won 120-104. The streak was over.
Abdul-Jabbar also was frustrated during the game
While Abdul-Jabbar got the better of Chamberlain, frustrating him throughout the game, he, too, was annoyed. The Bucks' big man lost his cool when he went in for a dunk and was clipped by Hairston. He even threw a punch at the Laker forward.
"At one point, I was leaping up for an uncontested slam dunk when Happy suddenly hit my legs," Abdul-Jabbar recalled. 'Both of us dropped to the ground. The encounter, which had been totally unnecessary, is extremely dangerous and could lead to career-ending injuries.
"As a center, I was used to a lot of physical abuse, from elbows in the stomach to gouges to the eyes, but every once in a while, I would get fed up with the abuse that the refs chose to ignore. As we both were getting up, I lost my temper and punched him in the head. The refs rushed out to control the situation. We both received fouls."
Despite the streak-snapping win and completely outplaying Chamberlain, Abdul-Jabbar said it was just another win.
"To us, it really was just another game in the season, with many more to go," he wrote. "Following their defeat to us, the Lakers' confidence was shaken and they struggled over the next few games. But they recovered, swept the Chicago Bulls in four games in the first round of playoffs, then beat us in six games in the second round. They beat the New York Knicks in five games to win the NBA championship."
A few years later, he joined the Lakers, bringing them home five more NBA titles.