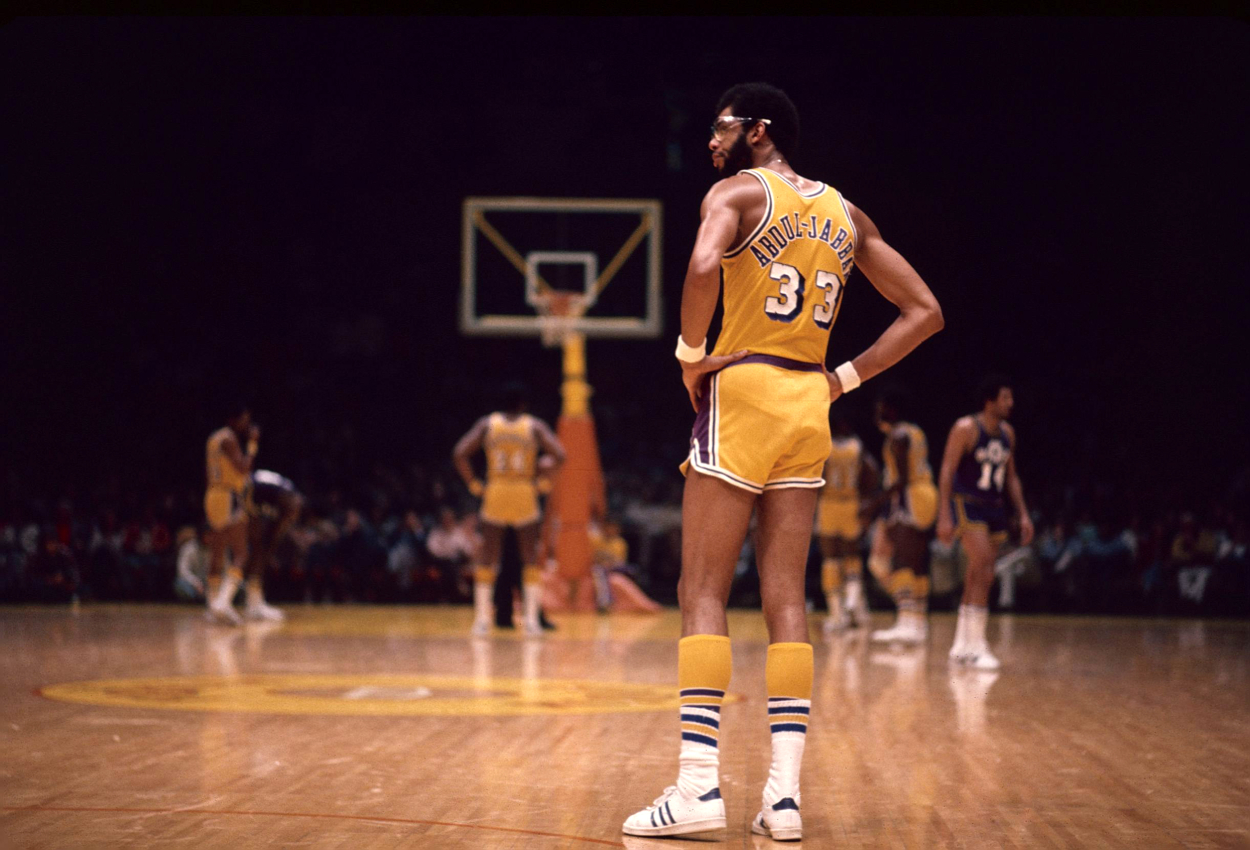 Kareem Abdul-Jabbar Stuck to His Promise of Never Turning Into Sugar Ray Leonard
Kareem Abdul-Jabbar once said he didn't want to be like Sugar Ray Leonard and stuck to it.
Although LeBron James is quickly climbing the ladder, nobody has scored more career points in the NBA than Kareem Abdul-Jabbar. The NBA GOAT debate typically has James and Michael Jordan atop the list, but Abdul-Jabbar is usually the third player mentioned — and for good reason. Abdul-Jabbar is a six-time MVP and a six-time champion. He once said he hoped he didn't turn out like some other champions, including legendary boxer Sugar Ray Leonard.
Making a case for Kareem Abdul-Jabbar as the NBA GOAT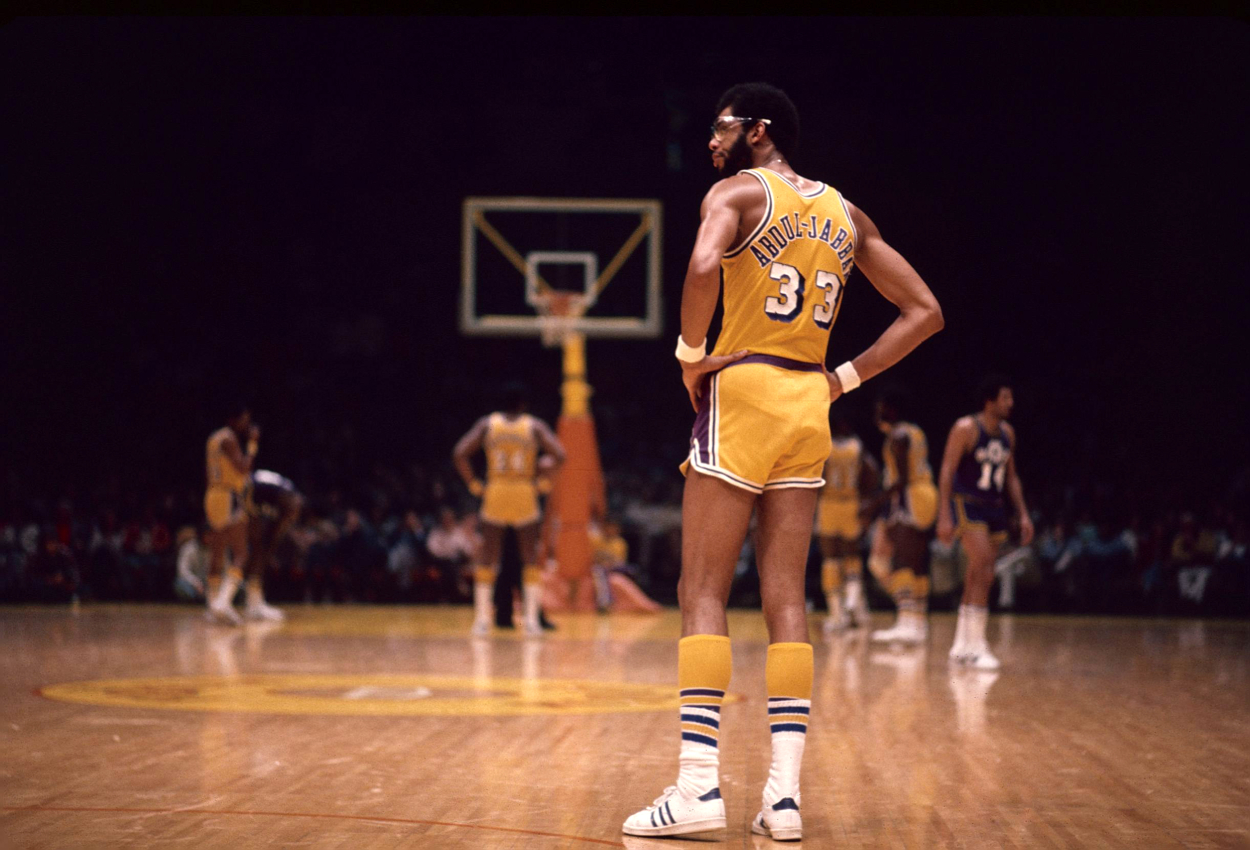 When comparing numbers, it's hard not to put for former Los Angeles Lakers and Milwaukee Bucks center at the top of the GOAT list. Jordan and James get all the love, but do those who prefer those two actually look at Abdul-Jabbar's numbers and realize what he's done?
While a guy like Wilt Chamberlain may have the best stats in the history of the game, he played during an era where there were nine or 10 teams. He won just two titles, which seemingly hurts his case. Abdul-Jabbar, however, overlapped with Jordan for five years and won five of his six titles during the 1980s, one of the toughest decades in NBA history.
Abdul-Jabbar is first in career points with 38,387. James is third on the all-time points list with 35,367. The former Lakers center has as many titles as Jordan and has two more than James. Abdul-Jabbar also boasts more MVP awards than both. He averaged 24.6 points and 11.2 rebounds while playing on Lakers teams loaded with stars.
Jabbar led the league in scoring the second and third years of his NBA career. He also led the league in blocks four seasons. He's a 19-time NBA All-Star and made the NBA All-Defensive Team 11 times.
Kareem Abdul-Jabbar once said he didn't want to become Sugar Ray Leonard
In 1989, Abdul-Jabbar faced the task many athletes must deal with — retirement. It's tough to hang 'em up, especially when the competitive juices are still flowing and performance is still strong. The grind of an 82-game season and lengthy postseason runs were wearing out the 41-year-old star. He loved everything then-NBA Commissioner David Stern had done to improve the league. Abdul-Jabbar did have one issue with the NBA — the length of the regular season.
"The only thing they use to justify the length with is that everybody has to do it," Abdul-Jabbar said in March 1989, according to United Press International. " (Cutting out) Ten or 15 games would make it a lot easier on everybody. Last year, the season was over the first day of summer. That was ridiculous."
Abdul-Jabbar had already announced he was calling it a career after that 1988-89 season. Unlike many athletes who flip-flop over retirement, he believed that '88-'89 season was firmly his last.
"Everybody tells me in eight or nine months I'll long for the atmosphere (of basketball)," he said then. 'My plans are to get very far away for a while and take a month or two off.
"I won't do like Sugar Ray (Leonard) or anyone else like that," Abdul-Jabbar said. "You don't have to worry about me coming back. I've seen too many NBA games."
Leonard won world boxing titles in five weight divisions but had a difficult time letting go of the sport. Leonard announced retirements in 1982, 1984, 1987, and 1991 returning to the ring after all four announcements.
Abdul-Jabbar has been crowned the NBA GOAT by two Hall of Famers
Abdul-Jabbar didn't pull a Leonard. He stuck to his retirement plan, calling it a career after the 1988-89 season. He knew there was little gas left in the tank as he averaged 22.9 minutes and 10.1 points per game in that final year. The former Lakers star was inducted into the Naismith Memorial Basketball Hall of Fame in 1995.
Two former opponents — both NBA Hall of Famers — have publicly stated they would put Abdul-Jabbar at the top of their GOAT list.
Isiah Thomas, the former Detroit Pistons star point guard, said he's No. 1 on his list.
"When I look at Kareem Abdul-Jabbar's six championships, six or seven MVPs, scored the most points than anybody in the NBA, lost one game in college, lost one game in high school and didn't lose in grade school, to me, that's the GOAT," Thomas said on Inside the Green Room with Danny Green.
Robert Parish also said the same thing about his former rival.
"I've got to give credit where credit is due," Parish said on the Cedric Maxwell Podcast. "That's the baddest man to ever play the game. I went up against some great ones — Patrick Ewing, Moses, Hakeem Olajuwon, Bob Lanier, Bill Walton. I played against some really top talents, and Kareem, hands down — he's the only player where there was nothing I could do to alter, change, redirect him. Nothing I could do."
All stats courtesy of Basketball Reference.