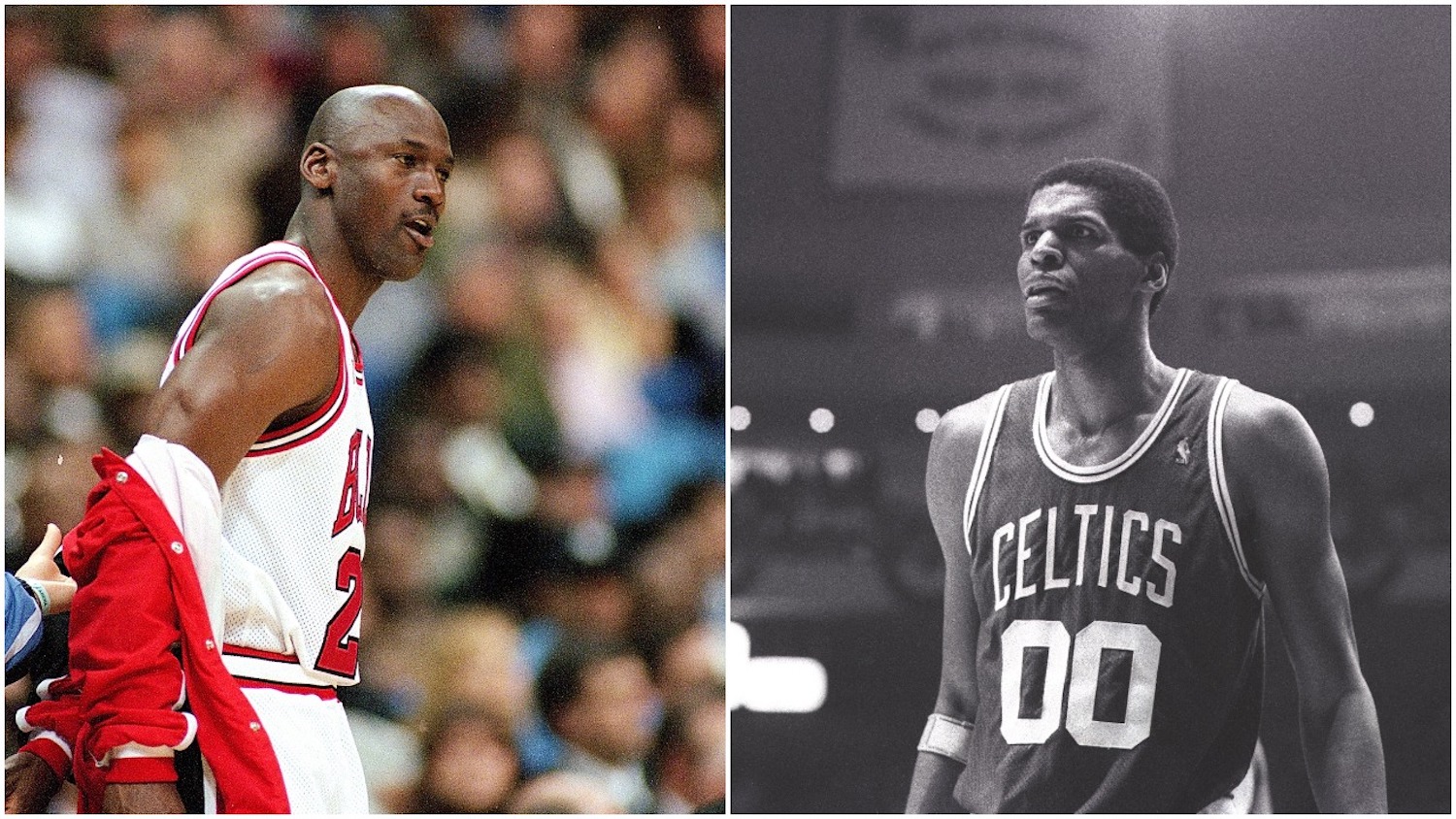 Boston Celtics Legend Robert Parish Said Michael Jordan Wasn't the GOAT on Multiple Occasions: 'Michael Didn't Beat Great Teams'
While Michael Jordan may have an impeccable NBA resume, Robert Parish doesn't think he's worthy of being the NBA GOAT.
For better or worse, sports fans love to engage in debates. One popular, albeit ultimately unresolvable, topic consists of identifying the GOAT in each particular sport. For those who love basketball, Michael Jordan usually takes the top spot in the power ranking. You can count Boston Celtics legend Robert Parish among the dissenters, though.
During his time on the hardwood, Parish faced plenty of legendary opponents and, for one season, even shared a locker room with His Airness. Despite that personal experience with MJ, The Chief has insisted on giving someone else the GOAT title.
Michael Jordan is a top contender for basketball's GOAT crown
Although there's plenty of room for dissent — just ask those who feel strongly about LeBron James' credentials –the NBA GOAT debate is usually fairly cut and dry. While some may cite other preferences, the majority of fans can't help but acknowledge MJ's greatness.
In terms of on-court ability, it's easy to see the argument for Jordan. Across 15 professional seasons, the living legend averaged 30.1 points, 6.2 rebounds, and 5.3 assists. He also claimed six NBA championships and took home virtually every individual award imaginable, ranging from Rookie of the Year to Defensive Player of the Year.
While athletic prowess is a key part of MJ's legacy, his sheer pop-culture presence also helped make him a larger-than-life star. Jordan was a truly global figure, selling everything from McDonald's meals to underwear. Even if you had never watched a game of basketball in your life, you simply knew that His Airness was the top dog.
While that might seem insignificant when compared to points and championships, it does play a role in his overall reputation.
Robert Parish claimed that Michael Jordan wasn't the GOAT on two separate occasions
Having a debate, however, implies multiple sides to the argument. When it comes to the topic of Michael Jordan's overall greatness, Robert Parish is more than happy to take up the opposing view.
During a 2017 appearance on the In the Post with Elvin Hayes podcast, Parish made his position clear.
"That's a three-headed question for me," the Chief explained when asked for his thoughts about the best player of all time. "Three guys come to mind right off the top, and they are my Mount Rushmore of centers. That's [Wilt] Chamberlain, [Bill] Russell, and Kareem [Abdul-Jabbar]. Put them in any order you want. In my opinion, they are the three best ever."
Parish also provided his take on Jordan's all-time legacy, which might rub some Bulls fans the wrong way.
Now Michael was great in his era, but you think about this: Michael didn't beat great teams, in my opinion. Now think about this: When Larry [Bird], Kevin [McHale], and myself were in our heyday, he couldn't beat us. He couldn't get past the Pistons until Joe Dumars and Isiah [Thomas] got old. He couldn't beat the Lakers in their prime. When he beat Phoenix, they only had one Hall of Famer. … Now, don't get me wrong now. Michael was great in his era. But the greatest of all time?

Robert Parish, speaking on 'In the Post with Elvin Hayes'
During a 2020 interview on the Cedric Maxwell Podcast, Parish shared a similar sentiment. After speaking highly of Abdul-Jabbar, The Chief was directly asked about Jordan being considered the GOAT.
"I don't agree with that assessment," the big man responded. "Michael was great in his time, and you've got to give him credit for winning six championships in a row, two three-peats. You know I acknowledge that, and I respect that. But as good as Michael was, and he had exceptional talent, you know Kareem. That skyhook was unstoppable."
Robert Parish isn't the first NBA legend to give Kareem Abdul-Jabbar the GOAT title
While Parish's preference for Kareem Abdul-Jabbar might not be the most common sentiment in the world of basketball, he's not the only one to hold that position. Isiah Thomas has repeatedly given the Lakers legend the top spot in any power ranking and, in 2020, even told Bill Reiter that MJ was only the fourth-best opponent he ever faced.
Although you could cynically argue that both Parish and Thomas are letting their personal experiences taint their analysis, Abdul-Jabbar is rightfully considered one of the greatest ever to hit the hardwood. He spent 20 seasons in the Association, averaging 24.6 points, 11.2 rebounds, and 3.6 assists en route to six NBA championships and six NBA MVP titles. If you consider college achievements as part of the GOAT resume, Kareem also dominated the competition at UCLA.
On the whole, the GOAT debate is just that: a debate. While there may be some wrong answers and flawed logic out there, you can't go wrong with picking either Michael Jordan or Kareem Abdul-Jabbar.
Stats courtesy of Basketball-Reference