LeBron James Admits the GOAT Debate 'Can Be Exhausting'
The biggest question in sports is: LeBron James or Michael Jordan, who is the GOAT of basketball? Jordan was the clear-cut answer for years, but James has made things more and more interesting in recent seasons. It has ultimately turned into a heated debate between either generations or just fans with different preferences.
So, how does James feel about the debate? He admitted it can get exhausting, but he also said it's humbling.
LeBron James has been compared to Michael Jordan for years
James received Jordan comparisons well before entering the NBA. While still in high school in 2002, Sports Illustrated called him "the chosen one." And, according to The Ringer, there were even comparisons between him and MJ made by local newspapers back in February 2001 when The King was only 16 years old.
Surprisingly, though, those massive expectations weren't too much for James to handle.
He entered the NBA straight out of high school as the No. 1 overall pick in the 2003 NBA draft and won the league's Rookie of the Year award in 2003-04, averaging 20.9 points, 5.9 assists, and 5.5 rebounds. By the time his third season rolled around in 2005-06, James was then already averaging over 31 points to go with 7.0 rebounds.
However, James' success throughout the past decade has really cemented his spot as one of the top two players of all time. He went to eight straight NBA finals between 2011 and 2018, nine in ten seasons between 2011 and 2020, and he has won four titles in 10 total trips to the finals.
He said the GOAT debate 'can be exhausting'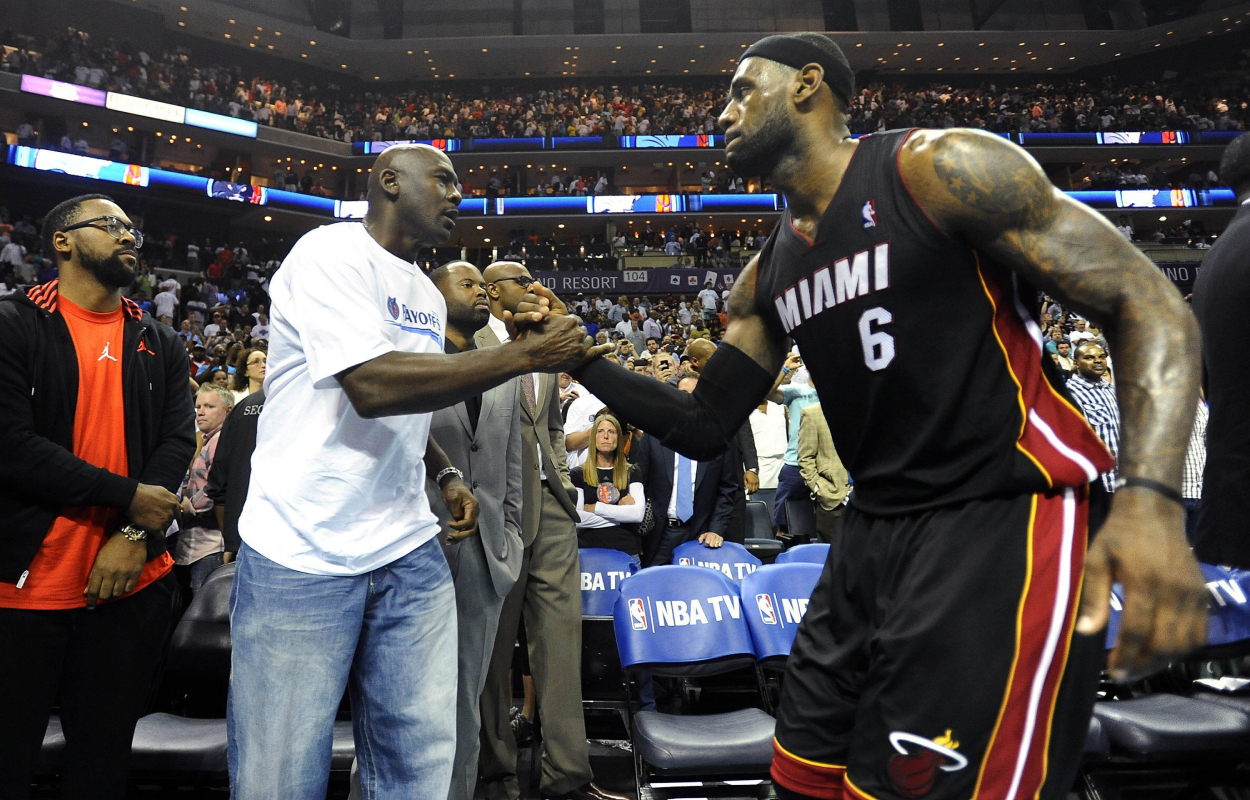 James has been hearing the Jordan comparisons for two decades at this point. So, how does he feel about hearing the debate all the time?
"It can be exhausting, you said it, but I've always looked at it like any time you're compared or you're even mentioned with the greats to ever play this game, it's become humbling for me, because the same people they put me in the category with … are the same guys that I looked up to for inspiration when I was growing up," James said on the Smartless podcast, per NBA.com.
He continued: "I needed that inspiration growing up in the inner city here in Akron, Ohio. So to have the Michael Jordans, the Kobe Bryants, the Ken Griffey Jrs, the Deion Sanders, all those unbelievable sports figures when I needed it, they helped me. So it's like, 'Wow, you guys are comparing me to these greatest players that I've ever seen when I was growing up.' It's humbling, man."
The GOAT arguments for LeBron James and Michael Jordan
It's hard to give an actual answer as to who the GOAT is; James and Jordan played two totally different styles of basketball. But we can at least compare the stats and accomplishments of the two stars.
Here's a look at their resumes:
LeBron James:
Four NBA championships
Four NBA Finals MVPs
Four NBA MVPs
17 All-Star selections
2007-08 points per game leader
2019-20 assists per game leader
35,367 career points (No. 3 all-time)
27.0 career points per game average (No. 6 all-time)
9,696 career assists (No. 8 all-time)
2,063 career steals (No. 14 all-time)
Michael Jordan:
Six NBA championships
Six NBA Finals MVPs
Five NBA MVPs
14 All-Star selections
10-time points per game leader
Three-time steals per game leader
32,292 career points (No. 5 all-time)
30.1 career points per game average (No. 1 all-time)
5,633 career assists (No. 47 all-time)
2,514 career steals (No. 3 all-time)
No matter who you think the GOAT is, it's pretty clear that LeBron James and Michael Jordan are two of the greatest players to ever live. They are both basketball legends.
Stats courtesy of Basketball Reference