Kobe Bryant Once Received Childhood Advice From Kareem Abdul-Jabbar, Who Told Him Not to Model His Game After a Specific Player Who Spent Too Much Time 'Being a Clown'
Kobe Bryant became an NBA legend and basketball icon with the Los Angeles Lakers, winning five championships and becoming one of the top scorers in league history. However, before his pro days, another Lakers legend, Kareem Abdul-Jabbar, gave him advice when he was just a kid on who to not model his game after.
The Los Angeles Lakers have had several iconic players don their purple and gold over the years, but two of the most impactful in franchise history have been Kareem Abdul-Jabbar and Kobe Bryant.
Abdul-Jabbar and Bryant played in two totally different eras. The former was a Lakers star throughout the '70s and '80s, while Bryant made a name for himself in LA during the '90s and 2000s. But that doesn't mean their paths never crossed. In fact, Abdul-Jabbar and Bryant interacted with each other well before the Mamba even entered the league.
Kareem gave Kobe advice when he was still just a kid.
Kobe Bryant's dad, Joe 'Jellybean' Bryant, crossed paths with Kareem Abdul-Jabbar
Before Kobe Bryant was a superstar on the Lakers, his dad had some decent years as a professional basketball player.
Joe "Jellybean" Bryant went to the Golden State Warriors with the No. 14 overall pick in the 1975 NBA Draft but played for the Philadelphia 76ers from 1975-76 through 1978-79. He averaged 6.4 points during his four seasons in Philadelphia before playing three seasons on the San Diego Clippers and averaging 10.9 points and 5.2 rebounds. Joe then played for the Houston Rockets in 1982-83, and he averaged 10.0 points and 3.4 boards.
During his time in the NBA, Joe crossed paths with Kareem Abdul-Jabbar, who began playing with the Lakers in 1975-76 after spending his first six seasons with the Milwaukee Bucks. According to USA Today, Kobe, who was born in 1978, wrote in his book The Mamba Mentality that he first met Abdul-Jabbar when Joe played for the Clippers. The 7-foot-2 NBA legend even held him over his head.
The Lakers icons then crossed paths a few years later, and Abdul-Jabbar gave a young Kobe some basketball advice.
Kareem told Kobe not to model his game after Darryl Dawkins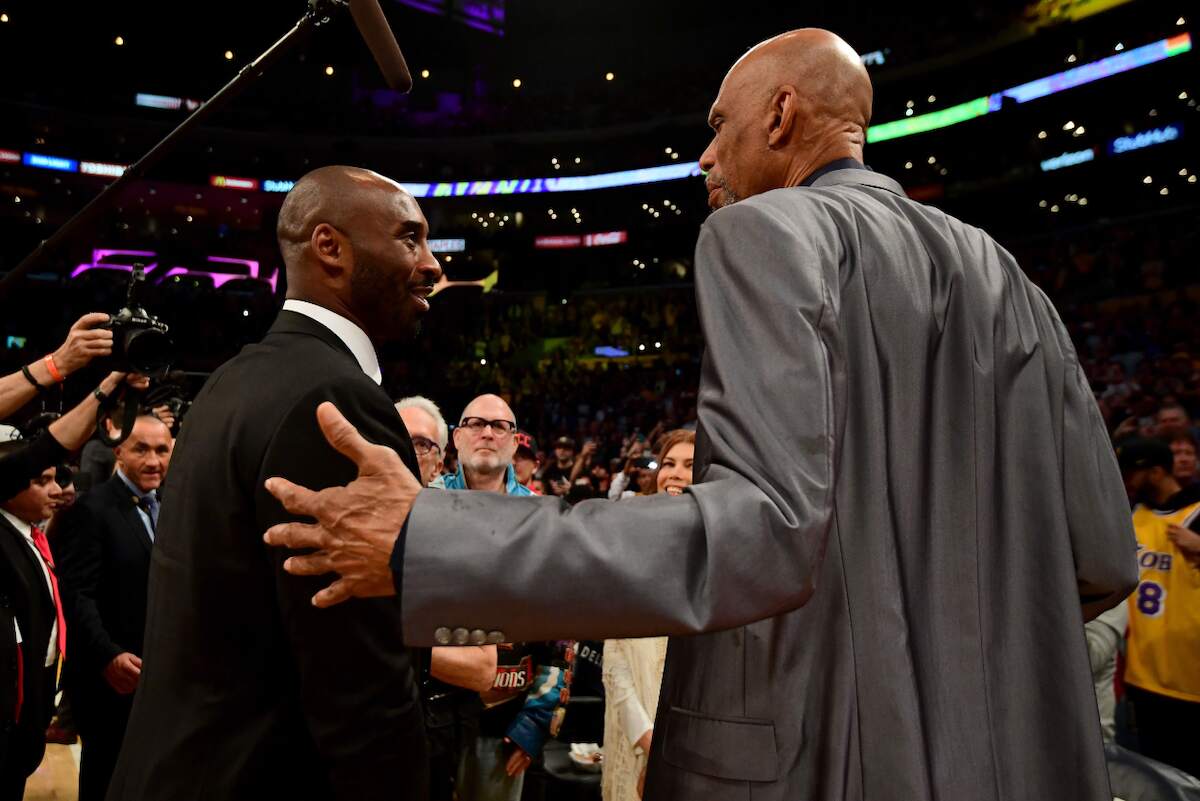 According to CBS News, Kobe lived in Italy from when he was about 6 years old until he was 13, as Joe played pro basketball there.
During Kobe's time in the country, Abdul-Jabbar visited Italy for a clinic with Adidas, per USA Today. He sat with the Bryants at a sponsorship dinner, and it was then when the league's all-time leader in total points gave Kobe some important advice: model his game after his dad's, not Darryl Dawkins'.
"Darryl spent so much time being a clown and not focusing on the finer aspects of the game," Abdul-Jabbar said in 2020, per USA Today. "Darryl was just incredibly and physically gifted like Shaq. But he didn't understand his potential and use it the right way. That is something that Kobe would never do. Kobe would've gotten every ounce out of his potential, which he did. You saw the killer that he was. That's because he learned how to use it the right way and use his talents in the best way. I have a lot of respect for him. He got the best from his game and he played the smart game."
It's unclear why Abdul-Jabbar chose Dawkins specifically. Did Kobe like his game? Dawkins was an exciting player who averaged as many as 16.8 points for the New Jersey Nets in 1983-84, but he never even earned an All-Star selection.
Or was it because Joe Bryant and Dawkins were teammates at one point? They both entered the league in 1975 and played together on the Philadelphia 76ers. The two of them were even a part of a team that went to the NBA Finals in 1976-77.
The latter seems likely, but Kobe's career path didn't follow his dad's or Dawkins'. He surpassed them in every imaginable way.
Like Kareem Abdul-Jabbar, Kobe Bryant became a Lakers legend
Interestingly enough, Kobe Bryant ended up going to Kareem Abdul-Jabbar's former team, the Lakers, in 1996 when they acquired him from the Charlotte Hornets via trade after Charlotte selected him No. 13 overall that year. The two then became even more connected due to their success in the Purple and Gold, as Kobe had a career closer to his than Dawkins' or his father's.
Take a look at each of their career accomplishments.
Kareem Abdul-Jabbar:
19 All-Star selections
6 NBA championships (5 with the Lakers)
2 Finals MVPs
6 league MVPs
Led the league in scoring twice
38,387 career points (No. 1 all-time)
Kobe Bryant:
18 All-Star selections
5 NBA championships (all with the Lakers)
2 Finals MVPs
2007-08 NBA MVP
Led the league in scoring twice
33,643 career points (No. 4 all-time)
It's reasonable to wonder just how big of an impact Abdul-Jabbar's advice actually had on a young Kobe, but Mamba would have likely become a superstar with or without the help. Abdul-Jabbar didn't know it at the time, but he was talking to an NBA legend.
Stats courtesy of Basketball Reference