Darryl Dawkins Put Quite a Hurting on Larry Bird but Didn't Know About It Until He Read the Newspaper the Next Day
Darryl Dawkins was sheer power. The man responsible for the NBA having to turn to breakaway rims after shattering two backboards in 1979 was an intimidating and interesting character.
A very physical player at 6-foot-11, 251 pounds, Dawkins not only shattered backboards but also shattered his opponents' confidence with hard fouls. He once put a hurting on Larry Bird during a game and didn't realize how much pain he caused the Boston Celtics star until he read the newspaper the following day.
Darryl Dawkins was a master dunker, and he had names for many of them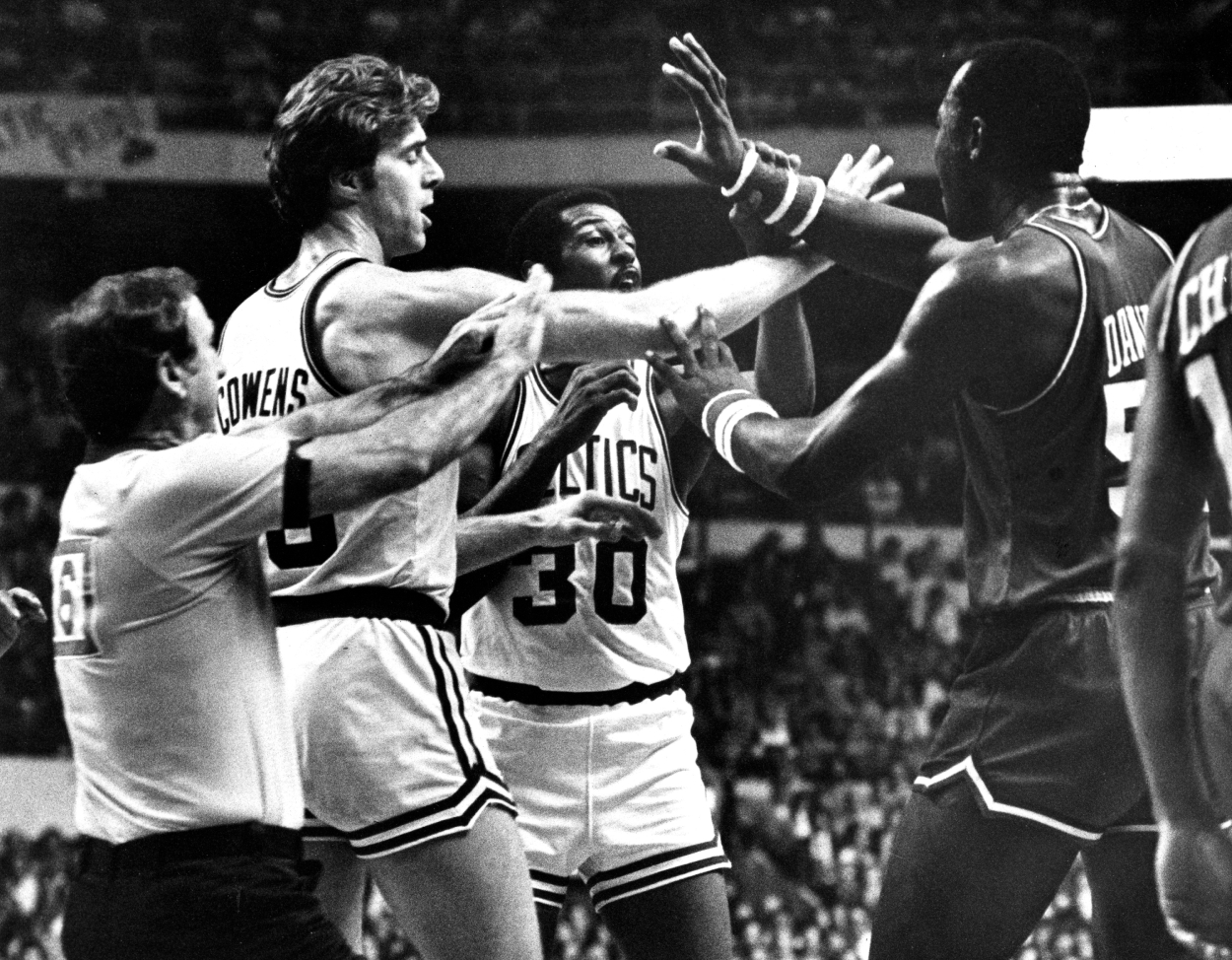 Dawkins was something the NBA misses today – the back-to-the-basket big man who camps in the paint. In 1975, Dawkins came to the NBA right from high school when the Philadelphia 76ers made him the fifth pick in the 1975 NBA Draft. He spent 14 seasons in the league suiting up for four different teams.
Although he was never named an NBA All-Star, Dawkins always made his presence felt. He appeared in three NBA Finals and had his best year during the 1979-80 season when he started 80 games and averaged 14.7 points and 8.7 rebounds per game.
The man they called 'Chocolate Thunder' was mainly known for his mammoth dunks. Not only did he issue those powerful slams, but he also named many of them. In a video posted on YouTube, Dawkins revealed the name of that first dunk against the Kansas City Kings in 1979 that shattered the backboard, sending Kings' forward Bill Robinzine running for shelter.
"The Chocolate-Thunder-Flying, Robinzine-Crying, Teeth-Shaking, Glass-Breaking, Rump-Roasting, Bun-Toasting, Wham-Bam, Glass-Breaker-I-Am-Jam," Dawkins said of that first dunk's name.
He named other dunks, including the 'In your Face Disgrace' and the 'Spine-Chiller Supreme,' among others. For his career, Dawkins averaged 12.0 points and 6.1 rebounds per game. He died in 2015 at age 58.
Darryl Dawkins put Larry Bird in a lot of pain and had no idea
Dawkins' game was all about being physical. He had six fouls to give and usually used them all. During the 1983-84 season with the New Jersey Nets, Dawkins set a record for most fouls in a season with 386.
Dawkins never carried the label of being a dirty player despite all those fouls. He was big and tough, and he apparently didn't realize just how strong he was. Just ask Bird, the Celtics legend, who found himself writhing in pain after making contact with Dawkins.
During the 1980-81 season, Bird and the Celtics were in a groove. Boston had won 25 of 26 games, and Bird was unstoppable.
"I was playing great basketball for about a month. I reached my potential," Bird told Sports Illustrated in 1981. "For one stretch there, I was averaging about 28 points,14 or 15 rebounds, and seven assists. I felt like I had control of every game I played."
Then, Bird met Dawkins. Bird took a Dawkins knee to the thigh and said he had never been in so much pain.
"I've been hurt before, but I never had pain through my leg and back like that," Bird said. "It felt like my hip came out through my ear. And Darryl didn't even know he hit me! A while later, I see him and he says, 'I'm sorry, Larry. I thought I felt something against my leg that night. I read in the paper the next morning that I hit you.' I never did get it back until the playoffs."
Bird got the revenge he needed against Dawkins and the 76ers
According to Sports Illustrated, Bird "got it back" in the final game of the regular season against Dawkins and the 76ers. Boston pulled out a 94-90 win over Philly, giving them a first-round bye in the postseason and allowing Bird to head for an extra week. Boston and Philadelphia finished at 62-20, but the Celtics won the tie-breaker.
After sweeping the Chicago Bulls, the Celtics and Sixers met again. Bird and the Celtics appeared to be on their way out after trailing 3-1 in the series. They also trailed by six points with 1:51 remaining in Game 5 but battled back to make it 3-2.
In Game 6, things were even uglier for Boston, which was down 17 points on the road. In the final game, the Celtics were down seven in the final minutes and ended the game on a 9-1 run to pull out the game and the series.
Boston defeated the Houston Rockets in the NBA Finals in six games, quickly easing all the pain for Bird and the Celtics.