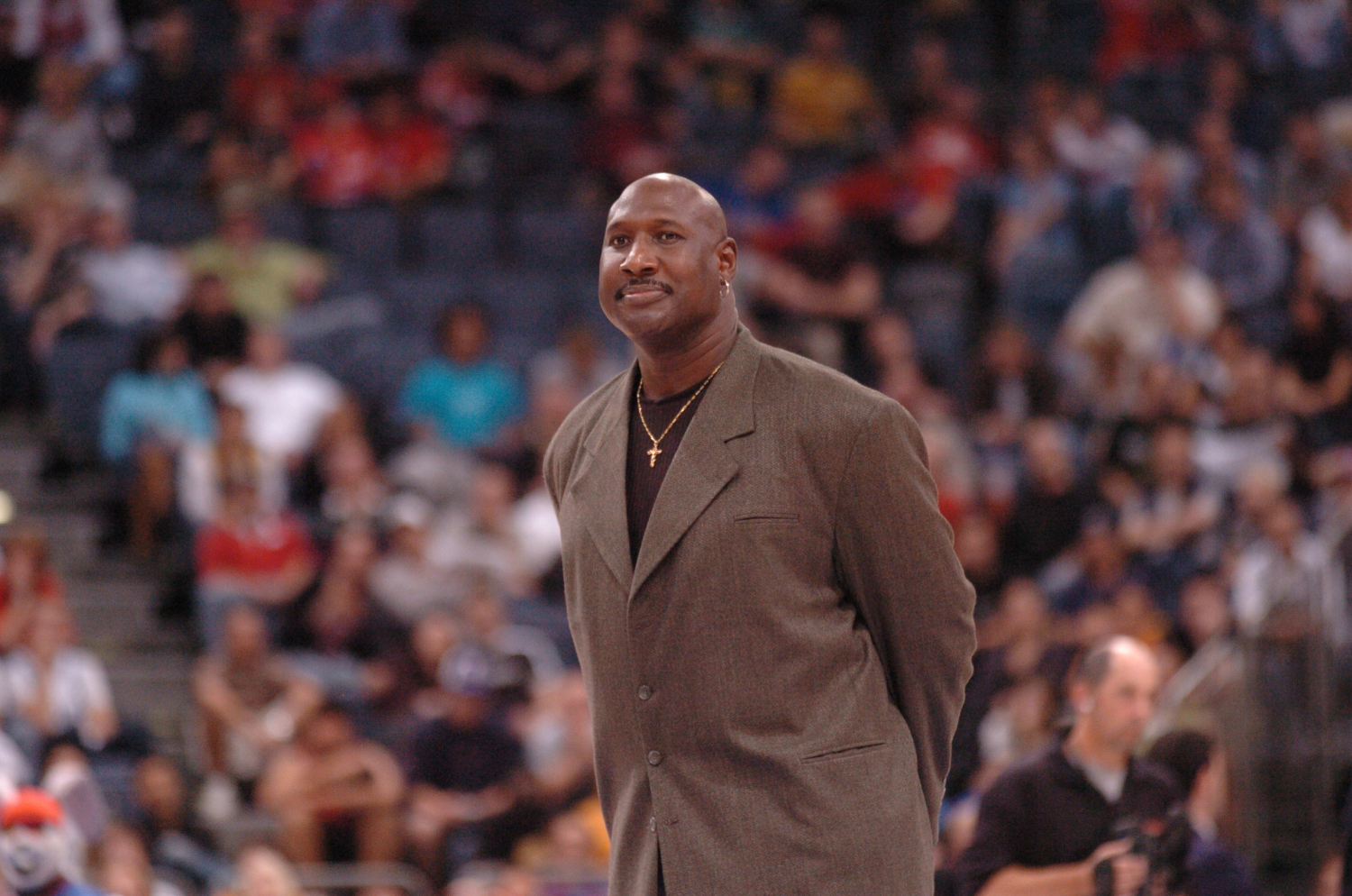 The Tragic Death of Former NBA Star Darryl Dawkins, the Backboard Breaker
The death of Darryl Dawkins, known as Chocolate Thunder because of his ferocious dunks, stunned the sports world in 2015.
He was the NBA player backboards didn't like. Darryl Dawkins was big, intimidating, and very talented when it came to basketball. In high school, he was 6-foot-10 and dominant. He made the split-second decision to bypass college and enter the NBA draft and it paid off as the Philadelphia 76ers scooped him up early. After a lengthy career in the NBA, Dawkins' life was cut short by a heart attack that took him at the young age of 58.
Darryl Dawkins' early life
Darryl Dawkins was always a monster of a man. He was 6-foot-10 as a senior at Maynard Evans High School in Orlando, Florida, drawing the attention of big-time college scouts for his size and basketball skills. He received offers from Kentucky, Kansas, Florida State, and many others. At the last minute, however, he decided to jump right into the NBA.
"I didn't make my decision until three days before the draft, and I just figured I wanted to be able to help my brother and sister get through college, and take care of my mother and grandmother, so I took that route," Dawkins told The Morning Call in 2000. Dawkins insisted he wasn't even nervous the night of the draft.
"I was so young then," Dawkins said. 'I didn't care what happened. Players today get so excited about the draft. They can't sleep. I think the I was out with my girlfriend that night, trying to do the wild thing." Dawkins was selected by the Philadelphia 76ers in the fifth round of the 1975 NBA draft, becoming the first high school player to jump right into the NBA.
Dawkins' NBA career
It took Darryl Dawkins a couple of seasons to adjust to life in the NBA. In his rookie year, he averaged 4.5 minutes per game. He played in 37 games and averaged 2.4 points per game. His second season was a slight improvement with averages of 11.6 minutes and 5.3 points. It wasn't until the 1977-78 season that Dawkins' playing time, as well as his production, increased.
For the next nine seasons, Dawkins averaged double figures in points. His best year statistically came during the 1983-84 season when he was in his second year with the New Jersey Nets. He finished averaging a career-high 16.8 points and 6.7 rebounds per game while playing in 81 games. He had been traded in August of 1982 to the Nets for a first-round pick. Dawkins played the first seven seasons of his career in Philadelphia and the next five with the Nets. He ended his career with brief stints with the Utah Jazz and the Detroit Pistons.
Dawkins is responsible for the NBA having to go to breakaway rims when he shattered two backboards with thunderous dunks in 1979. "The first one was an accident, but I wanted to see if I could do it again when I got back to Philadelphia," Dawkins told the New York Times in 2004. "All the fans were hollering, 'You've got to do one for the home crowd,' so I went ahead and brought it down. Fans were running out grabbing the glass. People's hands were bleeding. I felt like I was doing something no other human could do. Everybody says a dunk is only two points, but it gets your team hyped, gets the crowd all excited, especially when you dunk on somebody. And I always dunked on somebody."
The death of Darryl Dawkins
Darryl Dawkins was nicknamed 'Chocolate Thunder' by Stevie Wonder, a blind singer who knew there was something special about Dawkins. According to ESPN, Wonder wanted to meet Dawkins after a game and gave him the nickname. "A guy who never saw me," a beaming Dawkins said in a 2011 interview, "gave me the name 'Chocolate Thunder.'"
Dawkins would even name his dunks. One was called 'Rim-Wrecker' another called 'Yo Mama' among others. His big dunks, combined with his larger-than-life personality, made him an instant fan favorite. Dawkins died Aug. 27, 2015, at a hospital in Allentown, Pennsylvania at the age of 58. His family said the cause of death was a heart attack. His death came less than three weeks before the Sixers community lost another former center in Moses Malone, who died Sept. 13, 2015, at age 60.
"Darryl Dawkins is the father of power dunking," Shaquille O'Neal said. "I'm just one of his sons."