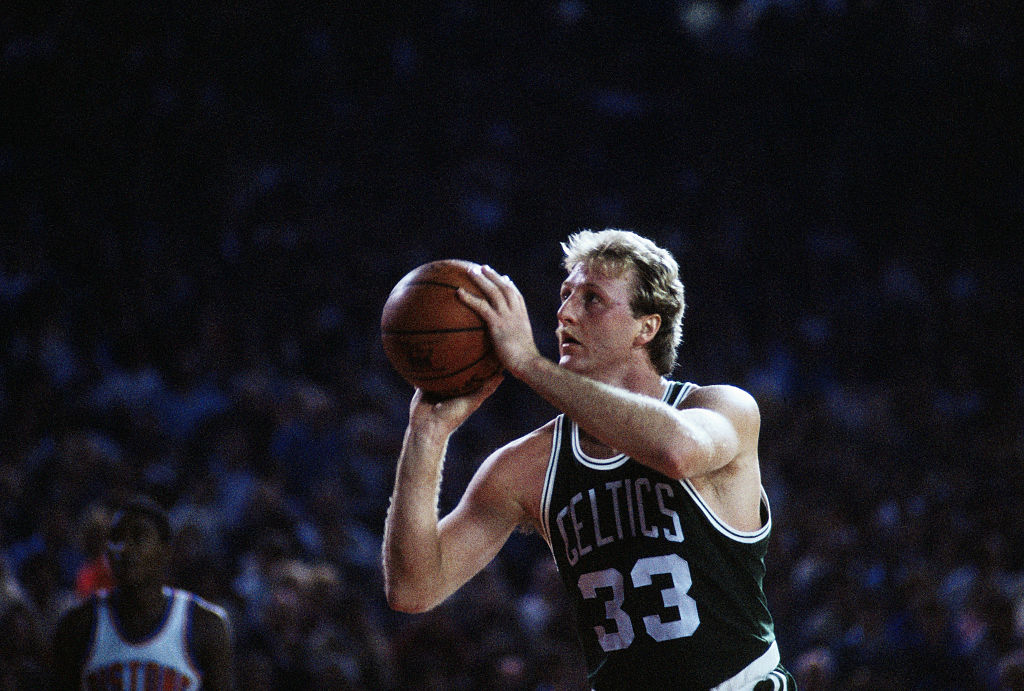 Larry Bird Was Numbed and Confused After the Tragic Death of His Father
Boston Celtics legend Larry Bird was numbed and confused after the tragic suicide of his father while Bird was in college.
Larry Bird was a wanted man. Bill Hodges wanted him and so did many other college basketball coaches. The future Boston Celtics legend was wanted for his basketball talents. There was only one problem. Bird didn't really know what he wanted. He was struggling to make ends meet and didn't really have a plan mapped out. Bird was also dealing with the recent suicide of his father and best friend Joe Bird.
Larry Bird's legendary NBA career
Larry Bird was selected sixth overall by the Boston Celtics in the 1978 NBA draft. Bird and the Celtics couldn't come to a contract agreement so he went back to Indiana State for another college season. After leading the Sycamores to a berth in the national title game in 1979, he signed a deal with Boston. The Celtics held his rights until draft day in 1979 and the deal was completed before then.
Bird made an immediate impact with the Celtics in his rookie season as he played in all 82 games and averaged 21.3 points and 10.4 rebounds per game. He made the first of his nine straight NBA All-Star Game appearances that season. Bird proved to be very durable during the early part of his career, playing all 82 regular-season games in his first two seasons. He never played any fewer than 74 games in any one season during those first nine years.
Bird won three straight MVP awards and played a major role in guiding the Celtics to three NBA titles. Bird was a 12-time NBA All-Star. The lone season he didn't make it was in 1988-89 when his season was limited to six games after he needed surgery on both heels due to bone spurs. For his career, Bird averaged 24.3 points and 10 rebounds. He was inducted into the Naismith Memorial Basketball Hall of Fame in 1998.
Bird's college years
According to ESPN, Larry Bird averaged 31 points, 21 rebounds, and four assists as a senior for Springs Valley High School. He initially went to play for Bobby Knight at Indiana but was overwhelmed by the size of the school ad dropped out in less than a month. "People naturally think it was trouble between (Bobby) Knight and me, but it wasn't," Bird said. "The school was just too big. I was a homesick kid who was lost and broke."
Bird then took a job with the city and was cutting grass and driving a garbage truck. Although he enjoyed his job, he wound up attending Indiana State in 1975 after some serious recruiting by Sycamores assistant coach Bill Hodges. Hodges was a guy who wouldn't take no for an answer and wound up getting Bird on board in 1975.
Bird said he felt more comfortable in a smaller school setting. "I had friends there, and I liked the school," Bird told Indianapolismonthly.com. "It was small—about 12,000 kids and a lot of them commuted, so there weren't a ton of them on campus. (The school) really fit me and didn't have anything to do with the players or the coaches on the team, because I really didn't know any of them. It was mostly the school."
Bird's father commits suicide
According to Indianapolismonthly.com, on Feb. 3, 1975, Joe Bird, Larry's father, called his ex-wife and told her the family would be better off without him. He was reportedly a drinker and had fallen behind in child-support payments. He hung up the phone and shot himself, ending his life. Joe's death, combined with Larry's uncertain future, made Larry Bird uneasy and numb. The two were fishing buddies and were close.
"I sort of always felt my dad gave up on not only himself but us kids," said Bird. "I still had two younger brothers at home and a mom. That's the way I looked at it then, and the way I look at it now.  It was a shock. I was shocked. But just like anything else, life goes on."
Despite all the turmoil in his life, life did go on for Larry Bird. Basketball was his outlet and helped him numb the pain. "A lot of things happened back then," he said. "My father passed away. I was married and divorced in a six-to-eight-month period. I had a baby. There was just so much going on, but, really, the outlet was basketball. That's what I stuck to. It was my out."