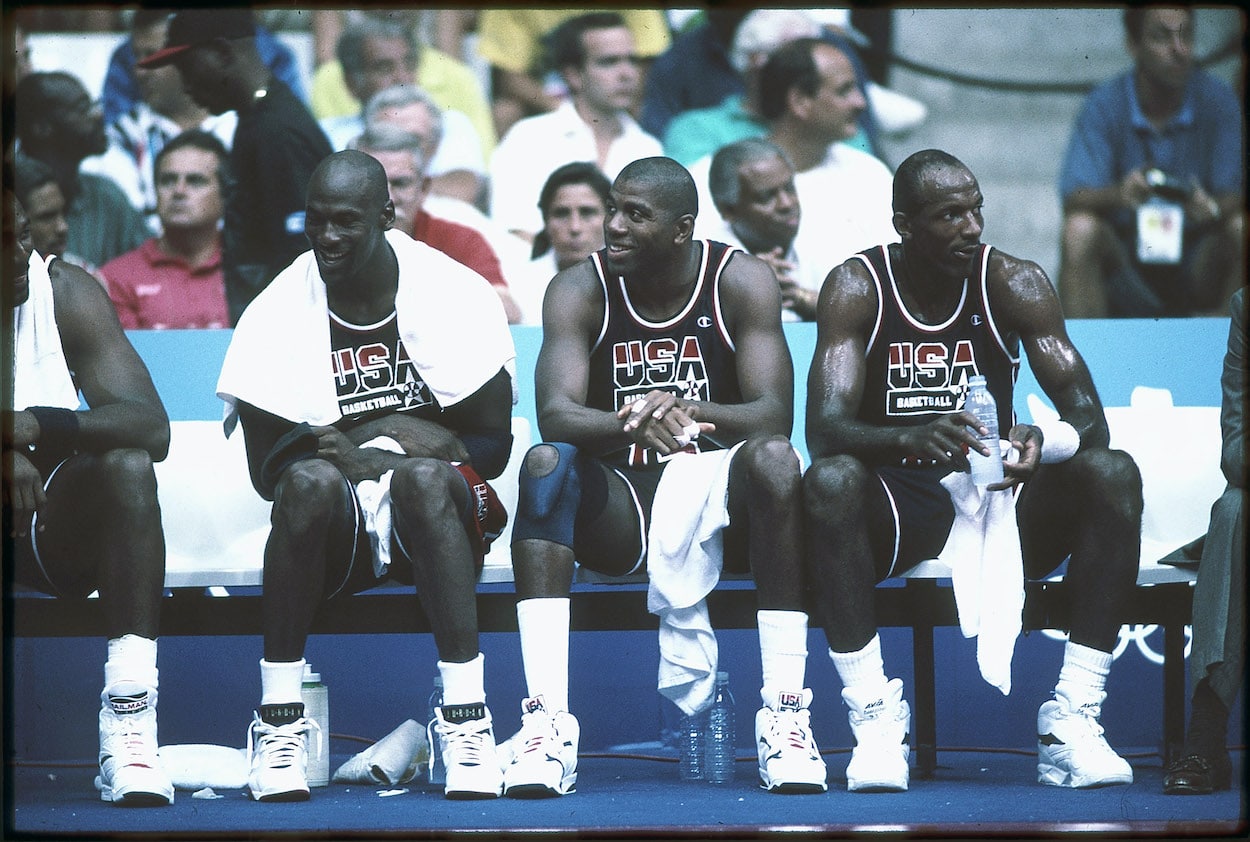 Michael Jordan Destroyed 3 NBA Stars at Dream Team Practice With 4 Words: 'Scottie, You Can Stay'
Michael Jordan liked to remind Dream Team members that some had NBA titles and some did not because of the ones who did.
In 1992, the greatest basketball team ever assembled came together and dominated the Barcelona Olympics. The Dream Team walked to a gold medal, winning its games by an average margin of victory of 43.8 points. For some Dream Team members, though, like Charles Barkley, Patrick Ewing, and Clyde Drexler, winning NBA gold was much harder. And Michael Jordan never let them forget it.
Dream Team members had a big disparity in NBA championships
In the 1992 NBA Finals, Dream Team members Michael Jordan and Scottie Pippen of the Chicago Bulls faced off against Clyde Drexler and the Portland Trail Blazers.
Jordan averaged 35.8 points, 4.8 rebounds, and 6.5 assists on his way to Finals MVP, and Pippen kicked in 20.8 points, 8.3 rebounds, and 7.7 assists to best Drexler (24.8/7.8/5.3) and his Blazers. That was the Bulls second consecutive Larry O'Brien Trophy and (ultimately) the second of six in eight seasons.
When Jordan, Pippen, and Drexler got to Dream Team practice in the summer of '92, the Blazers star wasn't the only member without an NBA title under his belt.
At that point, only Magic Johnson with five and Larry Bird with three joined Pippen and Jordan with NBA Finals victories.
Drexler would ultimately win one with the Houston Rockets in 1995, and David Robinson would end his career with two in 1999 and 2003.
The other half of the team not only didn't have a championship in 1992, but they also would never get one. Charles Barkley, Patrick Ewing, Karl Malone, John Stockton, Chris Mullin, and Christian Laettner never got their ring. In most cases, that was a direct result of having to play Jordan and Pippen's Bulls in the '90s.
The fact that Jordan, at the time, had more rings than eight of his Dream Team teammates was not lost on him. And MJ, ever the trash-talker, let his contemporaries know about it in hilarious fashion.
Michael Jordan crushed his championship-less teammates in Dream Team practice  
On the Dream Team episode of Jackie MacMullan's Icon's Club podcast, the longtime NBA insider begins with a fantastic story about Michael Jordan talking trash to his NBA superstar Olympic teammates.
In true Jordan fashion, it took the GOAT just four words to crush the spirit of the Dream Team members without an NBA title. MacMullan explains:
Charles Barkley wanders over to the hoop. Michael Jordan and Scottie Pippen are already there, knocking down jumpers. Another Dream Team practice was about to begin. … Jordan stopped his teammates short. 'Find a different basket, Charles.' He turned to Patrick Ewing. 'You, too, Patrick. Scottie, you can stay.' The future Hall of Famers looked at MJ quizzically. 'Champions only!' Jordan announced. 'Not you, Clyde. Find somewhere else.' Magic, a five-time champion, immediately picked up on it. He declared his corner of the gym, 'the ring basket.'

Jackie MacMullan on Dream Team practice
And just like that, Jordan did what he did best throughout his NBA career. On a basketball court filled with stars, he differentiated himself as the best of the best.
This was a theme throughout Jordan's career, as he was directly responsible for most of the Dream Teamers without rings' demise.
Despite the greatness of Charles Barkley's Phoenix Suns, Patrick Ewing's New York Knicks, and John Stockton and Karl Malone's Utah Jazz, none of those teams could get over the hump thanks to Jordan and Pippen's Chicago Bulls.
Even Drexler's title doesn't carry as much weight because of the Jordan factor.
Jordan and Pippen are the reason several NBA greats don't have championships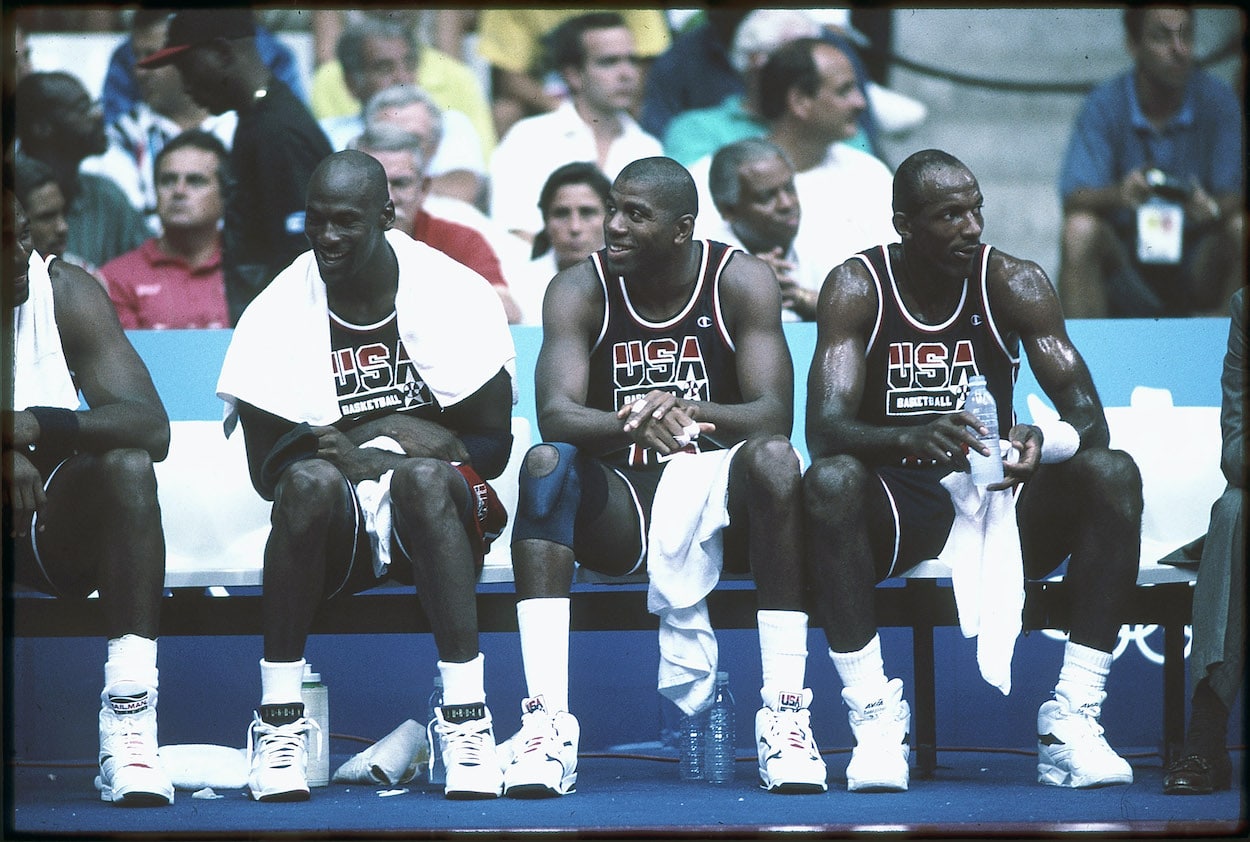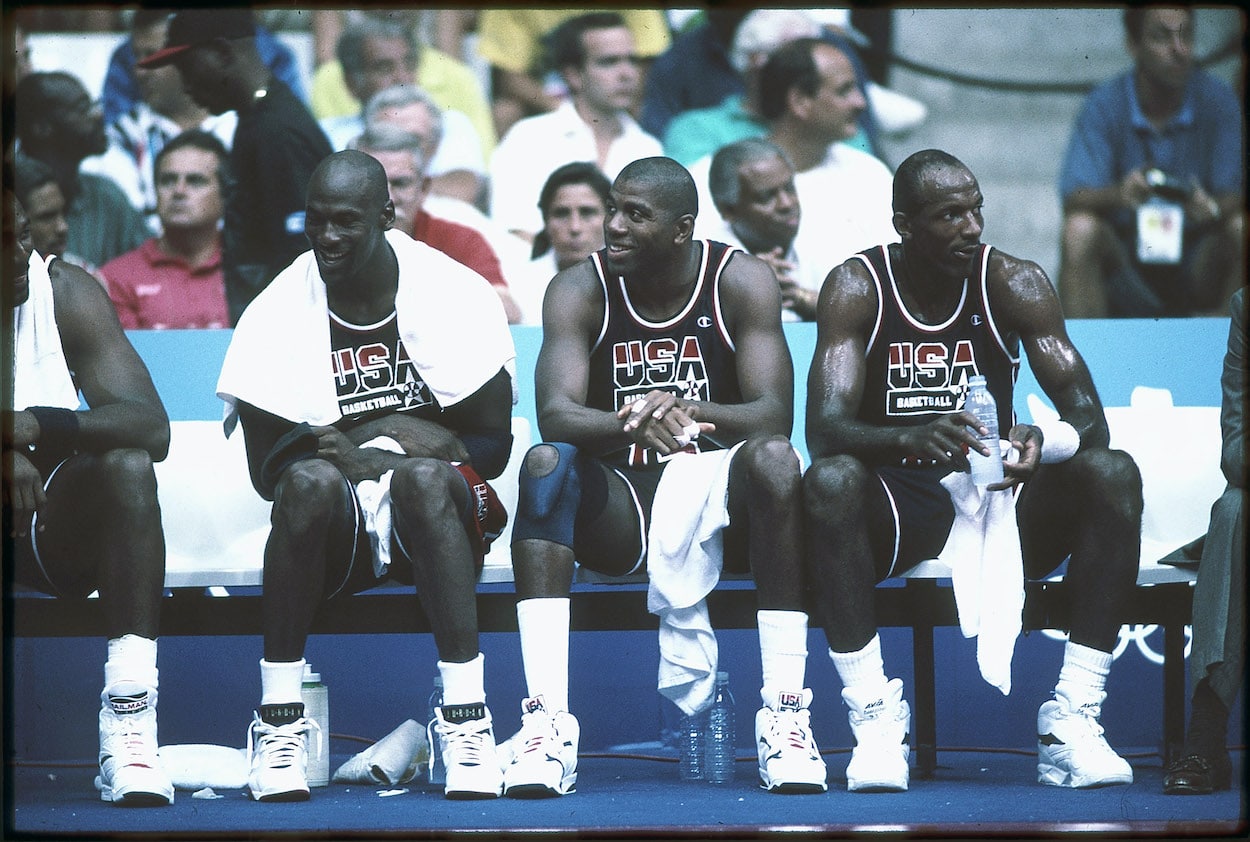 Charles Barkley never won a ring in the NBA because of eight different Dream Team members. His Philadelphia 76ers could never get out of the Eastern Conference playoff bracket. They lost once to Larry Bird's Boston Celtics, once to Patrick Ewing's New York Knicks, and twice to Michael Jordan and Scottie Pippen's Chicago Bulls.
In 1992, Barkley moved to the Phoenix Suns and lost to the Bulls in the 1993 NBA Finals. In 1995, the Suns lost to Clyde Drexler and the Houston Rockets in the Western Conference Finals. A year later, his Suns lost to David Robinson and the San Antonio Spurs in the same round.
Then, Barkley joined Drexler and the Rockets in 1996, only to lose to John Stockton, Karl Malone, and the Utah Jazz in the Western Conference Finals twice. Magic Johnson, Chris Mullin, and Christian Laettner were the only Dream Team member Barkley didn't lose to in the NBA Playoffs.
Ewing, Stockton, and Malone had it bad against Dream Team members as well.
Ewing's Knicks lost to Jordan and Pippen in the playoffs four times in his career. He also lost to both Drexler and Robinson in the NBA Finals. Bird not only beat Ewing and the Knicks as a player with the Boston Celtics back in 1988, but he also beat them twice in the playoffs as the coach of the Indianapolis Pacers in 1998 and 2000.
Last but not least, Stockton and Malone lost to multiple Dream Teamers as well.
Chris Mullin and the Golden State Warriors beat them in the 1987 and 1989 playoffs. Magic Johnson's LA Lakers beat them in 1988. Drexler's Portland Trail Blazers knocked them out in 1991 and 1992, and his Rockets beat them in 1995.
Most famously, though, Jordan and Pippen's Bulls took Malone and Stockton's Jazz out in the 1997 and 1998 NBA Finals.
All stats courtesy of Basketball Reference