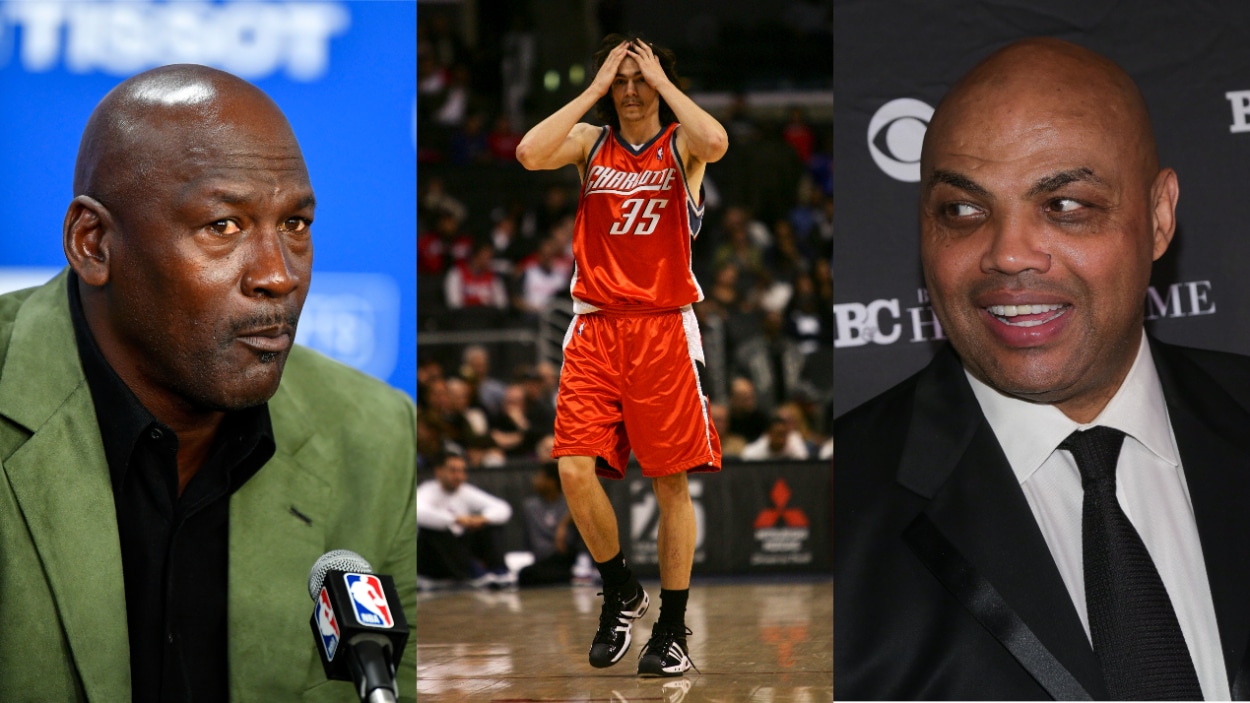 Michael Jordan and Charles Barkley's Falling out Started Over NBA Draft Bust Adam Morrison
Michael Jordan and Charles Barkley are no longer friends, and the rift between the two NBA superstars started with a conversation about Adam Morrison in 2006.
For years, Michael Jordan and Charles Barkley were the NBA's favorite odd couple. Jordan was ultra-competitive, private, and the platonic ideal of a basketball player. Barkley was controversial, gregarious, and an unlikely superstar. Despite these differences, the two were close friends, bonding over their love of ball, golf, and gambling.
Sadly, the two all-time greats are no longer friends. Barkley has shared that the rift is based on the Turner commentator's public criticism of Jordan as the Charlotte Hornets owner. However, Barkley recently revealed the rift in the friendship started in private, with a disagreement over former Gonzaga star Adam Morrison back in 2006.
Adam Morrison was a top prospect in the 2006 NBA Draft
Adam Morrison was a relatively lightly-recruited 6-foot-8 forward coming out of high school in Spokane, Washington. He stayed close to home for college and went to Gonzaga.
When Morrison got to campus, Gonzaga was an obscure West Coast Conference school best known for producing NBA Hall of Famer John Stockton.
However, in the 2005-06 season, Morrison and his school made the leap into the national conversation. The long-haired, mustachioed sharpshooter averaged 28.1 points, 5.5 rebounds, 1.7 assists, and 1.1 steals per game in his junior year.
He led the Bulldogs to their first NCAA tournament while sharing the national USBWA Player of the Year Award with Duke's JJ Redick.
The Zags shockingly made the Sweet 16 before losing to UCLA. One of the enduring moments of that tournament is Morrison in tears following the 73-71 loss.
The 2006 NBA Draft wasn't particularly strong, making Morrison a top prospect. The Charlotte Bobcats took him third behind Andrea Bargnani and LaMarcus Aldridge. After Morrison, teams picked future All-Stars Brandon Roy (No. 6), Rudy Gay (No. 8), Rajon Rondo (No. 21), Kyle Lowry (No. 24), and Paul Millsap (No. 47).
Charles Barkley and Michael Jordan disagreed on the Gonzaga star
After retiring for good in 2003, Michael Jordan bought a minority stake in the then-Charlotte Bobcats in 2006. He took the title of Head of Basketball Operations with the franchise.
The 2006 draft was his first in charge with the team.
On longtime NBA insider Jackie MacMullan's Icons Club podcast, Charles Barkley recalls a conversation about that draft he had with Jordan. The conversation started as Barkley offering his opinions on prospects to his friend. However, it set off a chain of events that ruined the pair's friendship.
Barkley told MacMullen:
I was calling Michael to give him some advice on the draft. And this is the first time we ever had a real disagreement. I said, 'Who you thinking about taking?' He says, 'I'm thinking about taking Adam Morrison.' I said, 'What!? You can't take Adam Morrison.' I said, 'Michael, he doesn't have a position. No. He might be a nice kid…' He says, 'Well, my coaches like him.' I said, 'Let me ask you a question. Did you say you liked him first?'… 'Michael, nobody wants to disagree with you. They intimidated by you.' [Jordan responded], 'F*** you, mother*****!' These guys can be honest!'

Charles Barkley on his conversation with Michael Jordan in 2006
Barkley says he tried to calm Jordan down and explain how he intimidates people just by being Michael Jordan.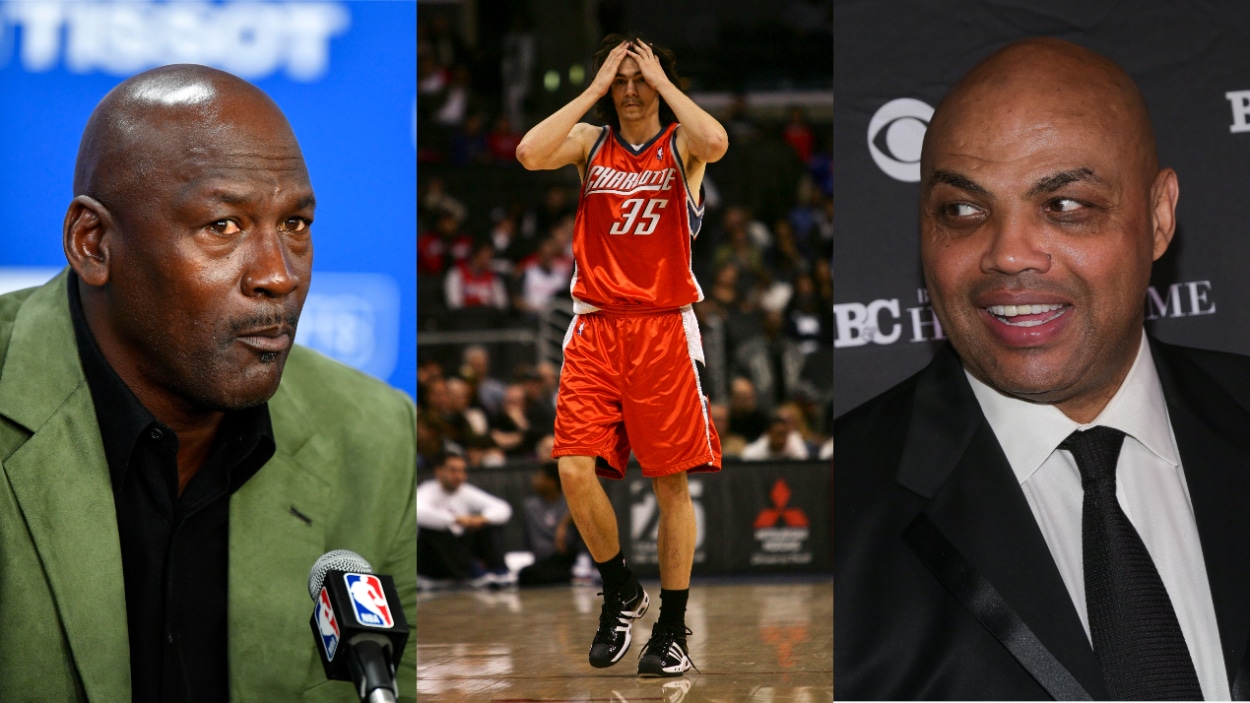 Despite Barley's protestations, Jordan drafted Morrison, and it infamously didn't work out. A few years later, Barley gave an interview on Chicago radio where he said because of the Morrison pick and other front office missteps, he didn't know If Jordan would ever be successful as the head of a franchise.
That night, Jordan called Barkley and cursed him out. The Inside the NBA co-host told Jordan he had to be honest, and he would continue to be. Barkley says the two haven't spoken since that night.
Barkley was right, and Jordan was wrong on Morrison
Going on a radio show in a major U.S. city and being painfully honest (and negative) about a good friend is on-brand for Charles Barkley. One of the reasons he was such a compelling star in his playing days and such a successful broadcaster now is his complete commitment to unfiltered honesty; consequences be damned.
Plus, he was right about Adam Morrison.
Morrison played in 78 games during his rookie campaign, averaging 29.8 minutes per game. In this time, he averaged 11.8 points, 2.9 rebounds, and 2.1 assists. In a preseason game ahead of his second year, Morrison blew out his knee and missed the entirety of 2007-08.
The former Gonzaga star played just 44 more games for Charlotte. Michael Jordan and company traded him to the Los Angeles Lakers in 2009. Morrison won two titles with the Lakers but averaged just 7.3 minutes, 2.2 points, 1.0 rebounds, and 0.5 assists in those championship seasons.
Morrison left the NBA in 2010 and played two more seasons of professional basketball. One for Crvena zvezda in Serbia and one for Beşiktaş in Turkey. 
Jordan has since righted his Charlotte ship to some degree. In 2018, he handed the basketball reigns of the Hornets over to general manager Mitch Kupchak. The former Lakers GM was part of seven NBA championship teams in the LA front office and has built the Hornets a respectable roster with players like LaMelo Ball, Miles Bridges, Terry Rozier, and Gordon Hayward. 
It seems like this all means Barkley was right all along, and Jordan finally found someone to stand up to him. Unfortunately, it seems too little, too late for one of the NBA's most famous friendships. 
All stats courtesy of Basketball Reference and Sports Reference