Clyde Drexler Dominated on the Dream Team but Doesn't Get the Respect He Deserves Compared to Charles Barkley and Michael Jordan
Longtime Portland Trail Blazers star and NBA Hall of Famer Clyde Drexler never seems to get the respect he deserves. That includes his role on the 1992 Dream Team.
Clyde the Glide gave Team USA an elite two-way wing presence during the Olympic Games in Barcelona. But his contributions seem to get lost in the other storylines that emerged during those games, from Charles Barkley's infamous elbow thrown at an Angolan player to Michael Jordan and Scottie Pippen making it their mission to shut down Croatian star Toni Kukoc, with Pippen ripping his future teammate afterward.
Drexler never had a storyline or big persona that drew international headlines. He merely went out and performed like one of the best wing players in NBA history. Isn't that worth celebrating?
Charles Barkley and Michael Jordan snatched most of the spotlight from Clyde Drexler and other members of the Dream Team
Heading into the 1991-1992 season, Clyde Drexler had an argument as one of the best players in the NBA.
Drexler was an immediate star with the Blazers, but he really burst into superstardom in the late 1980s. He ranked fifth in box plus-minus — which estimates player impact when they are on the court — and value over replacement player during the 1988-89 season. During the 1991-92 campaign, he ranked fourth in those categories when Portland met Michael Jordan and the Chicago Bulls in the NBA Finals.
Those Finals were billed as Michael against Clyde, and Jordan's individual and team triumph seemed to elevate his status to an entirely new level. Mike had resoundingly answered the "best player in the world" question. The masses could not question Money's global stature in Barcelona.
Meanwhile, Charles Barkley's charisma and outspokenness made him one of the most famous figures at the Olympics. As is detailed in NBA TV's 2012 Dream Team documentary (h/t YouTube), the Round Mound of Rebound constantly attracted the masses.
Both men also excelled on the court. Barkley led Team USA in scoring at 18.0 points per contest, also averaging 4.1 rebounds, 2.4 assists, and 2.6 steals. For his part, MJ averaged 14.9 points, 4.8 assists, and a whopping 4.1 steals.
Mike and Chuck had the spotlight on and off the hardwood. The same can be said of Magic Johnson and Larry Bird, who enjoyed their roles as the elder statesmen on the Dream Team. The players engaged in ample social fun as well, with Sir Charles quickly learning never to drink with Bird.
But while Drexler might not have had the fanfare of his teammates, he still deserves applause for his tremendous play.
Drexler gave the Dream Team an elite two-way presence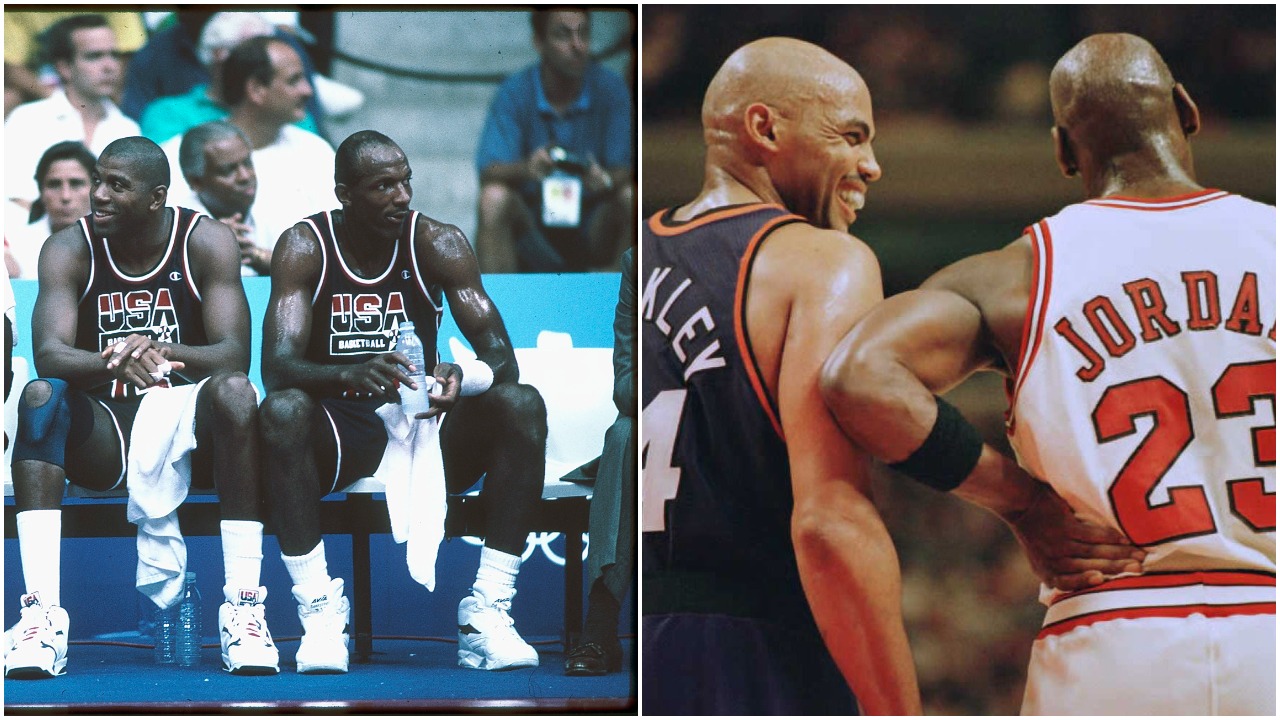 Clyde Drexler could have struggled in Barcelona. He just lost to Jordan in the NBA Finals, and MJ rubbed salt in the wound by targeting him in intrasquad scrimmages.
Instead, The Glide gave the Dream Team an elite wing presence capable of dominating in the paint.
Drexler averaged 10.5 points and shot an absurd 72.1% from inside the 3-point arc. He proved a capable playmaker, dishing out 3.6 assists per contest and averaging 3.0 rebounds. The Blazers star also made an impact on the other end, notching 20 steals across the eight games.
The all-around gifts that made Drexler so great were on full display in the gold medal game against Croatia. The Glide scored 10 points on 5-of-7 shooting while recording three dimes, three boards, and three pilfers.
Then again, Jordan one-upped Clyde in the gold medal game by scoring a team-high 22 points. That was a pretty common theme throughout Drexler's career.
Drexler often got overshadowed by Jordan in particular
If not for Michael Jordan, Clyde Drexler is probably regarded as the best shooting guard of his era. Or, perhaps the two could have even been teammates if the Blazers took Jordan No. 2 overall in the 1984 NBA Draft and moved The Glide to small forward. How many championships might that wing duo have won?
Most elements of Drexler's career are tangentially related to Jordan. He lost out on numerous All-NBA First Team selections and never won an MVP because of Mike. The Blazers star also missed a second ring thanks to Jordan and the Bulls.
Clyde seems to resent this fact as well. Back in 2018, The Glide suggested he was every bit as good as MJ and could have been even better if he played more freely.
It's unfortunate for Drexler that his career is so intertwined with fellow greats like Jordan and Hakeem Olajuwon, because he deserves his flowers as one of the very best wing players in NBA history.
Stats courtesy of Basketball Reference.