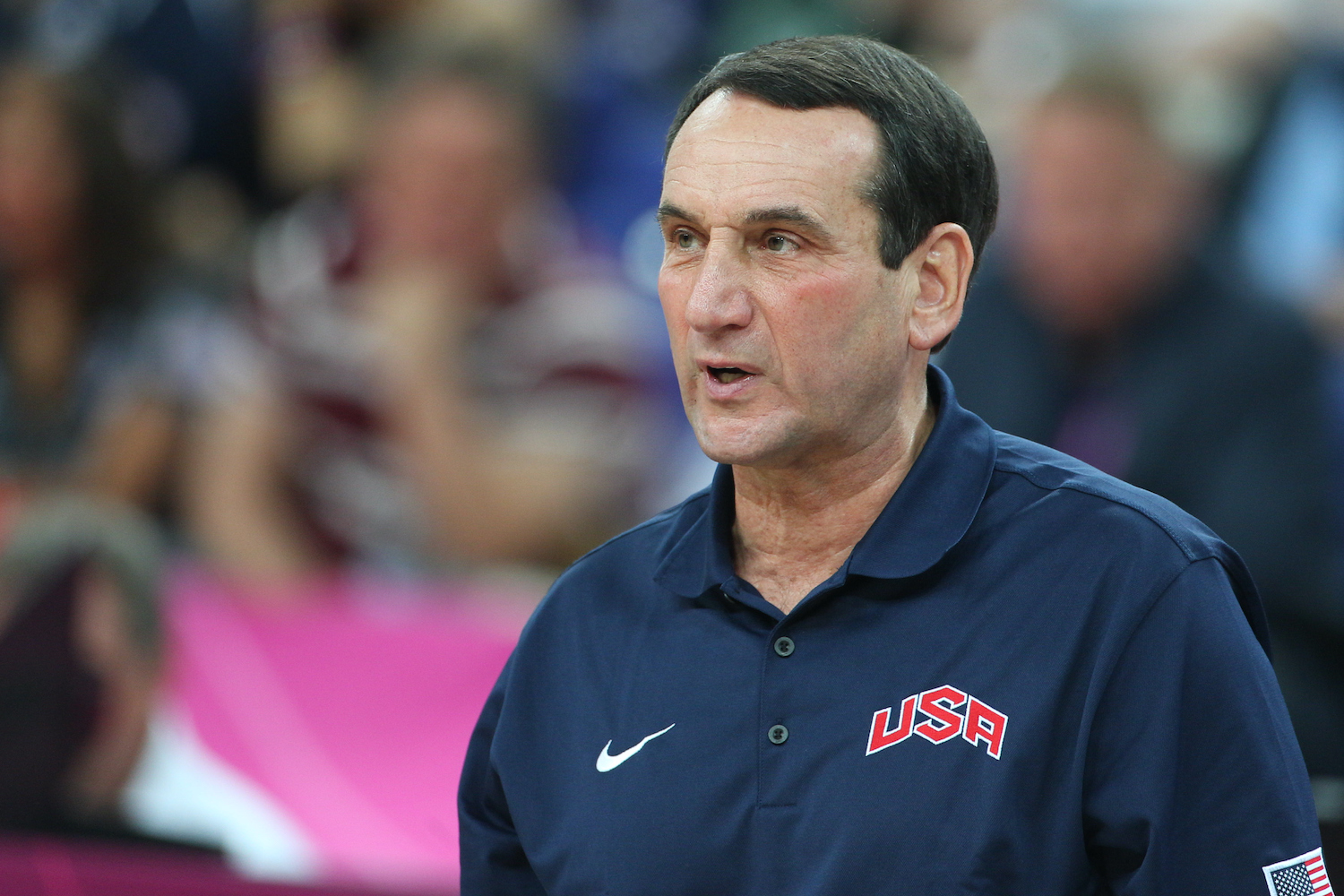 Coach K Still Insists the Dream Team's Only Defeat Was an Inside Job
According to Coach K, Chuck Daly might have wanted the Dream Team to lose a game ahead of the 1992 Olympics.
During the 1992 Olympics, the Dream Team cruised to the gold medal without ever truly breaking a sweat. That doesn't mean the star-studded squad completely ran the table, though. Before the group ever headed abroad, they did lose a single scrimmage against the United States Select Team, which consisted of the country's top college players. Mike Krzyzewski, however, has a unique take on that game.
As an assistant on the Dream Team's staff, Coach K had a front-row seat to that famous defeat. In his mind, that scrimmage was something of an inside job, as Chuck Daly wanted his all-star squad to suffer an early setback.
The Dream Team lost one scrimmage before dominating the 1992 Olympics
As you would expect, a squad consisting of the NBA's best players didn't have any trouble dismantling the international competition en route to a gold medal. During their time together, though, the Dream Team was on the receiving end of one defeat.
Before traveling to the Olympics, the Dream Team hit the court against the United States Development Team, which consisted of eight of the nation's best college basketball players, including Chris Webber, Grant Hill, and Bobby Hurley. While you might expect the pros to brush their younger counterparts aside, the opposite happened. The college squad took advantage of the Dream Team's lack of chemistry and recorded an upset victory.
"We didn't know how to play with each other," Scottie Pippen explained in an NBA video about that scrimmage. "We didn't want to step on anybody's toes or hurt any egos, and so these young kids, they were killing us."
Jamal Mashburn, who was on the victorious side, recently shared his memories of that day on the Knuckleheads podcast.
"We get out the gates, like the first 15 minutes, we kicking they ass," he recalled. He also noted that the score was roughly 72-66 when the scrimmage ended.
Coach K still insists that Chuck Daly threw that scrimmage
Given the Dream Team's lack of chemistry and the college players' desire to prove a point, it's reasonable to believe that the later group pulled off an upset. According to Coach K, however, something different happened.
"Chuck [Daly, the team's head coach] orchestrated that," Krzyzewski explained on a recent episode of The Steam Room. "I had three guys on the college team, [Bobby] Hurley, Grant [Hill], and Laettner [Christian Laettner was actually on the Dream Team], and I tell those guys, 'So you still believe in the Tooth Fairy and Santa Claus? You actually think you actually won?'"
In the coach's version of events, the college team did jump out to an early lead. Daly, however, wasn't in a rush to make any in-game adjustments.
"The college kids got off to a good start," Coach K continued. "And then Chuck kept some of the guys [on the bench], he never put Michael back in or whatever. He wanted those guys to lose the scrimmage, just so… he wanted that. He didn't tell the staff that he wanted it. And so, boom, boom, boom, they win that thing."
In fairness to Krzyzewski, this isn't the first time he's floated that theory. As recorded in a New York Times blog post, he made similar claims in 2008 and 2012.
Even if that scrimmage was fixed, it still led to an epic piece of trash talk
Since Chuck Daly died in 2009, it's impossible to know what he did or did not want to happen during that scrimmage. Even if the coach didn't do his best to win, we do know that defeat set the stage for some epic trash talk.
During his appearance on the Knuckleheads podcast, Mashburn explained that, after the initial scrimmage, Rodney Rogers told Larry Bird that he hadn't hit a jump shot since 1984. While the Celtics star was no longer at his physical best, he still didn't appreciate that shot across the bow.
"The next day, we came in, and I had never seen this, and this is when I was like, 'This a different breed,'" Mashburn continued. "Magic Johnson fed Larry Bird the ball probably eight times in a row down court. Larry Bird got the ball on Rodney Rogers, and every time he was about to make a move, he told him what he was going to do. 'One dribble, pull up, going left. Off Glass.' Bucket. 'One dribble going right, spin, shot.' Bucket. He scored nine times or eight times in a row."
The forward also engaged in his own trash talk, adding a little extra salt to Rogers' wound. "Young fellow," Bird said according to Mashburn. "Look like '84, huh?"
It's safe to assume that was all Larry Legend; Chuck Daly could have thrown the game, but he probably wasn't feeding anyone lines.