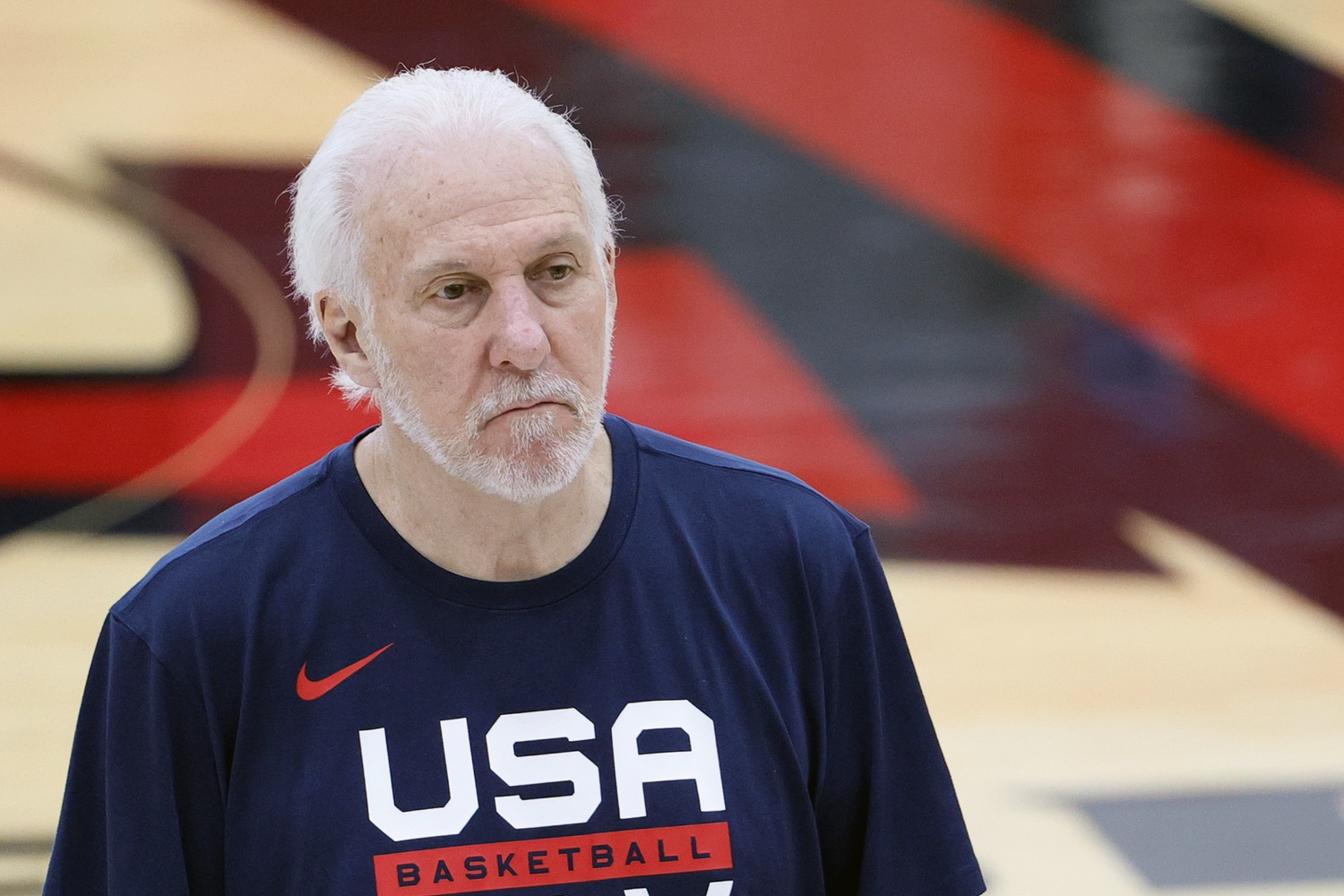 When Gregg Popovich Runs an Olympic Practice, He Really Runs an Olympic Practice
San Antonio Spurs coach Gregg Popovich takes over as the men's Olympic basketball coach from Mike Krzyzewski, who guided the United States to three gold medals.
It's been a few seasons since the San Antonio Spurs have given NBA rivals a run for their money in the playoffs, but coach Gregg Popovich is showing the competitiveness of a champion while prepping Team USA for the Tokyo Olympics.
"Coach Pops" has eschewed the "Do as I say, not as I do" style of management and is breaking a sweat alongside his roster of pro basketball stars in preparation for the rigors of six games in two weeks.
Olympic coach Gregg Popovich has a thankless job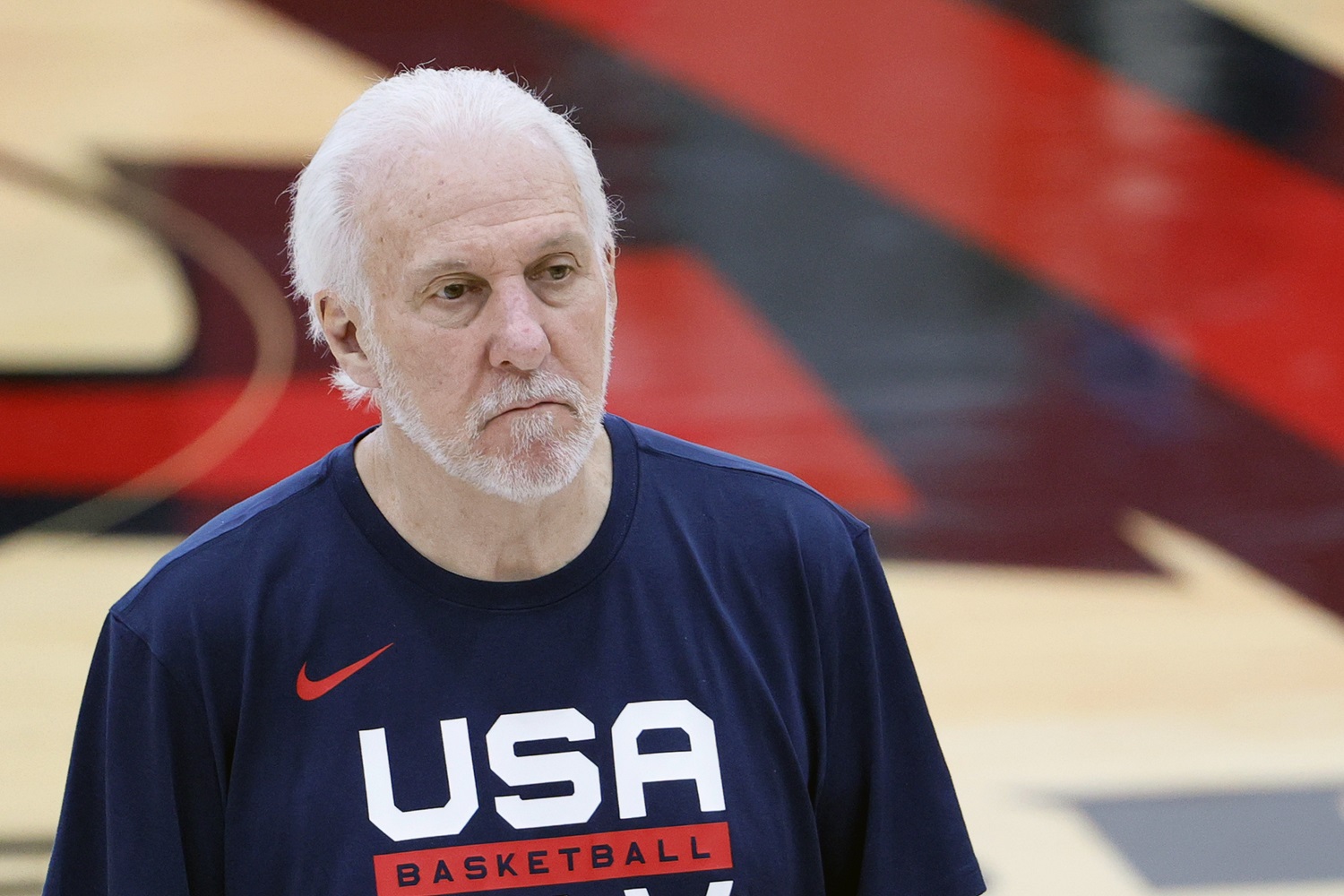 Ask the average sports fan who's coaching the track and field or swimming teams at the Tokyo Olympics this month, and you'll receive the same blank stare you get from your cat when you point to anything other than the food dish.
On the other hand, coaching the men's basketball team is a visible assignment. USA Basketball goes through an elaborate selection process every four years to prepare not for the next Olympics but rather for the one after that.
That's why organization chairman Jerry Colangelo announced in October 2015 that Popovich would replace Mike Krzyzewski, the Duke University coach. Krzyzewski finished up his decade-long assignment at Rio de Janeiro in 2016, directing the United States to the third Olympic gold under his guidance.
Popovich took over in 2017. The next month constitutes the most visible and arguably the worst part of the job: coaching the team that is supposed to cruise to the gold medal. Bringing his team home with anything less is a stain that stays on a coach's record forever, as John Thompson learned in 1988 and Larry Brown found in 2004.
The kicker to it all? Even if all goes perfectly and Team USA wins the championship game, Popovich doesn't even come home with a gold medal. Only the players collect the most precious medal in sports.
Gregg Popovich puts down the clipboard to run suicides
Even as the NBA playoffs continued, Team USA began practicing in Las Vegas this week to get ready for its opening game in Saitama, Japan, on July 25. To help that preparation along, the American squad will play five exhibitions in nine days, beginning with a contest against Nigeria on July 10.
As one might imagine with a roster of 12 NBA veterans, Popovich isn't spending time explaining the intricacies of operating layup lines. Rather, the remaining week and a half before departing for Tokyo is about familiarizing players with international rules and setting his rotations.
And, of course, there are conditioning drills. Most of the players completed their NBA season within the past month. That means a fine line between staying in game condition while preserving legs for the grind at the Olympics.
As anyone who has ever played organized basketball from junior high on up can attest, there's a special brand of conditioning often reserved for punishment: running "suicides." When run properly, a full sequence covers about 150 yards done at close to full speed, and coaches often make players run half a dozen or more at a time.
So, who was running suicides on Thursday at UNLV? None other than the 72-year-old Popovich, for what player Kevin Love said was the violation of a team rule.
"You mess up, you run," Love wrote on a social media post showing Popovich and his staff running.
Who and when: Team USA's upcoming schedule
Barring a last-minute injury replacement, Popovich's roster looks like this:
Bam Adebayo, forward/center, Miami Heat
Bradley Beal, guard, Washington Wizards
Devin Booker, guard, Phoenix Suns
Kevin Durant, forward, Brooklyn Nets
Jerami Grant, forward, Detroit Pistons
Draymond Green, forward/center, Golden State Warriors
Jrue Holiday, guard, Milwaukee Bucks
Zach LaVine, guard, Chicago Bulls
Damian Lillard, guard, Portland Trail Blazers
Kevin Love, forward/center, Cleveland Cavaliers
Khris Middleton, forward, Milwaukee Bucks
Jayson Tatum, forward, Boston Celtics
The series of exhibitions in Las Vegas begins with Nigeria on July 10 and Australia on July 12. After that, Team USA faces Argentina on July 13, Australia again on July 16, and Spain on July 18.
Pool play at the Olympics consists of games against France on July 25, Iran on July 28, and the Czech Republic on July 31. The quarterfinals take place on Aug. 3, followed by the semifinals on Aug. 5 and the championship game a day later.
Like Sportscasting on Facebook. Follow us on Twitter @sportscasting19.