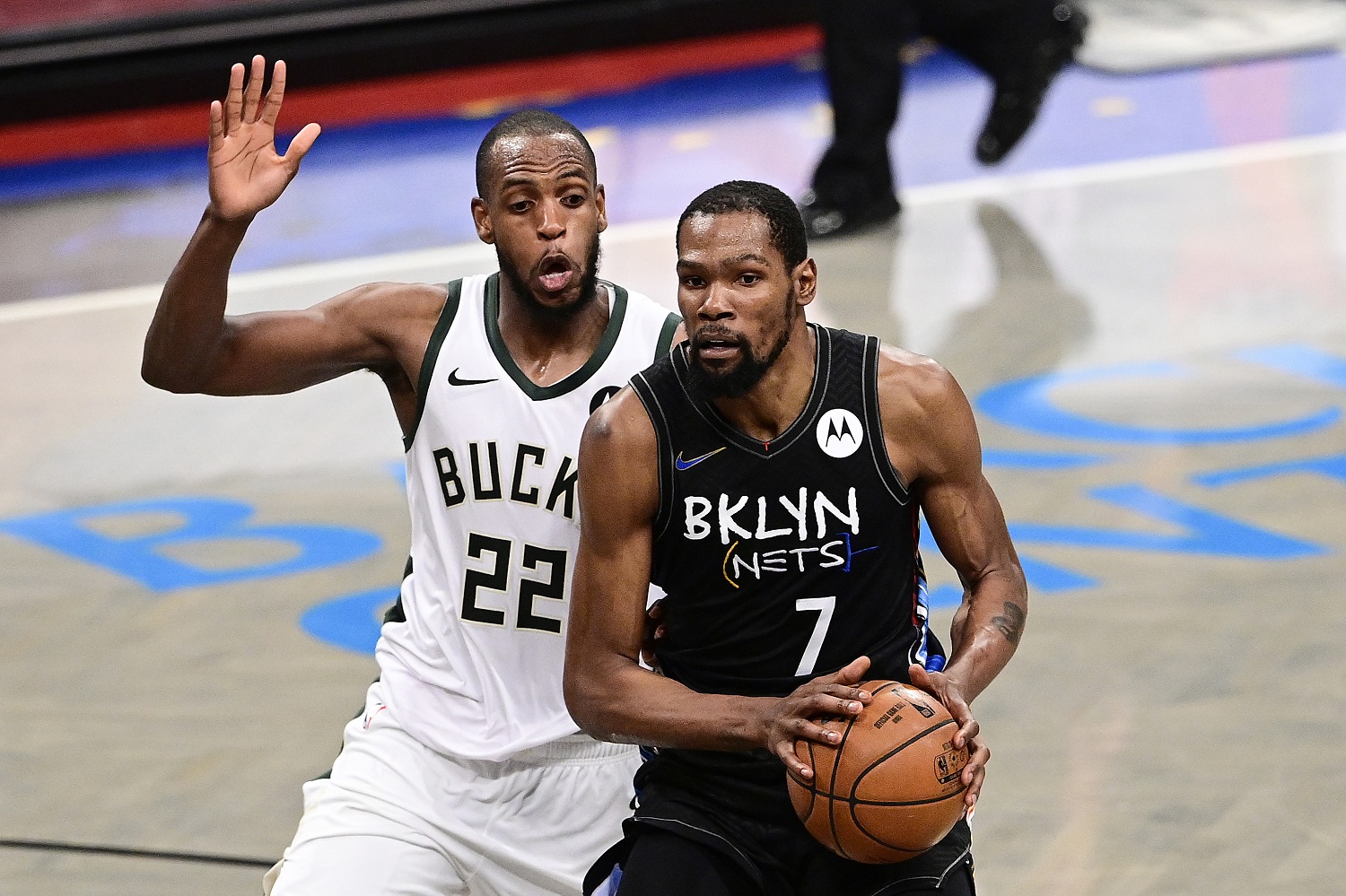 Kevin Durant Can't Be Faulted for Recruiting Another Super Team
Brooklyn Nets star Kevin Durant and Damian Lillard of the Portland Trail Blazers helped recruit players for the Team USA roster heading to the Tokyo Olympics.
The Brooklyn Nets formulated a plan and executed it. They signed Kyrie Irving in July 2019 and added Kevin Durant in a trade the following day despite knowing that the Golden State Warriors forward would miss the season. The final piece was James Harden, snapped up from the Houston Rockets in a trade last January.
Building a super team delivered the intended regular-season results: A 13-game improvement in the standings despite the Big Three all missing extensive time during the season.
Obviously, flaming out in the NBA Eastern Conference semifinals wasn't part of the plan. But Durant put his disappointment aside quickly to focus on building another super team.
Unlike the case with the Nets, who drew resentment for not building from within, this is a squad that 300 million Americans will stand behind.
Kevin Durant's NBA season is over, but he'll keep playing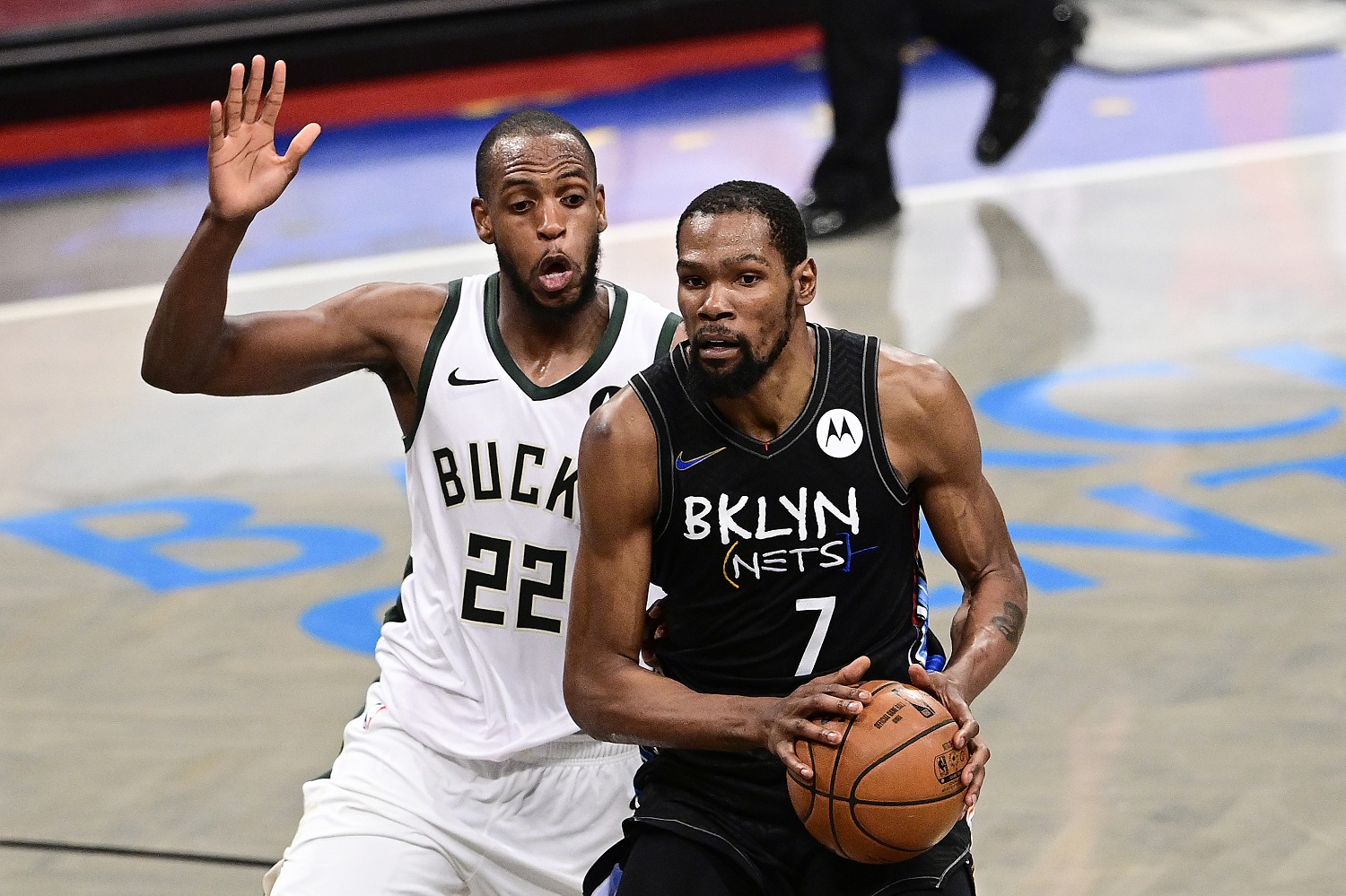 Durant missed 26 of 27 games in the heart of the NBA season and recorded a "DNP" in more than half the Nets' contests overall. Still, he showed in full force for the playoffs, averaging 34.3 points and 9.3 rebounds in Brooklyn's 12 games.
Given that he missed all of the previous season (the conclusion of which was pushed back by the pandemic) while recovering from his Achilles tendon injury, Durant arguably owns the freshest legs of any NBA player heading to Tokyo in less than a month. If anyone on an incredibly talented Team USA roster is going to log 30 minutes a night beginning in late July, it might be him.
Durant, 32, already owns gold medals with Team USA from London in 2012 and Rio de Janeiro in 2016. He has signed on to the roster constructed by executive Jerry Colangelo and coach Gregg Popovich, but he has taken on a role that goes beyond that of just being a player.
Kevin Durant has helped shape the Team USA Olympic roster
Durant and Portland Trail Blazers hero Damian Lillard accepted invitations even as doubts persisted that organizers could pull off the Olympic Games during the pandemic. However, ESPN reported that their involvement goes beyond their anticipated points, rebounds, and assists. The website said Durant and Lillard hit the recruiting trail to help pull the roster together.
That is no small matter since multiple big names declined to play in Tokyo. Among them were the Los Angeles Lakers' LeBron James and Anthony Davis, Golden State Warriors guard Stephen Curry, and Utah Jazz guard Donovan Mitchell. All have cited the wear and tear of two NBA seasons crammed into a short window because of the COVID-19 pandemic.
According to the report, Durant and Lillard lobbied Popovich to consider Jerami Grant for the roster, knowing how much the Detroit Pistons forward coveted the honor. They also reached out to Bradley Beal and Devin Booker, who were on the fence about committing.
Lillard stayed extra busy, convincing Draymond Green and Jayson Tatum that the team needed them and that restrictions related to COVID-19 precautions wouldn't stop Team USA's players from enjoying the experience.
The U.S. roster is taking shape
Here's who Popovich is drawing from heading into tune-up games against Nigeria, Australia, and Argentina from July 10-13:
Bam Adebayo, forward/center, Miami Heat
Bradley Beal, guard, Washington Wizards
Devin Booker, guard, Phoenix Suns
Kevin Durant, forward, Brooklyn Nets
Jerami Grant, forward, Detroit Pistons
Draymond Green, forward/center, Golden State Warriors
Jrue Holiday, guard, Milwaukee Bucks
Zach LaVine, guard, Chicago Bulls
Damian Lillard, guard, Portland Trail Blazers
Kevin Love, forward/center, Cleveland Cavaliers
Khris Middleton, forward, Milwaukee Bucks
Jayson Tatum, forward, Boston Celtics
In theory, there is still room for change, especially since the NBA playoffs can extend to within just days of the opener in Tokyo. However, Popovich's Team USA roster looks firm at this juncture and is certainly solid despite the fact that Durant, Green (2016), and Kevin Love (2012) players with experience in the Olympics.
It's not the Dream Team, but it absolutely qualifies as super.
Like Sportscasting on Facebook. Follow us on Twitter @sportscasting19.