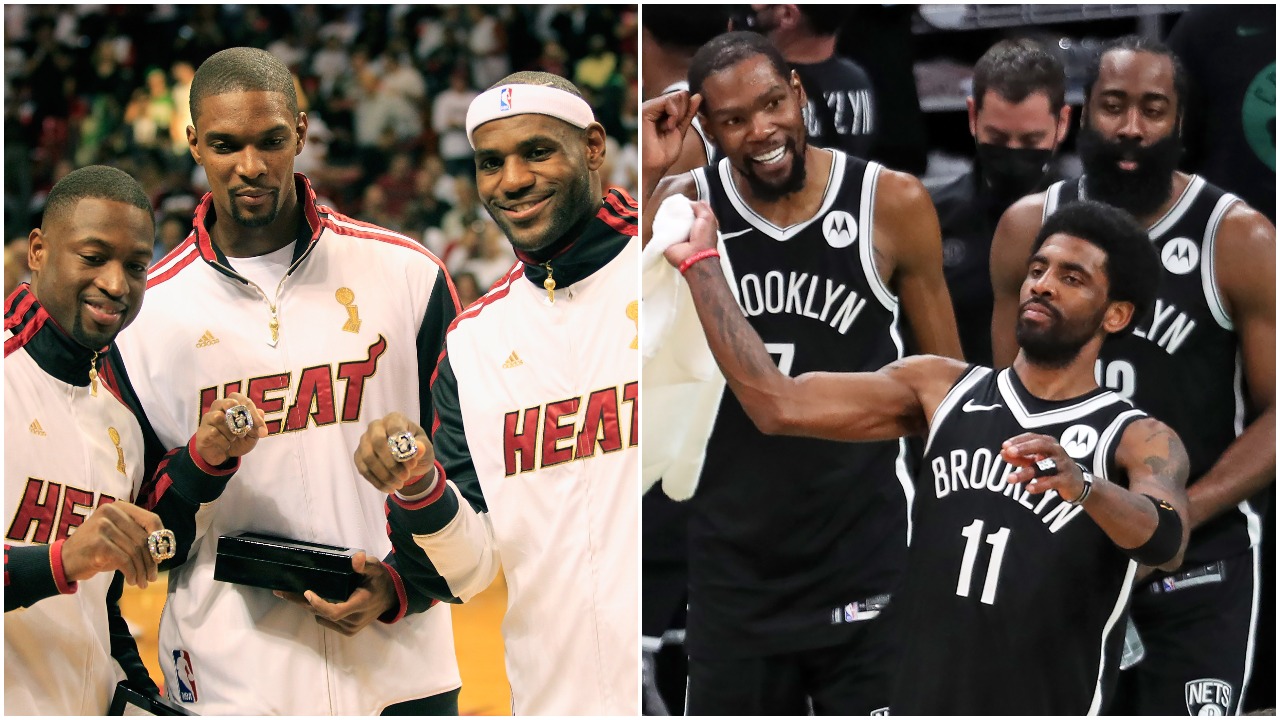 Chris Bosh Surprisingly Says the 'Big 3' of Himself, LeBron James, and Dwyane Wade Would Lose to Kevin Durant, James Harden, and Kyrie Irving
Chris Bosh says the Miami Heat "Big 3" consisting of himself, Dwyane Wade, and LeBron James would lose to the current Brooklyn Nets "Big 3" of Kevin Durant, James Harden, and Kyrie Irving.
Ask the vast majority of NBA players (even retired ones) who would win a head-to-head matchup between themselves or their team (or former team) and just about any opponent and you're likely to hear something along the lines of "I would" or "we would but it would be close." But soon-to-be Hall of Famer Chris Bosh recently went the other way when asked about a fantasy matchup between the Miami Heat "Big 3" of himself, LeBron James, and Dwyane Wade and the Brooklyn Nets' current "Big 3" of Kevin Durant, Kyrie Irving, and James Harden.
Chris Bosh says himself, LeBron James, and Dwyane Wade would lose a 3-on-3 game to Kevin Durant, Kyrie Irving, and James Harden
In a recent interview with fubo Sports to promote his new book, "Letters to a Young Athlete," Bosh was asked who would win a 3-on-3 game between himself, LeBron, and D-Wade (the prime versions) and the Nets' dynamic trio of KD, Harden, and Irving. And without hesitation, this was his response:
"I'm gonna give the nod to them. I could score pretty good and I'll go out there and compete, but they can do things I've never seen.

"In a 3-on-3 game, it's just about what could happen. These guys could just make all jumpers, you know, they're incredible. All three of them have that ability to be like, 'that's not fair.'"

Chris Bosh
Bosh went on to say that his game really isn't suited for "that specific kind of basketball" and wondered exactly who he would guard in such a scenario, laughing when he said he surely wouldn't want to guard Durant.
So let's actually take a minute and break this thing down.
What would this fantasy "Big 3" matchup look like?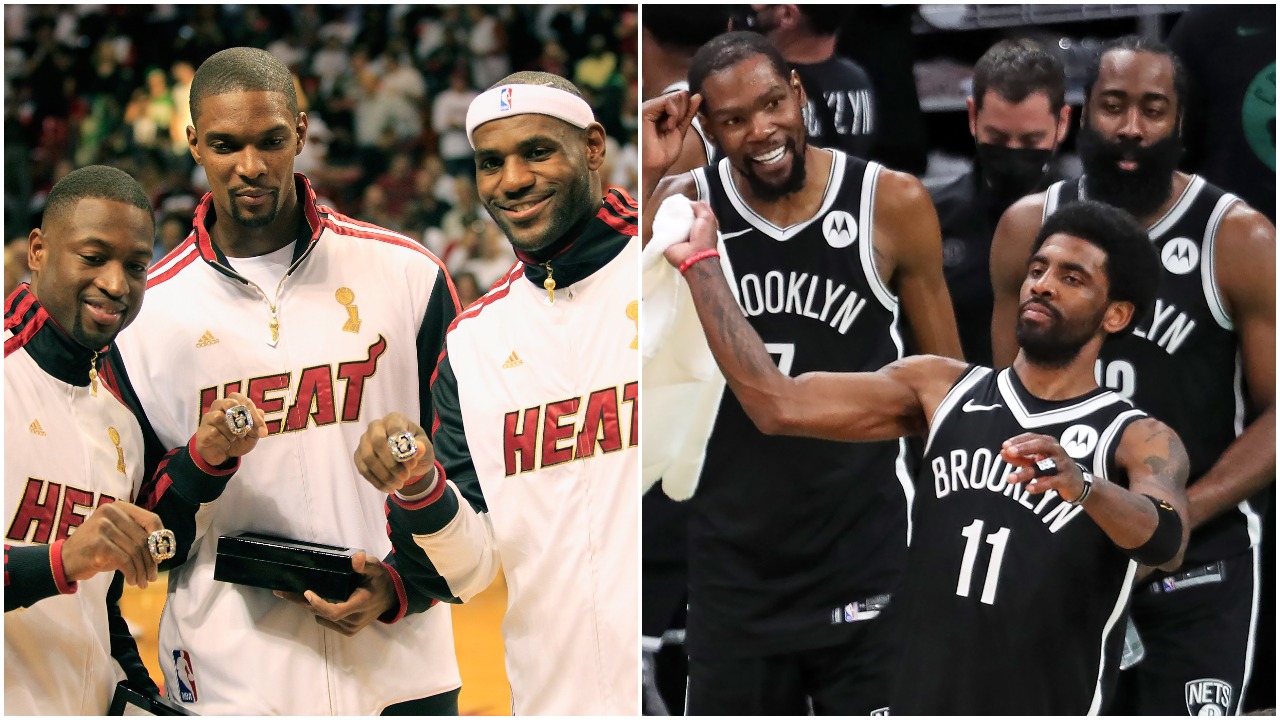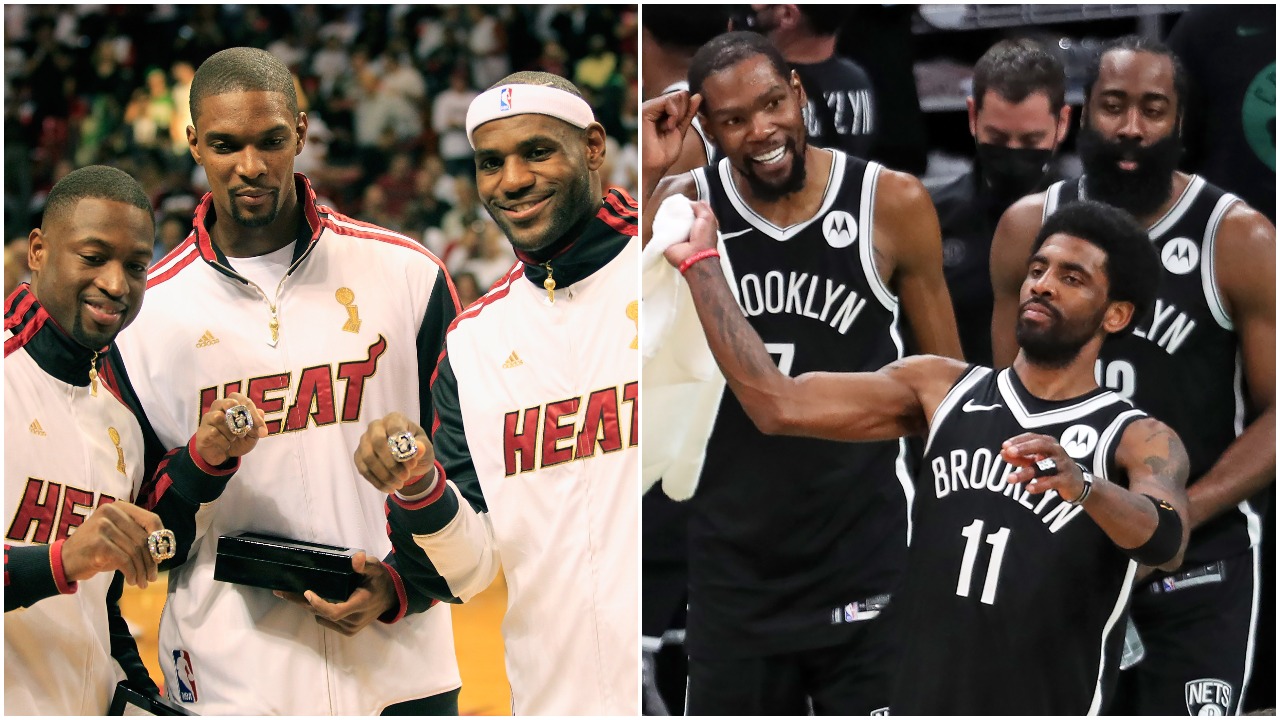 If we're talking a 3-on-3 matchup between the two "Big 3" squads, Bosh is correct in saying that his team would have some matchup issues. But those issues actually go both ways.
In this fantasy scenario, your likely matchups are Bosh-Durant, Wade-Irving, and LeBron-Harden if we're basing things on height. So, yes, Bosh is right in saying he wouldn't match up well with KD. But, in all honesty, is there anyone on the planet that truly matches up well with Durant? On the flip side, however, it's not as if Durant has ever been a great defender, meaning Bosh, who still averaged around 18 points per game as the third option of the Heat's "Big 3," is going to get his points as well.
As for the LeBron-Harden matchup, some might see that as a wash. But what people tend to forget sometimes is that LeBron, in his prime, was a six-time All-Defensive selection (five First Team, one Second Team), an honor he earned in each of his four seasons with the Heat. Yes, it's difficult to guard Harden. But if there's anyone from the Heat's "Big 3" that can do it, it's James, especially if this game were to happen when the new rule preventing Harden from jumping into people was in effect. And Harden, with zero All-Defensive selections to his credit, isn't stopping LeBron from getting to the rim.
That brings us to Wade vs. Irving. Again, these are two great scorers that can put up points in a number of ways. So, again, this comes down to defense. And the edge there goes to Wade, who was a three-time All-Defensive selection during his career. Wanna guess how many Irving has? That's right, zero. In addition, Wade has a little height advantage and was much stronger in his prime than Kyrie is now, so he could just back Irving down and get buckets that way.
So as Bosh said in his interview, it would be close. But if I had to choose a winner, I'm going with Bosh, LeBron, and D-Wade. After all, in the closest thing we'll ever see to this fantasy matchup, the Miami "Big 3" came out on top.
Miami's "Big 3" beat Durant and Harden in the 2012 NBA Finals
As we'll obviously never see an actual matchup between Miami's "Big 3" and Brooklyn's "Big 3," the closest thing we've got was the 2012 NBA Finals showdown between the Heat and Durant and Harden's Oklahoma City Thunder.
Now, the OKC version of Harden obviously isn't the same as the one we know now as he was still coming off the bench at that point in his career. And Durant has certainly improved as well, although he was still a machine back then as he averaged 30.6 points per game during the series. The Heat "Big 3" simply had more experience at that time, which is why they easily won the series in five games.
What I will throw in, however, is that the other member of the Thunder's "Big 3" back then, Russell Westbrook, would open up an entirely new argument as it pertains to a prime 3-on-3 matchup as he's obviously also a better player than he was back then. And, truth be told, I'd take him over Irving any day of the week and twice on Sunday.
But we'll save that for another day.
Stats courtesy of Basketball Reference