Russell Westbrook Once Recorded a Perfect Triple-Double in Which He Didn't Miss a Single Shot
With his third consecutive triple-double, his sixth in the last seven games, Russell Westbrook helped the Washington Wizards to a 131-129 overtime victory over the Toronto Raptors on Thursday night, inching the team closer to securing a spot in the upcoming NBA play-in tournament. It was a history-making night for Westbrook as he officially passed Oscar Robertson as the NBA's all-time leader in triple-doubles taking both the regular season and postseason into account.
With such an incredible feat accomplished, we took a look back at Westbrook's triple-double history over the years and found a few more records he owns, including being the only player in NBA history to record a triple-double without missing a single shot.
Russell Westbrook now has the most triple-doubles in NBA history
Westbrook didn't shoot the ball particularly well on Thursday night against the Raptors, making just five of 19 shots from the floor (1-for-6 from the 3-point line) and two of four shots from the foul line for 13 points, a far cry from his previous three games in which he averaged 28.3 points while shooting 58.6% from the floor.
But he added 17 assists and 17 rebounds to record his 34th triple-double of the year in the victory, which puts the Wizards 3.5 games ahead of the Chicago Bulls for the 10th spot in the Eastern Conference with just over a week remaining in the season.
The triple-double was the 180th of Westbrook's career in the regular season, leaving him one behind Robertson for the all-time lead. However, taking the postseason into account as well, Westbrook now has 190 in his career, one better than Robertson, who had 181 triple-doubles in the regular season and an additional eight in the playoffs.
The 2017 NBA MVP holds a number of NBA records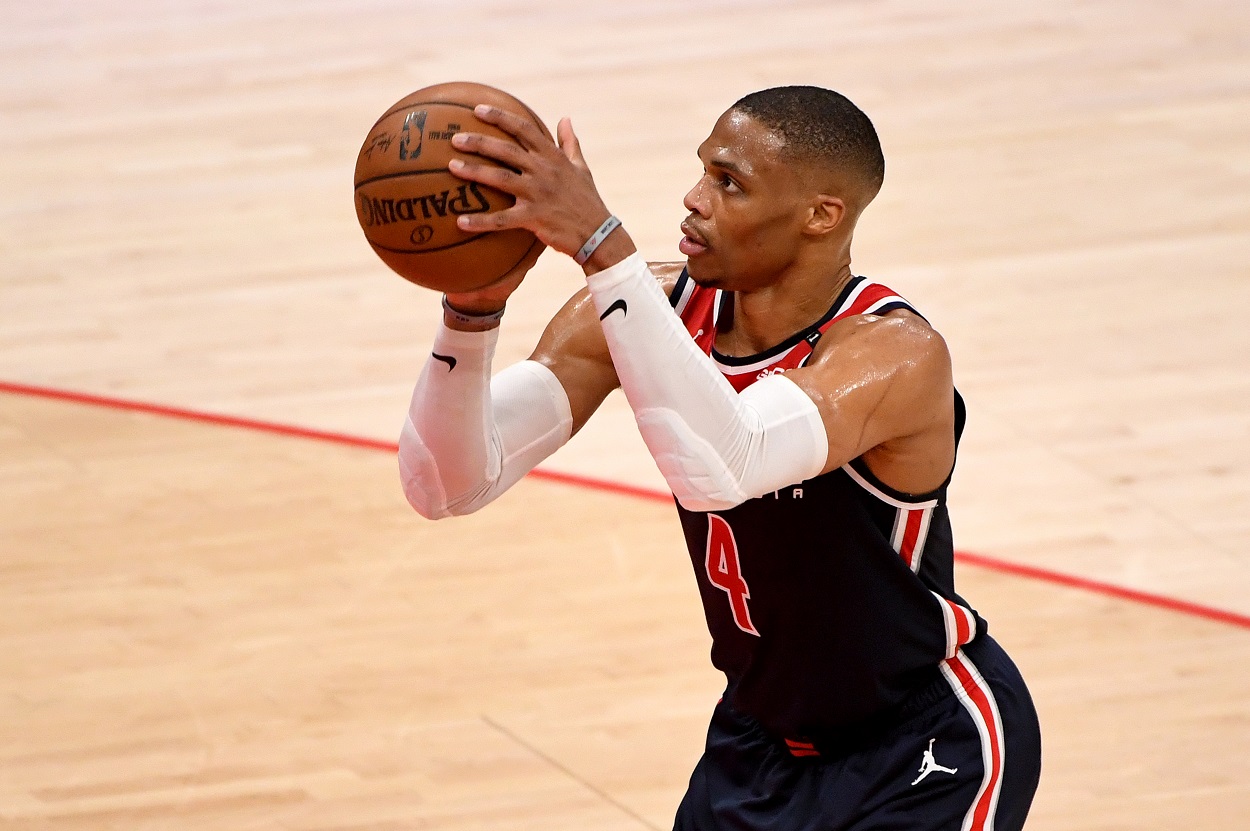 RELATED: 5 NBA Records That Will Never Be Broken
As Westbrook is already guaranteed to finish the season averaging a triple-double, this will be the fourth time he'll accomplish the feat, the most in NBA history. Robertson was the only other player to do so and hit the milestone twice.
But that certainly isn't the only NBA record Westbrook holds as it pertains to the triple-double. Here's a look at a few of his most notable records:
Most triple-doubles in a single season (42)
Most 50-point triple-doubles in a single season (3)
Only player in history to win NBA MVP, the scoring title, and average a triple-double in the same season
Only player in history to have five consecutive 30-point triple-doubles in a single season
Only player in history to have multiple streaks of seven consecutive triple-doubles in a season
Only player in history to have a 50-point triple-double in the NBA playoffs
Only player in history to have three consecutive 30-point triple-doubles in a postseason series
Westbrook is also the only player in NBA history to record the perfect triple-double.
Westbrook once had a triple-double in which he didn't miss a single shot
RELATED: Not Only Has Russell Westbrook Fired Back at Stephen A. Smith but His Wife Has Gotten Involved as Well
On March 22, 2017, Westbrook and the Oklahoma City Thunder hosted the Philadelphia 76ers and came away with an easy 122-97 victory. It was a very balanced victory for OKC as every single player scored at least two points with four players scoring in double figures. led by Enes Kanter, who poured in 24 off the bench.
As for Westbrook, he played just under 28 minutes that night and recorded the only perfect triple-double in NBA history. Scoring 18 points, he shot a perfect 6-for-6 from the floor, a perfect 6-for-6 from the foul line, and added 14 assists and 11 rebounds.
Stats courtesy of Basketball Reference