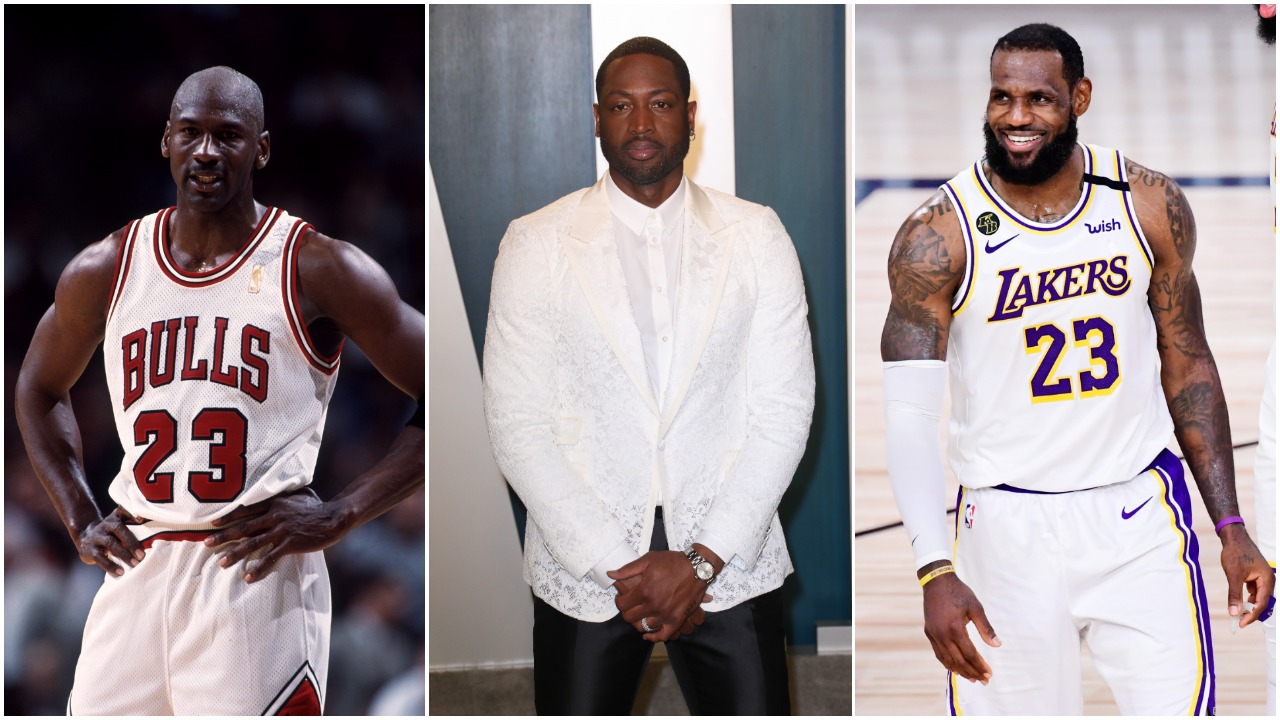 Dwyane Wade Chimes in on the Michael Jordan vs. LeBron James GOAT Debate and His Pick Really Shouldn't Surprise Anyone
Dwyane Wade has chimed in on the GOAT debate involving Michael Jordan and former teammate LeBron James and his answer isn't that surprising.
As just about everyone seems to have an opinion on the ongoing Michael Jordan vs. LeBron James GOAT debate, three-time NBA champion and James' good friend and former Miami Heat teammate Dwyane Wade has chimed in on the matter. While his choice might surprise some, it really shouldn't come as that much of a shock given where D-Wade grew up.
But before we get to Wade's choice, let's first quickly go through the obligatory breakdown on the respective careers of MJ and LeBron.
Michael Jordan won six titles and five NBA MVP awards with the Chicago Bulls
Taken with the third pick in the 1984 NBA draft by the Chicago Bulls, Michael Jordan went on to become the biggest star the league had ever known. After years of failing to reach the NBA Finals, Jordan and the Bulls finally got over the hump in 1991 by first defeating the Detroit Pistons in the Eastern Conference Finals before taking down Magic Johnson and the LA Lakers to win the franchise's first championship.
Jordan & Co. went on to win five more titles in the 1990s, which some think could have been seven had MJ not taken an 18-month hiatus to attempt a baseball career. In total, Jordan played parts of 15 NBA seasons, 13 with the Bulls and his final two with the Washington Wizards following a second retirement.
In those 15 season, Jordan won those six titles, six NBA Finals MVP awards, five regular-season NBA MVP awards, and was a 14-time All-Star selection, an 11-time All-NBA selection (10 First Team, one Second Team), a nine-time All-Defensive First Team selection, a one-time Defensive Player of the Year, a three-time steals leader, a 10-time scoring champion, and holds the record for the highest career scoring average in NBA history at 30.12 points per game while also averaging 6.2 rebounds, 5.3 assists, and 2.3 steals.
In total, Michael Jordan scored 32,292 points in the regular season, good for fifth on the all-time list, and an additional 5,987 in the postseason, which is good for second.
LeBron James has won four NBA titles in 10 appearances in the Finals and won four NBA MVP awards
Taken with the first pick in the 2003 NBA draft, LeBron James is currently playing in his 18th season, his third with the LA Lakers, with whom he won his fourth overall championship in 2020.
In two stints with the Cleveland Cavaliers, LeBron played a total of 11 seasons in his home state of Ohio and led the Cavs to five appearances in the NBA Finals, of which they won two. Between his runs in Cleveland, James played four years alongside Dwyane Wade with the Miami Heat and helped the team to the Finals in each of those seasons, winning two championships. As it was with Michael Jordan, LeBron was named NBA Finals MVP in each of his championship-winning seasons.
In addition to winning four championships, James has won four NBA MVP awards and is a 17-time All-Star, a 16-time All-NBA selection (13 First Team, two Second Team, one Third Team), a six-time All-Defensive selection (five First Team, one Second Team), and a one-time scoring champion.
As of this writing, LeBron has scored 35,283 points in the regular season, good for third on the all-time list, and tops the postseason scoring list with 7,491 points. He holds career averages of 27 points, 7.4 assists, 7.4 rebounds, and 1.6 steals per game.
Dwyane Wade says Michael Jordan will always be his GOAT over LeBron James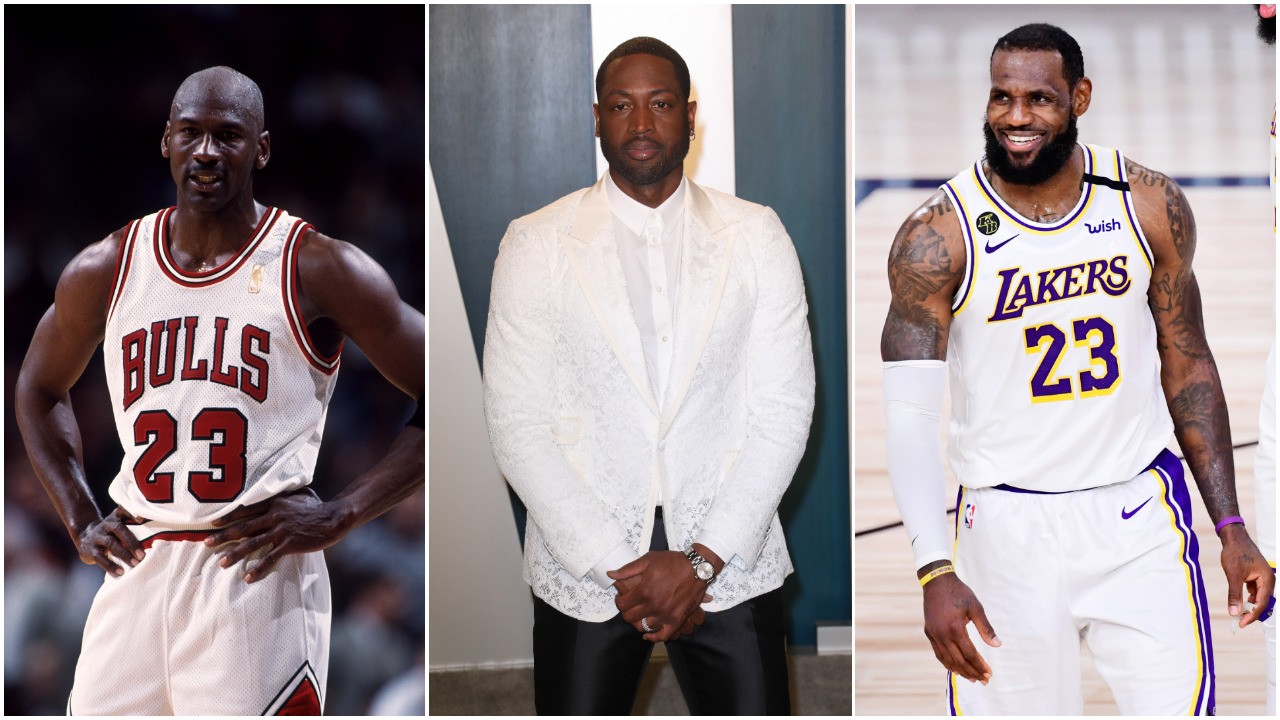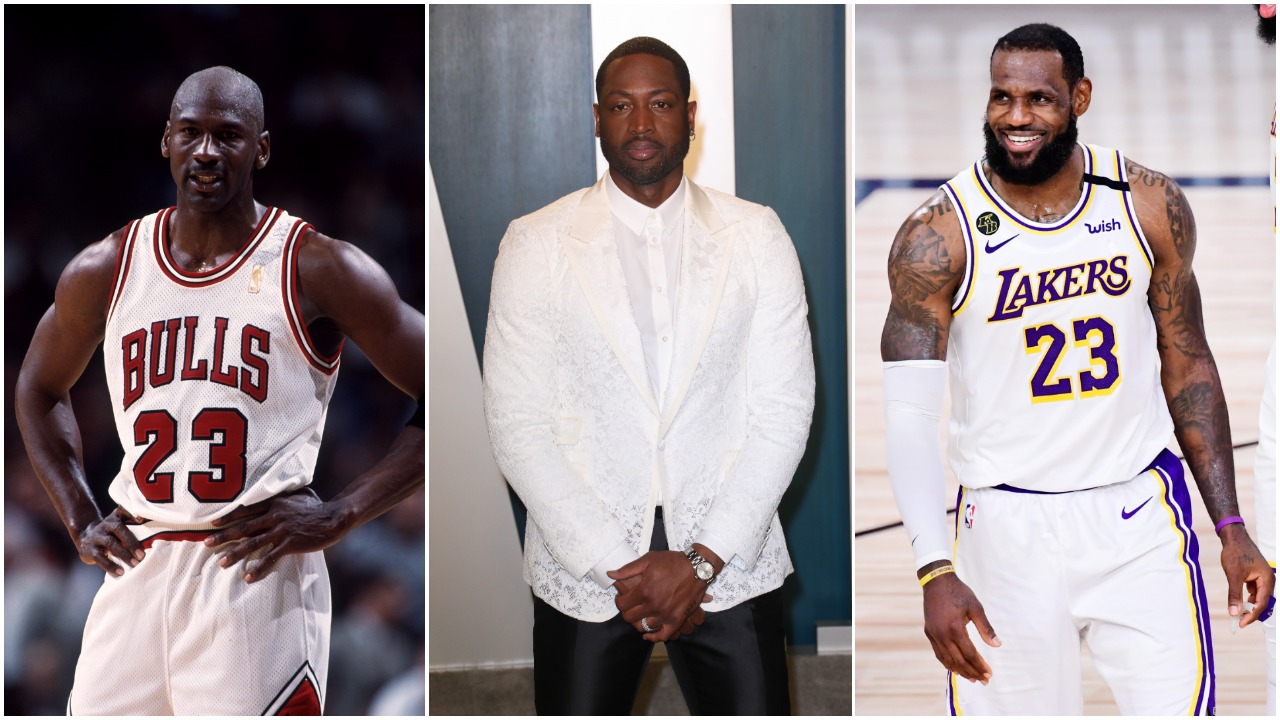 While some might think Dwyane Wade would choose LeBron James as his GOAT given the fact the duo won two titles together and are very close friends, one has to remember that D-Wade grew up in Chicago in the '80s and '90s. You didn't really think a Windy City kid would choose someone other than Michael Jordan, did you?
In an appearance earlier this week on the I Am Athlete podcast, Wade said that no matter what LeBron James does for the rest of his career, MJ will always be his GOAT.
"I come from a Jordan era. I am biased and I'm going to be biased until the day I pass away. Michael Jordan will be my GOAT. I'm not taking anything away from LeBron. LeBron is amazing. But Michael Jordan is my GOAT.

"He (LeBron) will be the GOAT for a lot of generations. I started playing the game because of Michael Jordan. He will be my GOAT until the day I pass away.

"For me, from Chicago, where I grew up, I made it out the hood because I seen a dude, No. 23, play the game of basketball at a level that I was like, 'I just want to do some of that.'

"To me, it doesn't take anything away from LeBron. LeBron will be the GOAT of this generation that watched him grow up, just like we watched Michael Jordan grow. Bron's my guy. But Jordan's my GOAT."

Dwyane Wade
And there you have it.
Stats courtesy of Basketball Reference