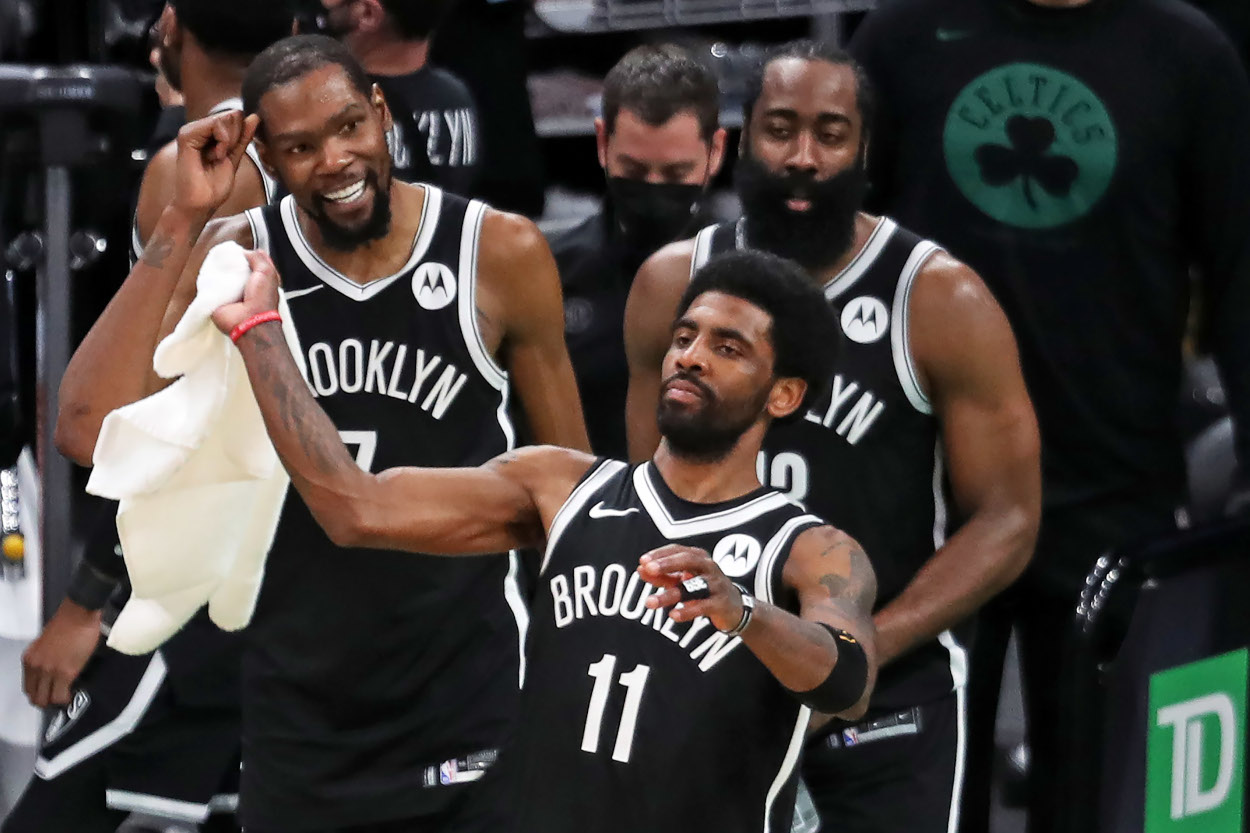 Brooklyn Nets Face 3 Big Decisions Worth $460 Million This Offseason
The Brooklyn Nets fell short of their first NBA championship behind a talented but fragile Big Three that managed to play just 14 games together across the regular season and playoffs. Now the Nets have big decisions to make this summer regarding Kevin Durant, Kyrie Irving, and James Harden.
The Brooklyn Nets were the favorite to win the 2021 NBA title, at least according to the oddsmakers. But their offseason began abruptly after an overtime loss to the Milwaukee Bucks in Game 7 of their Eastern Conference semifinals series. The Nets assembled a formidable superstar trio in Kevin Durant, Kyrie Irving, and James Harden. But they were rarely able to play together due to injuries.
Entering this offseason, Brooklyn faces some big (and potentially expensive) decisions. The Nets are well over the luxury tax apron and will pay a hefty price for a second-round exit. Because the payroll is so bloated at the top, there are few certainties about which role players will return in 2021–22. Throw in an important deadline coming up this offseason involving their three stars and this has the potential to be a hugely consequential offseason for Brooklyn general manager Sean Marks.
After a playoff series for the ages by Durant, let's tackle the big question first.
Can Kevin Durant become a free agent this offseason?
Kevin Durant joined the Brooklyn Nets as a free agent in July 2019, signing a four-year contract for roughly $164.3 million, per Spotrac. The deal includes a $42.8 million player option for 2022–23.
So, Durant can't hit the open market this summer. The earliest that could happen would be 2022, should Durant decline his option. Brooklyn's other two stars, Irving and Harden, are on an identical timetable. Irving signed for four years and $136.5 million to join forces with Durant. Harden, meanwhile, agreed in 2017 to a supermax extension while with the Houston Rockets. That deal is on the exact timetable as Durant and Irving.
All three contracts have player options for 2022–23. But the offseason drama can start as soon as August 2021 because of the nature of NBA contracts.
The Big 3 are all eligible this summer for another big payday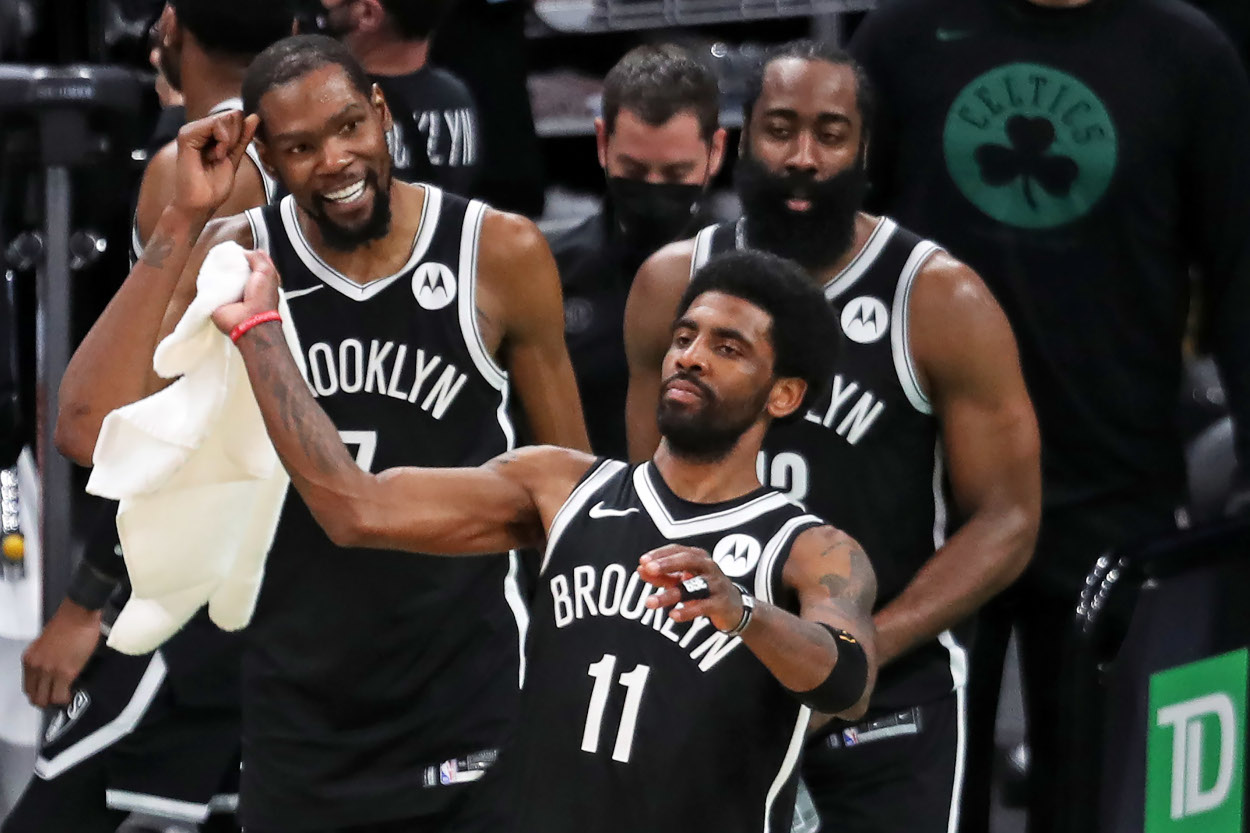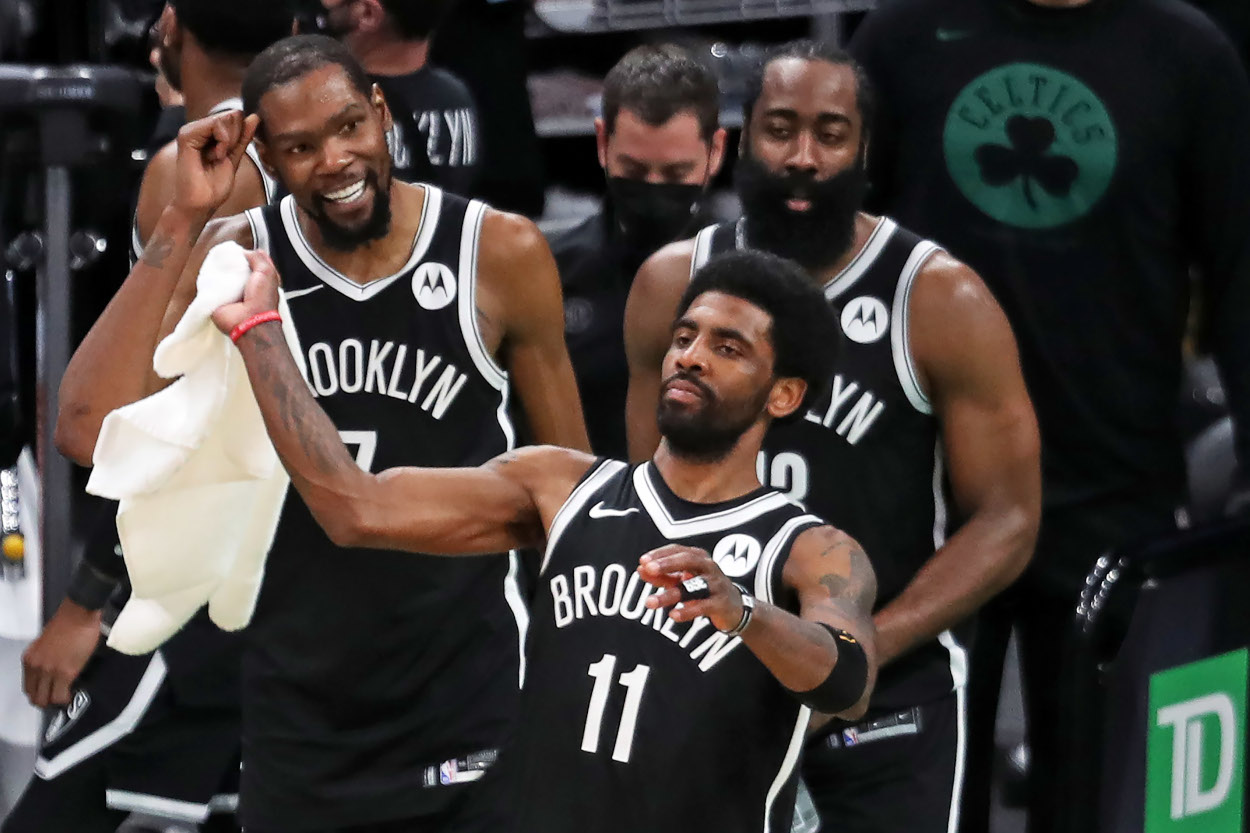 The Brooklyn Nets face a dilemma this offseason. The good news is their championship window is well defined; all three of their stars signed for the same period. The bad news is that their already hefty luxury tax commitment will balloon if Marks keeps the band of Kevin Durant, Kyrie Irving, and James Harden together.
The Nets can offer Durant, Irving, and Harden extensions this offseason. Should they choose to do so and the players accept, that would add a whopping $460.1 million in new salary to Brooklyn's cap sheet.
According to Bobby Marks of ESPN.com, an extension for Harden would be worth $161.1 million in new salary. He would have to opt in for 2022-23 at $47.4 million. He would then get three additional years through 2025–26. Harden could opt out next summer, which would position Brooklyn to use Bird rights to re-sign him for five years and almost $270 million.
Irving could get a four-year extension for $146 million in new money, replacing his $35 million option for 2022–23 with a $40.5 million paycheck in the first year of the new deal. A five-year re-signing of Irving as a free agent next summer would be worth $236 million.
The Brooklyn Nets have a more complicated situation with Durant
Kevin Durant was spectacular in a losing effort against the Milwaukee Bucks. He kept the Brooklyn Nets alive in the series with Kyrie Irving sidelined for the last three games. James Harden also missed three complete games, missed most of a fourth, and was hobbled for the final three. Durant put up 35.4 points, 10.6 rebounds, and 5.4 assists a game in the series while averaging 42.7 minutes in the process.
No one in NBA history scored more points in a Game 7 than Durant's 48 against the Bucks.
Durant could get a four-year extension with $153 million in new salary should he sign this offseason. But he can't get a five-year deal to re-sign with Brooklyn should he opt out next summer. Durant's birthday is Sept. 29, and he will be 34 on that date in 2022 — two days too soon to be eligible for a five-year contract.
The NBA's over-38 rule keeps teams from paying older players more than available cap space. It also prevents those players from agreeing to longer-term deals.
The Nets have eight free agents this summer, most notably Spencer Dinwiddle. He missed most of the season with a knee injury. But he plans to decline his $12.3 million option for next season. Blake Griffin, Jeff Green, Tyler Johnson, Bruce Brown, Mike James, Reggie Perry, and Chris Chiozza are also on expiring deals.
The Brooklyn Nets will run it back next season with their three stars. However, the assembly of the rest of the roster may come from the discount bin.
Statistics courtesy of Basketball Reference.