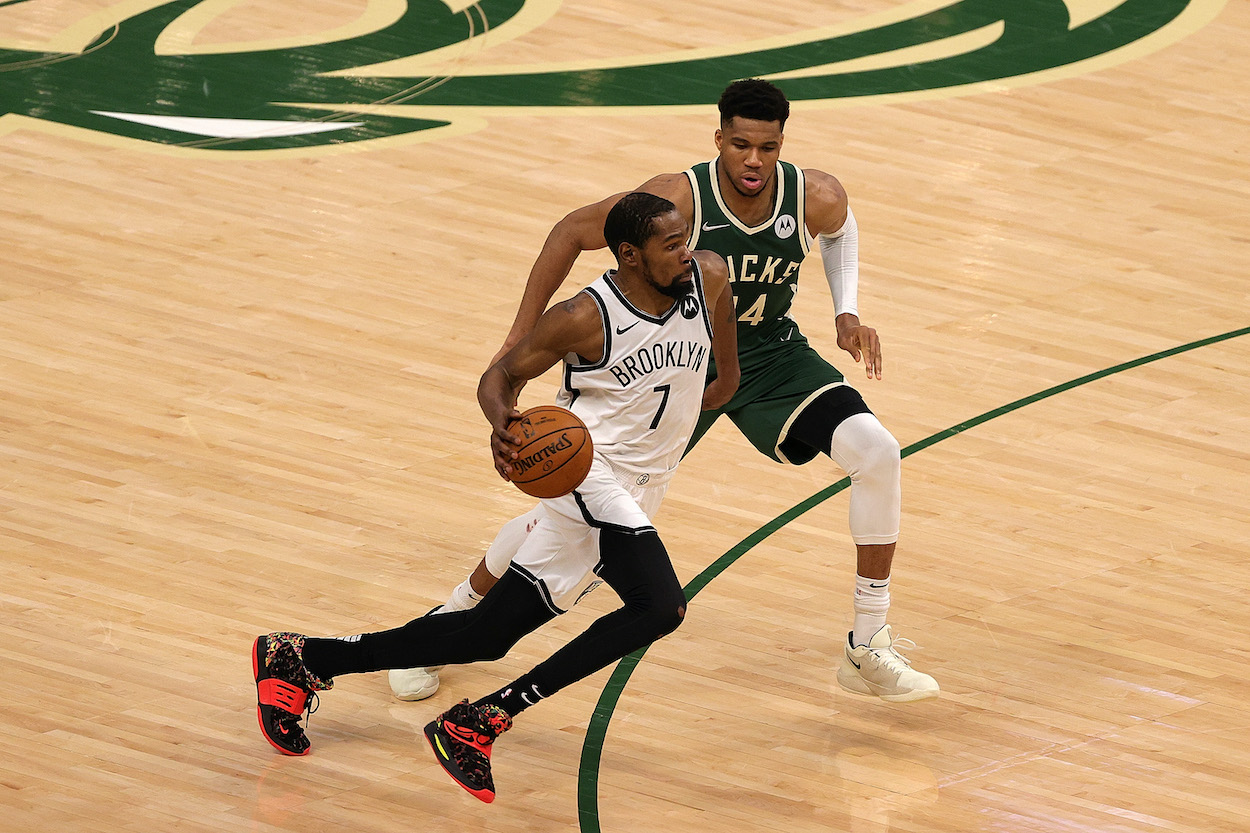 Giannis Antetokounmpo Is so Flummoxed Trying to Stop Kevin Durant He Asked a Reporter, 'What Do You Think?'
After a historic and heroic performance in Game 5 of the Eastern Conference second round, Milwaukee Bucks star Giannis Antetokounmpo seems to have no answers as to how to stop the Brooklyn Nets' Kevin Durant. After the game, he even asked a reporter to give him some ideas on how to defend the superstar.
In Game 5 of the Eastern Conference semifinals, the Brooklyn Nets were in rough shape. Giannis Antetokounmpo and the Milwaukee Bucks won the last two games, Kyrie Irving was out with an ankle injury, and an obviously still injured James Harden stepped on the court for the first time since the first 43 seconds into Game 1. 
That's when Kevin Durant showed up. 
With a heroic and historic Game 5 performance, Durant put the team on his shoulders and almost single-handedly won the game for Brooklyn. Now, heading into a possible series-clinching Game 6, it's the Bucks searching for answers. 
Kevin Durant had a historic Game 5 vs. the Milwaukee Bucks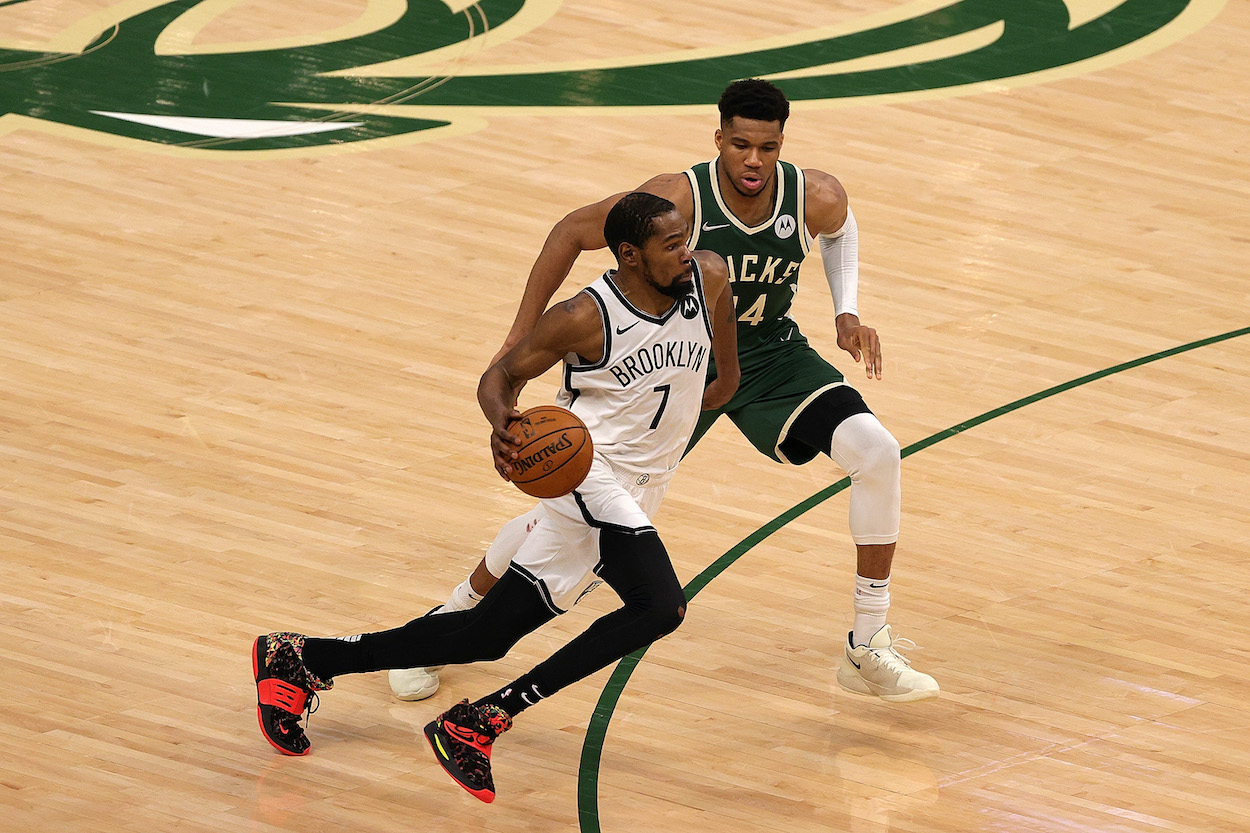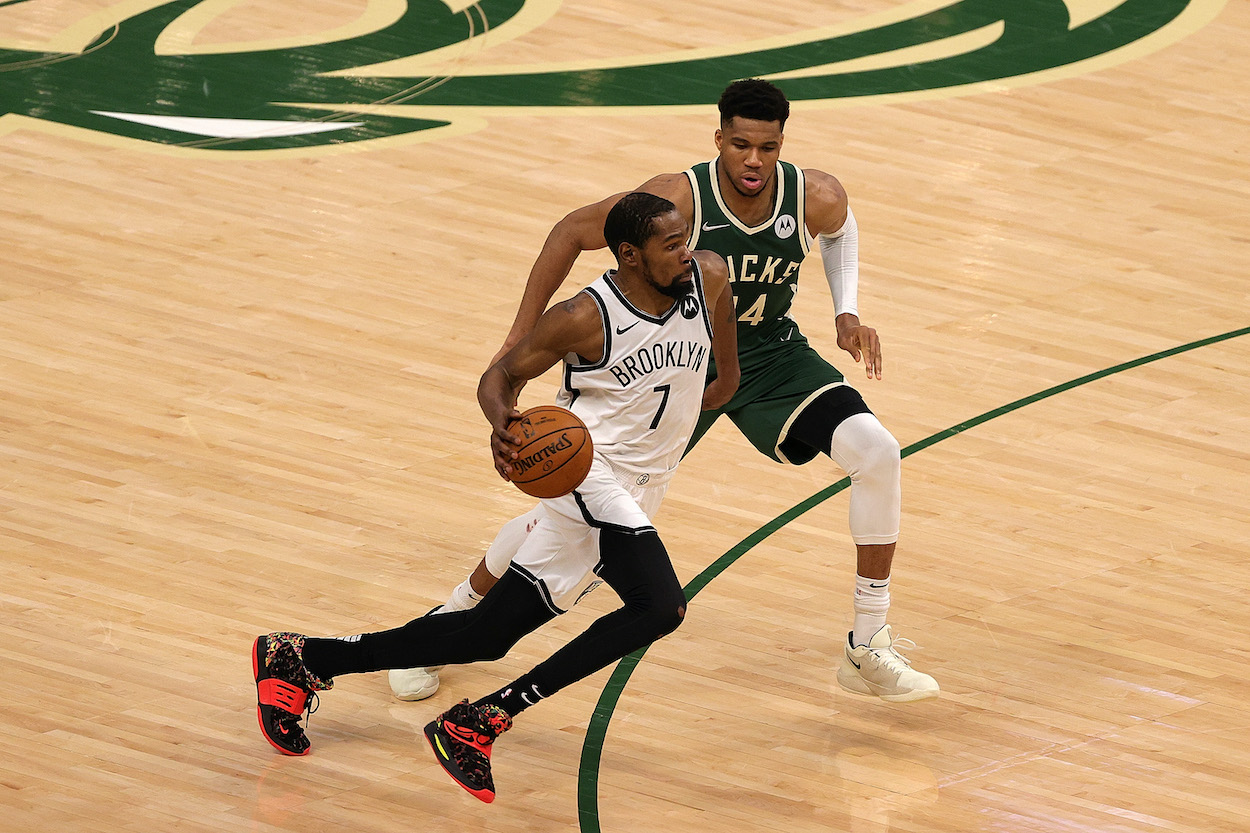 Durant put on a show for the ages in Game 5 vs. the Milwaukee Bucks. The superstar played every minute of the game and put up a 49 point, 17 rebound, 10 assist triple-double. 
It was one point away from Durant's career playoff-high and only the fourth 40/15/10 or better triple-double in playoff history. Only Oscar Robertson (1963), Charles Barkley (1993), and Luka Doncic (2020) previously accomplished the feat, according to StatMuse. None of those players scored 45 or better in those efforts. 
Durant's historic night brought the Nets back from a 59-43 halftime deficit and turned the series, which the Nets led 2-0 after the first two games, back in the team's favor. It was a truly unstoppable performance from the former Thunder and Warrior star. 
Giannis Antetokounmpo seems to have no idea how to stop Durant
After Game 5, Antetokounmpo sat quietly stunned in his postgame press conference. 
A reporter asked the two-time NBA MVP what the Bucks could have done differently on defense to stop Durant. Sounding like a man searching for answers, Antetokounmpo turned the question around, asking the reporter, "What do you think? Let's have a conversation."
The reporter quickly suggested two options: having the 2020 Defensive Player of the Year guard Durant more and double-teaming the Nets star to get the ball out of his hands. 
"Oh man," Antetokounmpo responded, rubbing his head. "I don't know, man."
The Greek Freak then offered his own thoughts but only managed to sound more hopeless in the process: 
It's tough. He's the best player in the world right now, and we've got to beat him as a team. We've got to guard him as a team, and we've got to make him make tough shots, like tonight, and we've just got to keep doing our job, and hopefully, he's going to miss. 
Hoping that Durant will miss isn't the answer Bucks fans were hoping for. 
Durant will need more heroic efforts to advance to the next round
Whether it comes in Game 6 in Milwaukee or Game 7 back in Brooklyn, Durant will have to put on his Superman cape one more time for the Nets to win this series. 
The situation for the Nets remains the same for the next game (or two if necessary). There is no indication that Irving will be back or that Harden will be anything more than a highly-paid decoy who can still throw a few good backdoor passes. 
The most worrisome issue for Durant is that Antetokounmpo and the Bucks may take that intrepid reporter's advice. 
"I want to take on the challenge," said Antetokounmpo, according to CBS Sports. "I would love to go into Game 6 being able to guard him, and if coach wants me to do that, I'm ready for it."
Getting a 48-minute dose of one of the few players in the league who can match up with him athletically will make Game 6 very different for Durant. While a steady diet of P.J. Tucker, Jrue Holiday, and Kris Middleton has slowed Durant down at times in the series, he's yet to have Antetokounmpo on him for the majority of a game. 
A 34-point night by Antetokounmpo couldn't get it done vs. Durant's Game 5 magic. Now, the Bucks will have to see if its star can turn all his defensive powers on KD and make a difference that way. 
If not, they just have to hope he misses. 
All stats courtesy of Basketball Reference