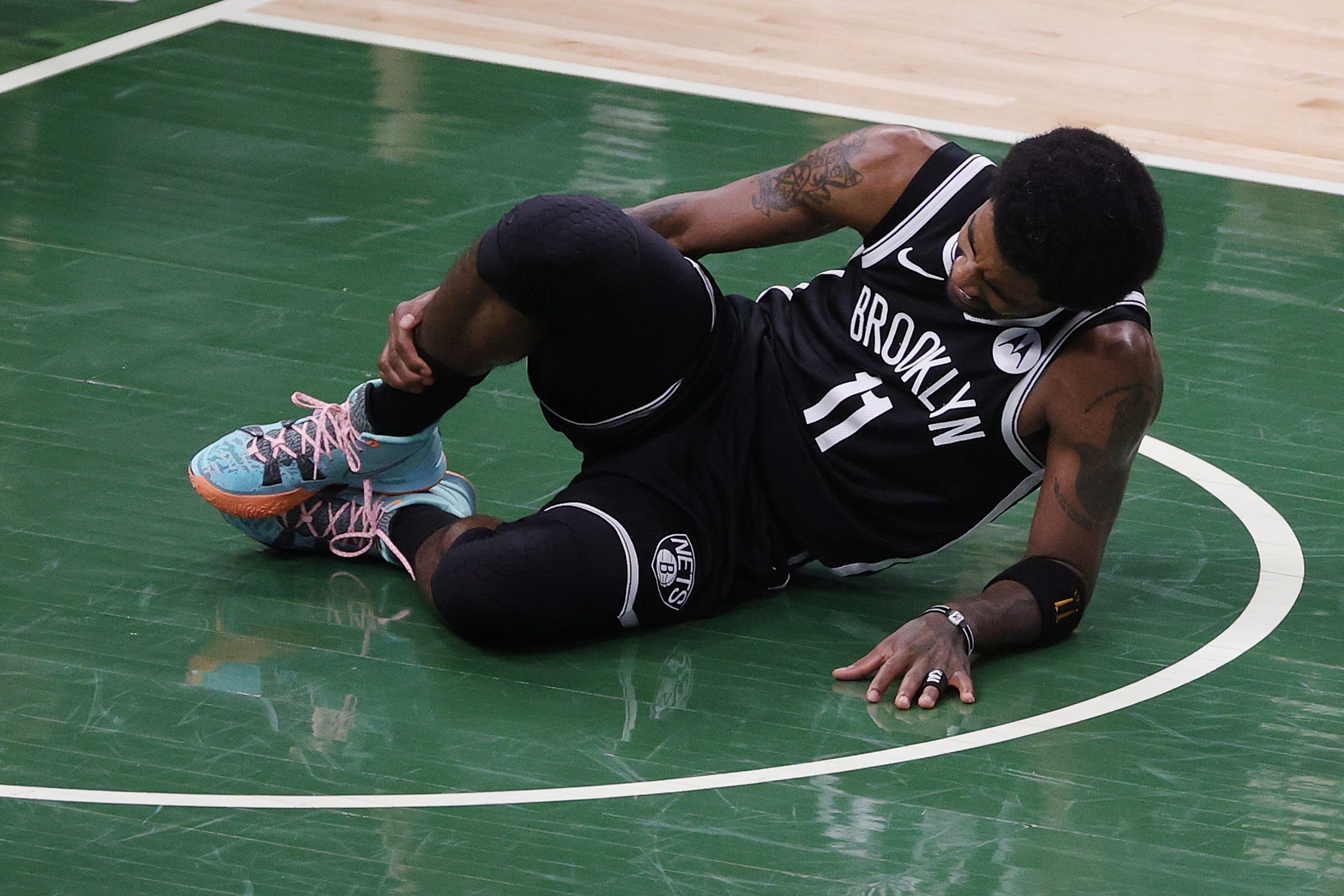 Kyrie Irving Injury Is Karma, Suggests Former Boston Celtics Player
Kyrie Irving's injury could be a little bit of karma, according former Boston Celtics player Glen Davis.
Kyrie Irving and the Brooklyn Nets suddenly find themselves in some trouble. After winning the first two games at home, the Nets dropped the next to on the road against the Milwaukee Bucks. Even more concerning for the Nets is that two of their big three stars weren't on the court for much of Game 4. Irving went down with an ankle injury and never returned. A former Boston Celtics player went right to social media to imply Irving's injury was karma.
Kyrie Irving left Game 4 for good after rolling his ankle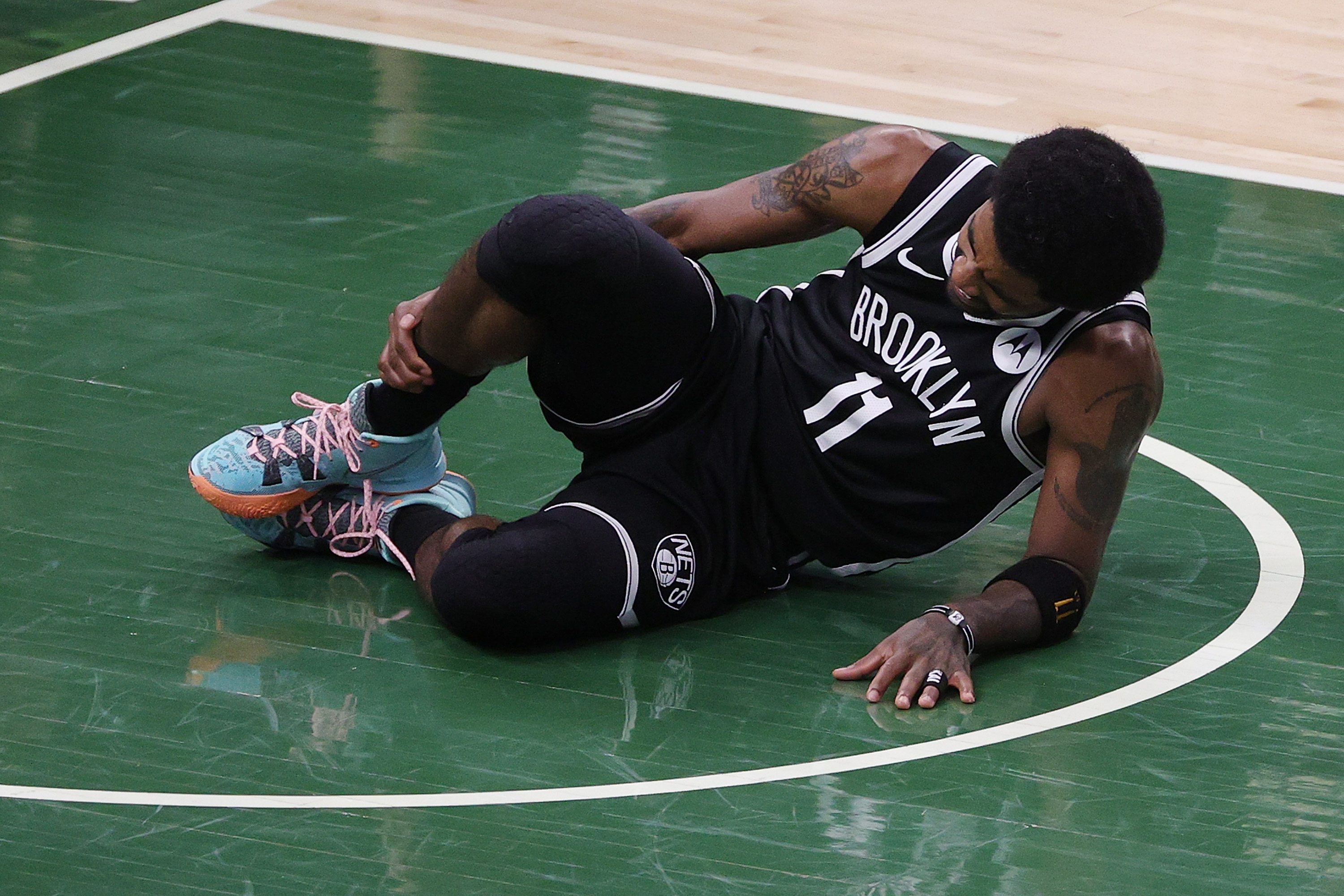 The high-powered Nets were already short-handed heading into the series, playing without James Harden. Harden suffered a hamstring injury in Game 1 of the series and hasn't returned. With 6:04 left in the second quarter, Irving went down with his injury and never saw the court again.
Irving landed on the foot of Giannis Antetokounmpo, rolling his right ankle after making a layup. He limped to the locker room and never returned. X-rays were negative, but his status for Game 5 on Tuesday is uncertain. The same goes for Harden.
Irving had 11 points and five rebounds at the time of his injury. "I have no idea what's going to happen with (Kyrie) in the coming days," Nash said, according to CBS Sports. "We'll cross our fingers and hope that it's better than – I don't know, better than what? – better than missing the next game."  
Kyrie Irving and the Boston Celtics were not a good match
The Nets advanced to face the Bucks after knocking off the Celtics in five games in the opening round. During that first-round series, there was some bad blood between Irving and Celtics fans. Irving spent two seasons playing for Boston, and it didn't go according to plan. It was an ugly breakup when Irving left via free agency.
Before the Nets came to Boston for Game 3, Irving made some waves. He hadn't returned to Boston as an opposing player with fans in the stands since he left the team. He knew he would be taking some heat, but brought up racism when asked what he expected from the crowd.
"Hopefully we can just keep it strictly basketball, you know there's no belligerence or any racism going on, subtle racism, and people yelling sh*t from the crowd," he told reporters after Game 2. "But even if it is, it's part of the nature of the game and I'm just going to focus on what we can control."
That fired up the Boton crowd even more and they were all over him when he came to Boston.
Former Boston Celtics player Glen Davis suggested Kyrie Irving's injury is karma
The Celtics won Game 3, but Irving racked up 39 points and 11 rebounds in Game 4 as Brooklyn cruised to a 141-126 win to take a commanding 3-1 series lead. When the game was over, Irving went to mid-court and stomped on the Celtics logo. On the way to the locker room, a Celtics fan threw a water bottle at Irving and was arrested.
Irving's actions didn't go unnoticed. Several former Celtics players, including Kevin Garnett and Kendrick Perkins, called him out.
Another former Celtics player, Glen 'Big Baby' Davis, brought up that logo incident right after Irving hobbled to the locker room with his injury Sunday. Davis was responding in an Instagram thread on the topic of Irving's injury. "That's the same ankle stomp on lucky with," Davis posted.
Davis later added, "lucky got his get back." As much as Boston fans, and obviously some former Boston players, don't want Irving to win a title, this just wasn't a good look for Davis.