When Will James Harden Return From His Hamstring Injury to Rejoin the Brooklyn Nets?
The Brooklyn Nets have been an unstoppable force throughout the early stages of the 2021 NBA playoffs. They're scoring at will, Kevin Durant looks like the dominant bucket-getter we remember from a few years ago, and they've even played surprisingly well on the defensive end. Seemingly nothing can shut down the Nets right now.
Well, nothing except James Harden's hamstring.
Harden left Game 1 of Brooklyn's second-round playoff series against the Milwaukee Bucks with hamstring tightness. He was unable to return to the lineup for Game 2, and he was also ruled out for Game 3 Thursday night. So, when, if it all, will Harden be able to return to the court for the Nets?
James Harden injury scares Nets fans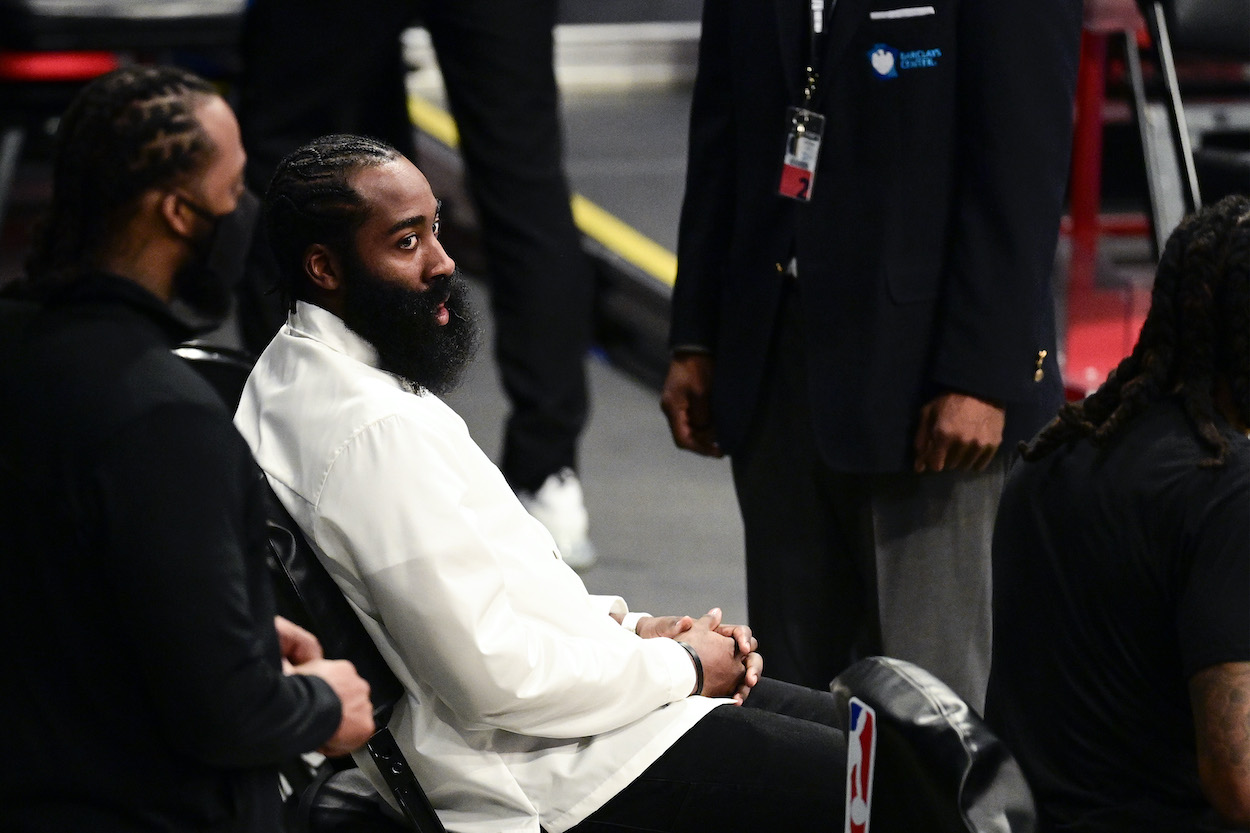 Brooklyn cruised to a first-round series victory over the Boston Celtics with relative ease. They did lose one game in TD Garden, but they stayed healthy and did what they had to do to advance in the end.
But just 43 seconds into their second-round series against the Bucks, the Nets suffered their first setback of the 2021 playoffs. As Harden drove to his left on Jrue Holiday, he felt a pull in his upper right leg and limped off the court. He immediately headed for the locker room and didn't return to the game.
Harden was later diagnosed with "right hamstring tightness," and he didn't suit up for Game 2 on Monday. Ahead of Game 3 on Thursday night, the Nets have already ruled Harden out.
"Sh*t sucks. It sucks," Durant told reporters Sunday. "I want him to be out there. I know how much he cares. I know how much he wants to be in this moment. It sucks. Wish him a speedy recovery. It's just a bad break."
When will Harden return from his hamstring injury?
Nets fans have been anxiously refreshing their Twitter feeds over the last few days looking for any semblance of an update on Harden's status moving forward. Brooklyn would love a timetable or a target date for which Harden hopes to return to the lineup, but the harsh reality is there isn't one.
The MRI on Harden's hamstring revealed no structural damage, so that's at least a bit of good news. However, the same hamstring kept Harden on the sidelines for five weeks during the regular season.
Nets head coach Steve Nash said he can't give a timetable for Harden's return, but he noted the team is "optimistic" the nine-time All-Star can return for an NBA Finals run.
"James will miss Game 3, but he's progressing nicely," Nash told reporters Wednesday. "So we're optimistic that we can have him back at some point, but we can't set a time on it yet."
Nets can afford to be cautious with their superstar
The Nets have now been without Harden for two straight games in their second-round playoff series, but it's hardly mattered. Brooklyn controlled most of Game 1 after Harden went down, and the superteam demolished Giannis Antetokounmpo and company, 125-86, in Game 2.
Durant and Kyrie Irving continue to play at a superstar level, and they've received some much-needed assistance from Blake Griffin and Joe Harris, among other complementary players, in Harden's absence. It looks as if the Nets won't even need the third piece of their Big 3 to get past the Bucks and cruise to the Eastern Conference Finals. And even then, Brooklyn is talented enough to handle either Philadelphia or Atlanta sans Harden.
The Nets have the luxury of being able to stay patient and not rush Harden back to the court before he's completely healthy. No one knows for sure when Harden will be back in uniform, but this team can still reach the NBA Finals without him.