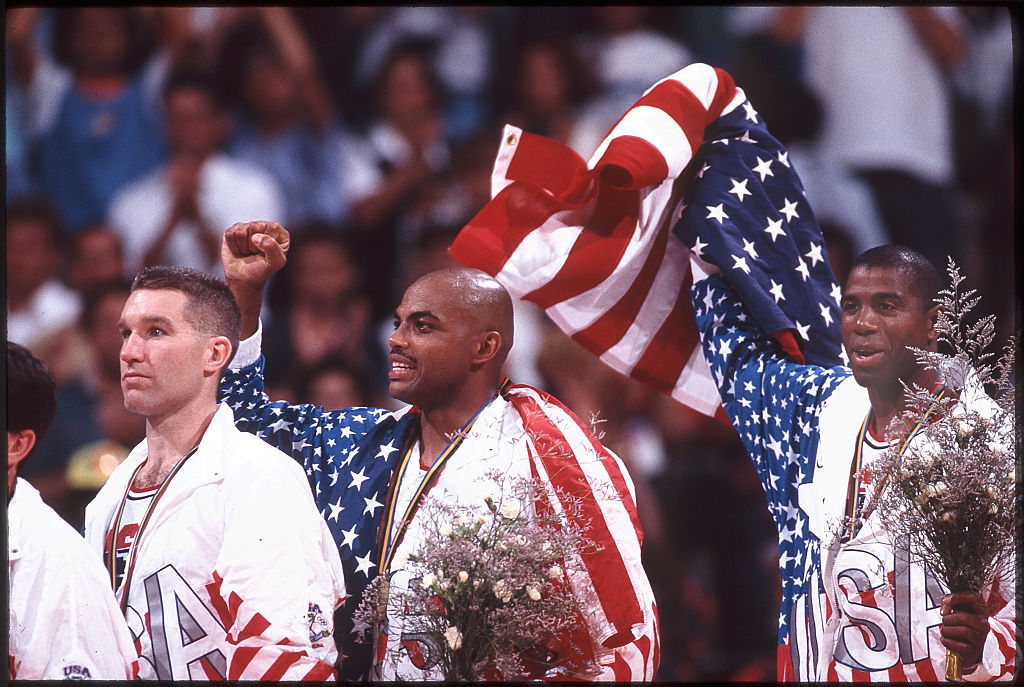 Charles Barkley Didn't Let the Dream Team Stop Him From Hitting the Local Clubs
Even as a member of the Dream Team, nothing could stop Charles Barkley from going out on the town and hitting the local clubs.
While becoming a celebrity is part and parcel of life as a professional athlete, everyone handles their fame differently. Some stars, like Derek Jeter, try to avoid the spotlight as much as possible; others, like Shaquille O'Neal, embrace it and become larger than life figures. It's safe to say that Charles Barkley fell into the latter category.
During the summer of 1992, Barkley was part of the Dream Team, who waltzed to a gold medal at the Barcelona Olympics. While he was there to take care of business on the court, Sir Charles wasn't going to let those commitments stop him from enjoying his time abroad.
Charles Barkley's basketball career
These days, Charles Barkley is still an NBA star, albeit it from the TNT studio. During his playing career, however, Sir Charles was a force to be reckoned with on the court.
While he wasn't a big-name recruit for most of his time in high school, Barkley exploded onto the scene during the Alabama state basketball tournament. He caught the attention of the University of Auburn's coaching staff, and, after graduation, he joined the Tigers.
Although he wasn't the biggest player, Barkley's athleticism made him a star at Auburn; while he was a dominant rebounder, he was also capable of running the floor and scoring with ease. The Round Mound of Rebound spent three seasons with the Tigers averaging 14.1 points, 9.6 rebounds, and 1.7 blocks per game. He also helped the program qualify for the NCAA Tournament for the first time before heading to the pros.
With the Philadelphia 76ers, Barkley's upward trajectory continued. After Moses Malone whipped the young forward into shape, he developed into a legitimate star. While there were some notable issues—Sir Charles got into fights, spit on a young fan, and asserted that he wasn't a role model—Barkley spent 16 successful years in the association. He never won a championship, but he averaged 22.1 points, 11.7 rebounds, and 3.9 assists en route to the Basketball Hall of Fame.
Partying as a member of the Dream Team
As one of the NBA's top talents during the 1990s, Charles Barkley unsurprisingly earned a place on the Dream Team. While the team cruised to the gold medal in Barcelona, the faced some significant challenges off the court.
The Olympics hosted plenty of athletes, but few of them could compare with the star power of 11 NBA stars (and one college standout). The team stayed in a hotel rather than the Olympic village due to security concerns; they received death threats and were protected by armed guards. Charles Barkley, however, played by his own rules.
"Charles would walk down Las Ramblas, and people would say, 'Charles, what are you doing for security,' Jan Hubbard, a Newsday NBA columnist, recalled in GQ's oral history of the Dream Team. "And he'd show you his two fists and say, 'This is my security.' He was like the Pied Piper. He'd have this huge group of people following and yelling and smiling and taking pictures. And he loved it."
Barkley's attitude carried into the night; the Dream Team was there to take care of business, but that wasn't going to stop him from enjoying the nightlife.
"Barkley did this first-person column where he would meet up with me after the games and tell me stuff, and I'd write it up," reporter David DuPree remembered. "He'd say 'Meet me at such and such club,' so I'd go to the club, and of course, no Barkley, but there'd be a note saying meet him at some other club. So it would take about four or five clubs until about six in the morning before I could track him down. But he always left a note."
Charles Barkley and the Dream Team still took care of business
While Sir Charles might have spent plenty of time enjoying Barcelona, the Dream Team was in Spain to win the gold medal. Unsurprisingly, the NBA stars did so in dominant fashion.
In the tournament, the Dream Team went 8-0; they never lost a game by fewer than 32 points. On a personal level, Barkley played especially well. Despite his social activities, the forward led the team in scoring, potting 18 points per game. He also 71.1 percent from the floor, including 87.5 percent from three-point range.
Charles Barkley might not have been a role model, but he did pretty well as a member of the Dream Team. Not only did he help take home an Olympic gold medal, but he had a good time doing it.