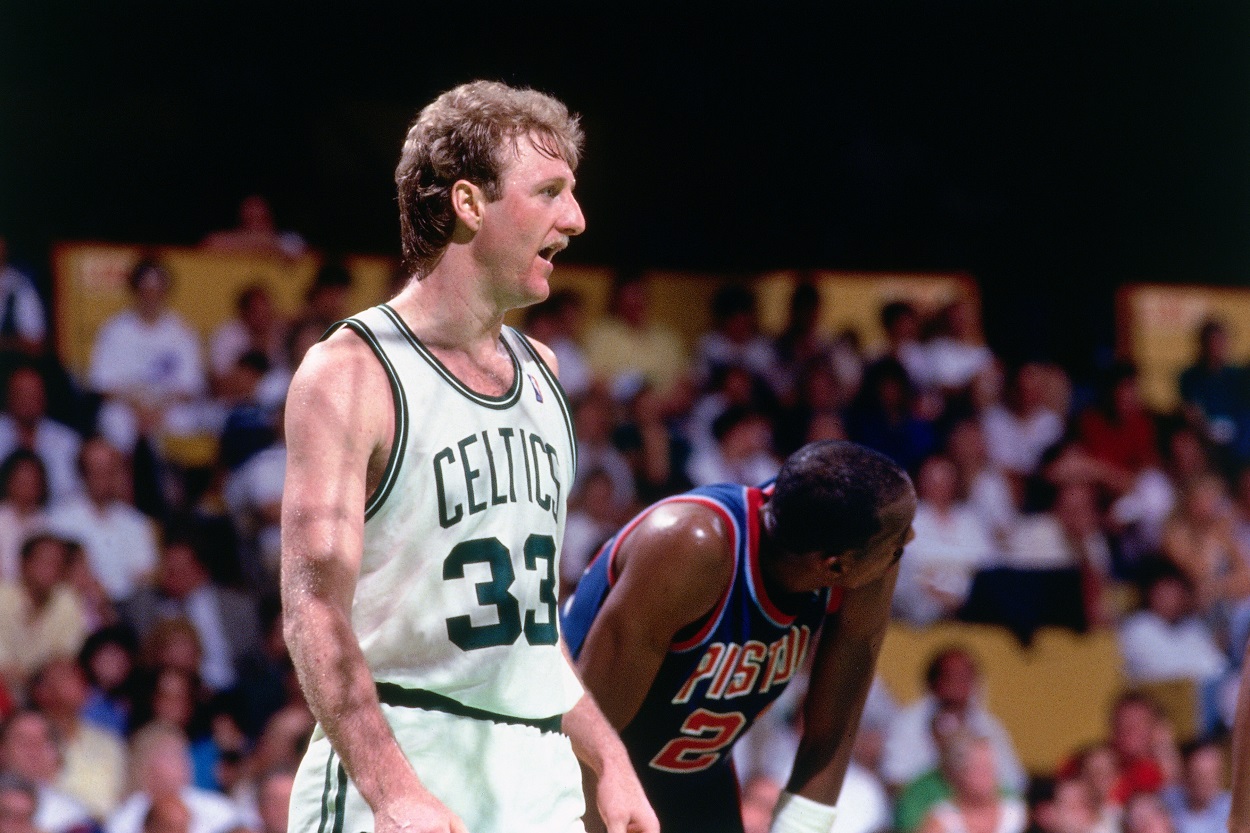 Larry Bird Mercilessly Trash-Talked Patrick Ewing About His Defense: 'You Better Sit Down, You Going to Pop Your Arm Out of Your Socket Before You Get This'
Former Celtics great Larry Bird once brutally trash-talked fellow Hall of Famer Patrick Ewing about his defense.
Former Boston Celtics great Larry Bird established himself as one of the game's all-time greatest players with his sharp-shooting prowess, his incredible all-around skill, and some extracurriculars.
The forward's legendary status came from more than his performance, as his trash-talking added another layer to his legacy. His mouth and sharp wit created many memorable moments for his peers, including former New York Knicks great Patrick Ewing.
Larry Bird's illustrious NBA career
The source of many sleepless nights for rival Magic Johnson, Larry Bird spent his entire 13-year NBA career establishing himself as an all-time great in a Celtics uniform.
He earned numerous accolades, such as three NBA titles, two NBA Finals MVP awards, three regular-season MVP honors, 12 All-Star selections, nine All-NBA First Team nods, and the retirement of his No. 33 jersey. Bird is also the only forward in league history to win three straight regular-season MVP awards.
Alongside Johnson, the former Los Angeles Lakers great, Bird was crucial in lifting the NBA to prominence. Their intense rivalry generated national and worldwide popularity for the league and elevated him to legendary status.
A considerable part of his image became his trash-talking as numerous stories have cropped up regarding his banter over the years. One includes an unforgettable moment for fellow Hall of Famer Patrick Ewing.
Larry Bird once quipped about Patrick Ewing's defense
Larry Bird never backed down from an opportunity to trash-talk an opponent.
The player's skill didn't matter as Bird backed up his words with his play. That habit left a strong imprint on many of his colleagues, including former New York Knicks star big man Patrick Ewing, who recounted an unforgettable exchange with the fellow Hall of Famer.
"He talks a lot," Ewing recalled during an interview on the Arsenio Hall Show in 1994. "I remember a couple of times when he drove to the hole and I tried to block his shot and he was like, 'You better sit down, you going to pop your arm out of your socket before you get this.'"
Bird and Ewing had many memorable on-court battles. The trash-talking even formed a bond between the all-time greats during their brief time together for the 1992 Olympic Dream Team.
Larry Bird backed up his trash-talking with his play
Bird's iconic reputation as a trash-talker further cemented the memorable moments his play provided.
"He's always talked trash," Ewing said during an interview on the Dan Patrick Show. "He talked trash against us. He talked trash against everyone else, but you know what the difference is that he could back it up. Growing up in Boston, people talked about that he can't jump, he can't do this, he can't do that. A lot of my friends were like that.
"I got to the league and I called all my friends back up and I said 'All that trash that you were talking, you need to squash all that. This man is great. Whatever you were saying about a man that can't jump, he's demolishing everybody."
Bird may not have been the most physically gifted player, but his other talents more than made up for that.