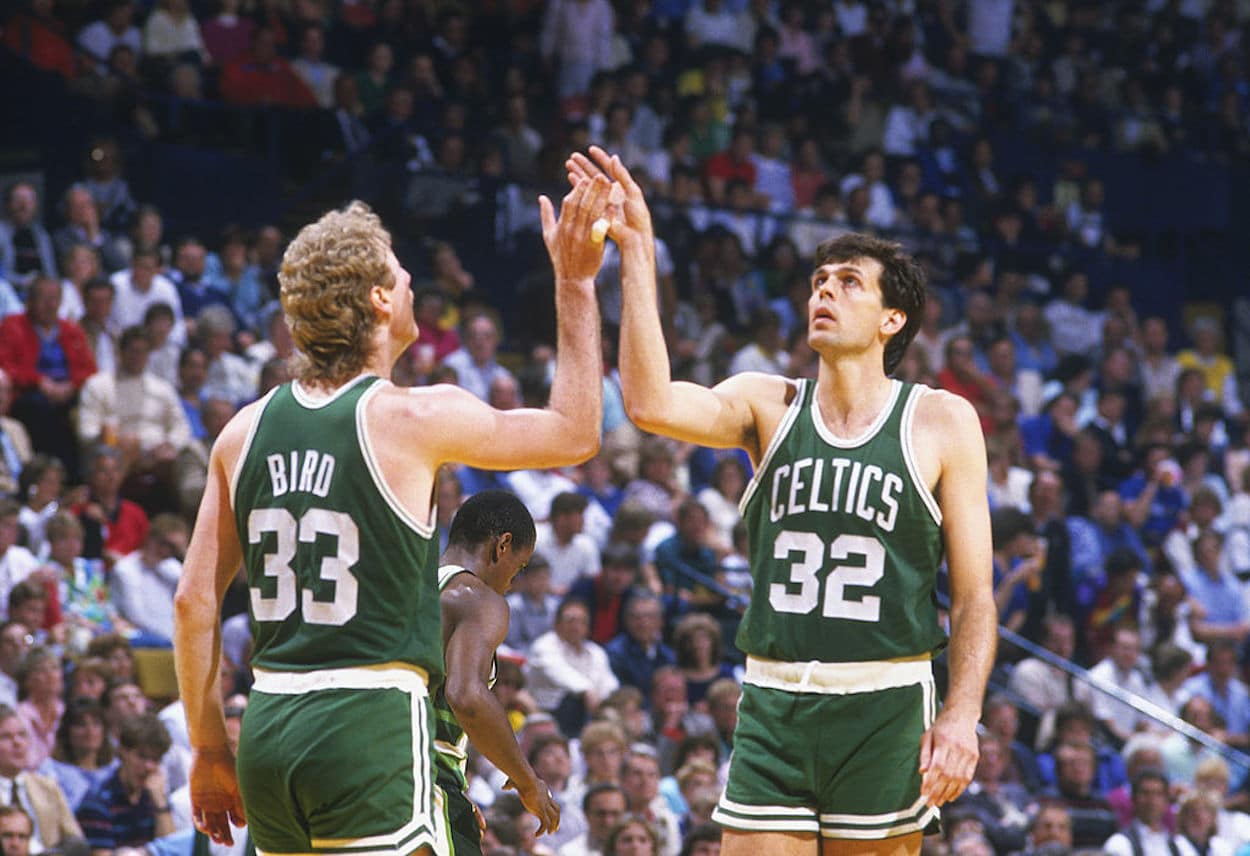 Larry Bird Once Blew Kevin McHale's Mind in Practice With a Pass Rather Than a Shot
Larry Bird was known for his jump shot, but he wasn't a bad passer, either. Just take Kevin McHale's word for it.
When you hear the name Larry Bird, a couple of things come to mind. The most common association is probably shooting. Even if players didn't jack up threes the way they do today, Larry Legend was a lethal marksman.
Alternatively, you might think of overall confidence. Whether he was talking trash, taunting his own teammates, or telling the opposition exactly how he planned to beat them, Bird never questioned his own abilities. He was (usually) the best player on the court, and he knew it.
But what about passing? While you might not think of the living Boston legend when you list elite play-makers, Kevin McHale has a different perspective. Let's consider his story from an old Celtics practice.
Kevin McHale remembers 1 specific pass that Larry Bird threw his way
During his time on the hardwood, Larry Bird produced countless moments of brilliance. That reality wasn't lost on Kevin McHale.
"I don't know if I could ever tell you a memory," he explained in an NBA video honoring Bird's place on the league 75th Anniversary squad. "I'll just tell you that Larry was a phenomenal basketball player. The guy had unbelievable physical and mental toughness, which set him apart. I mean, that guy would play through pain. Nothing bothered him, unbelievable competitor, great hands, great vision, great feel for the game. And just, you know, could just go out every single night and just play at an unbelievably high level. Didn't have to shoot the ball well to have a good game because he did so many different things."
Despite saying he couldn't provide a single memory of Bird's brilliance, McHale did recall one specific pass the forward whipped his way during a practice.
"One thing I do remember, now this is in practice," the sixth man continued, "is I'm making a back-door cut. And Larry actually spun the ball. Like, I had never dreamed of spinning the ball. He back-spun the ball, bounced out in front of me. I about pulled a hamstring because I thought the damn ball was going out of bounds, it popped back up and hit me in my hands. He just said, 'You get open, and I'll hit ya.' And I went like, 'Oh, OK then.' That I do remember because I remember thinking, 'I'll try that spin pass.' I tried it once and said, 'I'm not doing that ever again.'"
Larry Bird posted solid assist numbers, and he enjoyed setting up his teammates
If you look at the numbers, Bird averaged 6.3 assists per game during his time in the Association. While that's already an impressive total, things look even better when you consider he was playing forward rather than running the point.
What's more amazing, however, is a story like McHale's, which illustrates Bird taking something as simple as passing the basketball and elevating it to both an art form and a science. It's like Dennis Rodman explaining how he tracked the rotation of a shot in order to best position himself for a rebound; those sorts of insights show the true meaning of the cliched idea of a 'basketball mind.'
And, in fairness to Bird, he apparently viewed assisting his teammates as something well worth his time. In an old Sports Illustrated story, the forward said that "If the other guys score, you start seeing a gleam in their eyes. Besides, passing is more of an art than scoring." He reportedly also told Ethel Kennedy that his favorite part of basketball was passing.
While it wasn't quite impressive as his shooting touch or verbal exploits, Larry Bird's passing game still deserves some respect.
Stats courtesy of Basketball-Reference