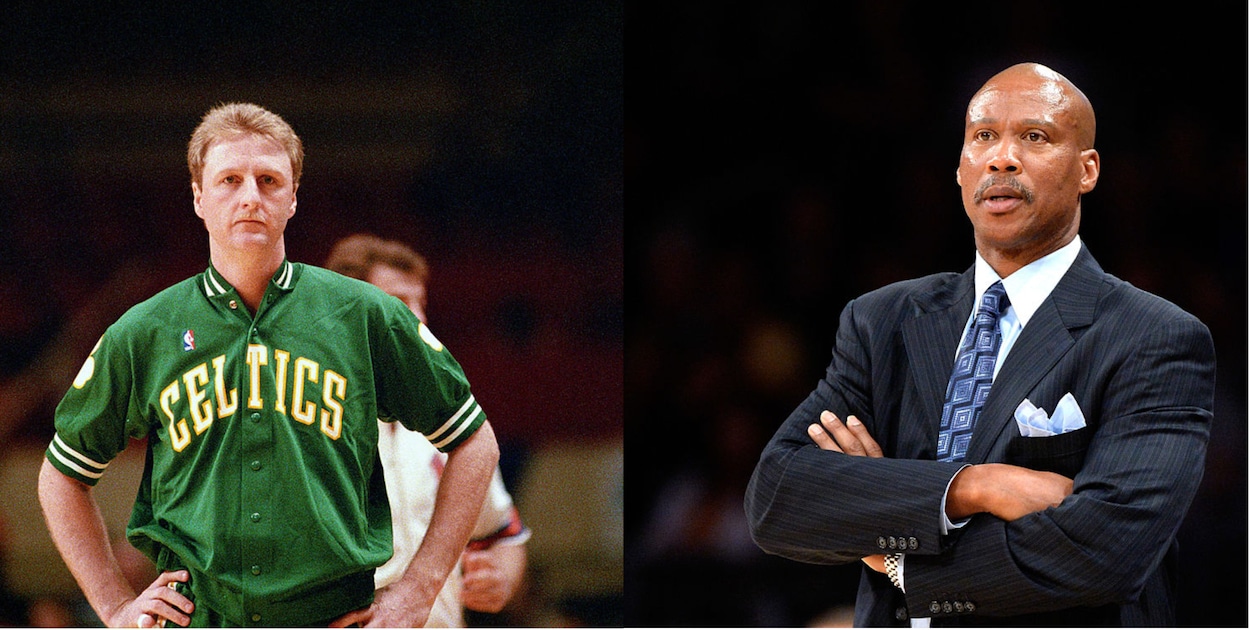 Byron Scott Remembers How Larry Bird's Simple Trash Talk Made Facing the Celtics' Star 'Fun'
Larry Bird was an infamous trash-talker, but Byron Scott didn't have a problem with it. In fact, he enjoyed facing Larry Legend.
From afar, facing Larry Bird seems like a rather unpleasant experience. While the Celtics legend didn't look like the most athletic man on the hardwood, he could score virtually any way he wanted. He also possessed supreme confidence in his own skills and wasn't afraid to engage in some verbal warfare along the way.
Byron Scott, however, had a different experience.
While the guard had plenty of firsthand experience with the Celtics-Lakers rivalry, he didn't come away with a bad impression of Larry Legend. In fact, Scott recently admitted that he found it "fun" to face Bird.
Byron Scott shares some memories of Larry Bird's famous trash talk
During a recent appearance on Getcha Popcorn Ready with T.O. & Hatch, Byron Scott was asked to share his experiences facing Michael Jordan and Larry Bird. While the MJ story was impressive — His Airness promised to drop 50 points on a rookie, then posted 54 — Scott's memories of facing the Celtics star were a bit different.
"Larry Bird, to me, it was so much fun playing against him because he talked so much s***," the former Laker explained. He then provided some examples of the simple ways that Larry Legend would needle the oppositon.
Oh man, he'd hit you with, 'You jump high, but you don't jump that high. You can't get this.' He hit you with, 'Listen guys, don't worry about the play. I'm gonna go over here, catch it, and shoot it in your face, and there ain't a damn thing you can do about it.' And he did it, you know. So I remember the 30 for 30, we was talking about the rivalry between the Lakers and Celtics, and I remember talking about, 'Yeah, he talked a whole lot of s***, but I guess it's not s***-talking if you backing it up.' And he was backing it up. And that was one of the greatest things that I loved about him.

Byron Scott
The guard also recounted a story about how, when facing the Denver Nuggets, Bird was insulted that other teams would task white players with trying to guard him.
While we've heard variations of those stories before, Scott brought a new perspective to the party. While spending an evening defending Larry Bird sounds like a rough ride. If you're a fierce competitor who wants to go up against the best, though, it's tough to get any better than Larry Legend.
Like Sportscasting on Facebook. Follow us on Twitter @sportscasting19 and subscribe to our YouTube channel.