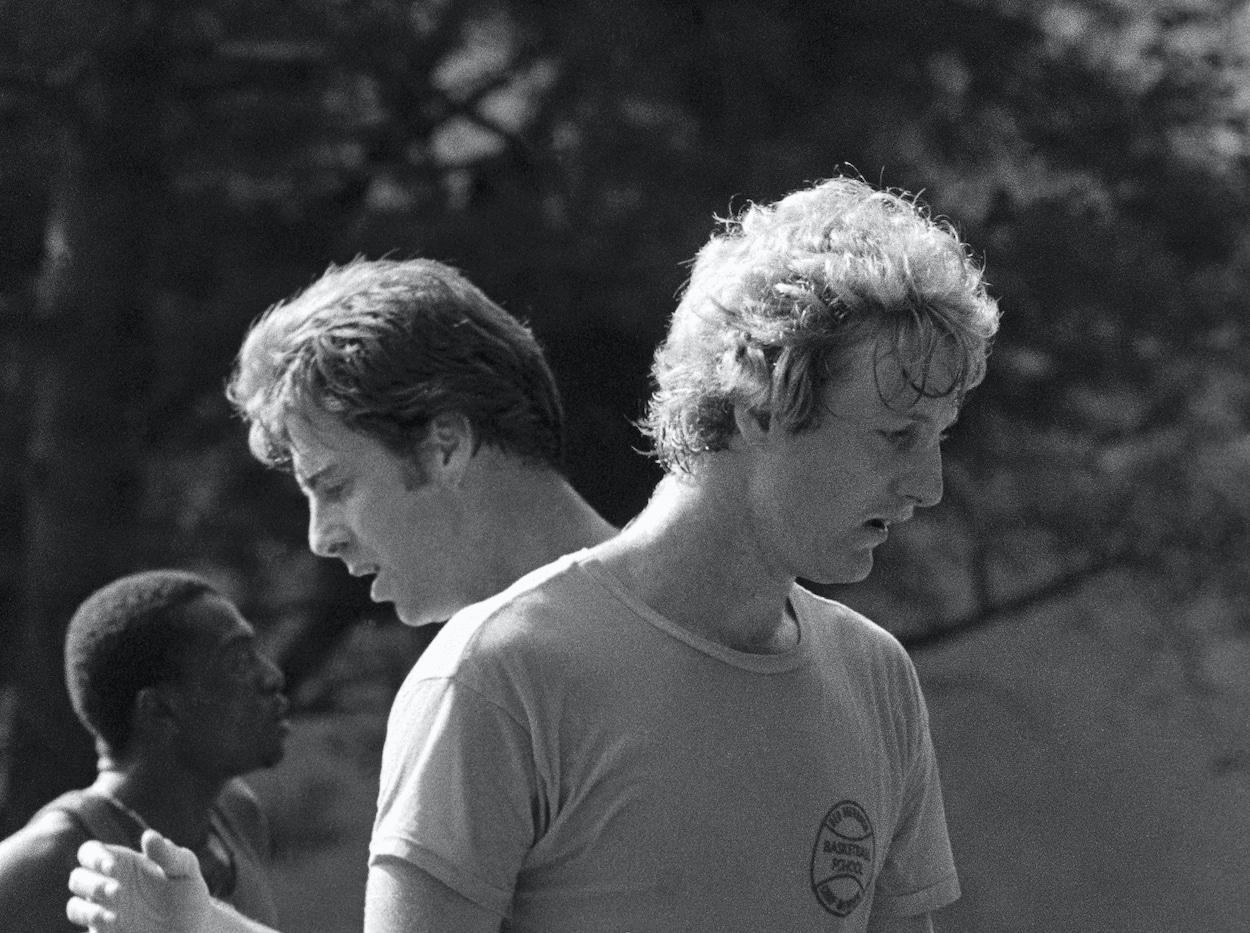 Larry Bird Learned to Trash Talk Playing Against 'Great Guys' Who Would 'Smoke Their Kool Cigarettes and Drink Their Beer' Between Games
The stories of Larry Bird's trash-talk exploits are legendary, as is the tale of how he learned to talk during pickup games against adults as a kid.
Boston Celtics legend Larry Bird is one of the greatest NBA players of all time for his exploits on the court. His numbers are unassailable. He averaged 24.3 points, 6.3 assists, and 10.0 rebounds per game. Bird is a 12-time All-Star, a three-time MVP, and won three NBA titles.
What made Larry Bird "Larry Legend," though, wasn't just his play on the court. It was also his famous trash-talk, which demoralized opponents as much as a well-timed 3-pointer.
Bird's verbal sparring ability emanates from his time as a kid playing pickup basketball games with an unlikely group near his hometown in Indiana.
Larry Bird's trash talk is legendary
If you know anything about Larry Bird, you know that he was one of the great trash-talkers in NBA history. The stories about Bird in this area of the game are legendary.
Bird once told Charles Barkley, "There's not a white guy on earth who can guard me," and had the perfect comeback when a 3-point contest rival tried to get under his skin. The French Lick, Indiana native, once promised a 60-point game and delivered and even trash-talked his own Boston Celtics teammates in practice.
Legendary NBA trash-talkers like Michael Jordan, Reggie Miller, and Gary Payton all have stories about learning a lesson from the Celtics master that helped develop their verbal game.
Where did the "Hick from French Lick" learn to be possibly the most devastating pro basketball trash-talkers of all time?
It all goes back to when he was a young kid, playing pickup games against guys a decade-plus his senior. In these games, Bird learned that basketball wasn't just about the scoreboard. It was also about making the game fun by talking on the court.
Bird learned to talk trash as a kid playing against grown men
In a 2019 interview with Marc J. Spears for Andscape.com (then The Undefeated), Larry Bird talked about the pickup games he played growing up.
Spears told Bird he'd "heard stories about how you used to play pickup basketball with Black men who worked at a hotel near your home in French Lick, Indiana, as a kid." Bird confirmed that was true and that he used to play against these guys when he was "9, 10, 11."
Bird reminisced with Spears, saying: 
In between games they'd smoke their Kool cigarettes and drink their beer, but great guys. … They treated me very well. When I showed up, if somebody needed a break, they'd throw me right in there and I'd be in there the rest of the day. But they were pretty good players. They really weren't great by any means. They always seemed to let me get in there and play with them, and I always enjoyed that because I always looked at that group of guys. They had a great kinship, they got along very well. … Score meant very little, but a lot of talking going on, a lot of fun.

Larry Bird on childhoop pickup games
In addition to a pre-teen Bird holding his own on the court with guys a decade-plus older, you can see what Bird took away from these games. 
Brid always held on to the notion that the talking piece on the court was part of the fun. Even past his prime, lying on the floor during timeouts, Bird still talked trash because, for him, that was the fun. It was all about the kinship and the camaraderie of basketball. 
And he learned that from those Kool-smoking hotel workers in French Lick back in the '60s.  
The guys he played against back then were proud of him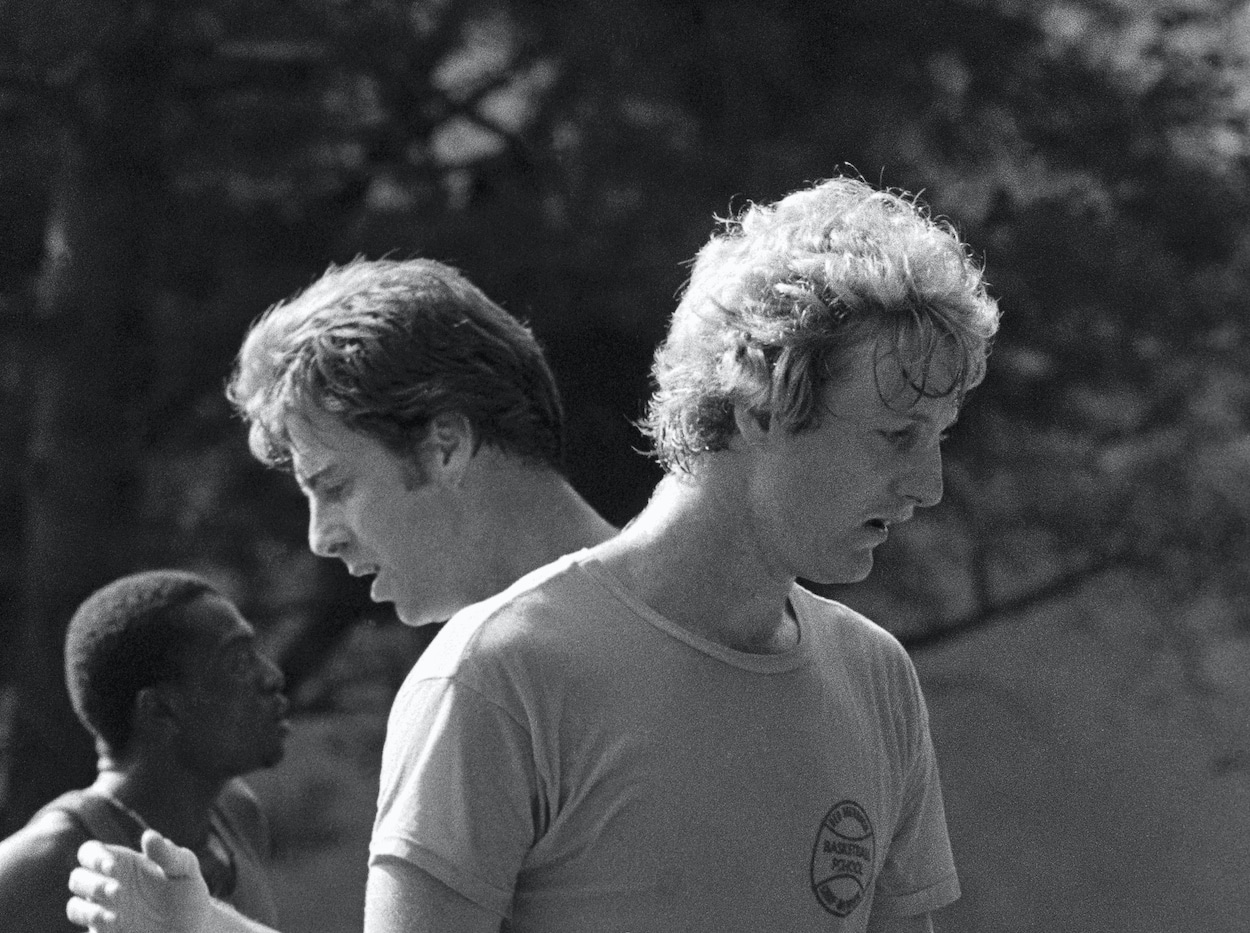 As you can imagine, as much as Larry Bird likes telling stories about the older guys he played with back in the day, those guys have even better stories about playing with a young "Larry Legend."
In the late '80s or early '90s, Bird remembers running into one of those former Indiana hotel workers, who was still working in a hotel at the time. Bird recalls:
What was really great for me and made me happy is 30 years ago I ran into Slim, who was down in Atlanta out there cooking at one of the hotels we stayed in. And he'd come up and say, 'Remember me?' And I knew I'd seen that face before, but I didn't know where. He was a little bit older. But he said he was so proud of how I turned out.

Larry Bird on seeing his former pickup competitors as an NBA player
Playing a part in the formative development of one of the greatest basketball players in history is definitely an amazing claim to fame that Bird's childhood pickup game buddies must still talk about all the time.
And these hotel workers didn't just help Bird develop his iconic no-look passes or deadly set shot. They helped Bird hone the trash-talk that gives him a mythical quality to this day.
Not bad for a group of guys just looking to kick back and play some hoops in their off time.
All stats courtesy of Basketball Reference
Like Sportscasting on Facebook. Follow us on Twitter @sportscasting19 and subscribe to our YouTube channel.