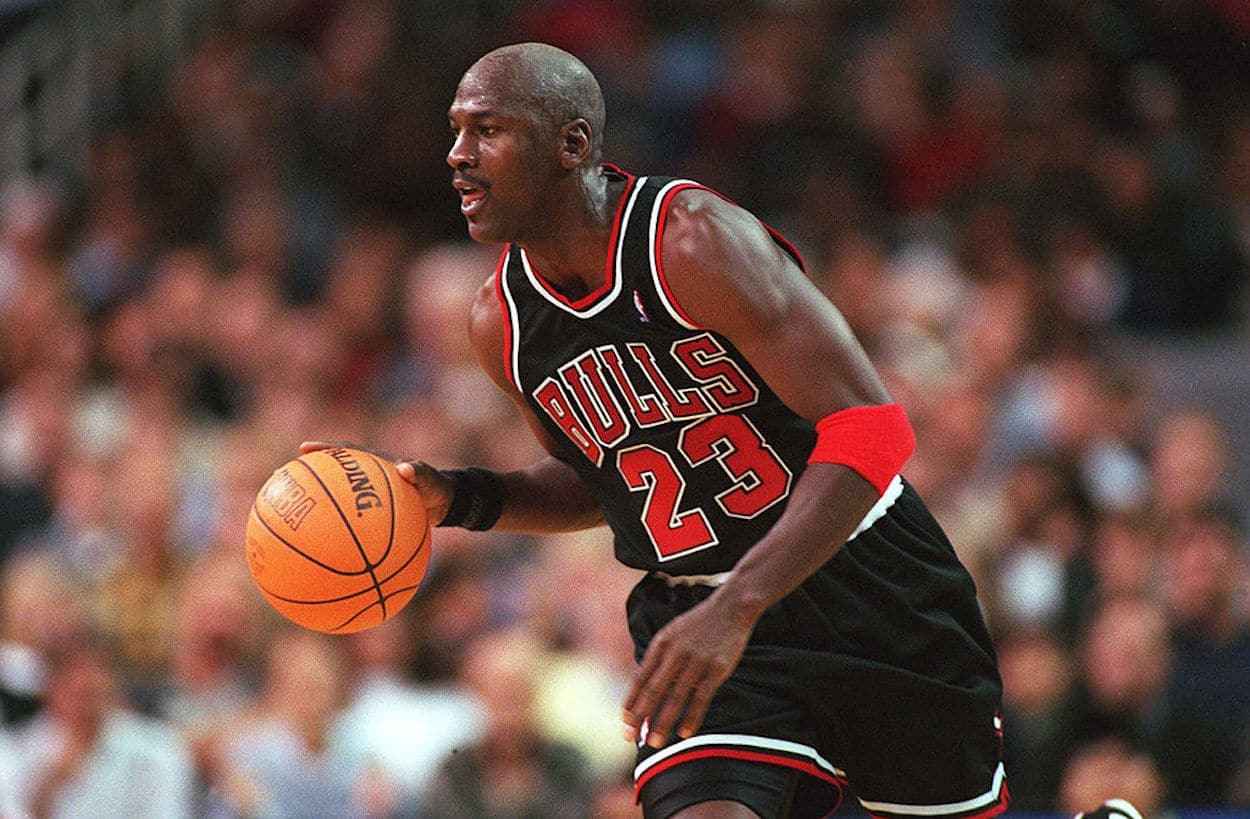 Michael Jordan Once Predicted He'd Drop 50 on a Rookie Defender, Then One-Upped Himself
Michael Jordan was never short on confidence. As an NBA rookie, Anthony Peeler experienced that firsthand.
There's a reason why Michael Jordan is a living basketball legend. Beyond his sheer talent, the Chicago Bulls star had supreme confidence in his own skills. No challenge or opponent was insurmountable, especially if they were an unproven rookie.
Just ask Byron Scott about that.
Roughly a decade into his NBA career, the Lakers guard was injured and unable to guard MJ. When His Airness learned that he'd be facing the unproven Anthony Peeler instead, he predicted that he'd drop 50. In a classic Jordan move, though, he still exceeded those expectations.
Michael Jordan was confident that he could dominate a rookie but even outdid himself
When the Lakers and Bulls met, Byron Scott usually drew the unfavorable assignment of trying to guard Michael Jordan. On one occasion in November 1992, though, there was a change of plans.
"It was my 10th year in the league, it was my last with the Lakers at that time," Scott explained on Getcha Popcorn Ready with T.O. & Hatch. "We had drafted a guy, Anthony Peeler from Missouri. So, I hurt my ankle, so the trainer's like, 'I don't know if you're gonna be able to play tonight.' And I was like, 'Well, we'll see. Let's just wait until game time."
Shortly after, the Bulls arrived at the Forum. Scott was on the way out and happened to pass Jordan. The two men greeted each other, and MJ asked who he'd be facing if his long-time opponent was sidelined.
"I said, 'Anthony Peeler," Scott continued. "He said, 'The rookie? S***. 50.' I swear to God."
Later that night, Scott warned Peeler of MJ's prediction and tried to give him some advice about avoiding a physical battle and daring His Airness to shoot jump shots. While the rookie insisted that he could handle the living legend, things went exactly how you'd expect.
"Every time MJ scored, he looked at me on the bench," Scott concluded. "54. 54. And he missed a dunk. He missed a breakaway dunk that hit the back of the rim. 54. … That's how bad that boy was."
The box score confirms just how good of a night His Airness had. He scored 54 points on 21-of-39 shooting, drained 11 free throws, and dished out seven assists. It is worth noting, however, that Peeler didn't start and only played 25 minutes, so he wasn't solely responsible for Jordan's offensive outburst.
The Lakers, however, got the last laugh and won that evening by two points. From everything we know about Michael Jordan, he was probably more frustrated by that loss than he was pleased by his 54-point performance.
Like Sportscasting on Facebook. Follow us on Twitter @sportscasting19 and subscribe to our YouTube channel.