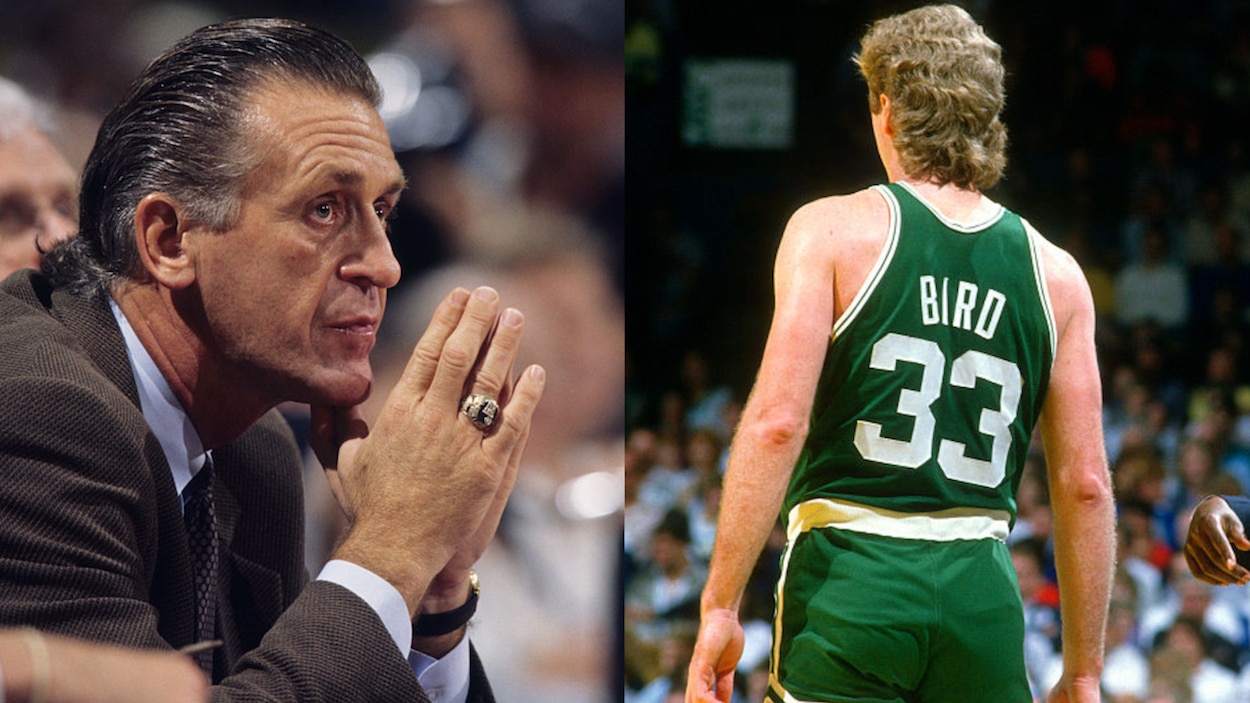 Larry Bird Even Talked Trash to Pat Riley During the Celtics-Lakers Rivalry
Larry Bird was an elite trash-talker, and he didn't limit his verbal warfare to other players. Just as Pat Riley about that reality.
As any sports fan can tell you, there's something special about a rivalry. Those games raise the stakes and provide some extra edge. You're not just winning or losing; you're stacking up against a mortal enemy. And in the world of basketball, few historical rivalries are more fierce than the Boston Celtics vs. the Los Angeles Lakers. During his time on the hardwood, Larry Bird was at the center of some legendary meetings between those two clubs.
Bird was more than just a deadly shooter, though. He also knew how to unleash some biting trash talk as Pat Riley experienced from the sidelines during a Celtics-Lakers game. Larry Legend, it seems, didn't appreciate the coach's choice of defenders and made sure to let him know.
Let's take a walk down memory lane and revisit that encounter.
Larry Bird took Kurt Rambis to task and then let Pat Riley know about it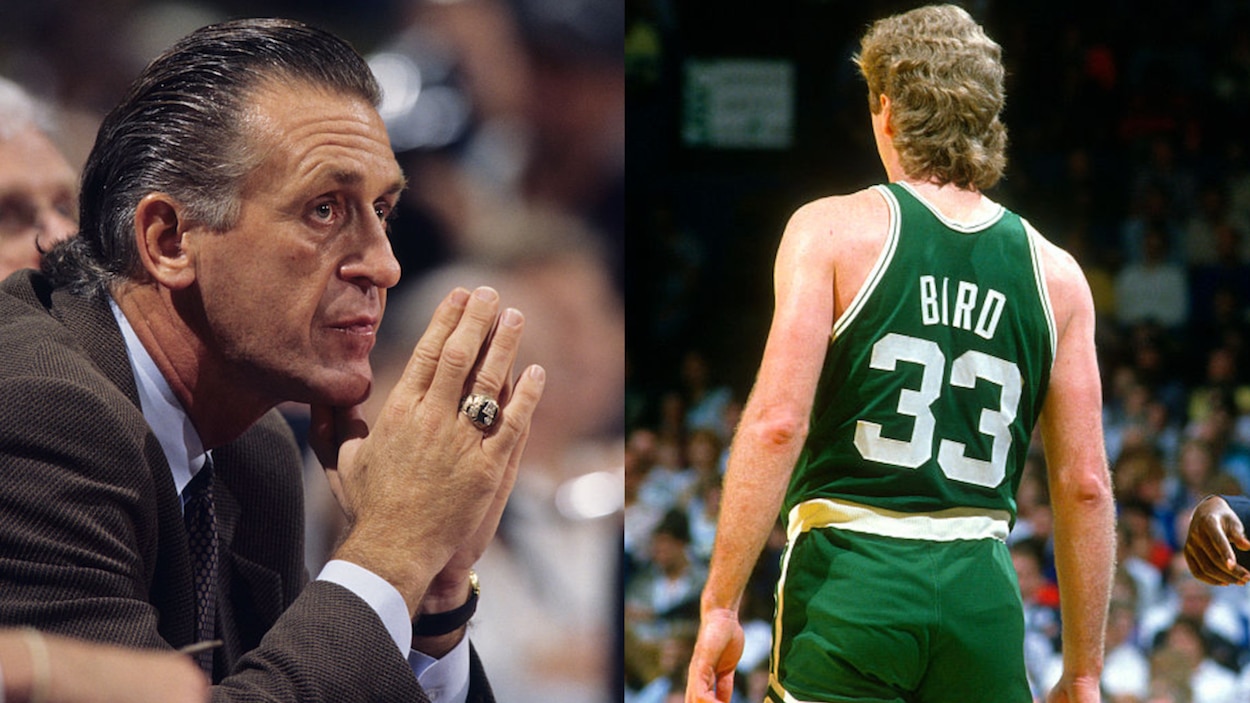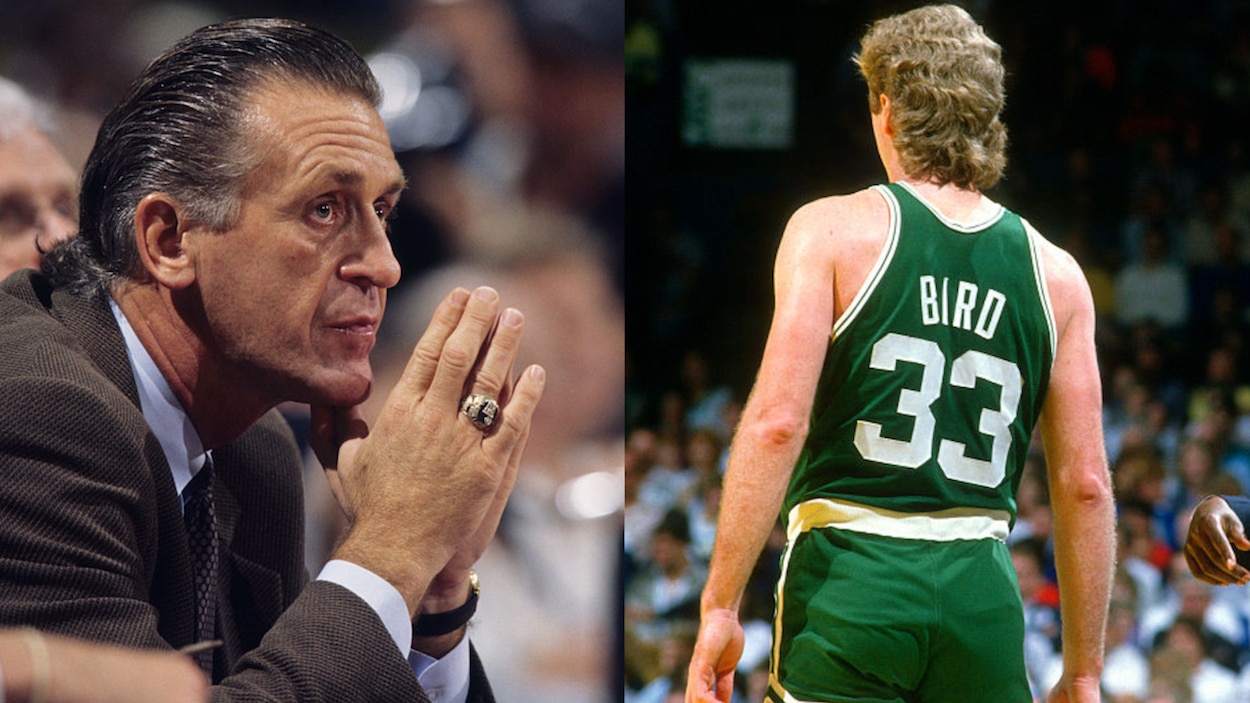 Over the years, plenty of defenders had the misfortune of trying to contain Larry Bird. During one edition of the Celtics-Lakers rivalry, Kurt Rambis took on the challenge.
According to Dee Brown, things didn't go well for the LA forward. Not only did he get torched on the floor, but Larry Legend added some insult to injury.
"The thing with Bird was he was an undercover talker," Brown explained on The Amateur's Edge on 1010XL 92.5 FM JAX Sports Radio. "He talked right to you in your ear, or he'll go to your bench and talk trash to your bench."
Rambis experienced the latter option first-hand.
I think we were playing the Lakers, and I think they had Kurt Rambis on him. And he was killing Kurt Rambis. Oh, he was destroying Kurt Rambis. And [Bird] went over to the bench, he said, "Hey. Hey. Hey, Pat Riley. You know you can't put another white boy on me cause I'm the coldest white boy in the league. You gotta put a brother on me.

Dee Brown
Brown, according to his version of events, couldn't believe that Bird would tempt fate like that, especially when facing a Lakers squad featuring Kareem Abdul-Jabbar and Magic Johnson. Larry Legend, however, confirmed that he knew exactly what he was doing.
"He was like, 'Yeah, you know he can't put a white guy on me. I'm the coldest white guy in the NBA. He better put a brother on me,'" the point guard recalled. "And I say, you know what, he was right, too."
Bird was nothing if not consistent when he came to his preferred defenders
Related: Cedric Maxwell Dispels a Myth About Larry Bird's Trash-Talking
When you hear a piece of trash talk, it's easy to write the line off as an off-the-cuff remark. When it came to Larry Bird, though, he wasn't improvising. He made it clear on multiple occasions that he didn't think a white player could stop him.
One such story came from Charles Barkley during an appearance on The Dan Patrick Show. According to Sir Charles, Bird pulled him aside during a game and explained that the 76ers were disrespecting him. When Chuck followed up, Larry Legend explained that a white player (possibly Bob Thorton) was guarding him, which was something of a slap in the face.
The forward also expressed a similar sentiment himself during a 2004 ESPN piece.
"The one thing that always bothered me when I played in the NBA was I really got irritated when they put a white guy on me," Bird said at the time. "I still don't understand why. A white guy would come out [and] I would always ask him: 'What, do you have a problem with your coach? Did your coach do this to you?' And he'd go, 'No,' and I'd say, 'Come on, you got a white guy coming out here to guard me; you got no chance.' … For some reason, that always bothered me when I was playing against a white guy."
The famous forward wasn't done there, though.
"As far as playing, I didn't care who guarded me — red, yellow, black," Bird noted. "I just didn't want a white guy guarding me. Because it's disrespect to my game."
Say what you will about his viewpoints, but the forward was nothing if not consistent.
Have thoughts on this topic? Keep the conversation rolling in our comments section below.